Dogecoin Is Going to Zero as Crypto Whales Move onto This New Trending Meme Coin – How to Buy Early?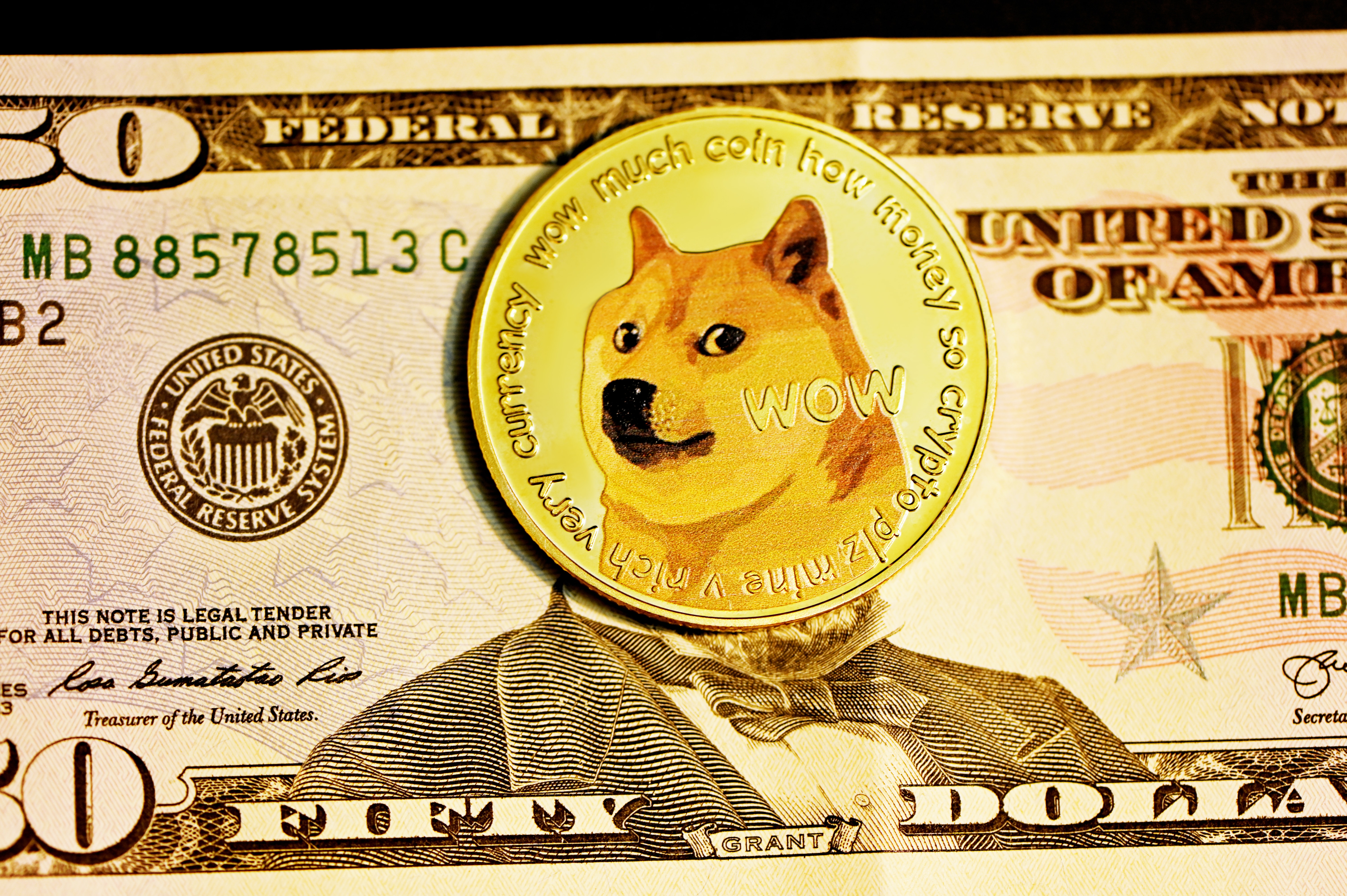 The Dogecoin price is gaining 1.11% so far today to trade at $0.06546, but the uptick is likely little more than a temporary reprieve for battered bulls.
Momentum remains firmly in the bears' favor after last week's failed breakout attempt above $0.06907 on June 23.
As the Dogecoin price is still struggling to regain momentum, most indicators point to Dogecoin extending its multi-day slide, despite the small price increase.
Dogecoin Price Struggles Amid Bearish Indicators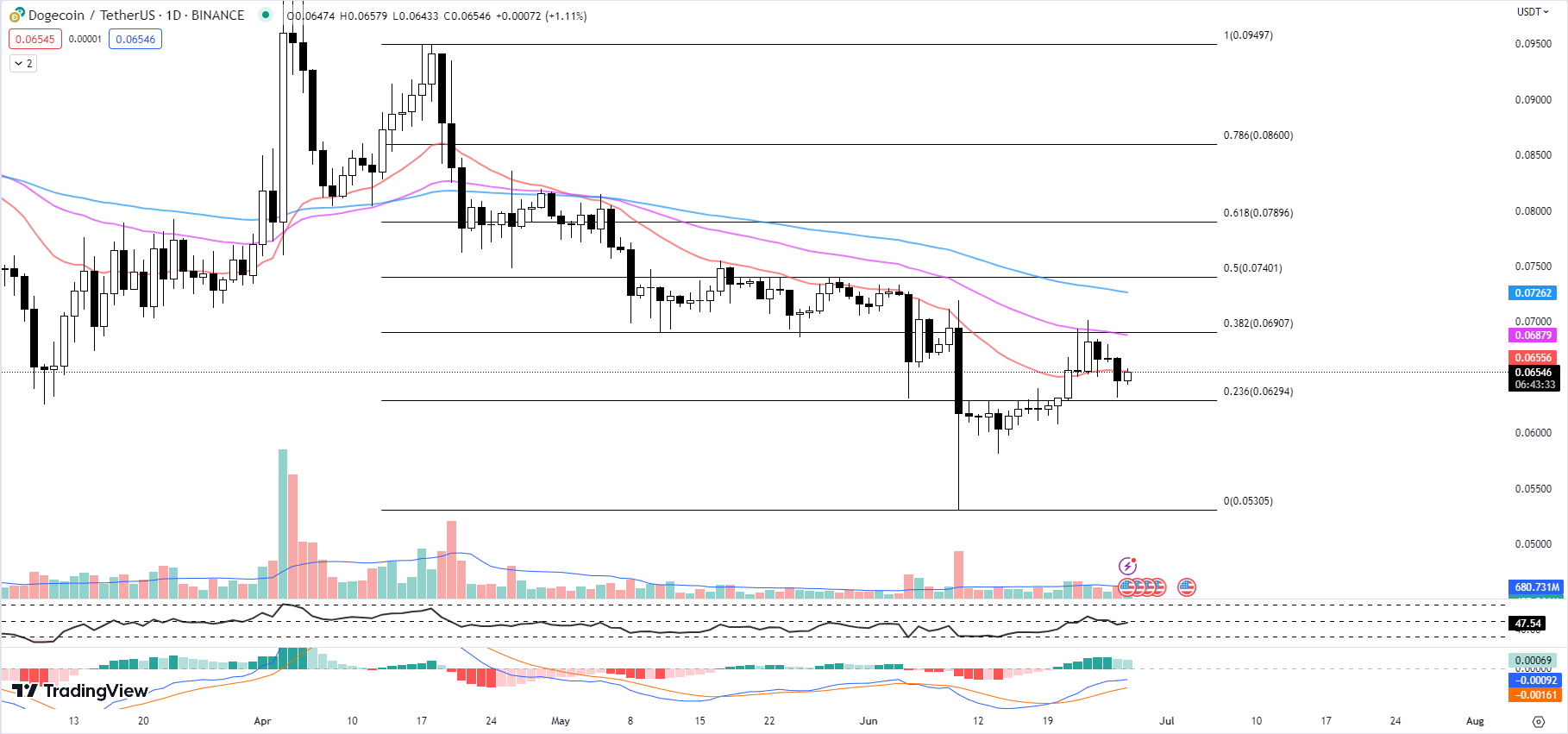 The 20-day EMA is at $0.06556, acting as immediate resistance for the price, while the 50-day EMA at $0.06879 and the 100-day EMA at $0.07262 further suggest a bearish trend.
The RSI currently stands at 47.54, up slightly from yesterday's 45.24. However, the meme coin remains in a bearish market as the RSI is still below 50.
The MACD histogram, a useful tool for identifying potential trend reversals, stands at 0.00069, down from yesterday's 0.00076.
The decrease in MACD implies that the bearish momentum might continue for the Dogecoin price.
Dogecoin Price Fails to Find Footing as Bears Remain in Control
The meme coin's market cap has increased by 1.02% to $9 billion, while its 24-hour trading volume is up by 4.91% to $246 million.
Although both figures are positive, they are not strong enough to suggest a bullish reversal.
The immediate resistance for the Dogecoin price is the 20-day EMA, followed by the 50-day EMA in confluence with the Fib 0.382 level at $0.06907.
The Dogecoin price is currently grappling with bearish technical indicators. Traders are advised to exercise caution and keep an eye on price movements as well as critical support and resistance levels.
A definitive break above the mentioned resistance levels could signal a trend reversal. However, until such a break occurs, bears are expected to maintain their dominance.
While Dogecoin struggles to regain its footing, a new meme coin is turning heads and gaining momentum.
Wall Street Memes, a powerful retail investing community, recently surpassed $10.8 million in its viral presale of the $WSM meme coin. In just a month, this fundraising effort has averaged around $330,000 per day.
With hopes of replicating the success of meme coins such as Pepe, Dogecoin, or Shiba Inu, meme coin investors are eagerly seeking to secure $WSM tokens at a discounted price.
Wall Street Memes' Meme Coin Movement Gains Traction Among Influencers
Wall Street Memes boasts an impressive social media presence, with over one million followers across several platforms.
The community's reach is so substantial that it has attracted interactions from prominent figures like Elon Musk and entrepreneur Gary Vee.
With such widespread attention, $WSM is likely to receive more exposure than most meme coin releases, potentially leading to rapid growth.
Analysts are confident that the $WSM token will soon be listed on tier 1 crypto exchanges like Binance, thanks to the sizable community of Wall Street Memes supporters.
In fact, sources claim that the Wall Street Memes team is already in talks with several top cryptocurrency exchanges.
A major listing could significantly drive up the value of $WSM, helping the token reach the team's goal of a market cap exceeding $1 billion.
The Wall Street Memes movement has its roots in the 2021 rebellion against Wall Street, where retail investors banded together to challenge the dominance of institutional investors.
This spirit of empowerment continues with the launch of the $WSM token, which intends to bring further opportunities to the community.
Massive $WSM Airdrops Inbound
Wall Street Memes' dedication to the little guy is reflected in its decision to allocate 100% of the token supply to its community, giving everyone a voice and a stake in the project's success.
With 30% of the supply designated for community rewards, airdrops to holders are expected to be a significant part of the ecosystem.
As momentum continues to build for the $WSM token, analysts are projecting significant growth for the meme coin following its listing on exchanges.
With a massive following, exchange listings in the works, and potentially big airdrops coming, Wall Street Memes and $WSM seem ready to make a big impact in the meme coin market.
Disclaimer: The Industry Talk section features insights by crypto industry players and is not a part of the editorial content of Cryptonews.com.
---