Dogecoin $DOGE Moves in A Tight Range, Tron, and Borroe.Finance Move Closer to Success
Disclosure: Crypto is a high-risk asset class. This article is provided for informational purposes and does not constitute investment advice. By using this website, you agree to our terms and conditions. We may utilise affiliate links within our content, and receive commission.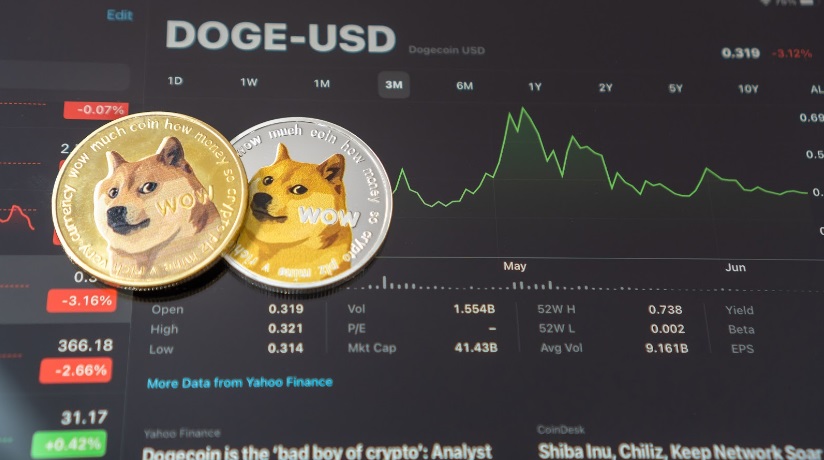 Dogecoin ($DOGE) is highly volatile after a mix of news caused uncertainty in its market. Elsewhere, TRON ($TRX) turned bullish as more developments were implemented on its network. Yet, Borroe.Finance ($ROE) still dominates the cryptocurrency space, delivering 50% profits for early investors.
Can Dogecoin and TRON gain enough momentum to dethrone Borroe.Finance?
Dogecoin ($DOGE): Volatile Amid Uncertainties in the Market
New York's financial regulator has notably reduced the list of pre-approved cryptocurrencies that licensed crypto trading platforms can offer. Among the tokens that have exited the greenlist include XRP ($XRP), Dogecoin ($DOGE), Litecoin ($LTC), and Ethereum Classic ($ETC).
The Dogecoin ($DOGE) cryptocurrency has experienced increased on-chain activity as speculation grows about its potential integration with prominent social media platforms. Notably, the X platform, backed by Dogecoin ($DOGE) advocate Elon Musk, has obtained a digital asset license.
The blockchain community is abuzz with rumors hinting at a potential Dogecoin ($DOGE) integration on the horizon. According to analysts, the price of Dogecoin ($DOGE) seems ready for an upward trajectory.
Dogecoin ($DOGE) became volatile, impacted by that mix of news and developments. On September 20, 2023, Analysts expect $DOGE to stabilize and continue rising, supported by developments and adoptions to trade at $0.07025 by the end of 2023.
Nonetheless, Dogecoin ($DOGE) is not a good crypto to buy now due to the volatility and uncertainties in its market.
TRON Is Creating A Decentralized Internet, $TRX Now Bullish
TRON ($TRX) leads the cryptocurrency space as a blockchain-based operating system, emphasizing the development of a decentralized internet that grants content creators total ownership of their content. Notably, this vision has propelled TRON's ($TRX) prominence in the crypto space, securing its position as a top 10 coin.
On that note, TRON's ($TRX) software supports smart contracts and decentralized applications (dApps), making it a popular choice in the blockchain sector. Hence, TRON's ($TRX) vision to democratize content creation and distribution is expected to drive significant future adoption.
Elsewhere, TRON ($TRX) has experienced a remarkable surge in daily transactions, reaching a peak of 4.8 million. Multiple factors have contributed to this increase, reflecting the rapid growth within TRON's ($TRX) ecosystem.
Analysts expect $TRX to keep rising to $0.09450 by the end of 2023, supported by developments in its network. Hence, investors seeking a profit can consider buying TRON ($TRX) today.
Borroe.Finance ($ROE) Surges as Its Demand Increases
Borroe.Finance ($ROE) operates as a leading AI-powered funding marketplace, allowing Web3 companies and content creators to access upfront funds based on their future incomes. Additionally, enterprises within the Web3 sector can leverage Borroe.Finance ($ROE) to swiftly generate liquidity.
In that context, Borroe.Finance ($ROE) enables users to convert upcoming subscriptions, royalties, invoices, and digital payments into non-fungible tokens (NFTs). These NFTs can later get sold at discounted rates to supportive communities. Moreover, they can get resold on secondary markets through a robust peer-to-peer system.
Borroe.Finance's ($ROE) NFTs are highly acknowledged for their significant real-world utility. They will enjoy massive popularity by granting users access to capital through Borroe.Finance's marketplace. With all these utilities, they are regarded as the best NFTs to buy today.
By design, Borroe.Finance ($ROE) is set to establish a massive base for sustained growth, enhancing security for loan providers and consumers within its ecosystem through blockchain technology. Additionally, Borroe.Finance ($ROE) guarantees on-demand liquidity, facilitating seamless daily operations within the Web3 sector.
Borroe.Finance ($ROE) is currently in Stage 2 of its presale trading at $0.0150, a 50% increase from its Beta Stage price of $0.0100. These Stage 2 buyers will enjoy 167% ROI when $ROE hits its $0.0400 presale target price. Experts say ($ROE) is the best crypto investment of the year because of its massive profit opportunities.
Learn more about Borroe.Finance ($ROE) here:
Visit Borroe.Finance Presale | Join The Telegram Group | Follow Borroe.Finance on Twitter
---