Do You Browse the Internet? Turn That into a Source of Passive Income with Surf Reward
Disclosure: Crypto is a high-risk asset class. This article is provided for informational purposes and does not constitute investment advice. By using this website, you agree to our terms and conditions. We may utilise affiliate links within our content, and receive commission.
Disclaimer: The text below is a press release that is not part of Cryptonews.com editorial content.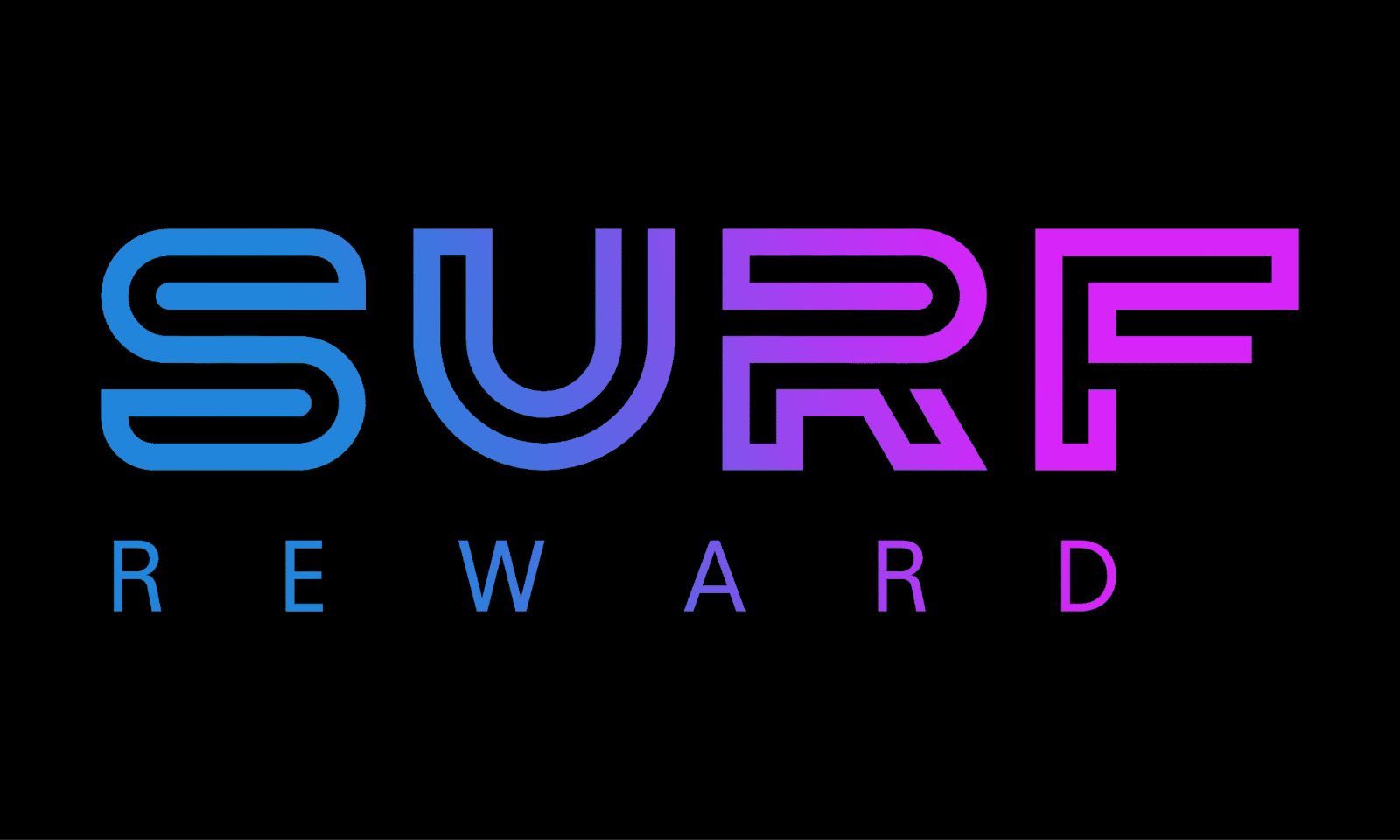 All of us spend more time than we'd like to on ads every day. They're everywhere from the streets to the internet and the TV. While ads on the streets give us an option to not put up with them, that's not the case with internet ads or digital ads.
They're relentless.
We have to watch the ads or else we should look for content somewhere else. But there too, we're going to see ads – if not this, something else. They are on news portals, social media platforms, search engines, and every nook and cranny of the internet.
Ads With a Purpose

What if we could turn ads into an opportunity for a side income – that too passive?
That's the vision that drives Surf Reward – a browser extension that eliminates the majority of intrusive and irrelevant ads that disrupt the smooth internet browsing experience.
Compatible with all major web browsers, Surf Reward integrates seamlessly into our everyday life.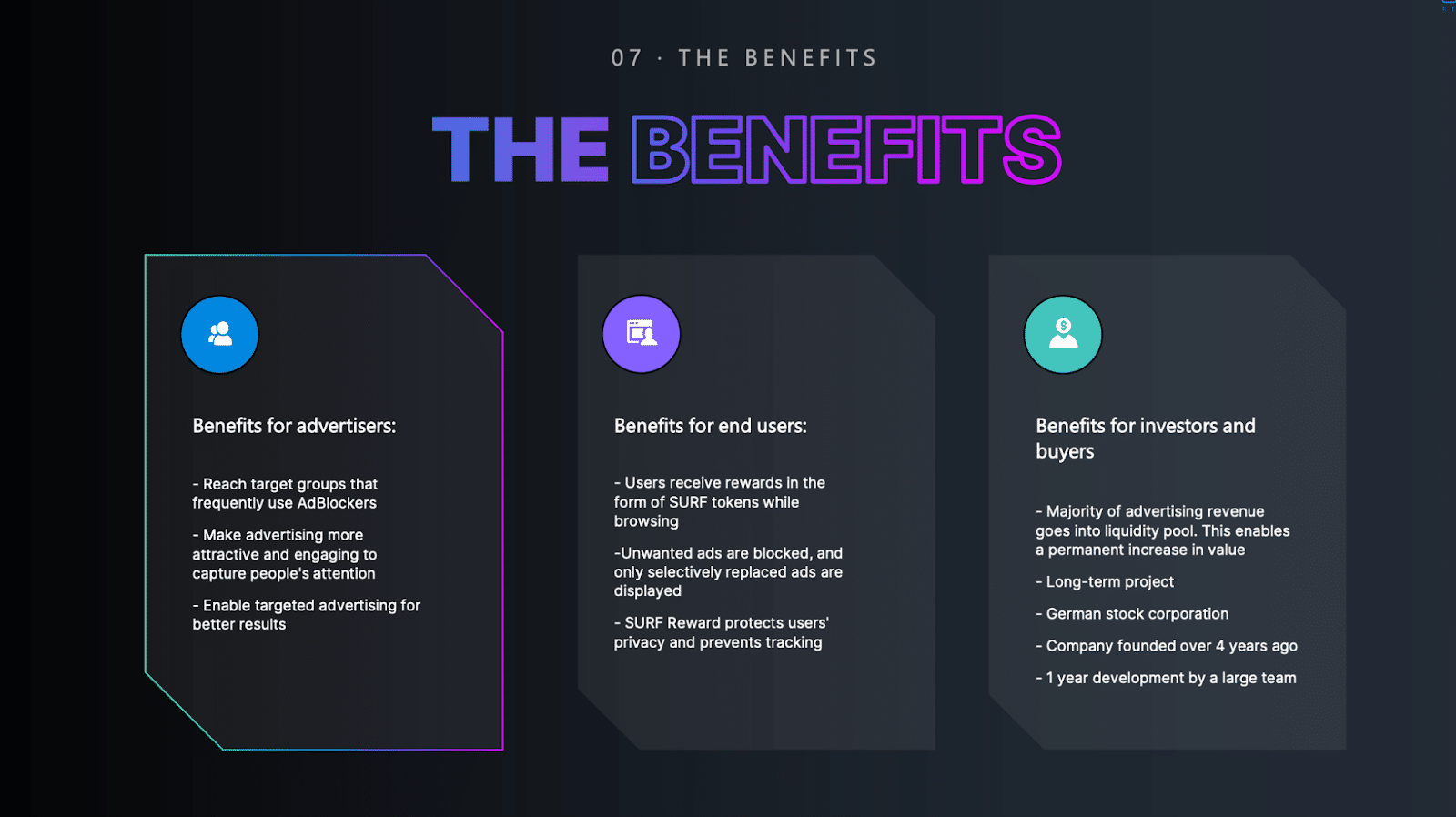 Budget-Friendly Advertising Solution with a High Conversion Rate

Digital ads, despite their persistence, have a low conversion rate. Although they are launched with the goal of building brand awareness and loyalty, they can sometimes backfire.
A user who is inundated with an annoying ad from a particular brand is forced to block it eventually. Surf Reward, on the other hand, exchanges individual advertising spaces with its trusted advertising partners.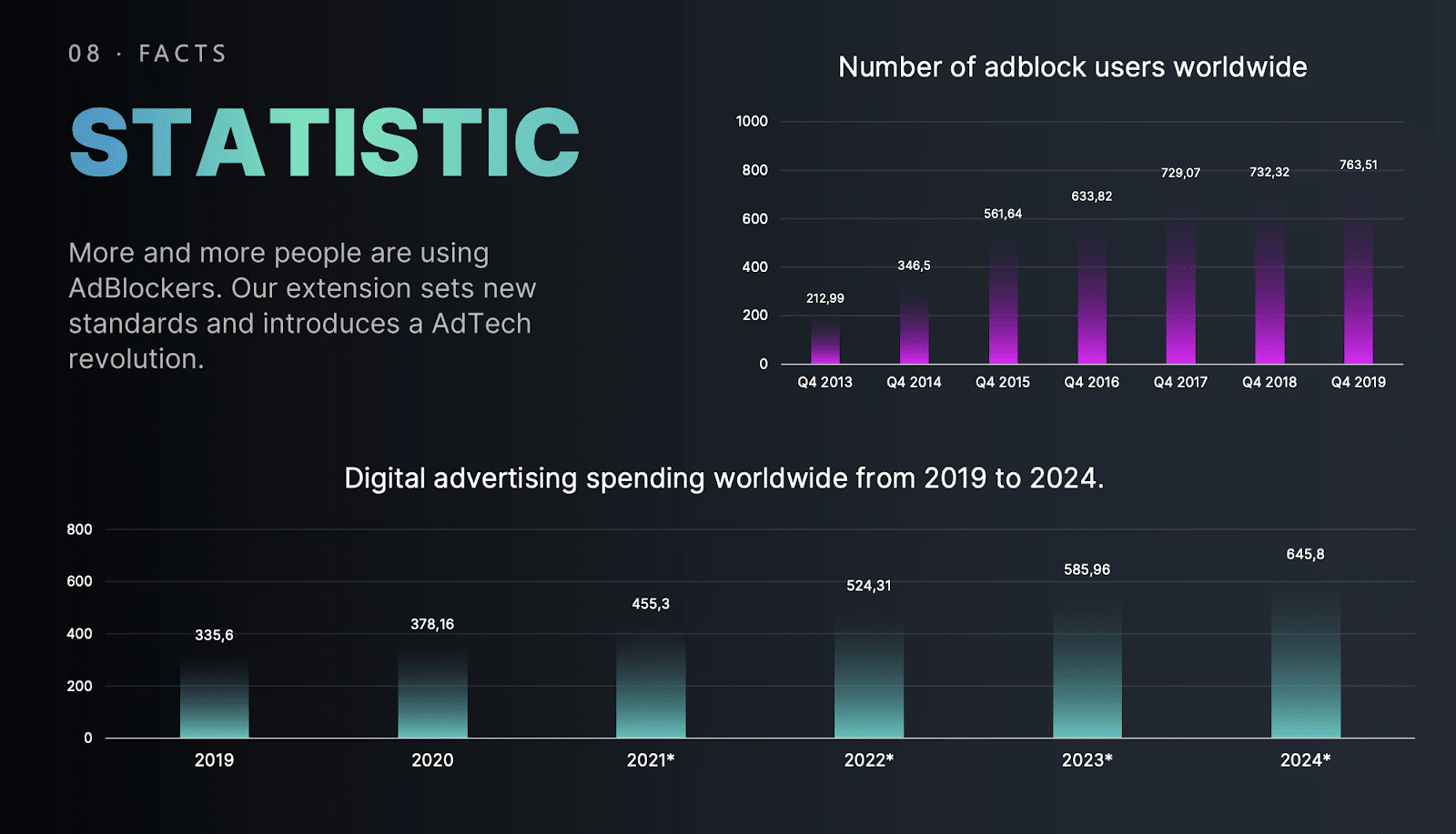 Here, advertisers have viewers' consent to view the ads and that makes a world of difference when it comes to the conversion rate.
Surf Reward is more cost-effective than traditional digital ads as well, since it eliminates intricate networks of intermediaries and adopts a streamlined approach.
Check out the YouTube video for a quick overview of how that works:
Cryptocurrency for Everyday Users

The crypto market is often criticized for its lack of resonance with everyday users and everyday use cases. That is one of the reasons why cryptocurrencies are confined to a few tech-savvy people and adventurous investors now.
To change the narrative, we need cryptocurrencies that serve real-world purposes. Another factor to consider is the potential risk. Everyday users are not going to touch cryptocurrencies with heavy risk. So, a mass crypto should have less risk.
$SURF ticks both boxes.
Since most people from around the world are internet users now, $SURF has a use case with a large potential user base. Being a reward token that targets a large user base, its risk element is also comparatively lower than other crypto coins.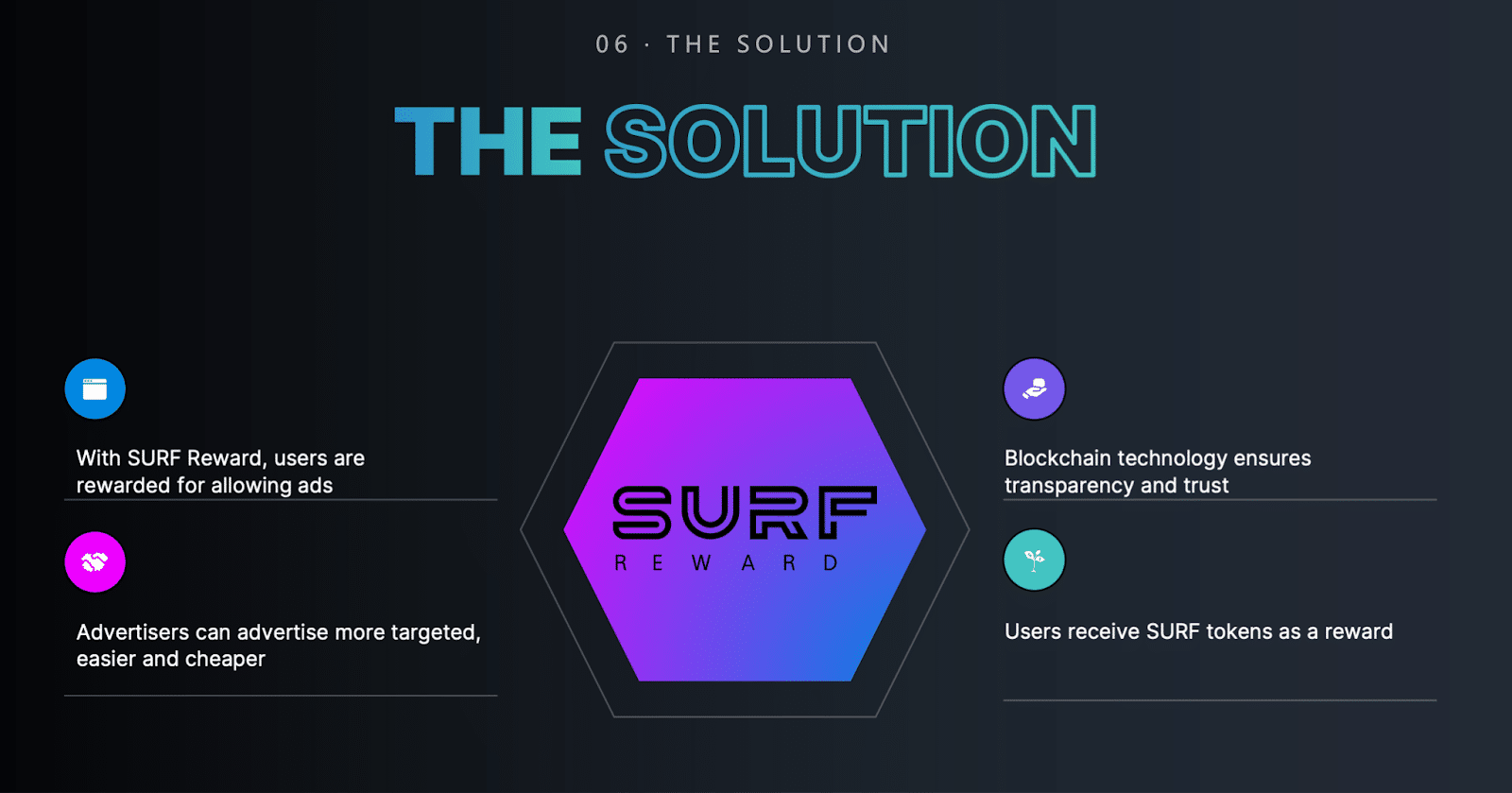 Let's say you're investing in a meme coin. Since the token relies on speculation rather than utility, it will begin to shed value once the community moves on to other meme coins. Another popular category of crypto coins is play-to-earn tokens. But P2E communities are limited to gamers. Here, gamers have to keep stepping up their game to stand a chance to win rewards. The active nature of the reward system diminishes their allure.
The Surf2Earn reward system put forward by Surf Reward, on the other hand, is accessible to everyone who uses the internet. The value of $SURF is underpinned by a large community of users. Moreover, the passive nature of the rewards ensures that the community keeps growing.
What's More?

Surf Reward aims to give a clutter-free internet surfing experience and help users turn it into a source of passive income.
In addition, it focuses on providing a safe and secure internet experience where data privacy is at the center. The deactivation of tracking functions helps the project achieve that, thus ensuring that user information and activities remain secure.
It also optimizes websites, resulting in faster page loading times. The option for the integration of public AdBlock lists is another interesting advantage of the extension.
Users are given complete control over their advertising experience, enabling them to tailor the number of advertisements they are shown depending on their ad preferences. It allows them to set their own reward goals as well.
Staking Offers an Extra Stream of Income

Surf Reward investors stand a chance to earn attractive staking APY ranging up to 2275%. The earlier investors add presale tokens to the staking pool, the higher the APY. The share of rewards goes down as more investors grab the opportunity. The flexible staking application does not impose any lock-up periods.

The project's achievement of onboarding 3,000 advertising partners highlights the wide-ranging appeal of the consent-based advertising model and its potential for growth.
Surf Reward is a blockchain product from Abelius Capital AG, a well-established German company with a commendable track record spanning five years. With the ongoing public presale, the company offers early investment opportunities to retail investors.
---