Discover the Next Explosive Crypto with Ease Using yPredict's Deep Data Analysis for Crypto Price Predictions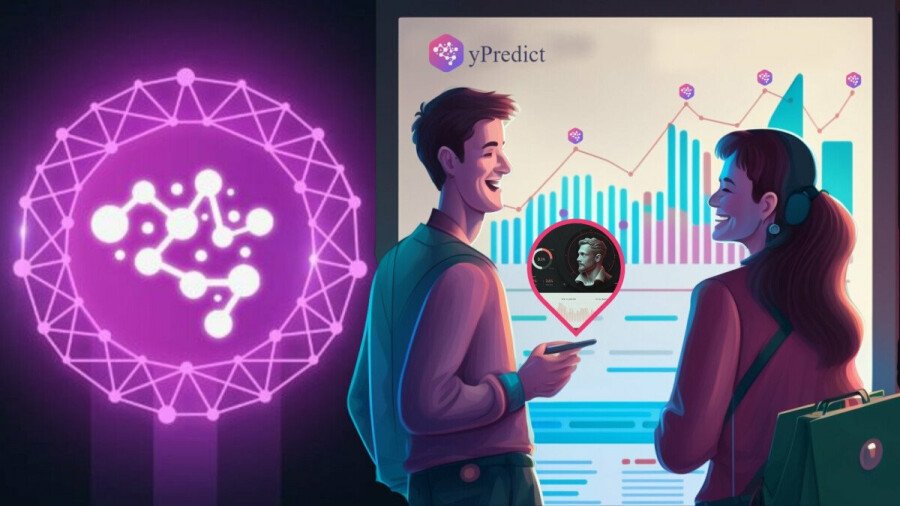 A ground-breaking new AI-powered crypto trading and market intelligence platform called yPredict is building a first-of-its-kind, institutional-grade crypto price prediction system.
According to observers, the tool, which is powered by yPredict's in-house deep data analysis, will help crypto investors discover the next explosive crypto with ease.
The best part, yPredict's crypto price prediction system will remain free and open for all users to access – the price predictions will be made publicly available and require no login to see, the project's Whitepaper explains.
yPredict says its motivation for keeping the price prediction system free is that it "will serve as a source of inbound traffic for (the broader) yPredict ecosystem".
Indeed, while its price prediction system has been touted as a game changer for the industry, yPredict offers investors much more than just crypto price predictions.
yPredict to Provide Market Participants an Unbeatable Edge
yPredict is "building a cutting-edge crypto research and trading platform that provides traders and investors access to dozens of AI-powered signals, breakouts, pattern recognition, and social/news sentiment features", the start-up says in its Litepaper.
The platform's technology was designed using state-of-art predictive models and data insights built by top 1% AI developers and quants.
Meanwhile, "the ypredict.ai marketplace will enable experts to earn recurring revenue by offering their model predictions or data research as trading signals, which traders and investors can subscribe to".
All said, yPredict's platform aims to hand market participants an unbeatable edge.
According to the project's whitepaper, yPredict plans to launch the full version of its Analytics, Repository and Marketplace platform by the end of 2023.
For those interested in checking out the platform in its early form, yPredict has already launched a beta, the waitlist for which can be joined here.
yPredict Presale Surges Into Stage 2
To fund the development of its revolutionary AI-powered crypto trading and market intelligence platform, yPredict is running a presale of the native $YPRED token that will powers its platform.
And the presale just hit a massive milestone in its fundraising efforts by raising $1,660,000 million.
That means The project's presale has now entered its sixth stage, which sees the $YPRED token price rise from $0.07 to $0.09.
However, there's still plenty of upside for new investors, as the token will list across major exchanges for $0.12 later this year, for paper gains of 33%.
However, the pace at which yPredict's $YPRED token continues to fly off the shelves means that investors need to be careful not to miss out before the presale sells out.
yPredict has a presale hard cap of $6.5 million, which could be hit in a couple of weeks if the presale continues to gain pace like it has in recent days.
The 33% gains that investors who get in now can secure could pale in comparison with the upside $YPRED could enjoy in the long-run.
With more and more traders and investors expected to turn to AI technology for trading assistance in the coming quarters and years, it's no wonder that analysts are predicting big things for the yPredict platform and its $YPRED token.
Popular British crypto start-up/presale YouTube analyst Jacob Crypto Bury thinks that yPredict looks like a "low market cap gem", with $YPRED having the potential to at least 10x.
How $YPRED Gets Its Value
yPredict's $YPRED crypto token, which is issued on the Polygon blockchain meaning low gas fees and fast transactions, is the economic backbone of yPredict's revolutionary AI-powered trading platform.
To access yPredict's premium features, new users will need to pay a $YPRED-denominated subscription fee.
10% of these fees will be distributed to existing $YPRED token holders.
This will encourage $YPRED investors to HODL as they benefit from a passive income stream, reducing sell pressure in the market.
And that's not the only passive income stream that $YPRED owners can benefit from, with owners also able to stake their tokens in pools to benefit from monthly rewards.
yPredict's AI-trading platform is designed to run on a freemium pricing model.
Three levels of membership include free, active and pro trader.
With yPredict's platform expected to perform exceedingly well in 2023 and beyond as AI adoption grows and crypto markets come roaring back, investors should move quickly to secure $YPRED tokens while they are still being offered at a discount.
Read More:
---