DigiToads Token Burning Program Is Why Dogecoin Holders Are Secretly Dumping For TOADS
Disclaimer: The text below is a press release that is not part of Cryptonews.com editorial content.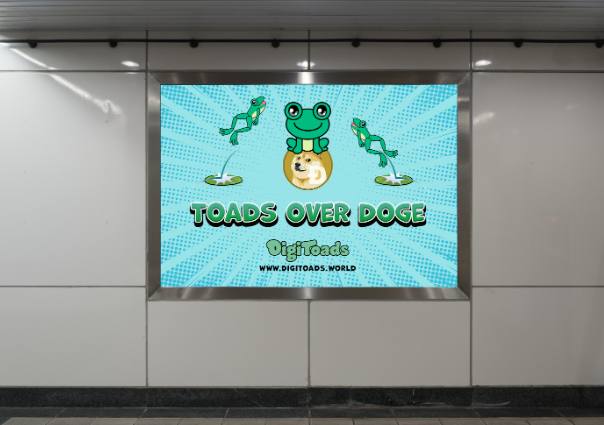 As the crypto world grows and expands, the emergence of innovative projects and initiatives continues to captivate the attention of investors.
Among these, the DigiToads (TOADS) token-burning program has recently taken center stage, drawing the curiosity of Dogecoin holders who find themselves discreetly divesting their holdings in favor of TOADS. Experts are recommending TOADS burning as an avenue for maximizing returns.
The project's success lies in its ability to create scarcity and foster a sense of exclusivity among TOADS holders.
As a result, Dogecoin (DOGE) holders have recognized the opportunity to diversify their portfolios and capitalize on the growing popularity of TOADS.
With its widespread adoption and the teams behind it, DigiToads has gained a spotlight from crypto investors.
In this article, we will delve into the reasons behind Dogecoin holders' secretly dumping DOGE for TOADS.
DigiToads (TOADS): Deflationary Cryptocurrency with NFT Staking and P2E Gaming for Rewarding Experiences
DigiToads has implemented a unique token-burning program that differentiates it from traditional cryptocurrencies.
Each TOADS transaction intentionally burns a certain percentage of tokens, resulting in a continuous reduction in the circulating supply.
This deflationary mechanism creates scarcity, ultimately driving the value of the remaining TOADS tokens.
Dogecoin holders, who have witnessed the transformative power of scarcity-induced growth, are now covertly diverting their attention toward the potential rewards offered by TOADS tokens.
The DigiToads DeFi project presents an innovative NFT staking platform to enrich its ecosystem further.
This platform allocates 2% of every TOADS transaction to a staking pool, ensuring a sustainable reward system for the DigiToads community.
The accumulated staking pool is distributed among NFT holders who regularly stake their NFTs. Notably, the longer an NFT remains staked, the greater the rewards the holder earns.
This incentivizes NFT acquisition and long-term retention, bolstering the strength and engagement of the DigiToads community.
Within the DigiToads ecosystem, a captivating Web3 game known as P2E gaming awaits players, offering an immersive experience centered around the collection, nurturing, and battle of unique DigiToads.
Players are presented with a wide range of choices when selecting their ideal digital companion due to the distinctive traits, strengths, and weaknesses exhibited by each DigiToads.
By using TOADS DeFi tokens as the game's currency, players can improve their DigiToads' abilities and gain a competitive edge.
Players can use TOADS DeFi tokens as the game's currency to boost their DigiToads' capabilities and gain an advantage.
Investing in food, potions, and training equipment improves the size, strength, and learning abilities of their DigiToads.
This strategy increases demand for TOADS tokens within the ecosystem, fostering continuous growth.
DigiToads DeFi project rewards its players with enticing end-of-season rewards. After each month-long season, the top 25% of players on the leaderboard receive valuable TOADS tokens.
50% of the proceeds from in-game item sales are allocated to the prize fund to fund these rewards. This innovative feature allows players to earn real money while enjoying the captivating world of DigiToads.
Dogecoin (DOGE): Embracing Accessibility, and a Supportive Community for Unprecedented Growth
Dogecoin, initially created as a lighthearted meme cryptocurrency, has gained substantial popularity as the best crypto investment over the years.
The appeal of Dogecoin lies in its easy accessibility, low transaction fees, and supportive community that has fueled its growth.
Dogecoin's widespread acceptance as a means of tipping content creators and supporting charitable causes has also contributed to its enduring appeal.
Despite its early success, DOGE holders have quietly started shifting their investments towards DigiToads, believing that the TOADS token-burning program will lead to potential price appreciation.
Conclusion
The TOADS token burning program has emerged as a significant catalyst for DOGE holders secretly dumping their holdings for TOADS.
This innovative initiative, aimed at reducing the supply of TOADS and increasing their value, has captured the attention of investors seeking the best crypto investment opportunities and potential returns.
This innovative initiative by the DigiToads team has caught the attention of crypto enthusiasts and demonstrated the potential for sustainable value creation in the crypto market.
Take action now, acquire TOADS DeFi tokens, and witness the prospect of a token built on community, scarcity, and value.
For more information on DigiToads, visit the website, join the presale, or join the community for regular updates.
---