DigiToads (TOADS) Rise to Prominence as Pepe (PEPE) & Dogecoin (DOGE) Craze Subsides
Disclaimer: The text below is a press release that is not part of Cryptonews.com editorial content.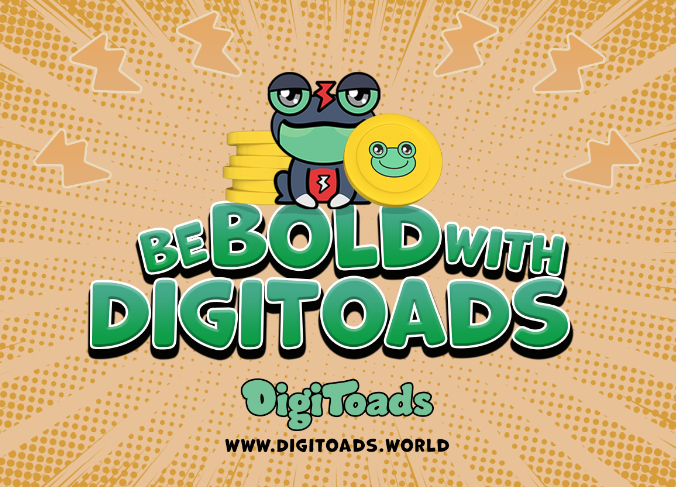 PEPE might have got the recent meme coin season started thanks to 21,000% gains straight out of the gates: but it has failed to hold onto the hype.
That's why DigiToads (TOADS) continues to rise to prominence in the meme coin world as it looks set to surpass even the gains made by DOGE back in the last meme coin season.
Both PEPE and DOGE have helped pour new life into the altcoin industry, but they aren't the best tokens to capitalize on over the next few months and years: TOADS is.
With some of the best meme coin mechanics ever seen and a model that's built for growth from the ground up, TOADS could help reshape the meme coin landscape while also reshaping your portfolio for a better future.
Here's why it leads the way as the best crypto to buy right now.
DigiToads (TOADS)
TOADS is poised to unite meme coin hype potential with long-term earning fundamentals thanks to the best mechanics many experts have ever seen alongside a fun and rewarding community-first ethos.
With the unique TOADS battle arena, you can compete with your own TOADS companions to win rewards every single season, either for profit or to make your TOADS battlers even more powerful.
TOADS also uses a small sales tax to provide funds for multiple channels, including NFT staking pool, liquidity pool, community enhancements, charitable donations, and more.
This makes it the best full-utility meme coin ever seen in the P2E marketplace. And the revolutionary TOADS presale continues to attract new investors at a rapid rate as it smashes past the $4.65 million sales barrier.
With prices set to increase from a current level of $0.036 to $0.055 before its official launch onto BitMart and Uniswap, you can guarantee yourself gains if you invest right away.
TOADS is the best crypto for beginners ever to enter the crypto industry thanks to its ease of use and range of fun features, all of which are helping it rise to prominence as it prepares to challenge DOGE and PEPE for the meme coin crown.
Pepe (PEPE)
PEPE's mouth-watering gains earlier this month helped show that there's still life in the meme coin world and started a new altcoin frenzy that TOADs looks perfectly poised to capitalize on.
PEPE could still surge once again, but prices have crashed in the wake of Binance being sued by the SEC, whereas TOADS is only just getting started on its journey to success.
Dogecoin (DOGE)
DOGE remains the biggest meme coin out there on name recognition alone, but is it the best investment for your portfolio if you want gains over the next few months?
Perhaps not, which is why TOADS leads the charge for all new crypto investors as it offers real fundamentals alongside meme coin popularity.
That's the problem with DOGE itself, while it may have famous backers and a strong fanbase on social media, it doesn't offer investors anything other than price speculation.
While DOGE has shown that this kind of popularity is enough to cause short-term price growth, TOADS beats that by offering the same social media popularity potential alongside actual mechanics that can stand the test of time.
DOGE was supposed to be easy to use as the 'people's crypto', but mass adoption has failed to live up to initial expectations.
Conclusion
Memecoin season is just getting started, and TOADS is poised to become the next big breakout star.
With discounts still available, now's the time to add it to your portfolio as it looks set to surpass more established meme coins like PEPE and DOGE as their craze weakens.
So if you want meme coin stardust alongside long-term fundamentals, check out TOADS at the earliest opportunity. Your portfolio will thank you for it.
For more information on DigiToads visit the website, join the presale or join the community for regular updates.
---