DigiToads (TOADS) : The Meme Coin with 1000x potential could outperform Dogecoin (DOGE) in 2023.
Disclaimer: The text below is a press release that is not part of Cryptonews.com editorial content.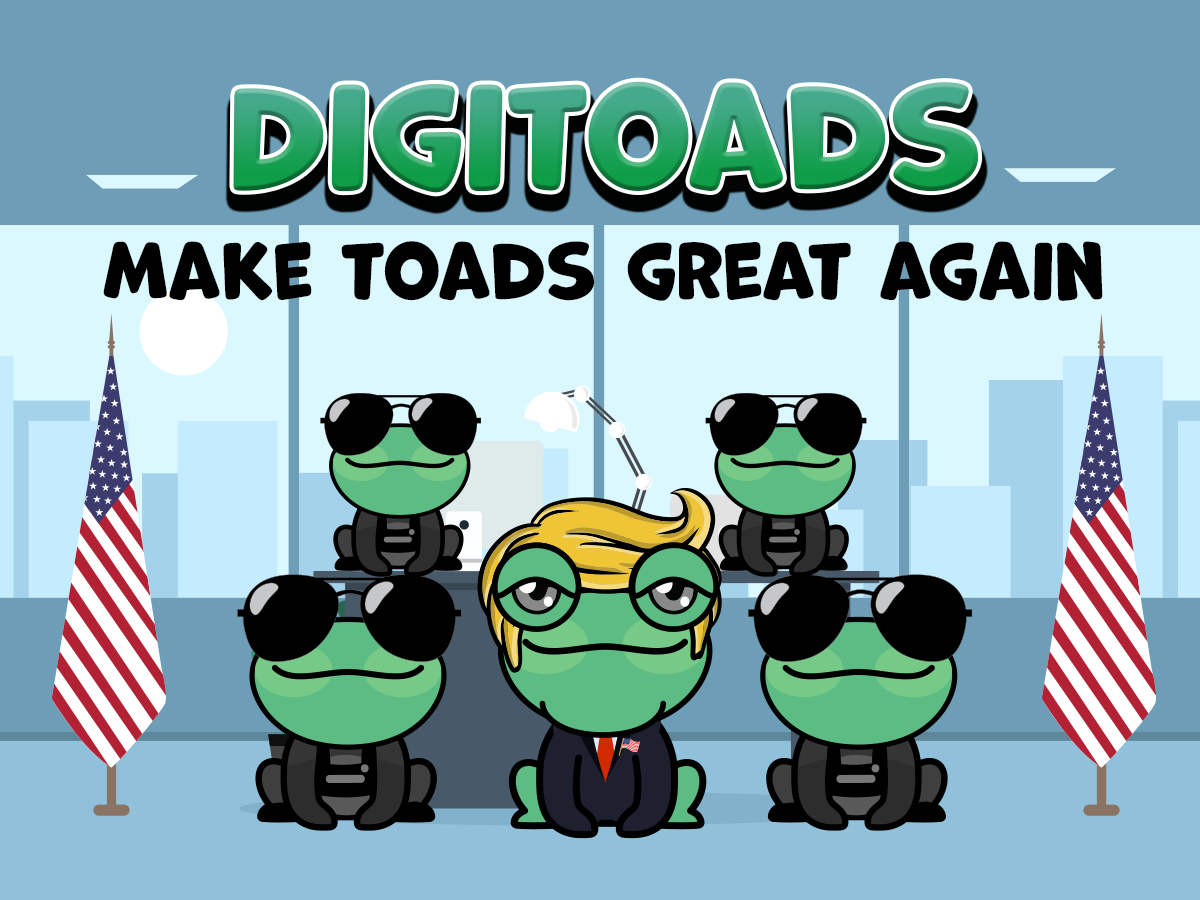 DigiToads (TOADS) is a new meme coin that has taken advantage of Dogecoin's popularity in crypto. It is also making strides to become the most recognized cryptocurrency on the market by the end of 2023.
Although DigiToads only came into the limelight recently, it has already generated critical acclaim and massive adoption, demonstrating investors' tremendous interest in this cryptocurrency project. Analysts have predicted that it could have a 1000x return on investment and rival top cryptos like Dogecoin (DOGE).
Let's explore why DigiToads is the best way to get a 1000x return on your crypto investments and how it could surpass Dogecoin this year.
Why DigiToads (TOADS) Is So Successful
Owing to its amazing growth, the DigiToads platform has recently attracted much attention from investors. In the short time since its debut, the token price has grown by over 140%, leaving investors speculating that it is the next token to hit 1000x, making it the best crypto to invest in now.
The potential for TOADS to grasp 1000x gains this year results from cutting-edge technology that goes beyond the borders of buying and selling and delves into various lucrative opportunities like NFT staking and play-to-earn gaming, which is rare with other meme coins.
TOADS is the ERC-20 token that powers this project. Through its multiple utility approach, it is changing the way people see meme coins. No doubt, there is a lot of interest in DigiToads, as evidenced by the ongoing TOADS presale. The accomplishment of various milestones solidifies that this cryptocurrency has a promising future.
The TOADS crypto ICO has already blazed through multiple phases, raised over $1.8 million, and is rising. Investors who act fast can purchase the token at a greatly reduced price. DigiToads is the best crypto to invest in now because, on some days, the price will increase, and this is an opportunity to start your journey toward profitability.
The reward could be massive for those willing to take a chance on DigiToads. TOADS has already gained massive appreciation during the crypto ICO, and its real-world use case could help it continue growing in popularity. When DigiToads successfully integrates its cool NFTs and metaverse ecosystem, it will greatly boost the coin's value, which will blaze past that of Dogecoin.
Dogecoin (DOGE) Is Struggling To See Higher Prices
Dogecoin (DOGE) is a meme coin that has done the seemingly unthinkable. Starting as a joke, it has been circulating since 2013 and has experienced huge popularity. Its thriving community is what allowed it to grow to its current market valuation of over $11.08 billion. It is an entertaining cryptocurrency that continues to catch the eye of investors for several reasons.
Dogecoin peaked at $0.73 in 2021 and has fallen by over 81.80%. It is easy to see why investors are uncertain about Dogecoin now by comparing its price to the beginning of this year when it was in negative territory.
Although it stayed positive during February, recent price declines are troubling investors. How the price of DOGE may increase in the future is unknown. But the evolving cryptocurrency industry is encouraging investors to purchase cryptocurrencies like DigiToads, which are the best option in presale.
While Dogecoin remains a relevant meme coin in the industry, DigiToads is speedily catching up and has already drawn significant investor interest due to its fast expansion and presale success. It is, without a doubt, the best crypto to invest in now.
Summary
Judging by DigiToads' features and presale expansion, it has a good chance of becoming the next 1000x token in the constantly changing world of cryptocurrencies. With the promise of future connections with the metaverse and cool NFTs, DigiToads will likely rank as a top ERC-20 token to outmatch Dogecoin and transform the markets. So why are you still waiting? Invest in DigiToads immediately while still in the presale stage at $0.02 per token.
For more Information on DigiToads visit the website, join the presale or join the community for regular updates.
---