DigiToads Set To Spearhead Altcoin Season In Upcoming Bull Run, Here's Why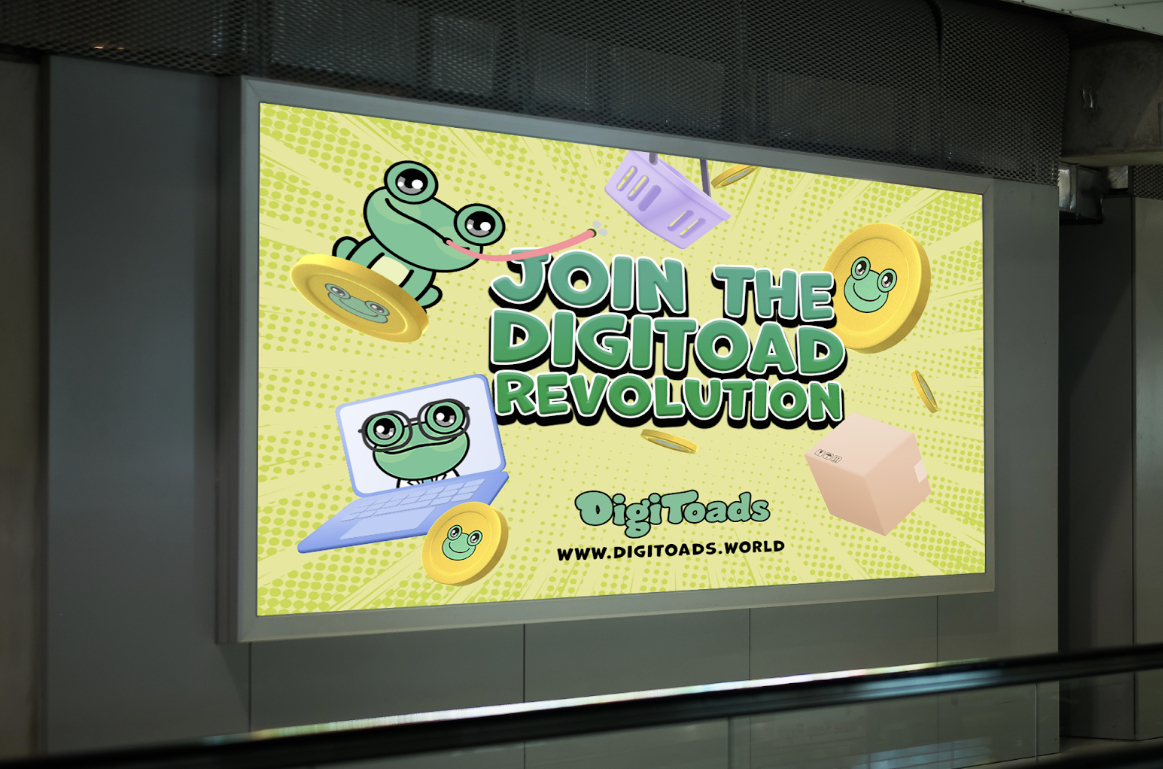 Disclaimer: The text below is a press release that is not part of Cryptonews.com editorial content.
If analysts are to be believed, then the global crypto market might be in for a bull run soon. Experts have also claimed that this bull rally is likely to be spearheaded by meme coins like DigiToads (TOADS) which has been hitting the headlines regularly with its cutting-edge features. Built on the Ethereum network, DigiToads has outperformed many new altcoins in the past few weeks to garner global attention with its hybrid DeFi model. Its key advantages include a wide range of opportunities that can help users multiply their residual income.
Why is the cryptoverse so excited about DigiToads?
DigiToads is a state-of-the-art crypto project that captures the functionality of three tokens to create a utility-centric framework. With its unique design, crypto users can look forward to tapping into options like staking, trading tokens, playing Web 3.0 games and even participating in daily or weekly prize draws. The platform's native cryptocurrency is an ERC-20 coin that functions as the medium of exchange on the network. The token is called the TOADS token and you can acquire it by participating in DigiToads' presale process.
Another reason why DigiToads has been hitting the headlines so often in the recent past is because of its cryptocurrency ico. So far, the project has completed nine out of 10 presale stages and raked in almost $6.4 million in funding. Cryptocurrency market experts have expressed a lot of faith in the latest ico as the TOADS token is backed by multiple use cases. DigiToads also sports a robust security framework that shields users' privacy and assets. Its smart contracts have been audited by some of the leading security firms from across the world.
The TOADS cryptocurrency is also versatile and its deflationary model prevents users from losing their returns to market volatility. Under a deflationary model, the token supply is always kept scarce by burning extra tokens. The mechanism ensures that the supply stays below the demand and there are minimal price fluctuations.

In the coming months, the DigiToads team has laid out a roadmap of several milestones and initiatives that will ramp up the platform's reach. For instance, the team will open a think tank and school for NFT holders where they can attend online sessions and boost their knowledge about cryptocurrencies. Next, it is also planning to roll out an official merchandise range. The amount collected from the sale of the merchandise would be donated to an organization working in the field of environmental conservation.
The DigiToads team has decided to donate a small portion of the project's annual profits every year to an organization that's committed to replanting trees and preserving rainforests across the globe.
How can you gain King sized returns with DigiToads' hybrid DeFi platform?
DigiToads' play-to-earn game is a big draw for anyone interested in gaming. The game rewards the highest scorers of each season with TOADS tokens. Players have to compete with other players in a Metaverse swamp. They can buy in-game assets like powerful virtual creatures who can help them boost their chances of winning.
The tokens collected from the sale of such in-game assets are used for maintaining the prize pool. The DigiToads team also organizes monthly trading competitions where participants have to trade with the highest profit volume to be able to win. On winning, they share the profits with the platform.
Why is the TOADS token a must-have crypto?
The TOADS token is among the top cryptos to invest in today's market. Apart from the multiple use cases mentioned above, it is also used for implementing DigiToads' governance structure. Being run by the community members, the team takes into account all stakeholders' views while implementing new proposals. If a proposal is pitched by a community member, it is put to a vote before the community, and token holders get special voting rights to vote for them.
Conclusion
Billed as one of the best altcoins for 2023, DigiToads is an all-rounder cryptocurrency that can cater to various user groups. Be it security, utility, or technology, DigiToads ticks off all the right boxes and is a dependable option for diversifying your portfolio. A big reason why its popularity has been soaring is its growth potential. Thanks to the platform's hybrid DeFi model, users can explore multiple opportunities for earning passive income and even build a steady source of income from them.
---