DigiToads is the Future of Crypto and You Can be a Part of It
Disclaimer: The text below is a press release that is not part of Cryptonews.com editorial content.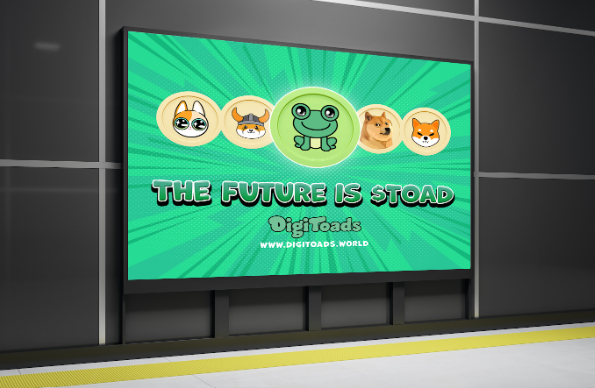 Navigating the DeFi market, which comprises several profitable projects, can be daunting.
Choosing the best project that perfectly balances financial freedom and guarantees high rewards can pose a greater challenge.
Specific indicators can help investors make the right decision, and one crucial factor is the success of the project's presale.
DigiToads (TOADS) is an excellent example of a project with a successful presale. After in-depth evaluation by leading crypto analysts, DigiToads is regarded as the future of crypto, as its live presale records the daily influx of new investors.
The presale has attracted widespread attention and mass adoption, having yielded nearly $5 million. Investors and crypto whales in the DeFi market have rallied around DigiToads to be a part of its profitable ecosystem.
Let's discover what makes DigiToads the future of crypto and how you can be a part of it.
The DigiToads (TOADS) Presale is Amassing Investors and Crypto Whales
The DigiToads presale is nearing its $5 million milestone at the seventh stage of its presale, and this achievement is solidifying its recognition as one of the best cryptos to buy now.
A remarkable aspect of the DigiToads presale is its uniqueness. It allows investors to start trading as soon as the presale ends without needing a vesting period.
It is also commended for undergoing a comprehensive audit by Consult, a trusted crypto industry authority.
This procedure has helped DigiToads gain the trust of potential investors searching for the best DeFi project.
The presale comprises ten stages, each offering investors and crypto whales an exclusive chance to participate and secure high returns on the DigiToads platform.
With each TOADS token selling for $0.042, it is anticipated that the cost of TOADS will be $0.055 when it launches on decentralized and centralized exchanges.
This will present an opportunity for current and future investors to access the exciting post-launch plans DigiToads has projected in its roadmap.
Over 304 million TOADS coins have been sold, and investors continue to stock their wallets with bulks of the token.
The DigiToads ecosystem features a play-to-earn (P2E) gaming space where users can compete in competitions and win bonuses when they unlock achievements or attain high ranks on the game's universal leaderboard.
DigiToads highlights an NFT staking platform for selling, purchasing, and exchanging top NFTs. NFT holders can stake their NFTs for varying durations.
Holders who stake their NFT assets for extended periods receive higher earnings and rewards. This mechanism has contributed immensely to the success of the presale, affirming DigiToads' status as one of the best cryptos to buy now.
DigiToads also houses a dedicated staking pool where 2% of every transaction is stored before it is distributed amongst loyal DigiToads community members as rewards.
Beyond providing financial freedom to its investors, DigiToads is passionate about improving the condition of the environment.
This deep-rooted commitment to making an impact in the real world distinguishes DigiToads from other projects.
DigiToads has promised to donate 2.5% of its yields to rainforest conservation and reforestation charities.
Investors who have purchased DigiToads' native TOADS tokens on sale have indirectly contributed to this strategy.
Final Thoughts
DigiToads' exponential growth is making it the future of the crypto industry. Considering its rewarding NFT staking platform, engaging gaming space, best DeFi financial opportunities, and steadfast commitment to improving the environment's health, DigiToads deserves the attention it is gaining.
The growth of the DigiToads presale has been designed to reward early investors by offering multiple returns as the value of the TOADS coin increases.
Now is the best time for interested investors to participate in this revolutionary project to obtain exclusive access to top NFTs and increase their investments by 450%.
For more information on DigiToads visit the website, join the presale or join the community for regular updates.
---