Despite Recent Sell-Off, Some Coins Are Still Up for the Week
Despite a rough day on Thursday, some of the top 50 coins in terms of market capitalization are still in positive territory for the week.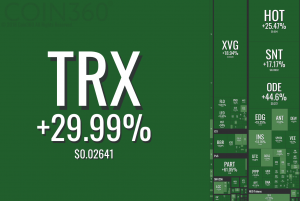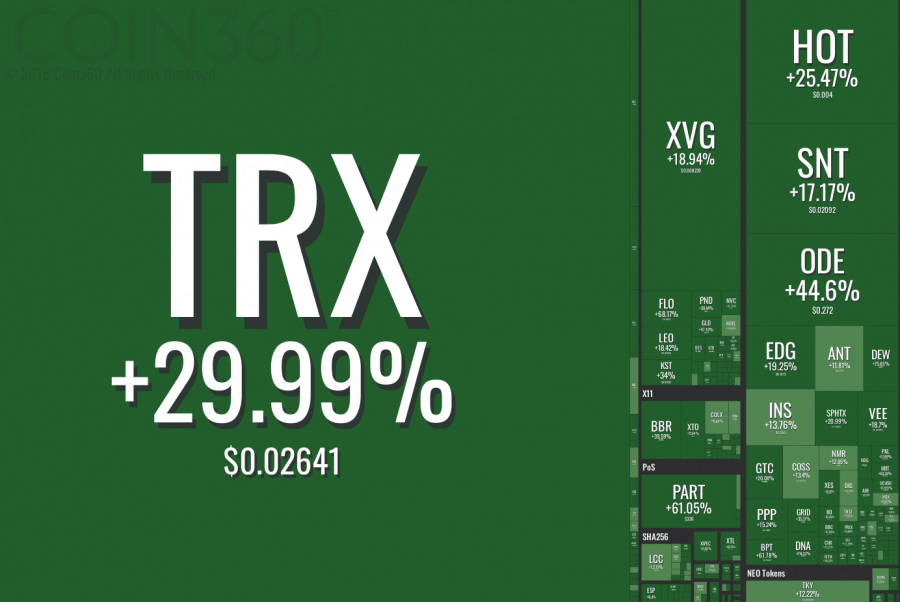 As of press time Friday morning (UTC 07:10 AM), among top 10 coins, Litecoin (0.7%), Tron (31.17%), and Cardano (0.77%) are still all in green for the week. While NEO (1.48%), Zilliqa (0.24%), Verge (10.13%), Bitforex (20.06%), Holo (28.79%) and Augur (4.72%) are another remaining green spots among top 50.
However, despite the big gains made by Tron over the week, the same cryptocurrency was also among the biggest losers in the past 24 hours, seeing almost 15% of its value disappear. While it is unclear exactly what has been driving the recent volatility in Tron, some sources point to the fact that the Tron team just announced the hiring of a former U.S. Securities and Exchange Commission (SEC) attorney to lead their compliance department. Among other possible reasons, some mention that the popular exchange OKEx has recently enabled margin trading on the TRX token.
On the whole, however, most of the major cryptocurrencies remain down for the week, with many suffering double-digit percentage losses.
As Cryptonews.com reported yesterday, some technical analysts had warned traders that a move lower in the bitcoin market was likely, based on what was described as a continuation pattern in the bitcoin chart.
As it turned out, the warning was warranted with bitcoin selling off roughly 8% over the past 24 hours. Other major cryptocurrencies also saw heavy selling over the same time period, with Ethereum trading down roughly 12% and Ripple XRP down by 11%.
"Double-digit losses were recorded in some coins, while Ripple overtook Ethereum to become the second largest token by market capitalization. The selling was accompanied by heavy turnover – just under USD 20 billion – normally a bearish sign, especially after the quiet market conditions this week to date. The cryptocurrency market as a whole lost just under USD 9 billion in one hour," Nick Cawley , analyst at DailyFX, wrote.
Meanwhile, as reported yesterday, David Thomas, Co-Founder of London based cryptocurrency broker GlobalBlock, said thata few drivers "are rumoured to be behind the crypto sell off in the last 24 hours."
"Firstly, there was a 51% attack on Ethereum Classic which resulted in the apparent double-spend of USD 1.1m of ETC. Naturally occurrences such as these can tend to cause some fear in the market surrounding overall security and confidence surrounding both cryptocurrencies and blockchain technology itself. Secondly, there was also talk today of a 'whale' moving ETH 319,000 (USD 68m) onto an exchange today which may well have spooked the market to further sell-offs. Thirdly, ETH has risen off its lows before Christmas by some 80% and any weakness can often lead to a trigger of profit taking from those that managed to catch the lows around USD 82 in December," Thomas said.
Other reactions
Watch Bitpay's chief commercial officer Sonny Singh and Bloomberg Opinion's Stephen Gandel discuss the future of Bitcoin after the recent sell-off below:
______
_____
____
_____
New bitcoin ETF filing
On the positive side, crypto start-up Bitwise Asset Management is filing an application to list a new bitcoin-backed exchange traded fund (ETF) in the U.S. According to a statement by the company, they now believe they have addressed the concerns that the SEC brought up when it rejected previous ETF applications in the past.
The proposed ETF reportedly differs from previous proposals in that it would rely on fully regulated custodians to hold the physical bitcoin that is backing the ETF. In addition, the index that the ETF is based on reportedly draws prices from a larger number of exchanges than other ETF proposals in the past, reducing the risk of prices being manipulated.
"[…] we are optimistic that 2019 should be the year that a bitcoin ETF launches," Bitwise's ETF head John Hyland said in a comment.
---