Demand For Polygon (MATIC) Declines While Interest For HedgeUp (HDUP) Soars
Disclaimer: The text below is an advertorial article that is not part of Cryptonews.com editorial content.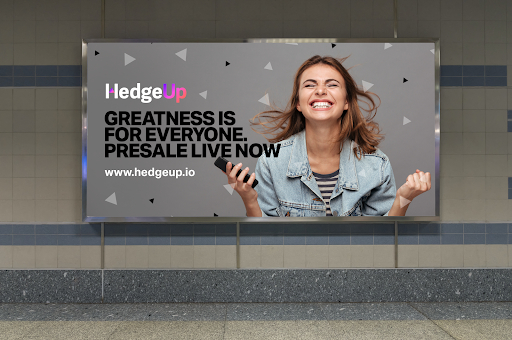 HedgeUp is the first crypto that offers an alternative investment NFT marketplace worldwide. It allows users to make fractional investments in alternative investment assets worldwide. Thanks to Hedge Up, customers can invest in many opportunities and increase their profit ratio. With this platform, investors can access alternative investment options. Moreover, they can stack the equivalent of $1 in HDUP tokens.
Crypto Investors are Moving to HedgeUp
Since Polygon is losing demand in the market, investors are looking to HedgeUp. Even experts are considering HedgeUp as a potential altcoin. There are numerous reasons to rely on HedgeUpfor short and long-term investments. Here are some benefits of investing in HedgeUp:
Through staking events, members of the HedgeUp (HDUP) community will get rewards for staking and locking their HDUP tokens in the treasury. Members' stashed HDUP tokens that have been locked will be added to the liquidity pool, fostering a robust market and more significant trading opportunities for the entire community.
Members can sell their positions to other users on the network through our marketplace for a modest charge. The highest bidder can purchase from users.
Diverse Investment Options
Since HedgeUp is an Alternative Investment Platform, it offers a wide range of alternate options for trading. You can invest in fine arts, diamonds, wine, and luxury watches. Many trading options allow you to improve your portfolio and boost profits.
The Demand for Polygon (MATIC) is Declining
The price of Polygon (MATIC) has been steadily declining over the past few weeks. MATIC lost 4% of its value on the previous day. Over the past week, the altcoin has also decreased by roughly 6%. Early in November, MATIC's price briefly reached $1.20 before sharply falling.
The Polygon price has seen a freefall after the coin's value dropped in November. According to the daily chart's technical view, buyers are not present. It will be challenging for MATIC to maintain itself above the level of immediate assistance.
Polygon will need to significantly boost its purchasing power to maintain its position above the local support line. The coin has broken through several significant price floors over the past month. After moving in circles for a time, MATIC lost more customers, causing the coin to plummet on its chart once more.
For most of this month, the coin was in the seller's dominant zone. After losing the $0.84 support line, the coin only just recovered. The Relative Strength Index was below 40, indicating more sellers than purchasers of the coin.
The indicators for selling strength suggested that the selling frenzy is still ongoing. The Moving Average Convergence Divergence (MACD) indicator shows price momentum and reversals. Red signal bars on the MACD, a sell signal indicator, were visible.
Conclusion
Crypto investors think that it is the right time to sell Polygon and move to HedgeUp if you are thinking of investing in a reliable cryptocurrency with the potential for incredible profits, then you should buy HedgeUp today.
For more information on HedgeUP click the links below:
Presale Sign Up: https://app.hedgeup.io/sign-up
Official Website: https://hedgeup.io
Community Links: https://linktr.ee/hedgeupofficial
---