Defexa Wallet Announces $750 Reward Pool Promo for First 50 Users
Disclaimer: The following article is part of Cryptonews Deals Series and was written as a promotional article in collaboration with the sponsor of this offer. If your company has an exclusive promotion that you would like to share with our readers, we invite you to reach out to us. Let's build together.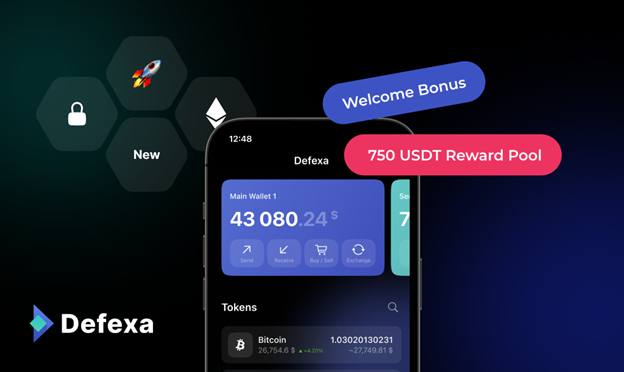 It's no secret that cryptocurrencies have gained immense popularity as ‌modern, decentralized financial assets. And with their increasing value, safeguarding them has become paramount. As the cryptocurrency market continues expanding significantly, various versatile crypto wallets have emerged to accommodate the diverse range of available digital currencies. Thus, one crucial aspect of securing cryptocurrencies is choosing the right crypto wallet.
This article will guide you through the key considerations for selecting a secure crypto wallet and introduce Defexa Crypto Wallet, a reliable and trusted option for protecting your digital assets.
The Significance of Selecting the Right Crypto Wallet
Choosing the right crypto wallet is critical to protecting your cryptocurrencies. With various wallet options available, it's essential to consider factors such as security, user-friendliness, compatibility, and functionality. A wrong choice could result in potential risks such as theft, hacking, or losing access to your digital assets, leading to severe consequences.
The choice of a cryptocurrency wallet is not to be taken lightly, as it directly impacts the security, accessibility, and control of one's cryptocurrency holdings. Let's explore the reasons why selecting the right cryptocurrency wallet is essential.
Security: The security of your cryptocurrency holdings should be your top priority when choosing a wallet. Since cryptocurrencies are digital assets, they are vulnerable to online threats like hacking, phishing, and malware attacks.
Despite being a mobile crypto wallet, Defexa maintains the highest level of security. As an innovative and new-to-market solution, Defexa Wallet harbors advanced security measures such as secret phrase backup, PIN code, and biometric authentication.
Control: Cryptocurrency wallets come in different types, including hardware wallets, software wallets, and online wallets. Each type offers different levels of control over your private keys. It's essential to carefully consider the type of wallet that aligns with your desired level of control over your crypto assets. Not your keys, not your coins, remember?
As a non-custodial cryptocurrency wallet, Defexa Wallet does not retain or store users' private keys. This means that users have complete control over them, and any third-party entity does not hold their digital assets. It enhances the wallet's security and minimizes the risk of potential hacks or unauthorized access to users' private keys and funds.
Accessibility: Different wallets offer varying degrees of accessibility in terms of platform support, ease of use, and availability of features. Choosing a wallet compatible with the cryptocurrencies you own is essential and provides a user-friendly interface that meets your needs.
Defexa Wallet supports 100+ tokens, providing a comprehensive and all-purpose solution to store, manage, and trade every popular digital currency within a single app interface.
Furthermore, Defexa Wallet keeps up-to-date with the latest developments in the cryptocurrency ecosystem, ensuring users can access the most current and relevant tokens. This makes Defexa Mobile Wallet a forward-thinking solution that adapts to the ever-evolving landscape of cryptocurrencies, providing users with an advanced and future-proof option for digital asset storage and management.
Reputation: The reputation of the wallet provider is a crucial factor to consider. Research the wallet provider's reputation, history, and customer reviews thoroughly. Look for wallets that have been around for a while and have a solid reputation for security and reliability.
Defexa Digital Wallet is committed to becoming a trusted and compliant platform. The project is licensed in several regions, such as Canada, the UK, and some parts of Europe, to provide users with a secure and trustworthy way to manage their funds.
Ensuring Safety With Defexa Wallet
As mentioned above, the safety of your crypto wallet is paramount. Some of the best security practices include creating strong and unique passwords, regularly backing up wallet keys, and avoiding sharing information with unauthorized parties. Being proactive in securing your wallet can significantly reduce the risks associated with potential threats.
Defexa Wallet is a top choice for a secure and reliable crypto wallet. It offers advanced security measures, including private key backup, ensuring the safety of your digital assets. With a user-friendly interface, Defexa Wallet makes it easy for novice and experienced users to manage their cryptocurrencies. It supports many cryptocurrencies, including Bitcoin, Ethereum, and more, making it comprehensive for different investment portfolios. Defexa Wallet also has a positive reputation in the crypto community, with a track record of providing excellent customer service and prompt updates to ensure the highest level of security.
Unlock an Exciting Welcome Bonus at Defexa Wallet!
Ready to safeguard your digital assets? Download Defexa Wallet, the cutting-edge cryptocurrency wallet that prioritizes security. The Defexa Wallet team will continuously develop more helpful features and innovative products, such as Crypto Signals, AML regulation, and the highly anticipated Defexa Bank Card.
The Defexa Bank Card could become a global credit card with a crypto top-up feature, allowing users to combine traditional banking with their cryptocurrency holdings seamlessly. The Defexa Bank Card will be available for issuance in most countries, providing a convenient and accessible solution for crypto enthusiasts worldwide.
In the meantime, Defexa Wallet already simplifies the crypto experience with its user-friendly interface and easy-to-use features. Whether you're an experienced trader or a crypto newcomer, Defexa Wallet caters to all levels of expertise. You can start your crypto journey with Defexa Wallet in four simple steps:
Get the App at: https://defexa.io/wallet
Sign Up
Get your secret phrase, create a backup, and never share it with anyone!
Set up a PIN, and that's it!
Get the best security, convenience, and compatibility with the Defexa non-custodial wallet. Download the app right now and get a welcome bonus!
Become one of the first 50 Defexa Wallet users and participate in a $750 reward pool!
Complete Gleam, explore the brand-new Defexa App, and get your welcome perks: https://gleam.io/fpPqq/defexa-welcome-bonus
---