DeeLance Raises $300,000 as FOMO Kicks In, Just 3 Days Left to Buy at Lowest Price Before Huge Price Increase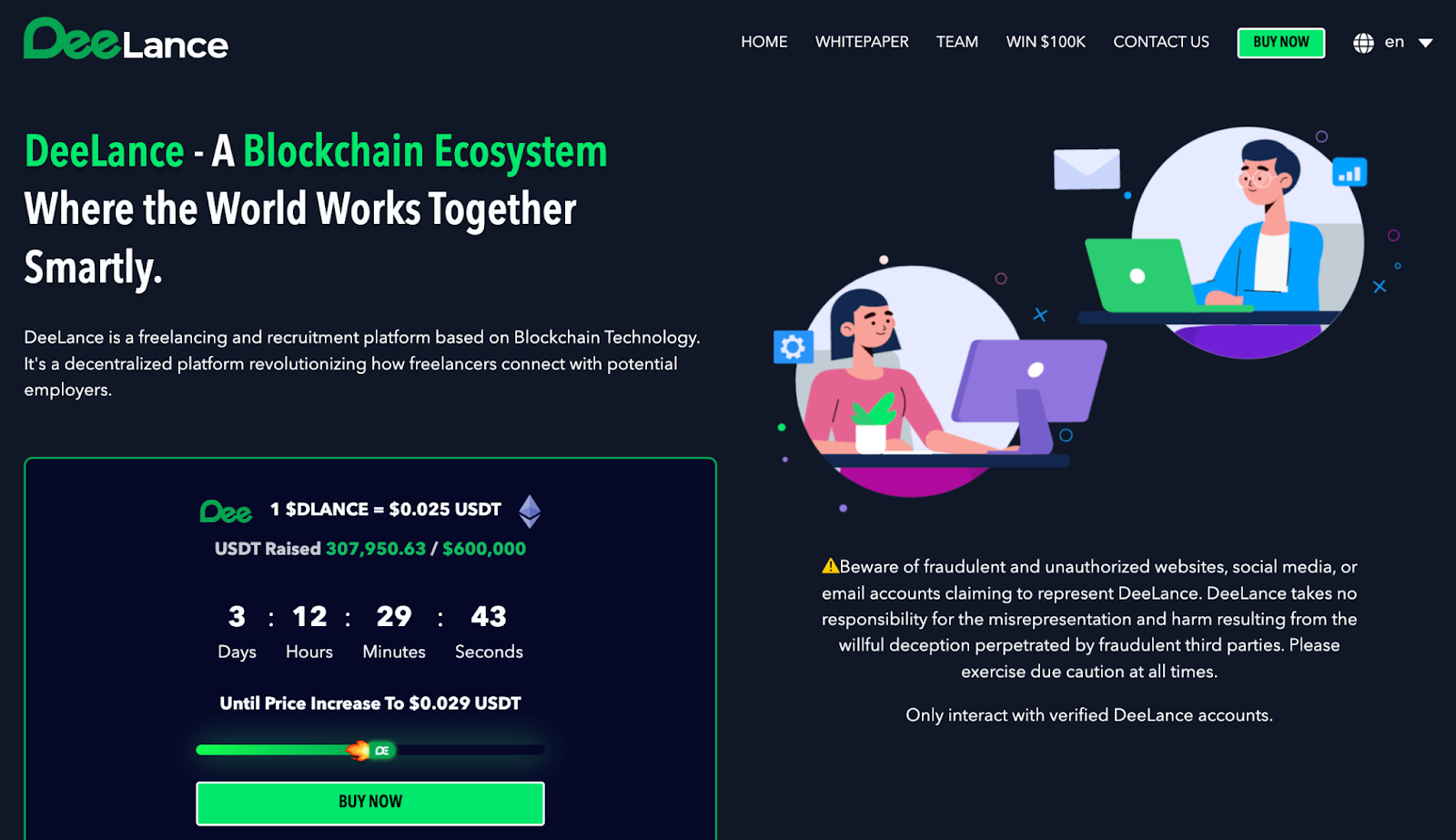 Thursday April 20th 2023 – Fastest growing Web3 gig economy recruitment platform DeeLance has seen presale surge to $307,000 in just three weeks as FOMO sets in.
There are only 3 days left of Stage 1 and the run rate is accelerating briskly as a result.
Adding to the frenzy is the fact that token buyers at today's price will get a 112% upside when the $DLANCE token lists on exchanges – the list price is $0.053.
The Stage 2 price jumps 16% to $0.029 from the current $0.025, so there really is no time to lose for those considering an investment.
FOMO hots up because of 112% upside for earliest investors in a pathbreaking recruitment marketplace
It is for good reason that crypto analysts have been trumpeting the DeeLance presale, as it is one of those rare opportunities to capture early-stage value before the crowd turns up.
FOMO is exploding for DeeLance and the $DLANCE token. And because crypto provides everyone from anywhere in the world with the opportunity to invest, be they those of modest means of the whales dropping $30,000 into the project, the buyers are flooding in.
Blockchain-powered DeeLance brings freelancers and recruiters together in a marketplace where business is conducted in revolutionary new and super-efficient ways. This business pitch is proving an attractive proposition for investors.
DeeLance's NFT marketplace and metaverse power recruitment and commerce
The platform offers so much more than the likes of Upwork and Fiverr. For one thing, DeeLance leverages non-fungible tokens (NFTs) technology to secure the ownership of the work recruiters are paying for.
Then there's the metaverse fits. DeeLance is deploying this new computing paradigm to make the business of business more efficient and effective.
DeeLance is building a metaverse that can be accessed on desktops, where economic actors interact as avatars, buy land, advertise and meet business partners.
And you don't have to be a recruiter or freelancer to use the DeeLance metaverse and NFT marketplace – both are open to allcomers, because the team envisages an ecosystem that is a commerce-enabler in the widest sense.
Instead of hiring and other business activity being conducted in a barren productivity software tool environment, the DeeLance metaverse provides an engaging and constructive setting where everyone can work together in smarter ways.
The metaverse also provides the sort of setting to build trusted relationships, which is such a crucial element of building a successful business.
What's more, trust and security are core use cases of decentralized peer-to-peer networks such as DeeLance, so it is the ideal market fit for the recruitment marketplace industry and beyond.
Founder Dommeti Kiran – "We rasing $100,000 a week from investors who see the exciting value proposition"
Dommeti Kiran, founder of DeeLance with two decades of experience in technology, engineering and business execution, commenting on the impressive progress made in the presale, said:
"We are extremely pleased with the presale so far. We are raising $100,000 a week from investors who see the exciting value proposition of the business we are creating."
"Companies like Upwork are valued in the hundreds of millions of dollars, but their costs are much higher than ours and their functionality is behind the curve."
Kiran continued: "By contrast, we offer lower fees, cryptographically secured escrow, verified ownership through NFTs and a transformational metaverse experience that is scalable both in terms of industry verticals and horizontally for its mass-market potential."
"Our team of developers have already started building the ecosystem and we will be updating our growing community of investors – and later this year users – as we hit the milestones on our roadmap," says Kiran..
"Can I say a big thank you to all those who have contributed so far, you have made an excellent decision to invest in DeeLance and the future of recruitment marketplaces and commerce. We won't let you down."
DeeLance is a seamless yet flexible marketplace ecosystem
In the DeeLance ecosystem, the metaverse, NFT marketplace, freelancing and job hiring elements provide a seamless interactive ecosystem.
Nevertheless, the platform is also flexible, so, for instance, users can enter the metaverse and interact with businesses and individuals for a variety of reasons, not simply to find a job or find a freelancer. There really is something for everyone.
Users can buy land, set up office space, hold events for business clients or jobseekers, while at the same time transacting in the NFT marketplace.
Where $DLANCE token gets its value from
The value of $DLANCE derives from its utility as the access token to the world of the possibilities opened up by DeeLance.
DeeLance's NFT marketplace provides the backbone of an ecosystem that enables the exchange of products and services at a digital and non-digital level.
Additionally and can;t be emphasized enough how important being able to prove ownership is in a digital marketplace.
Commercial transactions must take place in a secure and transparent fashion so that all parties can be confident about the extent of their contractual obligations.
DeeLance NFTs solve this basic problem not just for hirers and freelancers, but for all commercial actors in its metaverse.
DeeLance's market timing is perfect as businesses look to make efficiencies
Deelance believes that its platform is arriving at exactly the right time for many businesses.
The retrenchment taking place in the tech sector, for example, is an example of how all businesses are making efficiencies and streamlining their approach to recruitment.
A low-cost yet highly functional marketplace, such as offered by DeeLance, will be attractive to companies looking for the talent to help their businesses to grow.
The recruitment services industry is sized at $761 billion globally in revenue terms, according to IBISWorld, so that's a huge market for DeeLance to attack and disrupt.
But a large portion of this money is wasted because companies employ the wrong people for the roles they are looking to fill.
DeeLance's metaverse intimacy, lower costs and Web3 and NFT security and trust systems, significantly reduces and mitigates those risks.
How to buy DeeLance and beat the next price rise
$DLANCE, runs on the Ethereum blockchain – crypto's No.1 protocol for business and commerce applications – and is currently priced at $0.025 in Stage 1 of the six-stage presale.
Investors can buy $DLANCE with Ethereum (ETH), Tether (USDT) or with a card over the Transak payment network.
DeeLance's presale first stage ends in 5 days, at which time the token price will rise to $0.029 in Stage 2.
Crypto analysts are already predicting the DeeLance project to be one of the next crypto to witness ballistic price appreciation for its access token.
This is the year of Web3 and DeeLance is at the forefront of a business revolution that's open to everyone to get involved.
---