DeeLance Presale Raises $1 Million - Next Big Web3-Powered Utility Coin Disrupting the Freelance Industry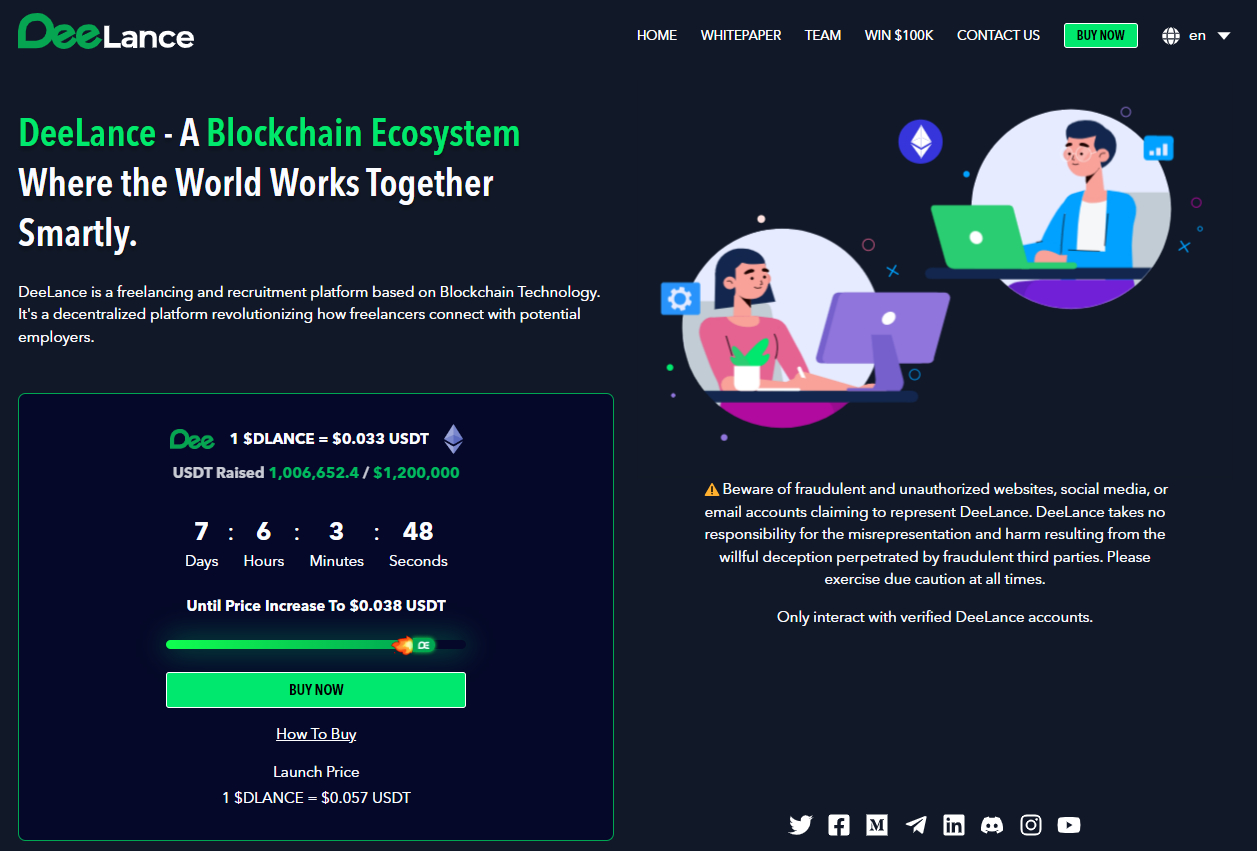 A brand new web3-powered utility crypto coin called DeeLance has arrived to fundamentally disrupt the freelance industry.
And investors are rushing to secure the token's native $DLANCE token early, with the project's presale having already hit the monumental $1 million mark in just a few weeks.
At present, the freelance and gig work industry is dominated by web2 powerhouse platforms like Upwork and Fiverr.
In the 2010s, platforms like these helped bring remote internet-based work from a niche subset of the workforce to the mainstream.
But there was a hitch.
Centralized web2 freelance powerhouse platforms like Upwork and Fiverr developed huge dominance over the market, enabling them to jack up the fees they charge to freelancers.
On Fiverr, service sellers only see 80% of the price paid by the service buyer, meaning Fiverr is taking a 20% cut.
Upwork, meanwhile, takes a 10% cut.
And both companies reserve the right to shaft freelancers even more at any moment, depending on market conditions and business decisions made by a tiny number of remote executives.
Whilst web2 freelance platforms like Upwork and Fiverr have certainly been a net benefit for the world, it's time for change.
DeeLance, one of the most promising crypto start-ups of 2023 that is already making waves in the crypto industry with its viral $DLANCE token presale that is about to hit the huge $1 million mark, is bringing that change.
Using the decentralization and transparency of the blockchain, DeeLance wants to remove overly powerful middlemen like Fiverr and Upwork that have been abusing freelance workers and employers alike for the last decade.
DeeLance – Disrupting the Freelance Industry
DeeLance is building an innovative, crypto and NFT-powered metaverse that unite s freelancers and employers and promises to transform remote working forever, as well as the $761 billion-dollar recruitment sector.
Think of DeeLance's metaverse as a blockchain-powered, work-focused digital space that is designed to empower both freelancers and employers with lower fees than existing major web2 freelance websites.
At the core of DeeLance's approach is the tokenization of freelance work products into NFTs, which facilitates the secure and reliable transfer of work ownership.
This directly addresses long-standing challenges in the digital freelancing space, such as copyright infringement and payment fraud, and provides an unprecedented level of security and peace of mind to all stakeholders.
Meanwhile, unlike many existing freelance platforms, which can be difficult to sign up to and take a large cut of a freelancer's earnings, DeeLance is highly accessible and features exceedingly low fees.
To sign up for DeeLance, there are no browser plugins, third-party apps, or even credit card details required.
Payments are fast and done with crypto and, thanks to the blockchain, everything is transparent and secure, payments secured via an escrow system and smart contracts.
Get in Ahead of Next Major Price Rise
when the presale hits $1.2 million, the price of $DLANCE is set to jump 15% from $0.033 to $0.038.
Given the current pace at which $DLANCE tokens have been flying off of the shelves, investors should move quickly.
Those who get in now will be sat on a paper gain of around 66% when $DLANCE lists across major cryptocurrency exchanges at $0.055 in Q3 this year.
Business 2 Community ranks DeeLance as one of 2023's hottest crypto presales.
And other media partnerships mean that the web3 start-up also features prominently across other major crypto news websites including Cryptonews.com, Be[In]Crypto, CoinTelegraph, as well as on traditional news websites like Yahoo! Finance and Business Insider.
The project's Twitter account has amassed an impressive more than 28,000 followers, while its Telegram and Discord channels have over 13,000 and 4,000 members each.
As the word spreads and the DeeLance community rapidly grows, it's no wonder that crypto analysts are predicting big gains for $DLANCE in the year ahead.
According to popular British presale crypto project analyst Jacob Crypto Bury, Deelance as "massive potential".
---