Dash 2 Trade Presale Just Confirmed Its First CEX Listing – $500,000 Raised in 24 Hours Passing $4 Million So Far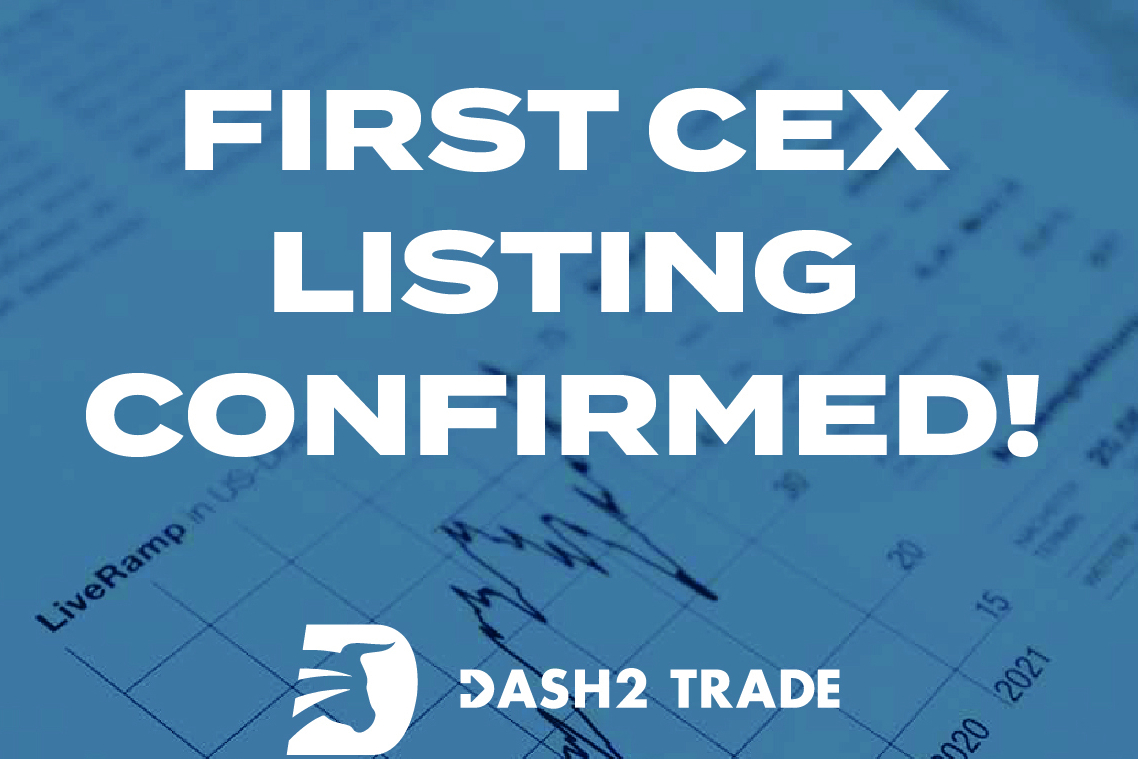 Disclaimer: The Industry Talk section features insights by crypto industry players and is not a part of the editorial content of Cryptonews.com.
Dash 2 Trade has announced that LBANK Exchange will be the first CEX to list its D2T token, as it also confirms that its presale has raised more than $4 million. These milestones come less than two weeks after it kicked off its public token sale, which has attracted growing numbers of investors interested in its trading intelligence platform.
The deal between Dash 2 Trade and LBANK Exchange means that D2T will list on the centralized exchange following the conclusion of its presale, which is currently in the second of nine planned stages. This is expected to happen in the first quarter of 2023 when Dash 2 Trade's innovative dashboard and intelligence platform will launch.
Dash 2 Trade Presale Just Confirmed Its First CEX Listing
Based in Hong Kong, LBANK Exchange has been one of the first among major CEXes this year to list numerous promising new altcoins, including Battle Infinity (IBAT), Lucky Block (LBLOCK), and Tamadoge (TAMA). This now includes Dash 2 Trade (D2T), which only began its presale less than a couple of weeks ago.
Despite beginning very recently, the token sale has managed to attract $4.1 million in funding already. Once it reaches $5,166,000, it will move onto stage three, at which point D2T's sale price will rise from 0.05 USDT to 0.0513 USDT.
By the time it reaches the ninth and final stage, its price will have risen to 0.0662 USDT. This means that investors who entered early and bought during the first stage (when D2T was priced at 0.0476 USDT) will have made a 39% profit by the end of the sale, although the coin's listing on LBANK may bring further rises.
Participating in the Dash 2 Trade presale is simple enough, requiring interested investors to head over to dash2trade.com and connect their MetaMask or Wallet Connect cryptocurrency wallets. From there, they can buy D2T using either Ethereum (ETH) or Tether (USDT).
Dash 2 Trade's fundamentals have already made it attractive to early investors. As outlined in its whitepaper, its platform will provide various tools that will traders at every skill/experience level to make better investment decisions.
Such tools include the following:
Trading signals that highlight good buy and sell opportunities

Social sentiment metrics that help identify trending cryptocurrencies

Strategy building and social trading tools that enable users to adopt new, more effective trading principles

Access to cryptocurrency presales and new coin listing alerts, helping traders stay ahead of the market
Access to such features revolves around Dash 2 Trade's subscription system, which provides users with different tools and resources depending on which of the two main tiers they choose. That said, there's also a free-to-use option, which restricts the number of available features but still provides the curious with a foretaste of what they can expect from the main offerings.
At 400 D2T per month, the Starter Tier provides access to social channels, automated trading tools, strategy-building tools, and much more. Meanwhile, the Premium Tier (at 1,000 D2T per month) includes the full suite of features, encompassing on-chain data, whale wallet alerts, and professional-grade market indicators.
As far as investors are concerned, this subscription model means that D2T will have a big use case right off the bat. The coin will become more valuable the more popular Dash 2 Trade becomes, which should mean that it rises steadily in value, something helped by the fact that D2T has a fixed maximum supply of one billion.
Dash 2 Trade has been developed by the team behind Learn2Trade, a pre-established forex signals provider that already boasts a community of over 70,000 active members. Given such a track record in growing a thriving community, it stands to reason that Dash 2 Trade will enjoy a similarly thriving ecosystem.
In this respect, it's important to highlight that Dash 2 Trade has already gained just under 40,000 followers on Twitter. What's encouraging about this is that the platform is only at the beginning of its journey, with more followers likely to come, as well as more CEX listings.
Presale Profits
Despite its ups and downs, 2022 has been a good year for presales, implying that D2T could witness big gains once it begins listing on exchanges.
For instance, Tamadoge (TAMA) enjoyed returns as high as 1,800% early last month following a listing on OKX. Even if other coins haven't quite matched this feat, many have still done well, with Battle Infinity (IBAT) witnessing a 260% gain (compared to its presale price of $0.0015) when it listed in August.
This bodes well for Dash 2 Trade, particularly when it has some very strong fundamentals. Indeed, its promise of making investment a little easier is likely to encounter plenty of demand since a thriving market of cryptocurrency investors already exists for its product.
---