CryptoSoft Review – Scam or Legitimate Trading Software
Disclosure: Crypto is a high-risk asset class. This article is provided for informational purposes and does not constitute investment advice. By using this website, you agree to our terms and conditions. We may utilise affiliate links within our content, and receive commission.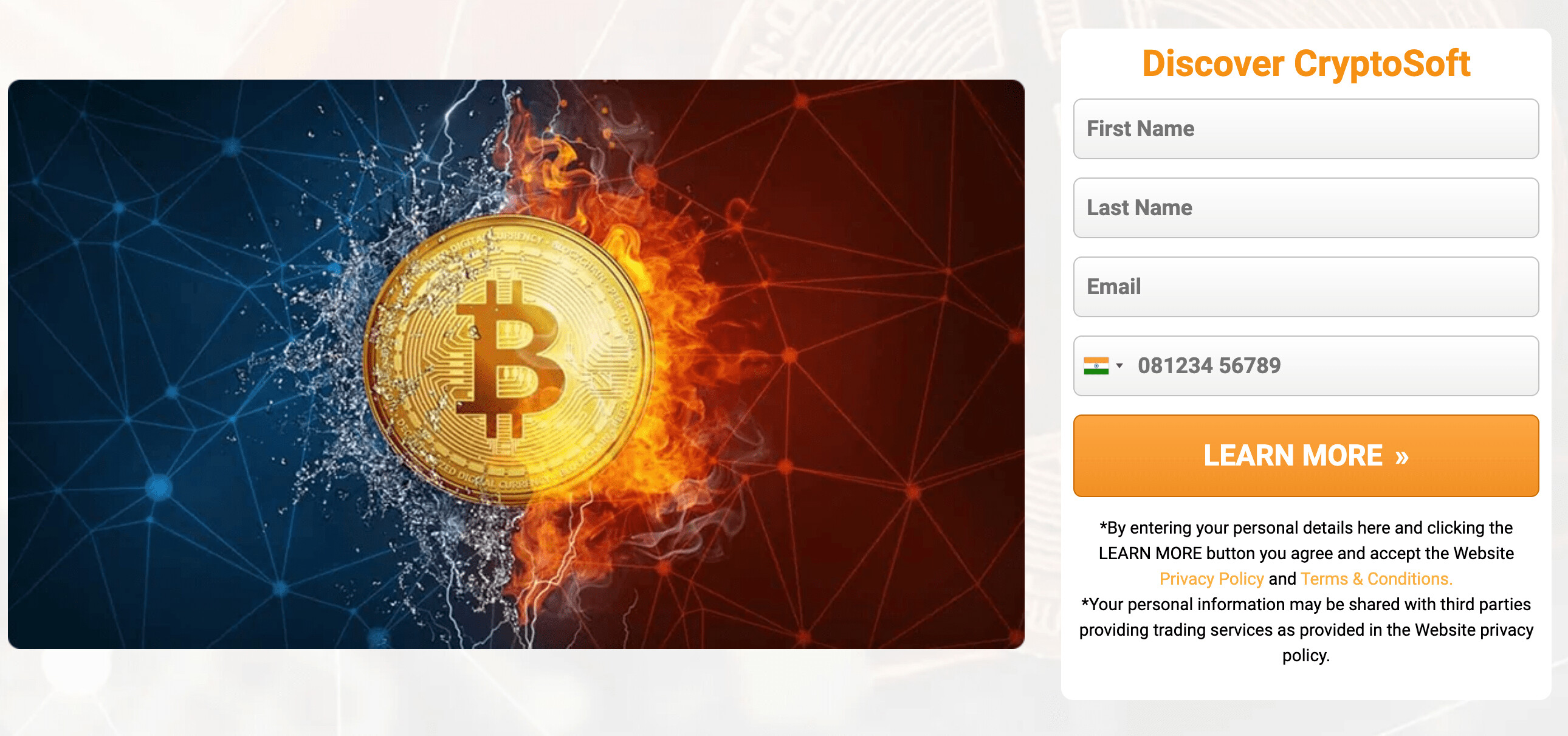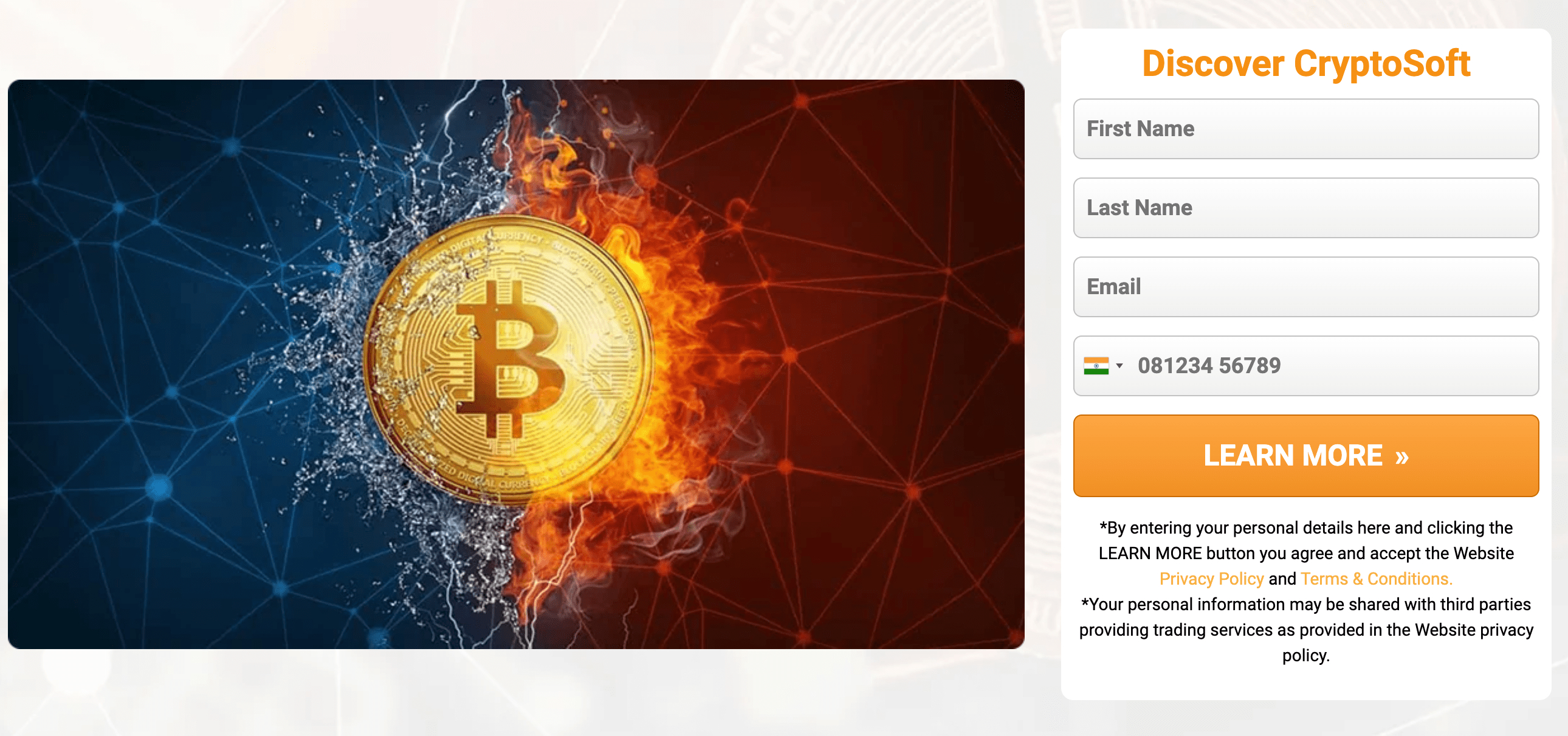 Disclaimer: The text below is an advertorial article that is not part of Cryptonews.com editorial content
"Trading is a complex activity that requires a lot of focus, patience, and skill," states the CryptoSoft site, and that to help in that regard it provides intuitive trading tools that can give even beginners the confidence to dive right into crypto trading. Through the use of an optional account manager, it claims to make it simpler for all levels of investors to buy and sell crypto.
Are these claims true, though? This CryptoSoft review will explore the different features that this platform purportedly has on offer, in an attempt to to determine if it is legit and worth using.
CryptoSoft Summary
Before we look into the features of this info-focused crypto trading system, here are the key points to know about CryptoSoft.
| | |
| --- | --- |
| Supported Crypto | Multiple Cryptocurrencies |
| Claimed Success Rate | No specific success rate since it is not an autonomous trading platform |
| Available on Mobile? | No mention of a mobile app |
| Fees | No details available about the fee |
| Customer Support | Registered users can access it |
| Withdrawal Speed | Claims to be instant |
| Minimum deposit | No details available |
Cryptocurrencies are unregulated. Trading with unregulated brokers will not qualify for investor protection
What is CryptoSoft?
CryptoSoft claims to be an official platform that anyone can use to buy and sell crypto – with or without prior knowledge of trading. It states that if you wish to buy and sell top digital assets but don't have the confidence to jump in, the CryptoSoft App is your answer.
Claiming to provide a one-stop platform, the official website states that it gives you updates about market trends and fluctuations to help you make better investment decisions. "Everything is neatly presented in a straightforward way," says the platform, continuing that you can learn the ins and outs of crypto trading without being overwhelmed.
Helping you with trading, according to the claims, is an account manager that you will be partnered up with. You can share your trading parameters and limitations with them, states CryptoSoft, and these account managers will inform you if any trading opportunities arise.
The platform has not discussed anything about any complex trading tools. That seems to indicate that trading is hands-free, but instead of providing an AI crypto trading bot, the one offering you assistance is this account manager.
However, there is one facility that CryptoSoft claims to offer that you can use before you say "yes" to any buying opportunity – an educational resource. It also promises charting tools and tutorials you can use to learn and practice trading. The only way forward is to learn about crypto, says the website.
While these inclusive perks look good, there is no evidence online to suggest that they work as advertised. You must weigh your decisions before investing. Be aware of the market risks and invest only what you can afford to lose.
CryptoSoft Pros and Cons
The marketing copy of CryptoSoft is limited in terms of information, but here are the pros and cons of the platform we could decipher:
Pros:
Focus on info-focused trading
Hands-free trading facilities
Hints at the availability of a robo-advisor
Account manager available
Simple trading tools
Beginner-friendly trading platform
Cons
No information about the actual working of the website
There are no details about the qualifications of the account manager
Cryptocurrencies are unregulated. Trading with unregulated brokers will not qualify for investor protection
How Does CryptoSoft Work?
The CryptoSoft website gives its mission statement as being an info-focused platform offering simple tools aiming to help traders invest. However, according to the site, users don't need to analyze the market or deal with its complexities, as there is an account manager on hand.
This account manager reportedly acts as an intermediary if needed, to buy and sell crypto assets. This feature gives CryptoSoft a hands-free attribute without any specific crypto trading bot being involved.
According to the website, you will have access to educational resources and the latest market trends to learn about crypto. But market analysis will be done by the account manager, who will alert you via crypto signals when an investment opportunity arises, which you act on by pressing the "Trade" button.
This simple approach to trading might make it favored among all levels of investors. The semi-autonomous trading features seem like a good deal. But how accurately can the account manager analyze the prices and how well their trading advice will perform is information not available anywhere. Due to the lack of customer testimonials, there is no way to know how involved the account manager is. Therefore, exercise caution when trading on CryptoSoft.
CryptoSoft Key Features
CryptoSoft hasn't highlighted any key features on the site. Here is the list we could decipher from what was given on the website.
Simplified Trading System
CryptoSoft claims that it offers a simplified trading system. It isn't too complicated and involves sharing the trading parameters with the account manager, states the platform. The manager will then act on it and inform you of the results.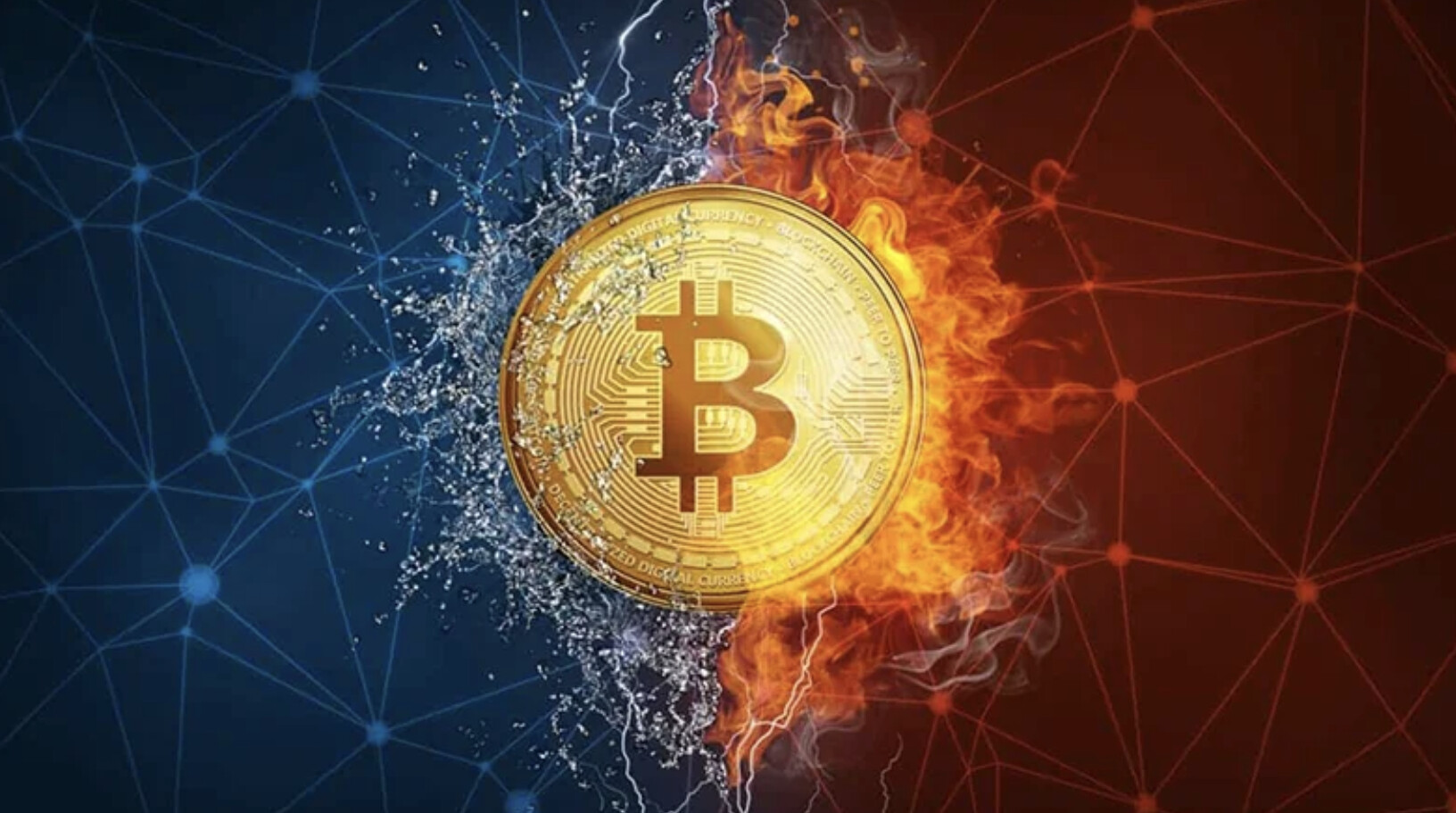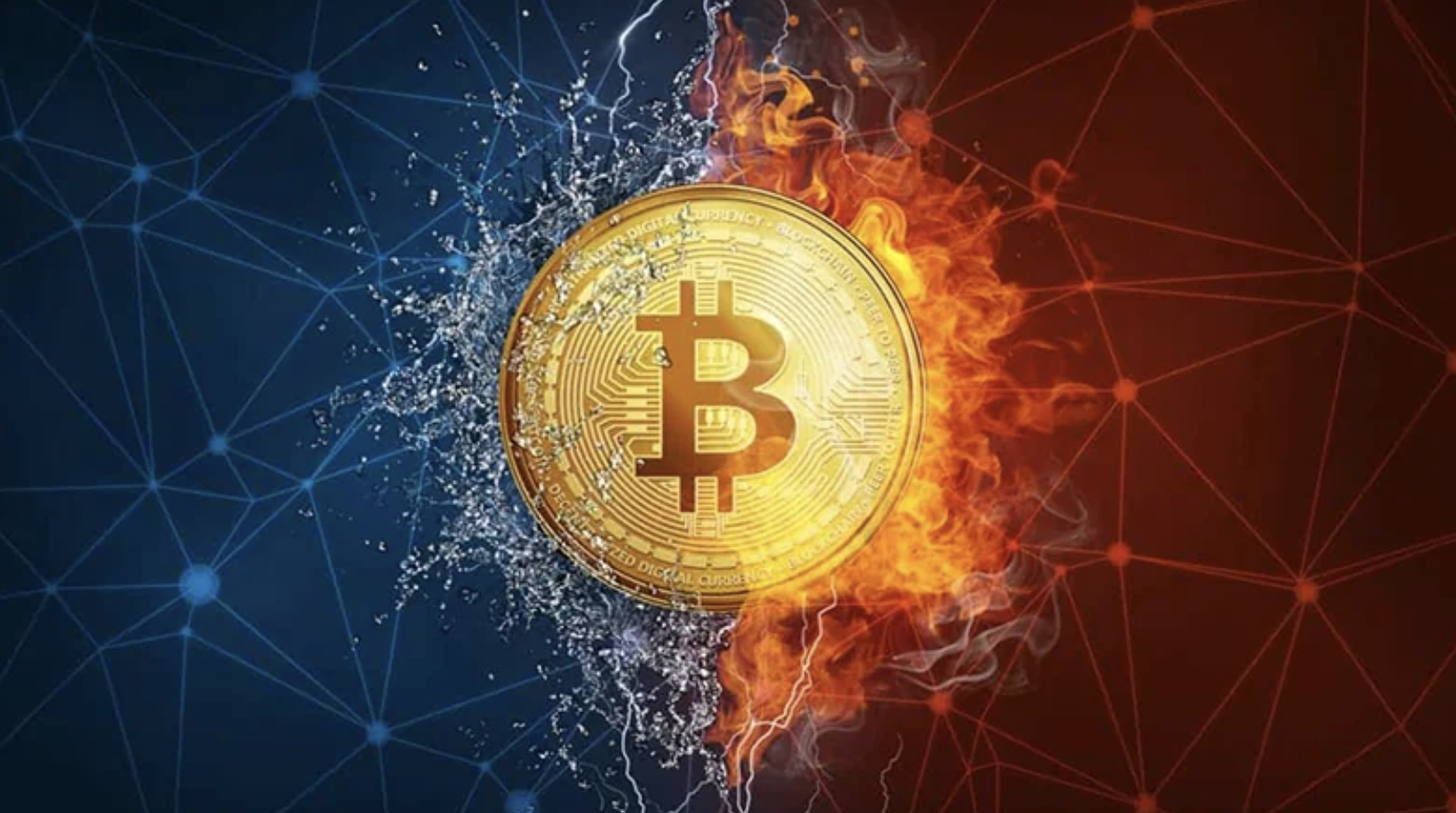 Suitable for Trader for Every Skill Level
CryptoSoft clearly states that the tools it offers are suitable for traders of every skill level. "It doesn't matter if you're a beginner, intermediate, or advanced trader," the platform states, "you will get all the information you need to study and analyze market trends and start trading right away".
Readers may also be interested in our own list of crypto courses here at CryptoNews.
Accessible Anywhere
CryptoSoft is a web-based trading system, which allows you to use it on any type of browser and on any type of device. "This means that you can access the platform from your desktop, laptop, tablet, or smartphone", states CryptoSoft, claiming that it would give you the trading advantage anywhere and at any time.
Complete Control Over Trading Capital
CryptoSoft claims that it does not want you to be uncomfortable with the platform, which means you will have complete control over your funds. According to the Cryptosoft website, you can fund, invest, or withdraw your available funds at any time you think is right.
No Extra Fees
CryptoSoft claims that you will get access to the website without paying any extra cost. The website says that this approach will ensure that you don't need to shell out one penny during registration, transaction, or during withdrawal.
Support for Multiple Cryptocurrencies
CryptoSoft claims to support multiple cryptocurrencies. While the name of these assets is not available on the website, some third-party sites have reported that Bitcoin, Ethereum, Bitcoin Cash, Solana, and others are part of it.
CryptoSoft Account fees
There is no information about account fees available on CryptoSoft. In fact, the platform has stated that it doesn't charge any fee for account creation. We recommend talking to the support team for more info, though.
CryptoSoft Minimum Deposit
Many of the features of CryptoSoft mirror the other trading platforms we have covered. So, it might require a minimum deposit of around $100 to $300. This information, however, is not available on the website itself.
CryptoSoft Compatible Devices
We opened CryptoSoft on multiple platforms and found it to be working on all of them. The official website was visible on all devices, and the buttons were interactable. We also did not come across any issues while using the sign-up option.
Is CryptoSoft a Scam?
Lack of information is what you will find when you first come to the site. While there is ample content given on the site, they all say the same thing. A bulk of the content is dedicated to what cryptocurrencies are and what crypto trading is. CryptoSoft has only mentioned how it works in 50% of the content – and even that is full of conflicting information.
For instance, you will find that an account manager is the one that you will use to act on your investment decisions. However, in the feature section, it also talks about providing analysis tools to buy and sell assets on your own. This creates confusion around how the site works.
We also don't know how qualified the account manager you get partnered with would be. Despite these negative impressions, however, the customer reviews of these platforms are positive. Sitejabber has given it 4.5 out of five stars based on 14 reviews. Third-party sites are equally impressed by what CryptoSoft has to offer.
This creates a dissonance between what the reality could be and what is being said about the website. Thus, we recommend exercising caution. Check the website on your own terms and only invest a minimum amount.
CryptoSoft Customer Support
The official website states that customer support is available on the platform, but it is only meant for registered users. Some testimonials say that the account manager – who is also the customer support representative – is always ready for assistance.
How to use CryptoSoft?
If you have researched the site and found it to be optimal for your trading requirements, follow the steps below to start trading.
Step 1 – Visit the CryptoSoft Website
Visit the official CryptoSoft website and start the account creation process. Enter your name, phone number, and email. Talk to the account manager to complete the registration process.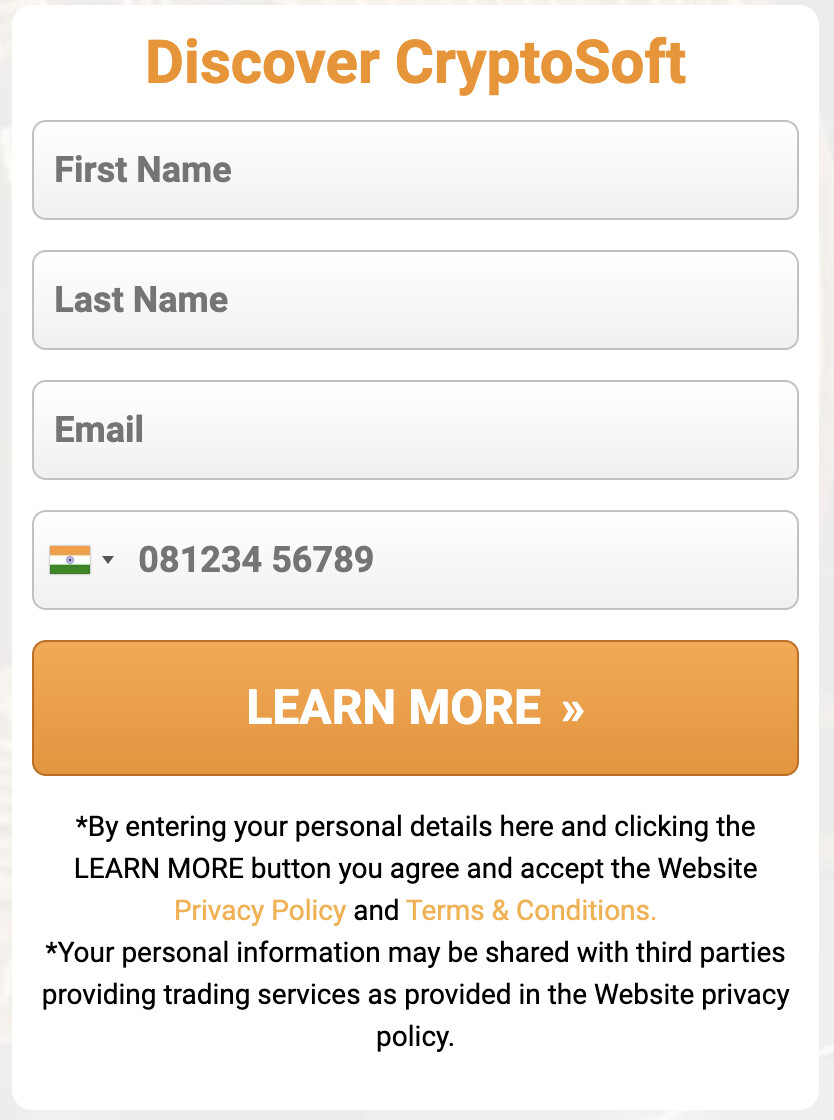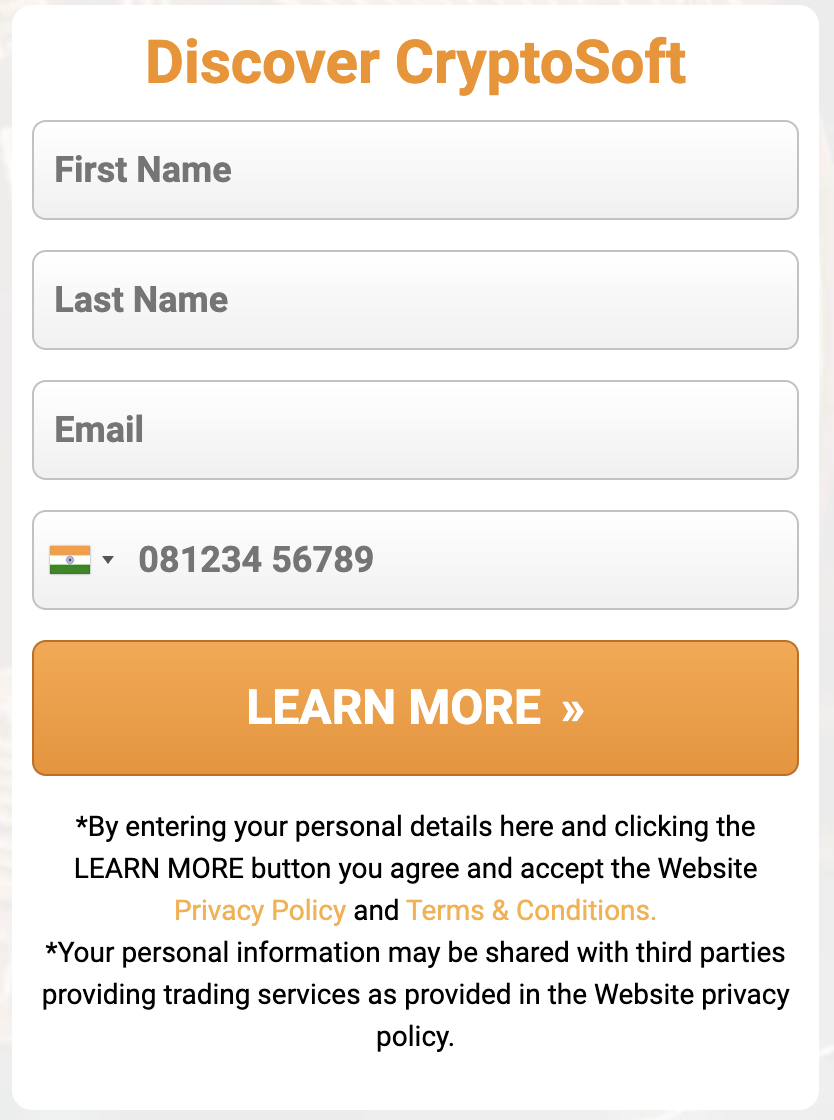 Step 2 – Make the Minimum Deposit
Ask how much deposit you must make before starting to trade. Make the deposit using the available methods
Step 3 – Start Trading on CryptoSoft
Test the site's features first. Read the educational resources and news updates to see if they are accurate, and then talk to your account manager again to start trading.
How to Delete a CryptoSoft Account?
Go to the official website, log in, and go to your dashboard. Find the "delete account" button, which will prompt you to fill out a form. Finish the process and delete your account. If this option is not available, talk to your account manager.
Is CryptoSoft Endorsed by Celebrities and Big Brands?
There is no mention of any celebrity endorsement for CryptoSoft. Third-party sites and customer reviews have not touched upon it. Even customer reviews have said nothing of this sort.
Who is the Founder of CryptoSoft?
CryptoSoft has said nothing about having a founder. The About Us page only covers the founder's journey, highlighting the "trials and tribulations" they had to get the site started. It states that it took months of planning and years of work to start CryptoSoft. However, the identities of these founders have not been revealed.
Latest Bitcoin News
It is important for you to stay updated with the latest crypto news in order to understand the current flow of the market:
Bitcoin has started a growth rally and has now moved above the $26k mark. While the price is consolidating currently, investors hope that positive news from the regulatory front will push it further up.
The reason behind Bitcoin's rise could be some banks, including Deutsche Bank, providing crypto custody services.
Many crypto presales have cropped up recently to give investors a chance to make early-bird gains.
The Verdict
CryptoSoft claims to have all the traits of a simple crypto trading platform. With its simple UI, it advertises to make investment simple, and with the addition of an account manager, it promises to give a human-assisted trading facility that's almost hands-free.
But there are still some red flags. The site's owner is not known, and the platform's reviews seem to be unbalanced. Furthermore, since there is no way to test the platform, an independent audit is unavailable. Therefore, exercise caution when trading on CryptoSoft.
Cryptocurrencies are unregulated. Trading with unregulated brokers will not qualify for investor protection
CryptoSoft FAQs
What is CryptoSoft?
CryptoSoft is a crypto trading platform that claims to provide simplified trading facilities to make crypto investment easy for everyone. It hosts an array of simple features and promises to partner you with an account manager who will assist you in buying and selling digital assets.
Does Elon Musk endorse CryptoSoft?
Elon Musk has made no mention of CryptoSoft. While the Tesla founder has been bullish about Bitcoin and Dogecoin in the past, he hasn't backed any crypto trading platform so far.
---