Crypto's Greenest Project Secures End-of-month Token ICO – Get Involved in the Presale Before Its Too Late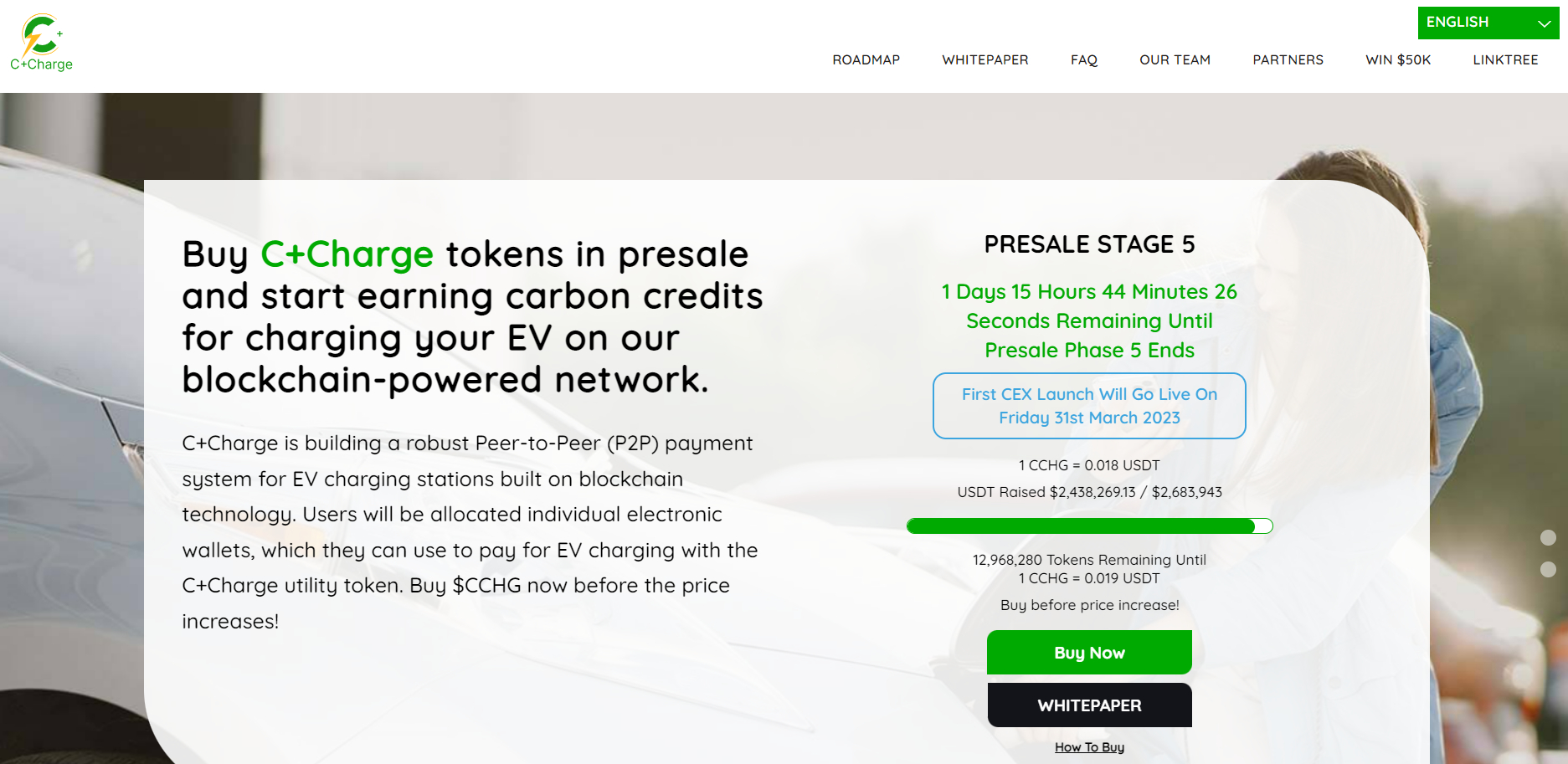 Sustainable crypto start-up C+Charge, which is currently conducting a token presale to raise funds for the development of its revolutionary electric vehicle (EV) charging payments platform, just announced massive news to investors.
The project's CCHG token is set to go live on Bitmart Exchange at the end of the month. That marks C+Charge's first centralized cryptocurrency exchange listing, with many more expected in the weeks ahead.
Listing across major centralized exchanges should bring more hype and eyes to the CCHG project, and early CCHG investors will be hoping that this translates into big gains for the cryptocurrency, as has happened with other recent major presale's, like last year's launch of the Tamadoge (TAMA) token.
C+Charge's Platform Could Revolutionize EV Charging
C+Charge is building a crypto-powered payments platform that will allow users to earn blockchain-based tokenized versions of carbon credits each time they charge their EV, an industry first.
The sustainable web3 start-up is being hailed as transformative for the EV charging industry, given that 1) it helps democratize the carbon credit market, which, up until now, remains mostly dominated by large industry players and 2) it incentivizes the switch to EVs by offering drivers a financial reward for their environmentally friendly behavior for the first time.
C+Charge's payments platform also aims to solve a number of other problems within the EV charging space. These include improving transparency around pricing (given all transactions take place on the blockchain) and offering users real-time information on the status and wait times of charging stations.
Get Involved in the Presale Now
To fund the development of its revolutionary EV charging payments platform, C+Charge is conducting a presale of the CCHG crypto token that will power its web3 ecosystem. In just a few months, the presale has already raised a whopping more than $2.4 million, amid huge hype about the sustainable project's prospects as both the EV and carbon credit markets enjoy rapid expansion.
C+Charge was rated as the greenest cryptocurrency to buy in 2023 by analysts at Cryptonews.com, beating out the likes of crypto carbon credit IMPT.io's IMPT token, Ether and Polygon. The presale has been also ranked among the best crypto presales of the year by the Cryptonews.com team.
CCHG tokens are currently selling for $0.018, with the presale in its fifth stage, but prices will rise once again to $0.019 in just under two days. Investors should move quickly to secure their bag, because any remaining tokens left over at the end of each stage will be burnt.
By the end of the presale, the CCHG price will have risen to $0.0235 – meaning those who get in now could be sat on a healthy 30% paper gain in just a few weeks.
Potential buyers should be aware that tokens can be scooped up quickly. Just a few weeks ago, a crypto whale recently banked a massive $99,000 worth of CCHG tokens in one whack, as can be verified here on per BscScan.
According to many observers, the current CCHG could prove a huge bargain in the long run.
As the shift to EVs from traditional fossil fuel cars accelerates and nations step up their efforts to combat climate change, many analysts think CCHG's price could go a lot higher, with some even going as far as to claim the cryptocurrency could 10x when it launches on exchanges in under two months.
Check out the latest analysis from the likes of Jacob Crypto Bury, Crypto Gains, Cilinix Crypto and analysts at Cryptonews.com for more on the outlook for CCHG.
CCHG can be bought with USDT (both the ERC-20 and BEP-20 variants) and ETH.
Investors should also be aware that C+Charge is conducting a $50,000 giveaway – investors must hold at least $100 of CCHG on the day of the draw to be eligible to win the prize.
---