Crypto Whales are Investing in Tamadoge as Price Pumps Ahead of Exchange Announcement – How to Buy Early?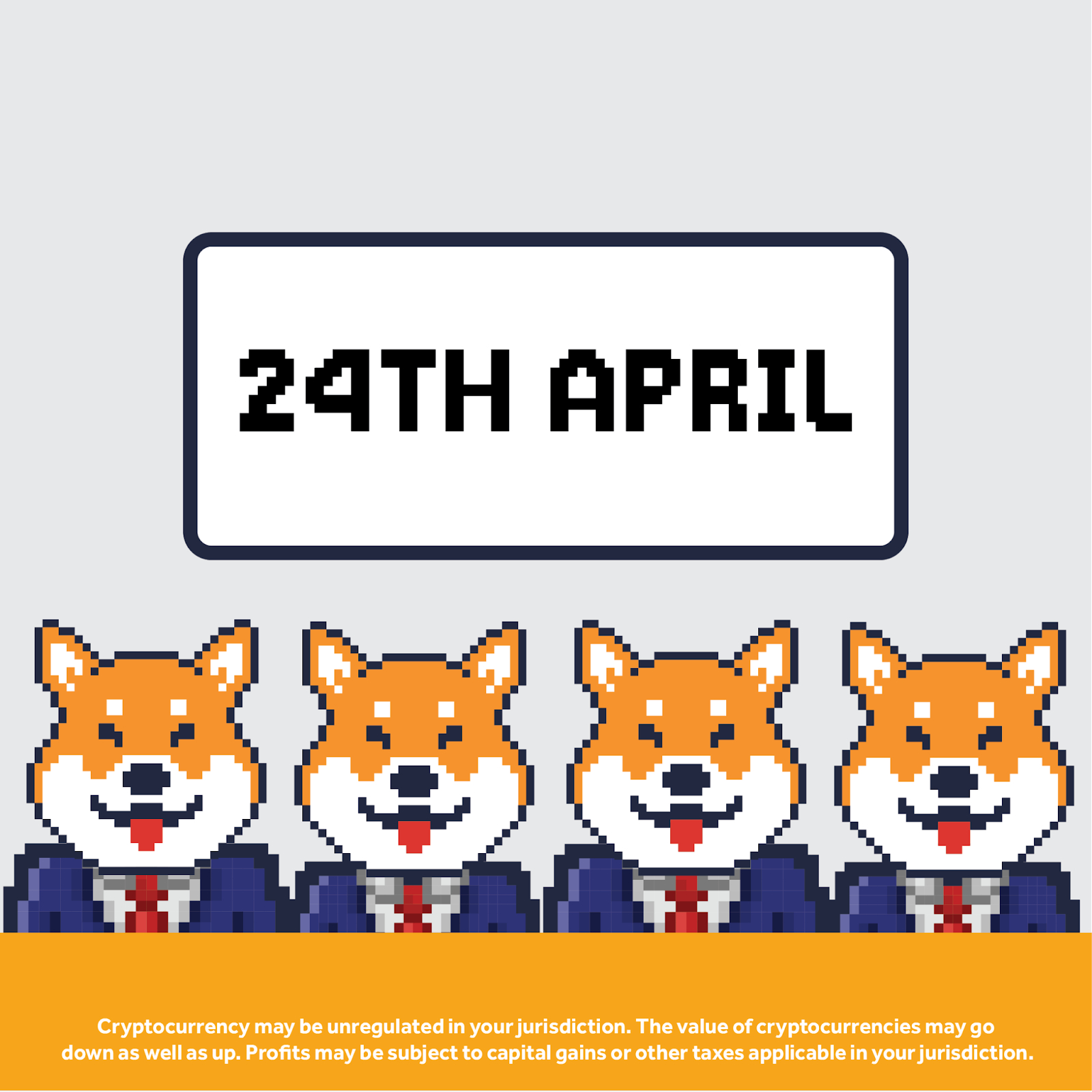 Tamadoge (TAMA) has undertaken a sensational 150% pump ahead of an upcoming top 5 CEX listing set to be revealed in just four days.
With crypto markets exploding with interest around meme coins such as PEPE, Tamadoge, a play-to-earn meme cryptocurrency, experienced a remarkable 80% price increase in just 24 hours.
Since last Thursday, the token's value has surged by 220%, signaling its potential and capturing the attention of crypto enthusiasts.
Tamadoge (TAMA) Price Surges Ahead of CEX Listing
The Fear of Missing Out (FOMO) around Tamadoge is rapidly spreading as the countdown begins for its top-tier centralized exchange (CEX) listing on April 27th.
The highly anticipated announcement of the specific exchange will be made in just four days, on April 24th.
With only a few days left before the CEX announcement, buying pressure is building as trading volumes continue to rise.
The Tamadoge team has hinted that the upcoming exchange listing will be among the top five, fueling speculation about which CEX will be chosen.
TAMA Community Anticipation Grows
A recent Twitter poll by Tamadoge saw Binance take the lead, with Bybit in second place. The big reveal is set for April 24th.
If you missed the Twitter voting opportunity, you can still participate in the Tamadoge $1,000 giveaway competition by predicting the exchange listing.
TAMA's price action has recently breached crucial resistance to push up to the $0.034 level, rising to heights not seen since October.
This impressive growth is not only due to technicals and news flow but also the steady stream of product launches.
Tamadoge now boasts an arcade line-up of five games, with a reported 22,000 unique players – more than the combined unique active wallets of top metaverse and gaming coins, Decentraland and The Sandbox.
Investing in Tamadoge's Potential
With a clear path to its all-time high of $0.19, TAMA is set for a staggering 900% return on the current price.
The token has already demonstrated its resilience against wider market setbacks, like Bitcoin's recent plunge below $30,000.
Technical indicators such as the MACD (Moving Average Convergence Divergence) and RSI (Relative Strength Index) point toward a bullish trend for TAMA.
With the upcoming news and the project's strengthening fundamentals, buying pressure is expected to increase further.
Tamadoge's Powerful P2E GameFi Ecosystem
Tamadoge's play-to-earn model, strong product development, and upcoming listing on a top-tier exchange make it an attractive investment opportunity.
Get ready to ride the Tamadoge (TAMA) wave as markets eagerly await its listing on a premier exchange.
One confident investor recently scooped a huge $35.5k (USD) bag of TAMA.
With experts forecasting a meteoric ascent similar to the original meme coin, Dogecoin, it's time to delve into what makes Tamadoge the next potential crypto phenomenon of 2023.
How to Buy Tamadoge (TAMA) – A Step-by-Step Guide for Beginners
To invest in Tamadoge before the major CEX listing, follow our step-by-step guide for beginners on how to buy Tamadoge tokens on OKX DEX or through the OKX decentralized exchange.
Step 1: Create a Wallet
First, you'll need a cryptocurrency wallet that supports ERC-20 tokens, as Tamadoge is an ERC-20 token based on the Ethereum blockchain.
MetaMask is a popular choice for a wallet and is available as a browser extension for Chrome, Firefox, and Brave.
Step 2: Buy Ethereum (ETH) or a Stablecoin (USDT)
To purchase TAMA tokens, you'll need to have Ethereum (ETH) or a stablecoin like Tether (USDT) in your wallet.
You can buy ETH or USDT from a popular cryptocurrency exchange like Coinbase or Binance.
Sign up for an account, complete the necessary identity verification, and purchase the desired amount of ETH or USDT using your credit/debit card or bank transfer.
Step 3: Transfer ETH or USDT to Your Wallet
Once you've purchased ETH or USDT, you'll need to transfer it to your MetaMask wallet.
To do this, copy your MetaMask wallet address and head back to the exchange where you bought ETH or USDT.
Navigate to the withdrawal section and paste your MetaMask wallet address.
Confirm the transaction and wait for the funds to arrive in your wallet.
Step 4: Use a Decentralized Exchange (DEX) to Buy Tamadoge (TAMA)
Currently, TAMA can be purchased on any of the 15 centralized exchanges where it is listed, including the top 10 crypto exchanges Gate.io and OKX and leading decentralized exchange Uniswap.
Once you have ETH or USDT in your wallet, you can use a decentralized exchange like Uniswap to buy TAMA tokens.
Visit the Uniswap website and connect your MetaMask wallet by clicking "Connect Wallet" in the top right corner. Choose MetaMask and follow the prompts to connect your wallet.
Next, click "Swap" from the Uniswap main page.
In the "From" field, select ETH or USDT, and in the "To" field, search for "Tamadoge" or paste the TAMA token contract address: 0x12b6893ce26ea6341919fe289212ef77e51688c8 (you can verify this on Etherscan).
Enter the amount you want to swap and click "Swap". Confirm the transaction in your MetaMask wallet, and your TAMA tokens will be transferred to your wallet.
Remember to monitor the gas fees (on the rise since Shapella), as they can vary depending on network congestion. Also, always double-check the contract address to ensure you're purchasing the correct token.
And that's it! You have successfully purchased Tamadoge (TAMA) tokens.
Keep them in your wallet or use them to participate in the Tamadoge ecosystem, and enjoy the exciting world of play-to-earn gaming and NFTs.
Don't miss out on this golden opportunity to join the Tamadoge community and ride the wave of its growing success!
Disclaimer: Cryptocurrency projects endorsed in this article are not the financial advice of the publishing author - cryptocurrencies are highly volatile investments with considerable risk, always do your own research.
---