Crypto Whales are Accumulating These Low Cap Gems – Here's Why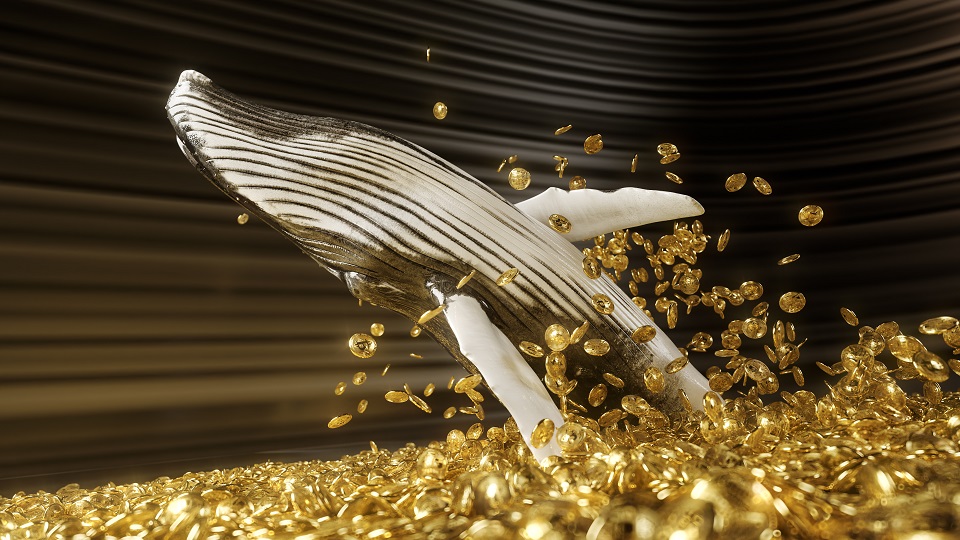 As the month of February drew to a close, the crypto market experienced a downturn, erasing much of the gains seen in the previous month. Investors were worried about inflation and jobs data, and regulatory actions in the US raised concerns about government overreach.
Bitcoin, the largest cryptocurrency by market capitalization, was trading flat from a month ago, while Ether, the second-largest crypto, traded sideways. However, the upcoming Shanghai upgrade for Ethereum boosted interest in liquid staking derivatives, causing Lido's governance token, LDO, to surge 33% and Rocket Pool's native RPL token to rise 18%.
Among the biggest winners in February was Bitcoin layer 2 protocol Stacks Network's native STX token, which soared 216%, benefiting from the growing interest in creating non-fungible tokens (NFTs) on Bitcoin. However, there is still no marketplace or infrastructure for Bitcoin NFTs yet, and people are trading them via over-the-counter using spreadsheets for bids and asks.
On the other hand, gaming- and metaverse-affiliated tokens, which were among January's biggest winners, saw a downturn in February, with GMT and GALA tokens dropping 33% and 28%, respectively. Aptos' APT token, which surged in January, dropped nearly 30% in February.
If you're looking to secure your finances in the coming years, now may be the time to consider investing in these alternative investments, according to the financial expert.
Mitigating the Hazards of Cryptocurrency Investing
Cryptocurrencies have experienced immense growth in recent times, garnering recognition from high-profile investors and crypto whales such as Robert Kiyosaki and Cathie Wood of ARK.
As the popularity of cryptocurrencies continues to surge in the long term, investors must navigate the risks involved in investing in these alternative assets. Financial experts advise investors to carefully consider the unpredictable nature of the market and only invest funds that they can afford to lose.
Due diligence is also crucial when choosing which projects to invest in, including verifying the legitimacy of the project and evaluating the reputation of the team behind it. In evaluating investment opportunities, prioritize projects that offer tangible solutions to current problems, rather than simply riding trends with no real utility and no substantial business plan.
For those seeking high returns, presale investments in cryptocurrencies may be an option, but caution is necessary. Such projects must meet the criteria discussed above. Currently, whales are investing in projects like FGHT, METRO, CCHG, and TARO, indicating their potential for success upon their launches.
Fight Out Transforming Fitness Industry with Advanced Web3 and M2E Innovation
Fight Out is disrupting the traditional fitness sector with its upcoming cutting-edge Web3 and move-to-earn (M2E) technology, addressing a significant challenge in the industry--the high dropout rate of gym members. According to the IHRSA, 50% of new gym members stop within six months, largely due to a lack of motivation, community, and customization.
Fight Out provides a complete solution that features a personal NFT avatar displaying the user's fitness information, individualized workout plans, and REPS token incentives. Users can earn REPS tokens by working out at home or in a gym and can redeem them for discounts on app subscriptions, memberships, training sessions, and merchandise.
Fight Out plans to launch its first physical gym in the fourth quarter of 2023, equipped with cutting-edge tech and services, as well as unique Web3-powered features like digital mirrors showcasing the user's fitness profile and sensors tracking progress for continual feedback.
By fostering a supportive community, customized experience, and goal-oriented inspiration, Fight Out is looking to create real innovation and a truly useful fitness app with real utility for users.
Investors have the opportunity to take advantage of this investment, with bonuses of up to 50% offered for investments over $50,000. The FGHT project has already raised $4.15 million during its presale period and is preparing for its next phase with higher prices.
Crypto Whales Jumping on Metropoly's Real Estate NFT Marketplace
Metropoly, a new player in the real estate investment market, is set to launch its NFT marketplace, offering fractional ownership of income-generating properties. The platform aims to make real estate investing more accessible to everyone by removing the traditional barriers such as credit checks, high down payments, mortgages, and paperwork requirements.
Investors can enjoy passive income through automated rental payments, and Metropoly's real-time analytics and data will make managing investments easier. One of the platform's unique features is its offering of instant liquidity, allowing investors to sell their properties for 70% of the price immediately or go for an auction to get the highest bid.
Metropoly's NFTs are backed by physical properties, with each NFT representing a portion of the property. The platform has already raised over $571K in its presale, with tokens being sold in nine price stages, making it a great opportunity for investors to get in before the price increases.
With Metropoly, investors can start with as little as $100, making it a low-barrier entry to the real estate investment market. The platform offers a hedge against inflation, and the real estate NFT owner receives monthly rental income and benefits from long-term value appreciation.
Metropoly's beta version is now live, showcasing the platform's vision for the future. The platform aims to revolutionize the real estate market, which traditionally has seen 90% of transactions being done offline.
While Metropoly competes with other investment opportunities in the crypto and real estate space, the platform's unique offerings make it stand out. The platform has no company with a monopoly for online real estate investments yet, giving it a competitive edge.
Metropoly has been featured in major crypto publications, including Cointelegraph, Bitcoin.com, and Coinmarketcap, and has partnered with ChainAdoption, Tenset, and more than 20 crypto influencers. The platform's contract has been audited by CertiK, making it a trusted platform for real estate investing.
C+Charge: Charging Towards a Sustainable Future
C+Charge is a blockchain-based platform that offers a unique solution to the challenges of charging and payment for electric vehicle (EV) owners. With the increasing adoption of EVs worldwide, the demand for alternative energy solutions is growing, but current infrastructure falls short. C+Charge's innovative platform has the potential to address this issue and improve the charging and payment experience for EV owners.
The company plans to build new charging stations while collaborating with existing ones, enabling customers to pay with the CCHG token and find nearby charging stations quickly. The blockchain technology behind CCHG ensures efficient and transparent payment processing. The platform's app also provides real-time information on local charging options and vehicle diagnostics.
Moreover, EV owners using C+Charge will receive Goodness Native Tokens (GNT) as carbon credits, which represent verified voluntary carbon credits and can be traded on the app. These tokens are supported by major venture capital firms such as a16z Crypto and Invesco.
Through its partnership with Flowcarbon, C+Charge enables EV owners to earn carbon credits in the form of GNT every time they charge. The platform provides a universal, easy-to-access payment system that doesn't require network managers to install expensive Point of Sale equipment. Drivers can simply use the CCHG token to pay, providing fleet managers with a way of monitoring and fixing issues with particular payment stations.
The carbon credits industry is expected to be worth $2.4 trillion by 2027, and C+Charge's platform is poised to open up access to EV drivers. As climate change continues to be a pressing global concern, C+Charge's platform contributes to mitigating the impact of carbon emissions.
The presale of C+Charge is divided into eight stages, with each stage lasting one week. The first phase has been successful, raising over $1.18 million, and the next presale stage will increase the token's price by 10.3%. Investors who buy CCHG in Stage 4 will receive nominal returns of 35% when the presale ends on March 29.
In addition to streamlining payments across EV charging networks, C+Charge's app provides EV drivers with a way of reliably finding stations that are up and running with no problems. The app also tracks carbon credits, offers seamless payment for multiple platform integration options, and provides geolocated easy-access charging stations.
C+Charge is a promising solution to the challenges of charging and payment for EV owners, providing carbon credits and contributing to the fight against climate change. As the demand for alternative energy solutions grows, crypto whales have been snapping up CCHG tokens, and C+Charge's platform is poised to become a significant player in the EV charging market.
RobotEra (TARO) Invites Players to Create, Share, and Explore
RobotEra, a new metaverse crypto project, is set to launch soon, offering players a sandbox-like world-building metaverse. As a robot in this metaverse, players will acquire resources from the planet, manage their own land, create robot companions, and participate in the creation of a new world.
The platform offers a shared world that connects players' unique lands together, opening up endless possibilities for customized worlds that contain events, museums, and more.
RobotEra's backstory is set in the alpha galaxy, Taro, a planet that has undergone a great cataclysm. Taro was once a prosperous civilization, but after a brutal war between the aborigines and the robots, it is now a desolate landscape. With the last aboriginal survivor gone, 10,000 robots with human-like thoughts and emotions now open their eyes, and a new era for Taro begins.
Players can customize their land, mine resources, and craft their own robot companions to help them explore and thrive in this new world. Robot companions have a unique appearance that can be customized through the Robot Editor. Each Robot Companion is an NFT, and they can be freely traded or leased, as can each piece of land. Players holding Robot NFTs can mint land, which can also be freely traded or leased.
The RobotEra Editor is a powerful feature that allows players to add unique touches to their creations with no coding skills required.
The RobotEra's TARO token presale is currently nearing the $1 million mark as crypto whales begin to take notice, but you can still grab some tokens at a discounted rate before it enters stage 2 and token prices increase.
Disclaimer: The Industry Talk section features insights by crypto industry players and is not a part of the editorial content of Cryptonews.com.
---