Crypto Volatility Hits New Highs While Metropoly Presale Continues to Fly
Disclaimer: The text below is a press release that is not part of Cryptonews.com editorial content.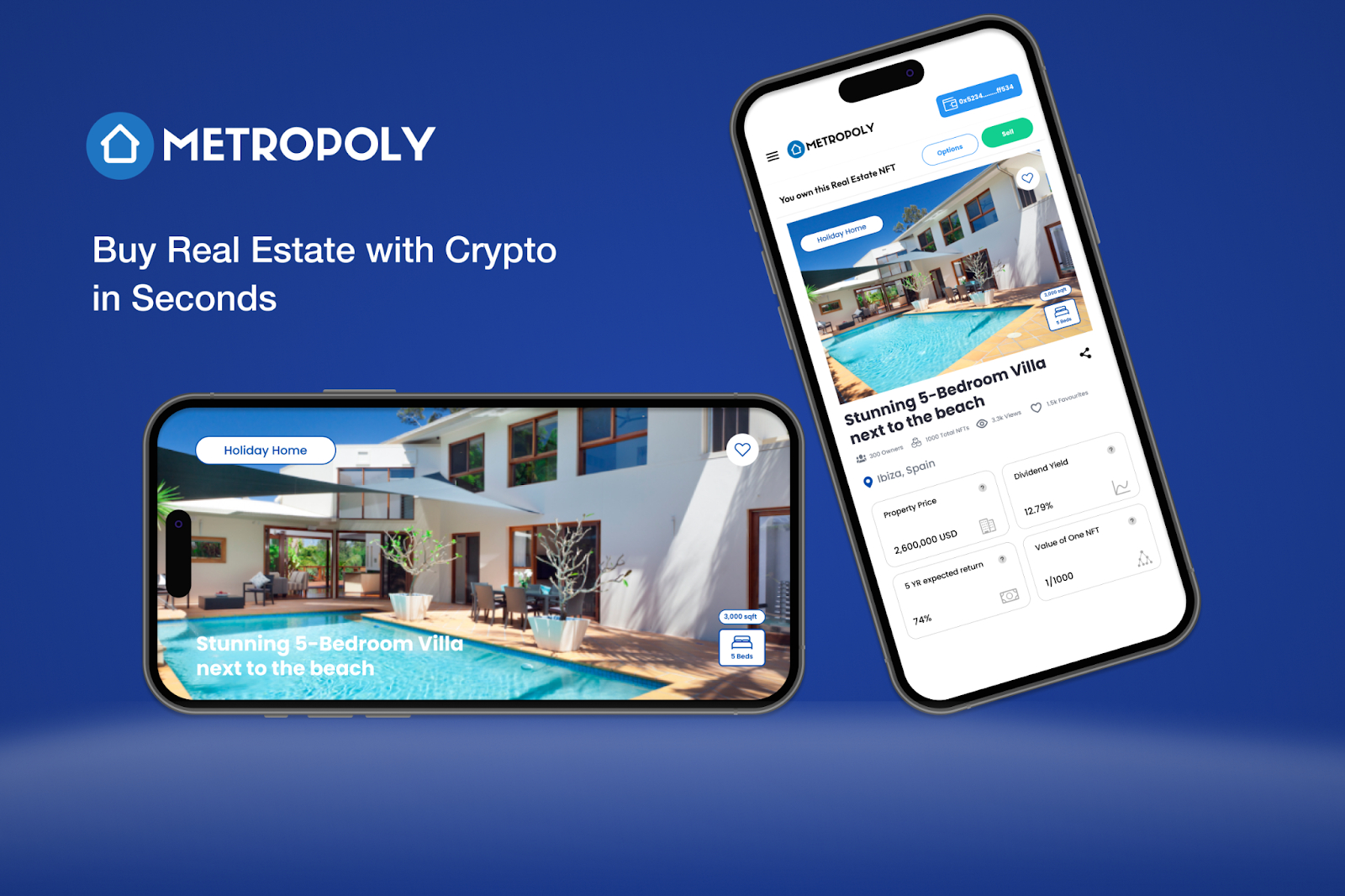 The volatility in crypto continues to hit new highs as the market starts to surge despite the overwhelming negative pressure stemming from the latest bouts of regulation from the SEC. Meanwhile, with crypto volatility rising further, investors are beginning to park assets back into presale tokens to hedge against the volatility.
One particular presale that has been flying in recent weeks is Metropoly, a platform designed to make real estate investing as simple as possible by bringing the age-old asset class to the blockchain.
Crypto Volatility Hits New Highs
Crypto volatility is a situation where prices rapidly change in a short period of time. Typically, volatility in traditional markets will cause assets to whipsaw up and down without a clear direction. However, in the crypto market, the volatility in 2022 caused one of the most devastating bear markets in its history.
Interestingly, crypto volatility started to cool off in the fourth quarter of 2022, stabilizing crypto prices. However, in 2023, crypto volatility started to rise again, helping Bitcoin start a relief rally as it reclaimed territory above $20,000 again. You see, volatility doesn't mean that prices are just falling. Instead, the volatility increases just as much if crypto prices start to climb rapidly - which is what they have been doing in the short few weeks in 2023.
The recent SEC lawsuit added further to the recent crypto volatility, but the price hike surprised many investors as they believed the negative news would help markets to fall again. In fact, the exact opposite occurred, with BTC climbing back near $25,000 in mid-February.
Investors Continue to Pile into Metropoly
With volatility increasing, investors are starting to look back into presales to hedge against the volatility. Of course, prices might be rising right now, but with higher levels of volatility comes a greater chance of prices falling just as much as they grew in a short period of time.
As a result, savvy investors are starting to park their cash back into presales, which act as protection against volatility and provide early presale buyers with significant profit.
One particular presale that many investors are flocking toward is Metropoly, an NFT marketplace that is backed by real-world real estate properties that generate a genuinely passive income for holders.
The presale for Metropoly has already surged past the $500,000 milestone, sitting more than $40,000 above the level. It's currently selling the METRO token, the native token that drives the Metropoly ecosystem, at a price of $0.0625. However, once the next fundraising milestone is reached, the price for METRO will increase.
The increasing pricing mechanism is one of the reasons why investors use presales to hedge against volatility. Instead of letting the market dictate the value of their investment, presale prices increase over a series of stages until the presale is complete and the token is listed on exchanges. Typically, those that invest in the earlier stages are somewhat guaranteed to profit once the token is listed on exchanges at higher prices than they invested during the presale.
Metropoly Setting New Rules for Passive Income Through Real Estate
Metropoly is the world's first fully-fledged NFT marketplace backed by real-world properties and real-world utility. The entire idea of the platform is to make real estate straightforward, allowing you to diversify your portfolio in a matter of seconds by purchasing real estate.
Through the blockchain technology of fractional tokenization, users can get started building their property portfolios on Metropoly with as little as $100. This is made possible because all of the properties on the Metropoly marketplace are broken down into little pieces and then tokenized as NFTs.
Holders of these NFTs are entitled to all of the benefits you would expect from investing in real estate. For example, holding one of the NFTs means you have ownership rights to your share of the property. In addition, the Metropoly marketplace allows you to sell your NFT at any time to take advantage of any capital appreciation on the value of the real estate.
Furthermore, all holders of real estate NFTs are entitled to a monthly passive income through the property's rental yield. Rental yield is one of the most reliable sources of cash flow, as tenants pay monthly to stay at the property. The rental yield is totally passive on Metropoly because the Metropoly team handles all of the maintenance associated with the property. This means they will take care of any repairs that might need doing and ensure a tenant is always paying rent.
As a result, investors in the Metropoly marketplace simply need to purchase an NFT to get started earning.
Totally Democratized Real Estate Investment
Another reason why Metropoly is gaining popularity is that they're totally democratizing real estate investment. Starting a real estate portfolio often requires large sums of cash to cover the down payment for the property and to pay for the services involved with buying a property. Furthermore, it usually involves mountains of paperwork and invasive credit checks, and it often takes months for a property deal to be finalized. Furthermore, the real estate market comes with geographic restrictions, preventing many potential investors from buying real estate in certain countries.
Metropoly is on a mission to change this dynamic with a simple solution to let everybody start investing in real estate. Users of the platform can get started in real estate without the need for banks, paperwork, or credit checks. Additionally, there are no geographic borders on the Metropoly Marketplace, allowing anybody from any country to start investing in real estate. This means that you could easily buy a villa in Spain, an apartment in London, and a luxury penthouse in Dubai with just $300 on Metropoly.
METRO Higher Prices Incoming After $500K Milestone
With the presale crossing the $500,000 milestone, the price for the METRO token is now $0.0625 but will continue increasing following each milestone. METRO will be the utility token for the Metropoly ecosystem and will be used as a payment and reward method on the platform.
The token has been audited by CertiK, one of the most prominent security firms in the crypto world.
Those that invest in the current stage of the presale stand to benefit from being automatically enrolled in the Platinum Members Club, granting them early access to the marketplace, a special unique NFT, and discounts when using METRO. Furthermore, those that use the Bonus Code: LAUNCH20 today will receive an additional 20% on their purchase.
---