Crypto and Stock Market Link in Question After Fed Signals Tapering
Disclosure: Crypto is a high-risk asset class. This article is provided for informational purposes and does not constitute investment advice. By using this website, you agree to our terms and conditions. We may utilise affiliate links within our content, and receive commission.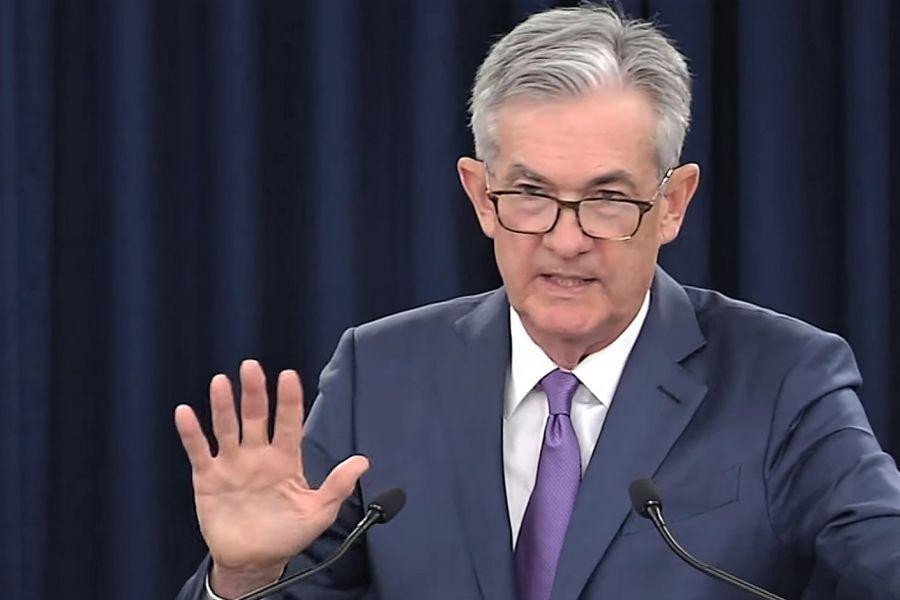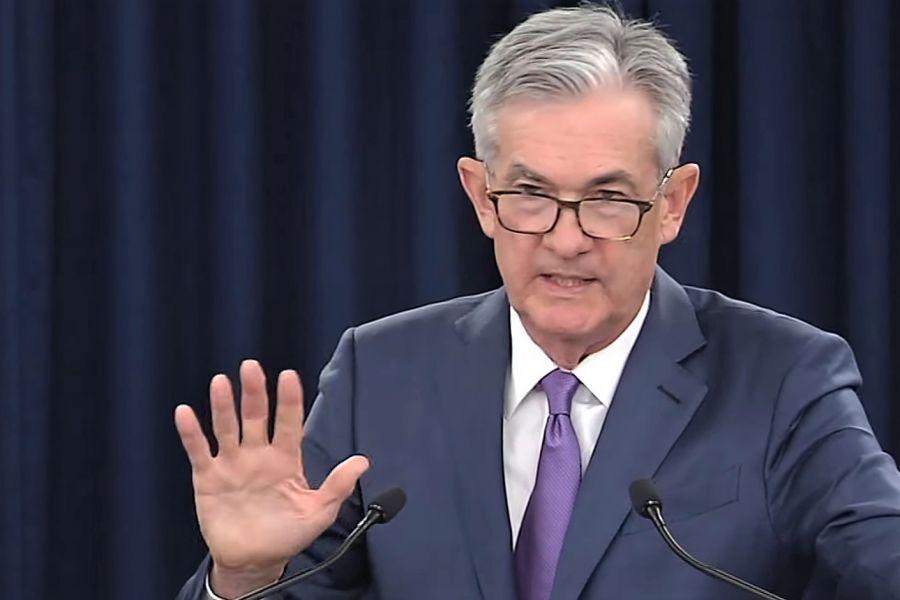 Despite the US Federal Reserve (Fed) saying yesterday that it is committed to maintaining its "accommodative stance of monetary policy," major cryptoassets dipped immediately following the news. Meanwhile, this dip stood in contrast to the stock market, which surged higher as the Fed's statement was released.
According to the statement, released at 14:00 EDT (18:00 UTC), the Fed made it clear that it plans to reduce its monthly asset purchases by USD 15bn, a move usually described as tapering. However, it also added that it is "prepared to adjust the pace of purchases" if the economic outlook changes.
Immediately following the release of the statement, bitcoin (BTC) dropped, moving down by about 3% from USD 62,470 to a low of USD 60,382, all within just one minute.
A similar move was also seen in the price of ethereum (ETH), which dropped by about 1%, from USD 4,550 to USD 4,500 within less than a minute.
However, the price of both of the two largest cryptoassets quickly recovered, with bitcoin being back at the same price level as before the news release within less than 15 minutes. The same also happened with ethereum, which turned around to climb higher, reaching a fresh all-time high north of USD 4,650 within an hour of the event.
Worth noting, however, was that bitcoin's reaction was very different from the stock market's reaction. Judging from the S&P 500 futures contracts traded on the Chicago Mercantile Exchange (CME), traders immediately turned bullish on the news, sending the futures contract up by 0.3% in a matter of five minutes.
5-minute chart of BTC/USDT on Binance (left) versus S&P 500 E-mini future (right):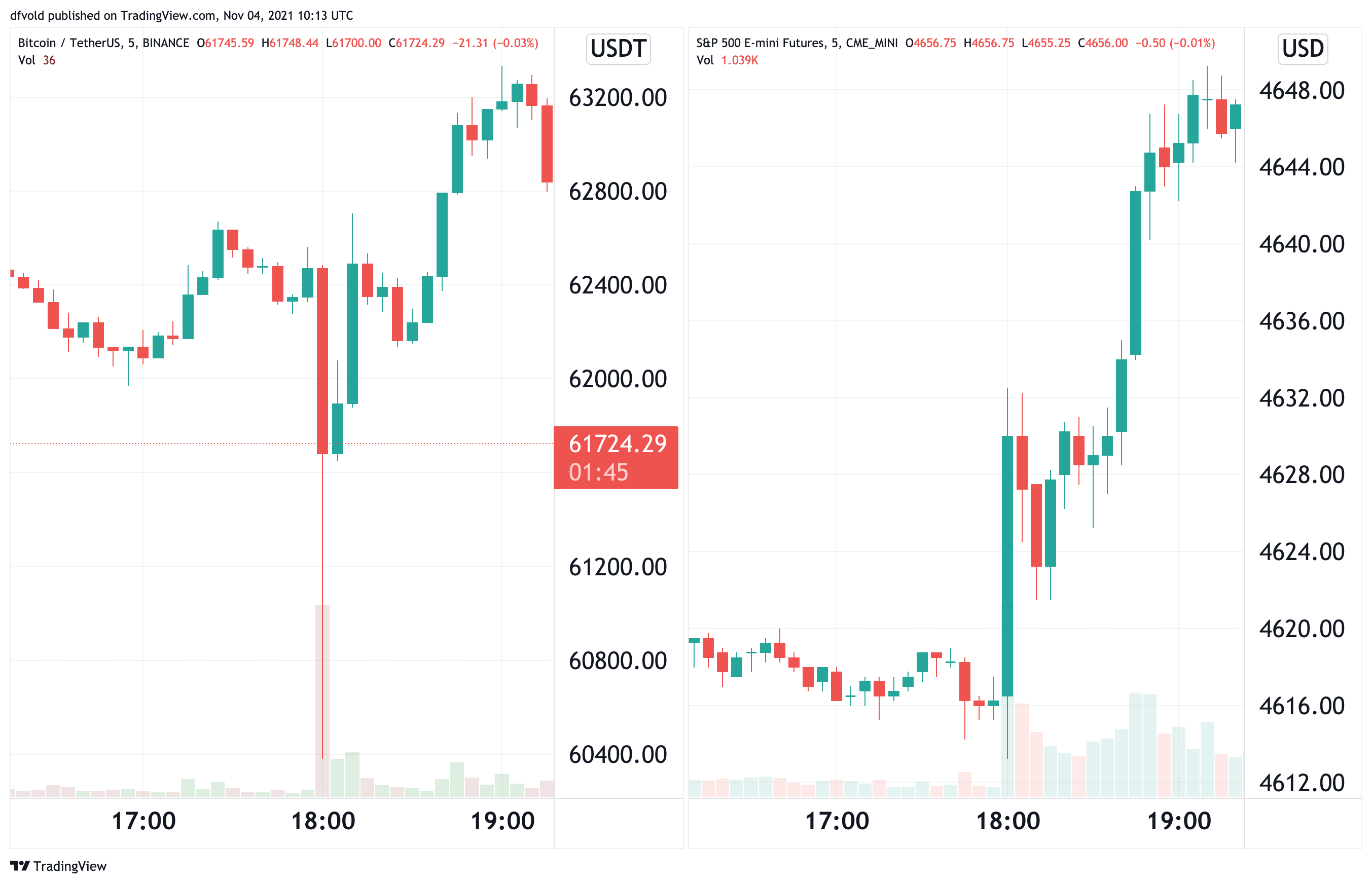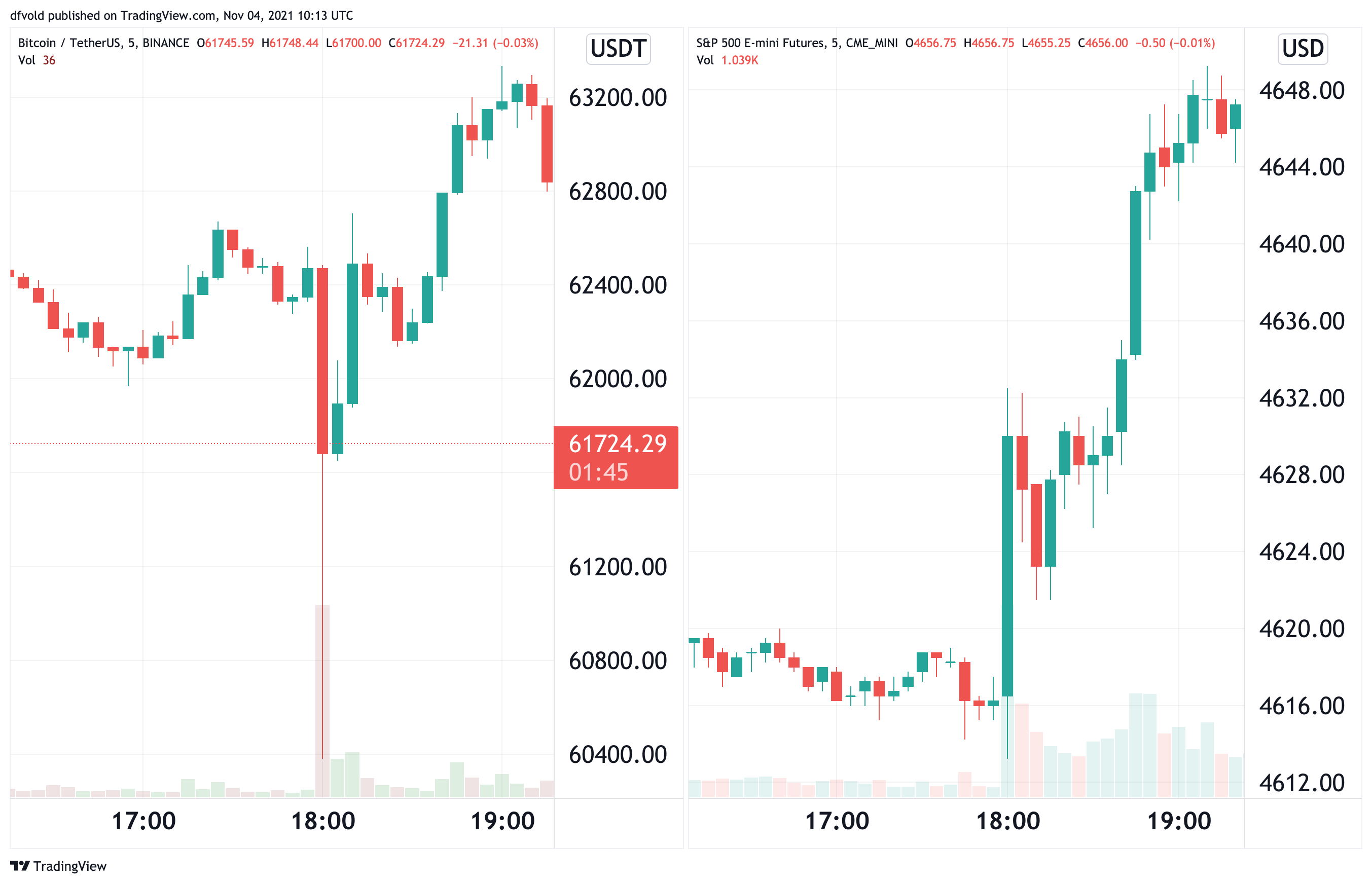 The opposite moves may have come as a surprise to some, given the widely held belief that bitcoin is a risk asset that trades in correlation with other risk assets such as stocks.
Looking at data from as recently as October, crypto exchange Kraken said in its latest market intelligence report that bitcoin's correlation with the Nasdaq, S&P 500, and the Stoxx 600 stock indices again turned modestly positive for the month. Among the indices, S&P 500 had the highest correlation with bitcoin of 0.44, the report also said.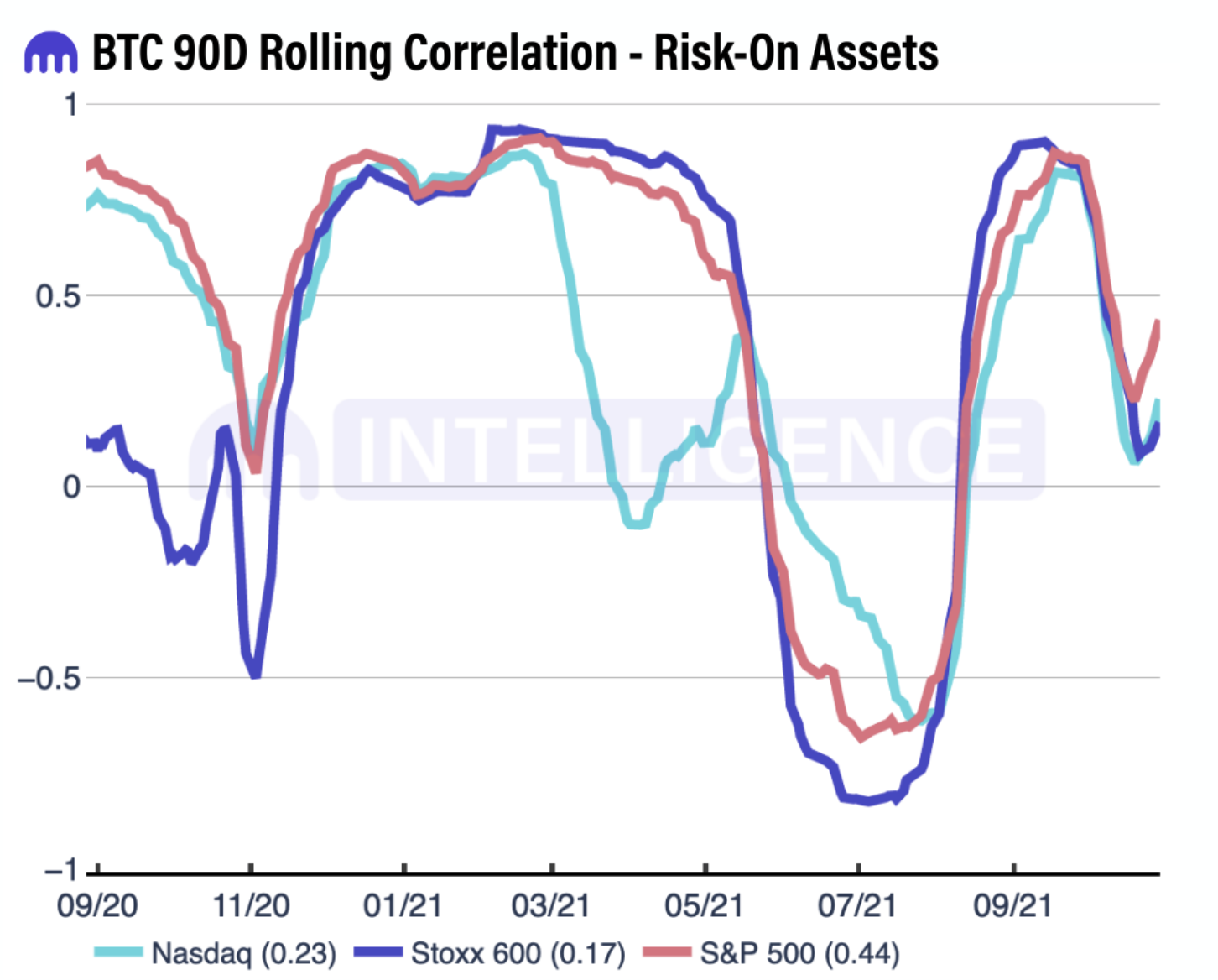 According to Mati Greenspan, founder & CEO of Quantum Economics, the reason for bitcoin initially dropping on the news could have to do with the type of investors that dominate in the bitcoin market.
"We also saw bitcoin take a dip, presumably from investors who saw the tightening but are not seasoned enough to understand the nuance of a Fed who is walking in two directions at once," Greenspan wrote in his newsletter.
"Notably, bitcoin made a full recovery of the move within a few minutes of the announcement," he added.
It is a widely held belief among investors that the Fed's asset purchases – known as quantitative easing (QE) – is helping prop up prices of assets, including the stock market and digital assets such as bitcoin and ethereum. As such, it is believed that reductions in these purchases have the potential to cause sell-offs in both traditional markets and crypto markets.
And according to yesterday's Fed statement, the USD 15bn reduction in asset purchases will continue on a monthly basis going forward. Starting this month, purchases of US Treasuries will be reduced to USD 70bn a month from USD 80bn, while purchases of mortgage-backed securities will drop from USD 40bn a month to USD 35bn.
At 11:17 UTC, bitcoin traded at USD 61,969, down 1.6% over the past 24 hours and up nearly 6% over the past 7 days. At the same time, ethereum stood at USD 4,544, down a mere 0.5% for the past 24 hours and up more than 15% for the past 7 days.
____
Learn more:
– Bitcoin Price to Face Another Test as Central Banks Eye Rate Hikes
– Four Steps Banks Need To Take To Prepare For Crypto, CBDC Disruption

– The Financial System Is In 'An Age of Disruption,' BIS Official Admits
– Peter Thiel: High Bitcoin Prices Are Proof of US Inflation
___
(Updated at 15:53 UTC with the comments from Kraken.)
---