The Crypto Startup Turning Trash Into Cash: Get In on ecoterra's Groundbreaking Web3 Recycling Platform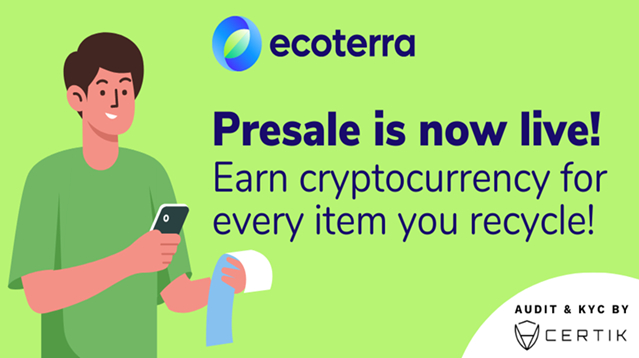 In today's world, the alarming rise in global garbage generation has become an urgent challenge, exacerbated by factors such as population growth, urbanization, economic development, and consumer behavior.
Traditional waste management techniques, as reported by UNEP, are falling short, with a mere 20% of waste being recycled each year while millions of tons are relegated to landfills, hazardous open dumps, and oceans.
Ecoterra, an innovative cryptocurrency project, is stepping up to tackle climate change by revolutionizing recycling practices.
By leveraging a groundbreaking recycle-to-earn (R2E) model, this cutting-edge platform motivates users to engage in waste product recycling.
Demonstrating significant potential, the burgeoning project has already secured over $604,795 in funding within just a few weeks, reflecting a rapidly growing investor interest in this sustainable solution.
Innovating Ways to Encourage Recycling
The widespread effects and spread of solid waste contamination highlight the critical importance of prioritizing trash reduction, recycling, and environmentally friendly disposal methods.
This is where ecoterra comes in.
Ecoterra is a blockchain-powered project with an impressive recycle-to-earn (R2E) model that encourages members to recycle waste products.
The environmentally-conscious ecoterra project is dedicated to raising awareness about the irreversible consequences of human actions and behaviors on a daily basis.
A myriad of environmental issues, including ocean acidification, food waste, air and plastic pollution, deforestation, and food waste, pose significant threats to human life worldwide.
In response to these pressing environmental challenges, ecoterra's development team shares a unified objective – fostering recycling practices to mitigate global warming and climate change, empowering individuals to make a tangible impact.
To achieve this, the project has created several initiatives to reward users and motivate them to recycle.
The initiative targets different types of users, including recyclers, governments, small enterprises, large corporations, industries, and non-governmental organizations (NGOs).
These companies can contribute to the platform's ecosystem by purchasing raw materials from the ecoterra marketplace and rewarding members with crypto payments, including $ECOTERRA tokens.
With this development, these companies will have enough raw materials to create new products at a low cost while maximizing profits.
Popular production brands, including Dr. Pepper, Heineken, Vittel, San Pellegrino, Pepsi, Fanta, Evian, and Peroni, have already integrated the ecoterra waste management ecosystem into their databases.
Recycle and Earn
Ecoterra is committed to advancing circular economy processes by providing a market for recycled materials and developing a platform for recycling incentive programs.
The circular economy will propel a sustainable industrial environment without using fossil fuels.
The platform will feature a recycle-to-earn (R2E) app that streamlines the recycling process and motivates users to participate in environmentally friendly activities using blockchain technology.
This not only aids in raising recycling rates but also offers a unique chance for consumers to win rewards while helping the environment.
The user-friendly app's architecture also includes reverse vending machine (RVM) compatibility.
Users who deposit recyclables in the RVM will be rewarded with $ECOTERRA tokens.
To earn, they can scan the product's barcode, locate a store with an RVM, and begin recycling their items.
Through the carbon offset marketplace, ecoterra offers a secure way of tracking emissions and carbon credits, assisting in reducing climate change's consequences.
Go Green and Make Gains With $ECOTERRA
The eco-friendly project offers a once-in-a-lifetime investment opportunity through its presale as adoption continue to soar, positively impacting the token's price.
At the time of writing, potential investors can buy $ECOTERRA for $0.004 using ETH, USDT, or fiat money.
So far, the digital asset has garnered over $604,850 from savvy investors.
Early bird investors who purchase during Stage 1 of the presale stand to achieve a paper gain of 150% when it lists on exchanges later this year.
Disclaimer: The Industry Talk section features insights by crypto industry players and is not a part of the editorial content of Cryptonews.com
---