Crypto Predictions for March 2023 - Which Coins Might Explode?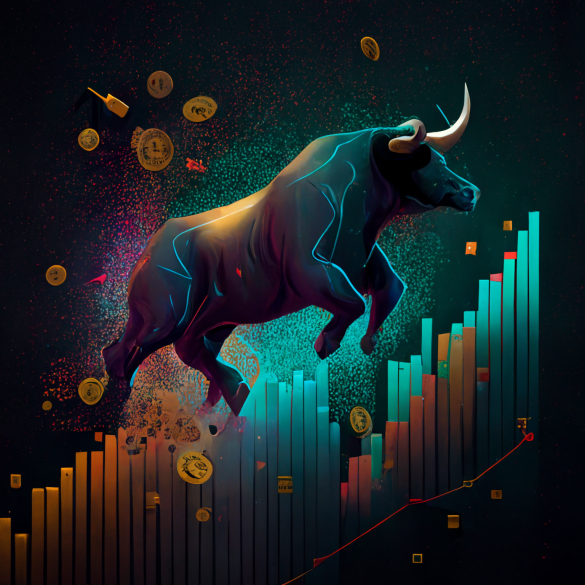 Crypto investors are faced with the daunting task of selecting the right digital asset to invest in at the right time, and given the sheer number of tokens available, which stands at over 22,000, this can be an intimidating task indeed. Crypto predictions are hard to make, as the crypto markets are highly unpredictable, but technical trends and fundamental project potential can give us an indication of which coins might be worth keeping an eye on in March 2023.
Although Bitcoin remains a compelling digital asset to invest in, its largest gains are likely behind it, leaving many investors looking for the next trending coin. Bitcoin's recent price movements suggest a positive uptrend that could be the start of a trend for the overall crypto markets as well, with BTC's price up 42% so far in 2023. The upcoming halving event in April 2024 could cause its price to rise even further.
As the cryptocurrency market continues to evolve, it's essential to stay up to date with the latest digital assets worth investing in to be ready for the next market uptrend. In this article, we'll take a look at five cryptocurrencies that are worth checking out this month.
While meme-inspired tokens that are currently catching attention from investors lack practical use and are mainly used for speculative purposes, well-established blockchain technologies like ADA and MATIC that have real world use cases offer promising continued growth. FGHT, CCHG, and METRO have unique features and real world use cases that make them stand out as well. We'll take a dive into each of these digital assets, exploring their key features and their crypto predictions for March.
Fight Out Fitness App's Crypto Predictions
Fight Out, an upcoming move-to-earn (M2E) fitness app, is gaining attention from investors and professional athletes as it prepares its innovative Web3 technology to enter the fitness industry with a bang.
High dropout rates and lack of motivation are among the challenges faced by gym members, and Fight Out is offering much-needed solutions to tackle these issues. According to IHRSA, half of the new gym members quit within six months because of insufficient personalized customer service, motivation, and connection. The COVID-19 pandemic has resulted in many gym closures as well, leaving customers with limited access to fitness services. Some countries have seen closures as high as 40-50%.
Fight Out provides a comprehensive solution, including personalized NFT avatars displaying fitness stats, customized workout plans, and REPS token rewards that can be redeemed for discounts on subscriptions, gym memberships, and other items.
Mark Zuckerberg, for one, is a fan of MMA, and is sparring with fighters like Alexander Volkanovski in the Metaverse. Fight Out is the current crypto project closest to the MMA world, and the project will make major UFC ambassador announcements in March. Fight Out CEO Carl Jones has hinted at the possibility of users fighting their MMA heroes and earning a reputation in the MMA metaverse. The company has also noted that Fight Out's metaverse features will be built on users' achievements, not their pockets.
Fight Out is an industry first combining play-to-earn and move-to-earn. Competitive in-app and real-life games will enable users to grow their avatars and earn while driving them forward with rewards and community.
The project is likely to be the biggest play-to-earn project of 2023, with the presale already closing in on $5 million and ending on March 31 before an exchange listing on April 5. Although this isn't technically in March, it's close enough, and the project holds a lot of promise on launch, especially since early adopters of the platform can expect exclusive NFTs.
Cardano (ADA)
Cardano (ADA) has shared a community update, shedding light on the network's growth in recent times. As per the update, 117 projects have already been launched on the protocol, and another 1,205 are currently under development, highlighting its potential for future growth.
The network's total native tokens have also exceeded 7.8 million and the number of transactions on the Cardano network has surpassed 61.8 million, highlighting its popularity among users. These latest statistics are a testament to the growth and potential of the Cardano network.
Cardano is currently being traded at $0.3566, a decline of 2.14% in the last 24 hours. It is currently situated at a significant horizontal support range stretching from $0.3518 to $0.3579. If the price manages to stabilize around this range, there is a possibility that ADA's value could surge toward the $0.40 to $0.42 range.
Despite the recent market downturn, Cardano's developers remain upbeat about the future. The network's ability to generate momentum regardless of market trends has been a crucial factor in its success.
C+Charge Enhances EV Experience with Blockchain-Based Platform
C+Charge is a blockchain-based platform designed to improve the charging and payment experience for electric vehicle (EV) owners. With the rise in global EV adoption, there is a growing demand for charging capabilities, but the current infrastructure falls short. C+Charge aims to address this issue by building its own charging stations while collaborating with existing ones to make it easy for users to find and pay for charging.
In addition to streamlining payments across EV charging networks, C+Charge will provide real-time information on local charging options and vehicle diagnostics. EV owners using C+Charge will also receive Goodness Native Tokens (GNT) as carbon credits, which can be traded on the app. The carbon credits industry will be worth $2.4 trillion by 2027, and C+Charge's platform is poised to open up access to this market to EV drivers.
Through its partnership with Flowcarbon, C+Charge will allow EV owners to earn carbon credits in the form of GNT every time they charge. The platform will also provide fleet managers with a way of monitoring and fixing issues with particular stations, ensuring that EV drivers can reliably find stations that are up and running with no problems.
With climate change mitigation being a necessary investment theme for the foreseeable future, C+Charge is a future-proof use case for blockchain technology. The company has already secured its first international partner, Perfect Solutions Turkey, adding 20% of the EV chargers in the country to the network.
The first phases of C+Charge's presale have been a success, raising over $1.8 million. The presale is divided into eight stages, with each stage lasting one week. The next price increase is less than a day away, and investors who buy CCHG in Stage 4 will receive potential see a token price increase of 35% when the presale ends on March 29, giving the crypto prediction for this coin high potential.
Polygyon (MATIC)
Polygon's MATIC token has been experiencing a bearish trend since last week, with the price currently at $1.23. While technical indicators suggest a trend reversal, maintaining support at $1.20 would be the best strategy for bulls to push the price upwards to the significant area of $1.50.
On March 27, the Polygon ecosystem is set to launch its zkEVM Mainnet Beta, a milestone for the layer 2 solutions provider for Ethereum. The testnet has already achieved key milestones, including the creation of over 84,000 wallets and the deployment of more than 5,000 smart contracts. Polygon Labs has announced that more details regarding the mainnet beta will be released in the coming weeks, with security being the highest priority.
MATIC's current bearish trend is not unique to the token, as Bitcoin and Ethereum have also experienced downturns due to the current macroeconomic climate.
Support for MATIC is expected at $1.20, and if the price drops below the 50-day EMA at $1.189, bulls may have to look to the 100-day EMA at $1.078 for support. However, the launch of Polygon zkEVM could be a catalyst for a potential upswing targeting $1.50 to $1.75, especially if the wider crypto market holds steady in the face of macroeconomic headwinds.
Metropoly's NFT Marketplace Brings Instant Liquidity and Passive Income
Metropoly is an upcoming real estate NFT marketplace that aims to change the way people invest in real estate. The platform will enable users to buy and sell fractional shares in real estate properties backed by actual properties across the world. Unlike traditional real estate investments, Metropoly will not require credit score checks, downpayments, mortgages, or paperwork to start. The platform is user-friendly, and anyone can get started with as little as $100 and start earning a passive income.
A major issue facing traditional real estate investment markets is liquidity. However, Metropoly solves this issue by providing instant liquidity, allowing investors to sell their properties for 70% of the price or the highest bid in an auction. With real-time analytics and data available on the platform, investors can make informed decisions about purchasing and selling.
Metropoly's primary utility token, METRO, has a limited supply of one billion tokens and is audited by CertiK and Solidproof.
Metropoly's features, including fractional ownership, instant liquidity, and real-time analytics, make it an attractive investment opportunity and are likely to make its fundamental crypto prediction positive and a great investment for when the platform launches.
---