"Crypto Plunge Exceeds Dot-Com Crash…" Again
Crypto bulls still dismiss negative comparisons to the dot-com era.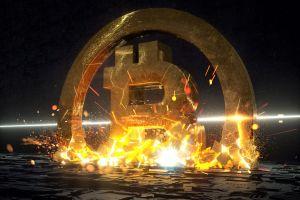 Source: iStock/Just_Super
On Wednesday, Bloomberg reported that the MVIS CryptoCompare Digital Assets 10 Index which tracks the performance of the 10 largest and most liquid digital assets extended its collapse from a January high to 80%. The tumble has now surpassed the Nasdaq Composite Index's 78% peak-to-trough decline after the dot-com bubble burst in 2000. Among major coins, ether leads the losses with a decline of roughly 87% since reaching an all-time high of more than USD 1,400 in January of this year.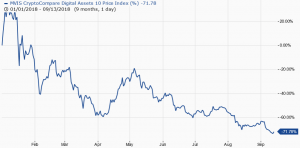 Source: mvis-indices.com
________
"Best performers" this year by drop from their all-time high (ATH) (among top 107 coins by market capitalization):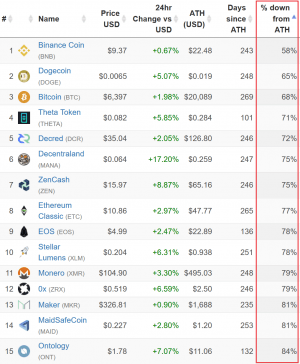 Source: OnChainFX. UTC 05:22 AM
The article went on to quote experts, including Neil Wilson, chief analyst at online CFD (contract for difference) and forex broker Markets.com, as saying that "it just shows what a massive, speculative bubble the whole crypto thing was […]"
It should be noted, however, that online CFD and forex brokers are known to have lost a significant portion of their business last year to trading platforms developed specifically for trading cryptocurrencies.
Still, people who have been invested in bitcoin and cryptocurrencies over a longer period of time dismiss negative comparisons to the dot-com era by pointing to the Nasdaq Composite's recovery to fresh highs 15 years later, and to the internet's enormous impact on society. They also note that Bitcoin has rebounded from past crashes of similar magnitude.
For example, Hong Kong-based cryptocurrency analyst and writer Joseph Young pointed out on Twitter that bitcoin has already survived two dot-com-like crashes in the past, but still managed to come back stronger each time:
Meanwhile, Ran NeuNer, host of CNBC Africa's CryptoTrader show, also acknowledged crypto's proven ability to come back from previous crashes, but expressed concern that the depressed prices we are currently seeing could last for some time, likely causing people to give up on their holdings in the meantime. Following the tweet, the TV show host was reminded by others that we need to see more real-world use cases of cryptocurrency before "real value" will emerge.
Others again pointed out that the crypto market moves at lightning speeds compared to the stock market, suggesting that we may not need to wait too long for the next bull market to begin.
Meanwhile, famous crypto trader Ronnie Moas tweeted:
However, as Tuur Demeester, a popular economist and bitcoin-investor, points out "it's important to not get caught up in wishful thinking":
---