Crypto Passive Income: IMPT's Staking Mechanism Opens Plenty of Opportunities
Disclaimer: The text below is a press release that is not part of Cryptonews.com editorial content.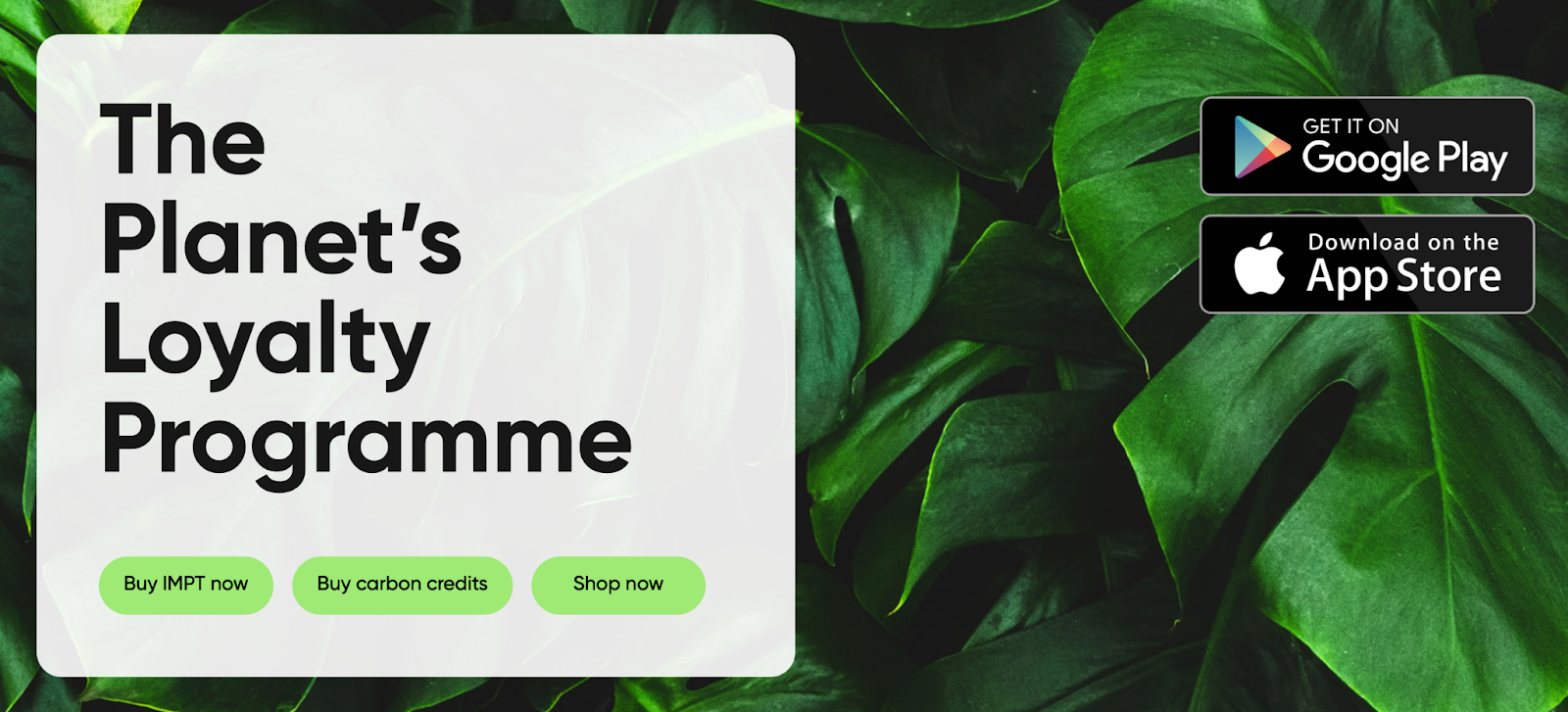 Over the last few years, crypto has emerged to become a good source of passive income. Despite the ups and downs in the market, judicious investors continue to earn generous returns from the market.
In this article, we take a look at the best crypto passive income opportunity this year, opened by IMPT. Before we dive into passive income sources, we need to get a basic understanding of the underlying project and how it ensures sustainable and reliable rewards.
Let's dive in.
Thousands of retailers are choosing IMPT to attract eco-conscious shoppers
The consequences of climate change are becoming increasingly evident, urging consumers to become eco-conscious.
Brands are responding to the shifting consumer behavior by integrating sustainable practices and products into their business. But a complete and immediate transition to eco-friendly alternatives is impractical given the existing technological and resource constraints.
We need time.
But what we can do in the meantime is take steps to offset our carbon footprint by becoming a part of regenerative initiatives. Carbon credits are one of the simplest answers to this. Each carbon credit, when retired, represents the removal of one ton of CO2 or its equivalent in other greenhouse gasses.
If, as a business, you can't afford to go green, you can prove your social and environmental responsibility to shoppers through carbon offsetting. The law mandates many companies to do this depending on their carbon output. Some choose to offset carbon voluntarily. Not just businesses but also individuals.
IMPT Planet's Loyalty Program allows retailers to offer carbon credits as loyalty rewards to shoppers. The initiative's goal is to make carbon offsetting more accessible and mainstream.
The project unveiled its Software as a Service (SaaS) model Global Partnership Network Platform recently, which provides businesses worldwide with a pre-established customer loyalty system. As a result, retailers don't have to develop individual proprietary systems. They get customizable loyalty programs.
IMPT changes the prevailing narrative about the blockchain industry through its green initiative. Not surprisingly, Denis Creighton, the CEO and co-founder of IMPT, was featured among the dynamic lineup of thought leaders at this year's EthCC.
Tell me about the crypto passive income now
The IMPT ecosystem is mostly centered around its shopping app and carbon credits marketplace.
The IMPT shopping app lists a vast array of brands from around the globe that have joined IMPT Planet's Loyalty Program. Every purchase you make from these brands earns you IMPT tokens.
Once you have enough, you can convert them into carbon credits through the IMPT carbon credits marketplace.
You have the freedom to decide what to do with your carbon credits – burn them, sell them, or hold on to them. It's totally up to you. The demand for carbon credits is growing.
What we discussed above is an excellent way to earn passive income while you're shopping. But you can also simply stake IMPT tokens and become an IMPT Loyalty Member.
IMPT's reward and earning engine comes with three levels – Platinum, Gold, and Silver. Make sure you sign up early because there are a limited number of seats on each level.
If you're not an avid shopper, you can support IMPT's vision through early membership. In exchange, the ecosystem rewards you with lucrative rewards as listed above.
Have more time? Join the IMPT affiliate program
If you're willing to put in more time and effort, IMPT also provides an affiliate program.
Rewards have a remarkable way of motivating people to take action. The fight against climate change is no exception, no matter how critical it is.
Although everyone would be doing everything they can to slow down the climate threats in a perfect universe, the hectic realities of daily life distract us.
But incentives like rewards or commissions work like magic in these cases. That is at the heart of IMPT Planet's Loyalty Program, as well as the new affiliate program from IMPT.
Titled IMPT Global Rollout Network, the affiliate program aims to extend the reach of Planet's Loyalty Program to every corner of the Earth. It operates on three distinct layers - Country Partner, Leadership Partner, and Area Partner - each contributing to the program's expansion among retailers and shoppers.
IMPT Global Rollout Network operates on commissions. It encourages and rewards partners for their efforts in spreading the impact of the Loyalty Program and making a positive difference in the fight against climate change.
If you have entrepreneurial skills, the affiliate program is a remarkably good source of side income.
The cost of joining the IMPT Global Rollout Network varies depending on the location and stage of the initiative. As the program is still in its initial phases, there is a large growth potential for early movers.
You can sign up and purchase the region you are interested in by staking IMPT tokens.
To learn more about the IMPT Global Rollout Network and the benefits of becoming a partner, visit https://partners.impt.io.
Is IMPT a good investment now?
You need to stake IMPT to earn crypto passive income from the loyalty program. The affiliate program, although not passive, also requires you to stake IMPT tokens.
Even if we take out the rewards from the equation, IMPT is an excellent investment now. The value of IMPT tokens is projected to undergo a substantial increase, from 6500% to 8000% this year, given the high market relevance of the project.
The growing adoption of the IMPT shopping app and the increasing popularity of the Loyalty Program will power the utility and demand of IMPT.
---