Crypto News Roundup: Everlodge (ELDG)'s Stratospheric 80% Presale Jump, Ethereum (ETH)'s 'Holešky' Debut, and Binance.US (BNB) Leadership Shakeup
Disclosure: Crypto is a high-risk asset class. This article is provided for informational purposes and does not constitute investment advice. By using this website, you agree to our terms and conditions. We may utilise affiliate links within our content, and receive commission.
Disclaimer: The text below is an advertorial article that is not part of Cryptonews.com editorial content.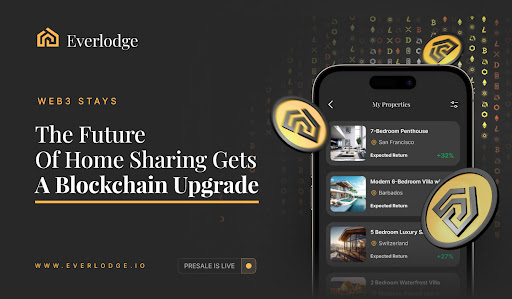 This week saw some significant developments in the crypto world. Everlodge (ELDG) achieved an impressive 80% presale boost, Ethereum (ETH) welcomed its newest addition, 'Holešky,' and Binance.US (BNB) experienced a leadership shakeup. Let's look at what's been happening in the crypto world.
Join the Everlodge presale and win a luxury holiday to the Maldives
Everlodge (ELDG): A Skyrocketing Presale
The Everlodge presale is in full swing, boasting a sale of over 85 million tokens and experiencing a price jump from $0.010 to $0.018. As investors scramble to secure the remaining tokens of the third presale phase, the momentum only continues to build.
Central to Everlodge's mission is the democratization of luxury real estate. By breaking down conventional barriers such as origin, nationality, and financial capabilities, the platform paves the way for broader access to high-end properties.
Everlodge materializes this vision by fashioning NFTs representing fractional ownership in premium real estate assets. This means that just $100 is enough to buy into a luxury asset. It allows users to diversify their portfolio and explore the possibilities of the real estate market.
Everlodge is creating a comprehensive platform for real estate investments, including a Rewards Club, Lending Mechanisms, and a Developer Launchpad. This three-pronged approach is expected to revolutionize the luxury real estate market and increase access to new investors.
By interweaving blockchain with real estate, Everlodge sets the ELDG token on a trajectory to become a formidable player in the DeFi sector. Pundits from the industry already foresee Everlodge shaking up the colossal $280 trillion real estate realm, speculating a potential 30x appreciation for the token upon its public market debut.
Ethereum (ETH)'s 'Holešky' Debut
On September 15, Ethereum's development team unveiled a new testnet named "Holešky." Designed primarily for staking, infrastructure, and protocol enhancement, it will coexist with Sepolia, which will continue to be the primary network for app development.
To jumpstart Holešky, a staggering 1.6 billion Holešky testnet Ether (HETH) will be distributed to its validators, shared by Ethereum developer Tim Beiko. While this 1.6 figure is more than on the Ethereum Mainnet, Beiko explained such a high number is not unusual as events often operate with a 10B supply.
Given the extensive plans that Ethereum's developers have lined up, including introducing multiple sharding techniques to lower Ethereum fees, Holešky is poised for substantial activity.
However, the broader market context remains cautious. Ethereum's prices feel the knock-on effect of Bitcoin's challenges, with its lengthy 16-month stretch beneath the $2,000-$2,100 bracket reflecting the prevailing cautious sentiment among traders.
Binance.US (BNB) Leadership Shakeup and FUD
Following the SEC's legal action against Binance, the U.S. arm of the exchange underwent a major leadership shakeup. More than a third of Binance.US staff have left the company, but its CEO's departure has the market talking.
Rumors are circulating on X that Binance is in deeper trouble than initially thought, with the company trying to soften the blow of its departure. However, Binance's leading CEO, Changpeng Zhao, urged people to ignore the fear, uncertainty, and doubt (FUD) surrounding the executive changes.
In a statement possibly hinting at the lawsuits on platform X, Zhao pointed out the evolving landscape of the cryptocurrency world in recent years. He voiced his trust in Norman Reed, the newly appointed CEO of Binance.US, as the right individual to steer the ship during these changing times.
These developments have a negative ripple effect on the Binance token's market value, dropping from $306 in June to its present rate of $215. Any further decline and push above the $200 mark could spell further trouble for the exchange.
Find out more about the Everlodge (ELDG) Presale
Website: https://www.everlodge.io/
Telegram: https://t.me/everlodge
---