Crypto Market Sentiment: Slight Drop Towards Neutral Zone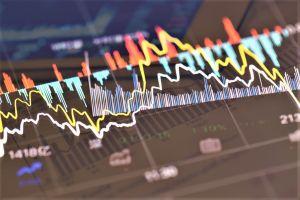 On Monday, the total crypto market sentiment registered a slight drop compared to last week. Although the drop is very small - from 5.65 last week to 5.5 now - but it is still a change of pace compared to the constant climb that had previously happened, according to Predicoin, a crypto market sentiment analysis service.
A total of six coins, out of the top 10 by market capitalization, are at or above the 5.5 line, which means they're starting the week in the positive range. It is Bitcoin's at least fifth Monday in a row with the highest score, while EOS and Stellar dropped off the winning list. Tron dropped off the top 10 list completely, replaced by Cardano, which registered a score of 6 this Monday. The only coin improving its score compared to last week was Tether, and only Bitcoin Cash stayed the same at 5.7, while all the others dropped.
Only XRP stayed in the negative zone with a score of 4.3 (4.5 last week). EOS (5.1), Tether (5.3) and Stellar (5.2) are in the neutral range.
Sentiment change among the top 10 coins*:
Interpreting the SentScore's scale:
- 0 to 2,5: very negative
- 2 to 4,5: somewhat negative zone
- 4,5 to 5,5: Neutral zone
- 5,5 to 7,5: somewhat positive zone
- 7,5 to 10: very positive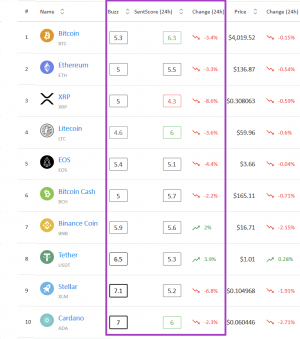 The biggest loser in terms of change over the course of the week was EOS, which dropped 12.3%, followed by Ethereum with a drop of 7.1%. The weakest link at EOS was its social score with 4.6, while its strongest factor is news with 7.2. Ethereum, meanwhile, can blame its technical aspect (3.8) for the drop, while news at 6.8 help them keep their head above the water.
Bitcoin SentScore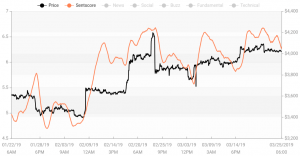 Not everything is all that grey. Tether jumped by 8.6% in terms of score within the week, thanks to news criteria with a score of 7.5 and still lagging with the technical score of 3.4. Bitcoin Cash also improved by 1%, although not enough for its score to change, since it remained at 5.7 total. Most of the scores seem to be dropping in the past 24 hours. Tether is again an exception, along with Binance Coin, both of which are improving.
Out of the coins from outside the top 10 by market capitalization, a notable score is set by Monero as well, as its score of 6.1 places it directly behind Bitcoin in the second spot. Part of the reason for the hype could be the fact that the non-profit organization and anonymous web browser Tor has announced that they will add Monero to the list of accepted cryptocurrencies in which users can make donations to the project.
_____
* - Methodology:
Predicoin measures the market sentiment by calculating the SentScore, which aggregates the sentiment from news, social media, technical analysis, viral trends, and coin fundamentals based upon their proprietary algorithms.
As their website explains, "Predicoin aggregates trending news articles and viral social media posts into an all-in-one data platform, where you can also analyze content sentiment," later adding, "Predicoin combines the 2 sentiment indicators from news and social media with 3 additional verticals for technical analysis, coin fundamentals, and buzz, resulting in the SentScore which reports a general outlook for each coin." For now, they are rating 30 cryptocurrencies.