Crypto Finances: ConsenSys Seeks USD 200m, Binance Increased Profit
New details have emerged showing how some well known players of the cryptoverse are doing.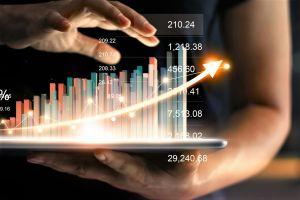 First, blockchain company ConsenSys is reportedly aims to more than double it's revenues this year and is looking to raise USD 200 million from outside investors.
Second, major cryptocurrency exchange Binance managed to increase its quarterly profit after dropping for two consecutive quarters.
Third, Sirin Labs, developer of the Finney blockchain smartphone, laid off 25% of its employees.
ConsenSys: valuation of USD 1 billion
News outlet The Information reported, citing undisclosed sources familiar with the matter, that ConsenSys is looking to raise USD 200. It also added that the company, which focuses on developing solutions using the Ethereum blockchain, has brought in USD 21 million in revenue in 2018 and is projecting a revenue of USD 50 million this year, according to the report. 80% of the revenue should come from its service business with large-scale clients, while the remainder should come from software products. The unnamed sources further allege that the company is looking for a valuation of USD 1 billion, considered unattainable by a number of their would-be investors.
Only in December last year, ConsenSys announced their intent to restructure the organization by shifting it into a new phase "for greater efficiency, accountability, and attention to revenue," along with expecting projects under its umbrella to follow suit. These restructuring efforts were accompanied by layoffs, when a total of 13% of the company's employees found themselves without a job.
"[Until now], it has been enough to show up, it has been enough to do something cool, it has been enough to make a splash," Lubin told news outlet Breaker Mag at the time. The company explained that starting then, underperforming projects will be cut off and projects will be judged on three metrics: revenue or return on investment, benefit to the Ethereum ecosystem, and social good - for which the means of assessment were "still being determined."
One of the major sources for the problems ConsenSys has been having seems to be the bear market of 2018, which caused the Ethereum token to drop sharply. Although the market has since showed signs of recovery, ETH is still far from its all-time high of USD 1,448 in January 2018, currently sitting at USD 163.53 as of the time of writing. This marks a drop of almost 90% - a significant fallback for many Ethereum-focused ConsenSys subsidiaries.
ConsenSys declined to comment for this article.
Binance increased profit
Meanwhile, it looks like Binance is growing its quarterly profit again after recording a drop in the third and fourth quarters of 2018. It made USD 78 million in 1Q this year, or 66% more than in 4Q18, but still less than in 1Q18 (-50%,) according to calculations by Cryptonews.com. It's based on quarterly burns of BNB, the native token of Binance. The news was first reported by the The Block.
The exchange claims that every quarter it destroys BNB worth of 20% of its profits. In the first quarter this year, they burned BNB 829,888, which is roughly equivalent to USD 15.6 million. However, the company does not specify, whether it's net profit they're referring to.
_____
Binance explains BNB burn:
_____
"The amount of BNB burned this quarter is about half the amount burned last quarter. But considering BNB has more than tripled in value during these past 3 months, the USD equivalent is significantly higher than last quarter," Changpeng Zhao, CEO of Binance, said in a blog post, adding that the price of BNB began to rise before BTC even began to turn around in the market a couple months ago.
"This means fewer BNB were spent on trading fees by our users, resulting in lower revenue in BNB, while our revenue denominated in USD rose during this time. Third, with the recent rise in BTC price, we see our revenues in USD terms making a turnaround, too (rising)," he said.
At pixel time, the 24-hour trading volume on Binance stands at more than USD 1 billion.
Trading volume on Binance: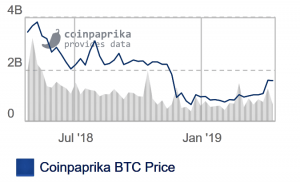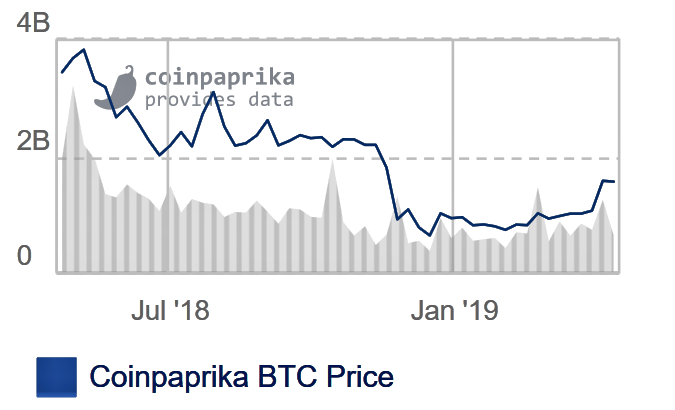 Sirin Labs: disappointing sales
Meanwhile, Sirin Labs confirmed to Israeli business news outlet Globes that it had recently laid off 15 of its 60 employees.
"The company gives some of its work to outsourcing, and plans to focus on development and distribution of the software," the report said, citing Sirin Labs that saw disappointing sales of their Finney phone. (The report did not provide sales data.)
In December 2017, Sirin Labs' initial coin offering managed to raise USD 158 million, largely on the basis of Sirin Lab's novel plan to build blockchain-based smartphones and computers. They launched their first phone in December 2018.
However, SRN, the native token of the company is down by around 15% this year, while many other tokens are in green this year.


---