Crypto AI Projects Are on the Rise, But How Long can They Last? Learn why Metropoly is a Better Investment
Disclosure: Crypto is a high-risk asset class. This article is provided for informational purposes and does not constitute investment advice. By using this website, you agree to our terms and conditions. We may utilise affiliate links within our content, and receive commission.
Disclaimer: The text below is a press release that is not part of Cryptonews.com editorial content.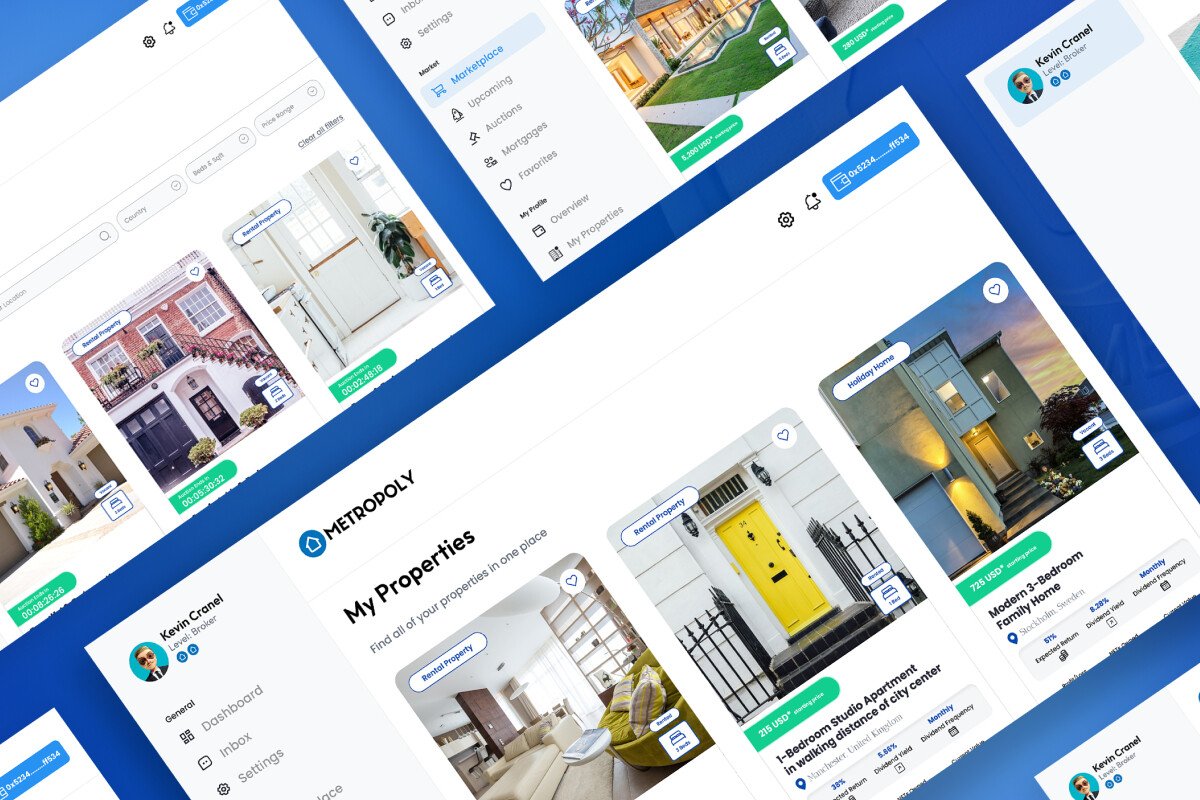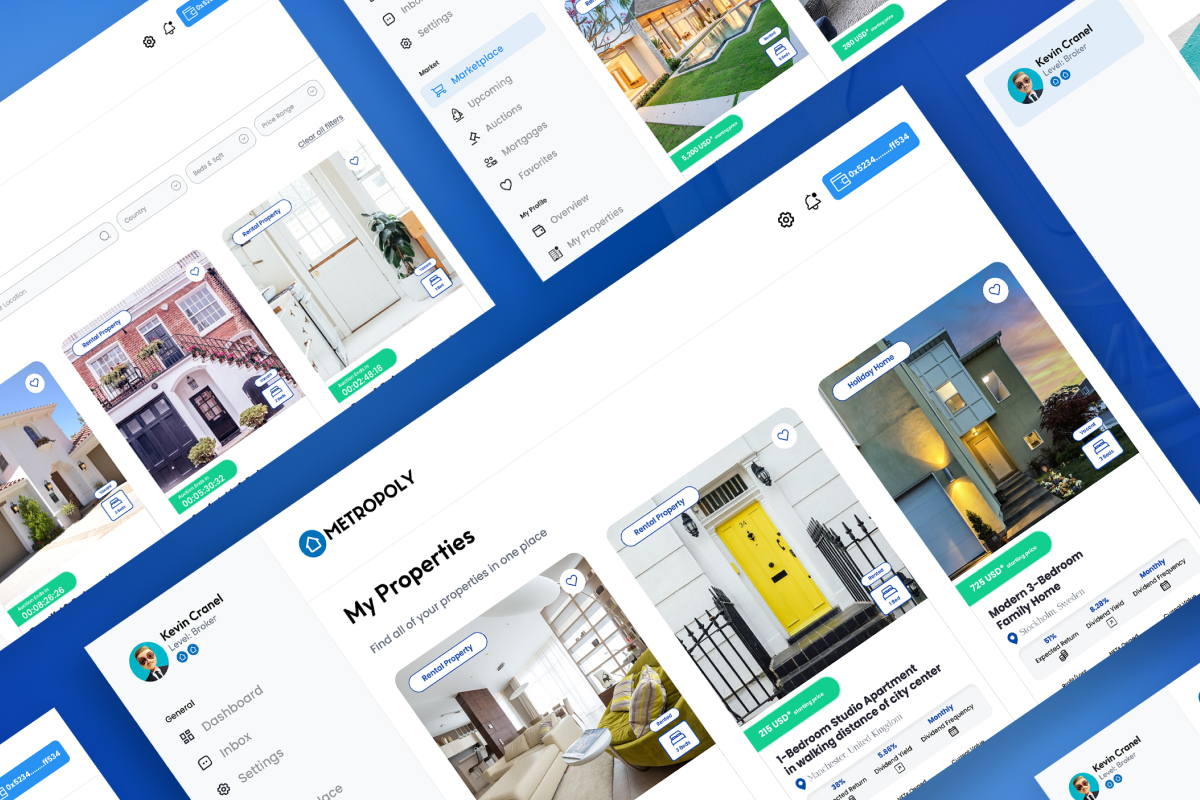 The new buzz in town is all about crypto AI projects. There has been a craze for crypto AI projects over the past month, leading analysts to draw similarities between AI projects and memecoin projects from yesteryear.
But, with the hype exploding and millions being poured into the sector, how long can the trend really last? In this article, we will discuss if the AI hype is a passing trend and explain why investing in other projects with established roadmaps is likely to be a much safer option.
Memecoin 2.0 Craze? Crypto AI Projects Surging Across the Board
The AI train has officially left the station, and everybody is jumping on board. Over the past month, a new trend has emerged. Crypto AI projects have popped up across the entire industry by integrating language bots, image generators, production assistants, and research algorithms into their protocols.
Protocols from ChatGPT and MidJurney are starting to be utilized in a range of different crypto projects. The projects are integrating AI technology into tokens and claiming that they are about to revolutionize the entire industry.
It's not just crypto-heads that are getting involved. Large tech companies are scrambling to get a slice of the investment, with Microsoft investing billions of dollars into OpenAI.
Projects like Artificial Liquid Intelligence, Fetch.Ai, and SingularityNET have surged as much as 200% over the past week alone.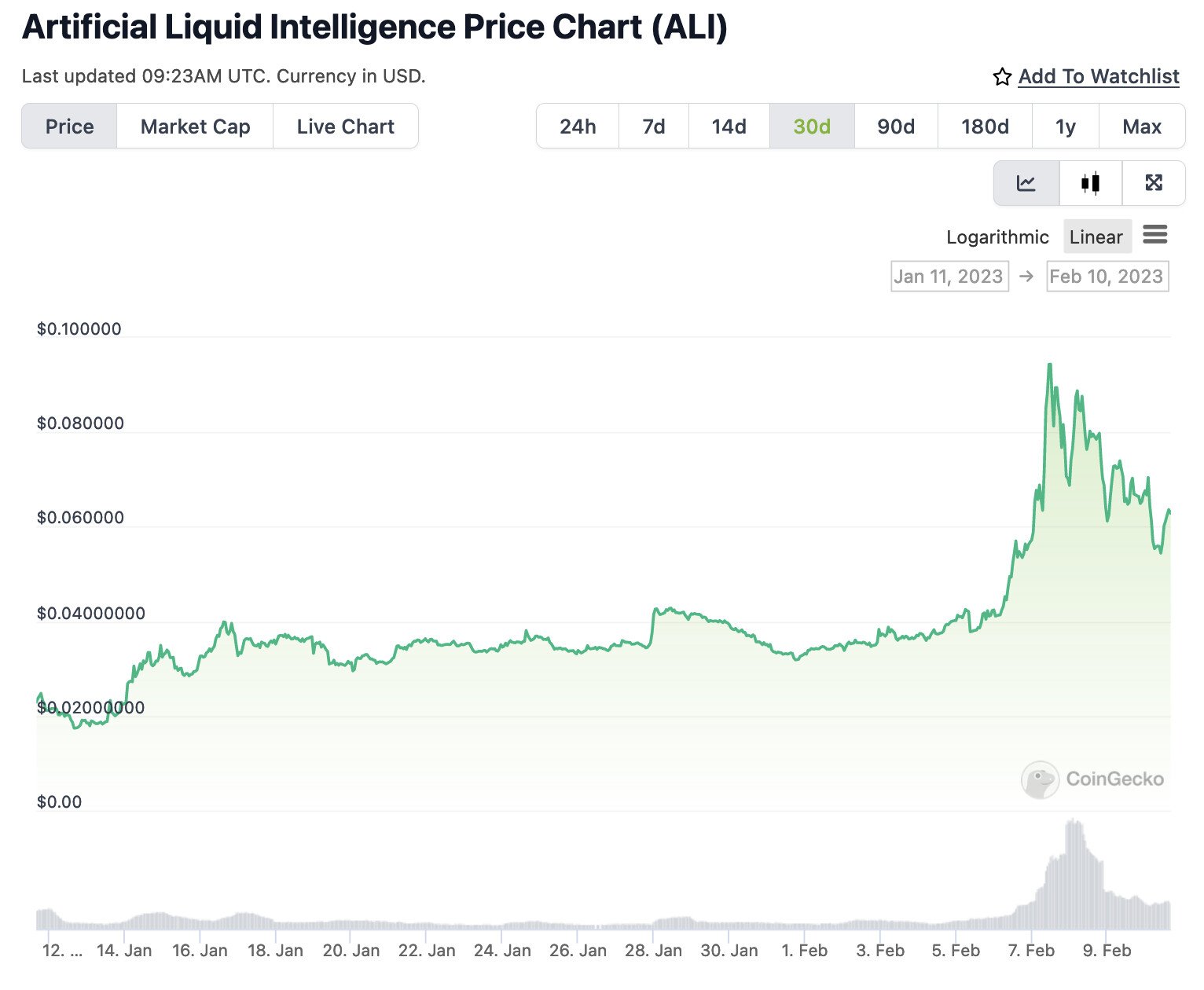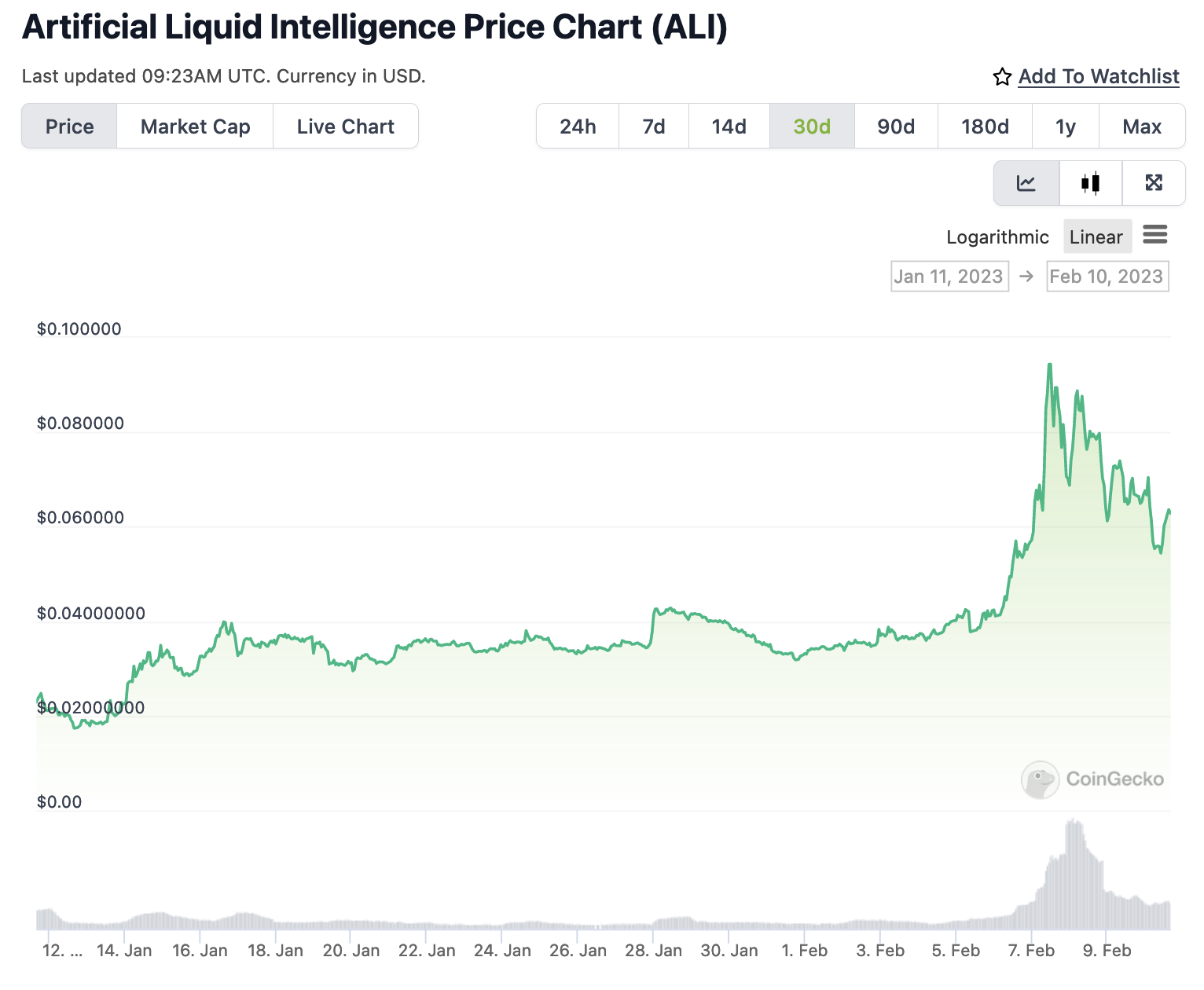 Smaller market cap coins like Image Generation AI have witnessed the growth of more than 500% over the past fortnight. The extent of the price surge has many investors believing that the AI craze is a direct replica of the memecoin craze that we witnessed in 2020 and 2021.
But, with the AI trend taking off so quickly, many investors are wondering if this is some passing fad or will stick around like memecoins.
With the overarching uncertainty surrounding the market, especially considering the high inflation and rising interest rates in the economy, most analysts agree that the AI craze won't last. As a result, it's probably best that you put your money into a better investment with a long-term roadmap, such as Metropoly.
Metropoly – Democratizing Real-Estate Investment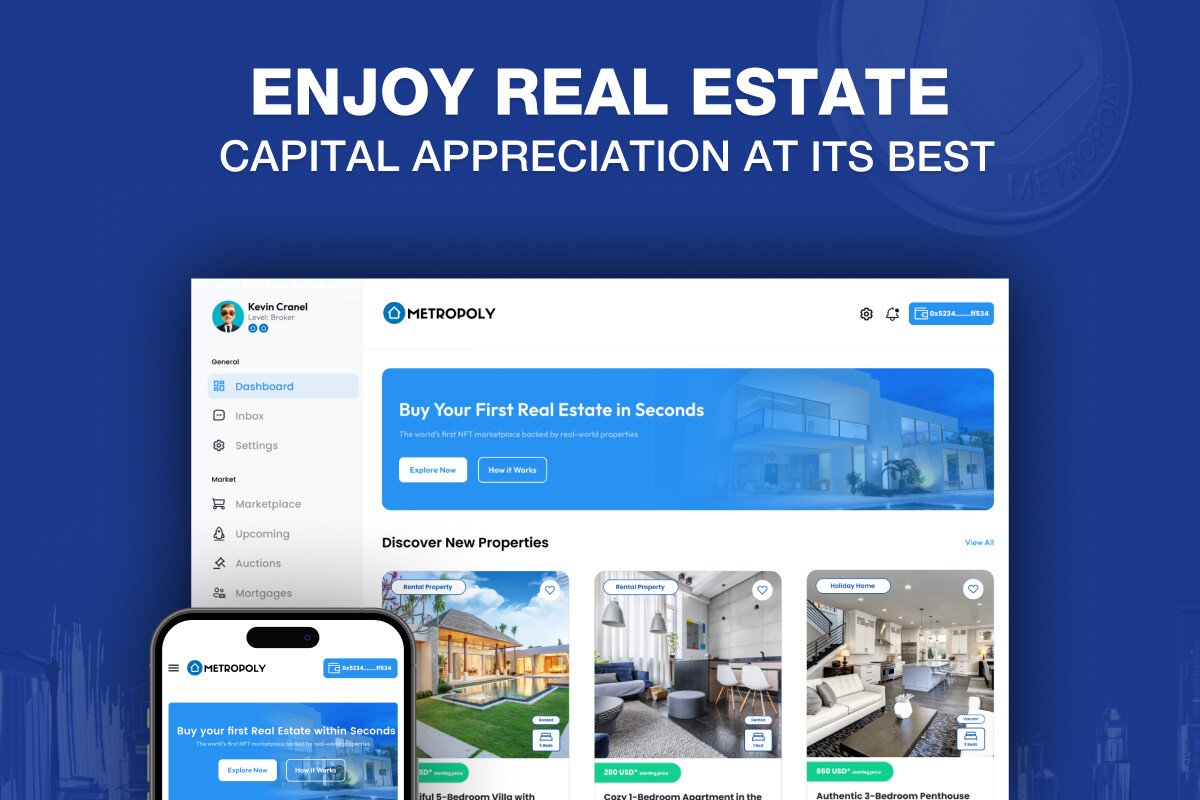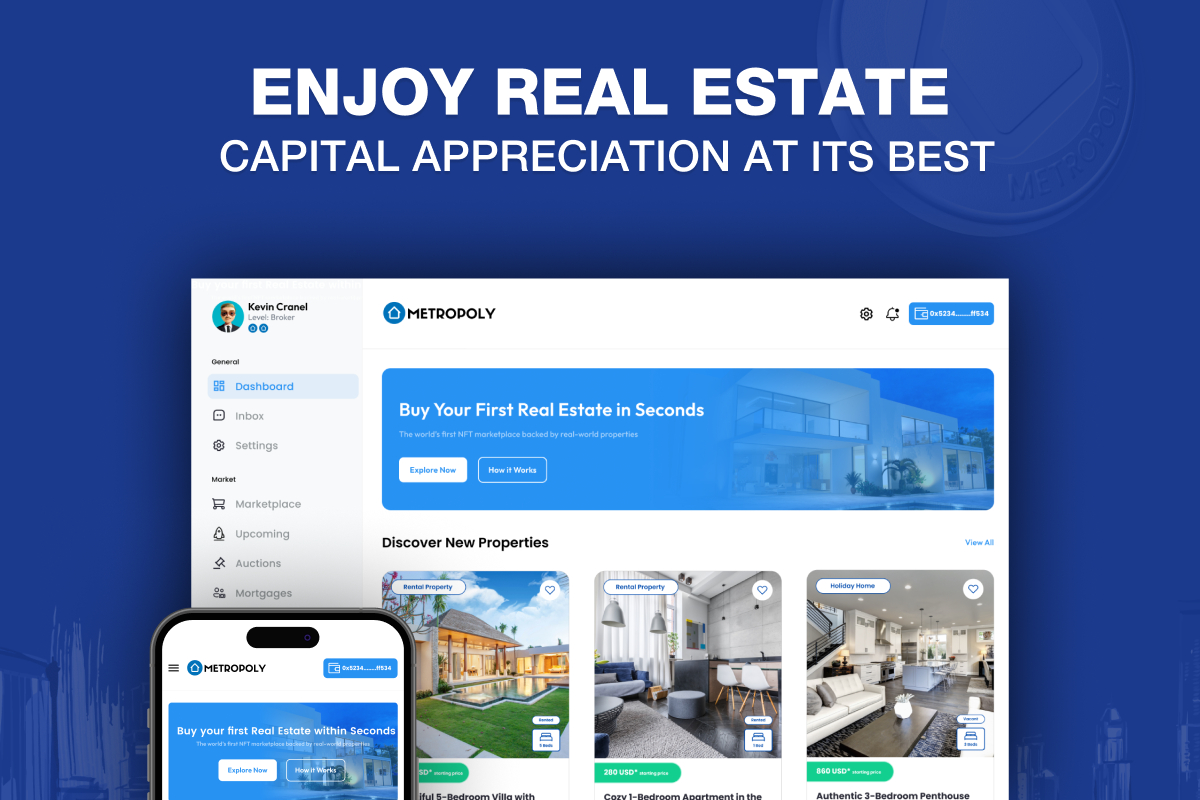 Metropoly has created the world's first NFT marketplace, backed by real-world properties that can generate a passive income for holders. The project is on a mission to democratize real estate by opening up the market for investors across the globe without needing to go through banks, fill out endless paperwork, or undergo invasive credit checks.
The platform is designed to change the way that real estate investment is conducted for the better by integrating modern technology into the sector. The entire idea of the platform is to provide investors with the easiest way to invest in real estate in under 30 seconds, starting with as little as $100 in investment.
The tiny starting capital requirement is made possible through the magic of fractionalized ownership. Imagine being able to buy part of a penthouse in London, a townhouse in Paris, and a luxury villa in Dubai. Well, with Metropoly, you can do exactly that. This is because all the properties in the Metropoly portfolio are broken down into little pieces and attached to an NFT. This means that investors can own a fraction of a property and benefit from all the advantages that real estate investment provides.
Metropoly effectively provides an avenue for investors to diversify their portfolios away from volatile assets such as crypto, helping hedge their risk with safer real estate investments. In fact, the world's wealthiest 1% of richest people all grew their wealth through the property market, and Metropoly is now providing the same opportunities on its platform.
NFTs That Generate Real-World Passive Income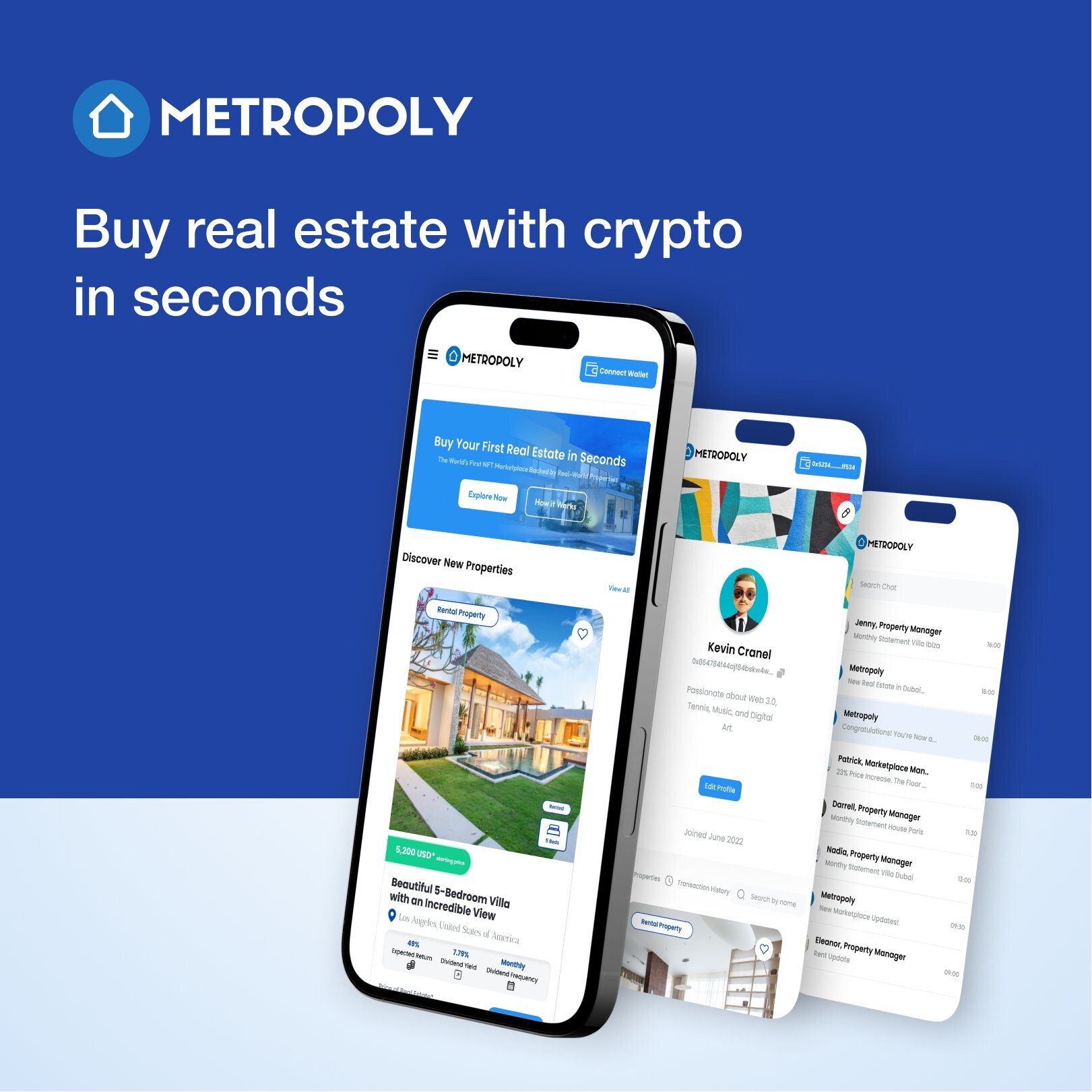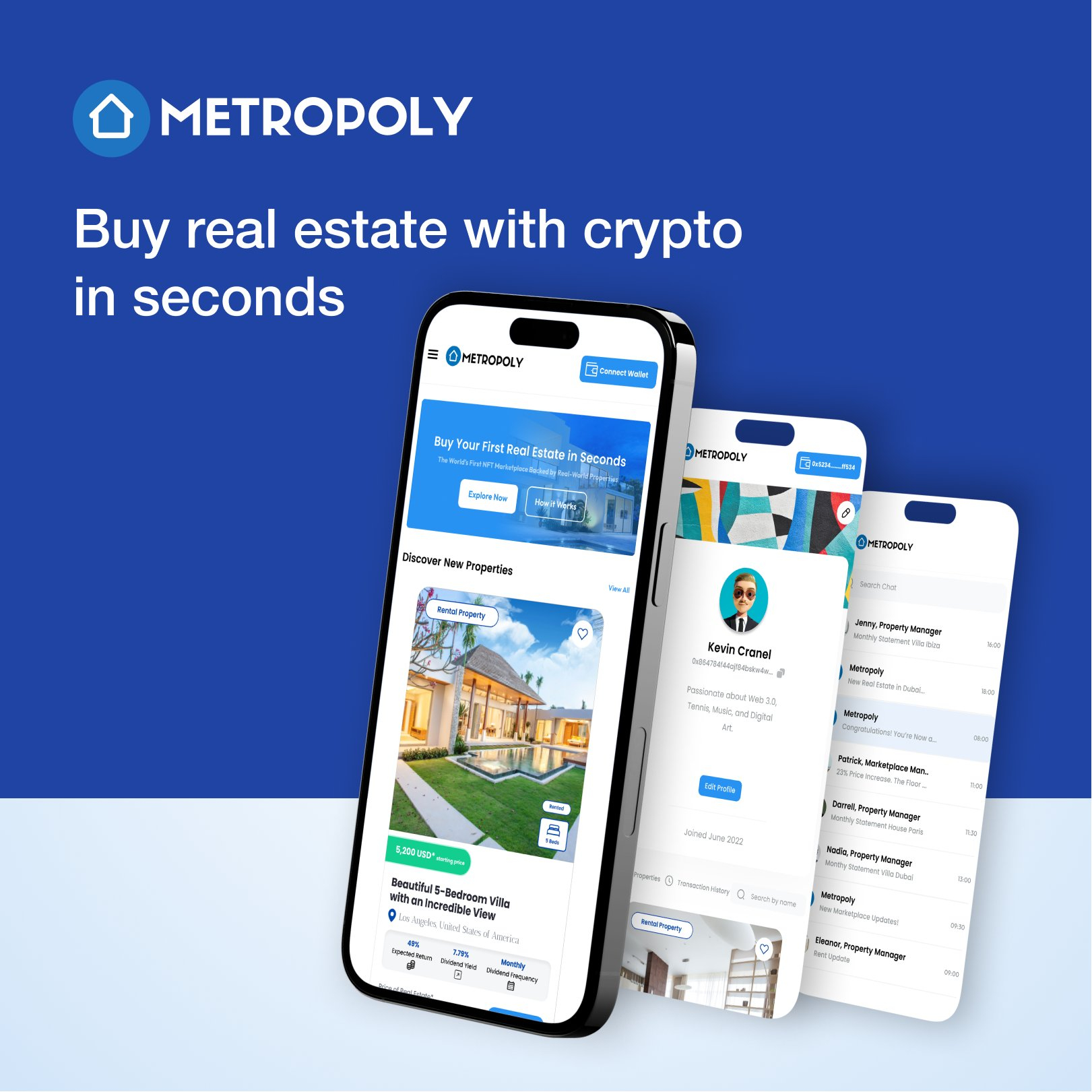 The great thing about buying one of the Metropoly NFTs is that they actually produce a real-world passive income. Unfortunately, how many projects are really able to do this? Many projects claim they provide a passive income, but this typically lasts for a short time before the rewards dry up.
Well, NFT holders on Metropoly earn a monthly passive income through the rental yield on each property. This is made possible because all of the properties in the Metropoly portfolio are totally managed by the Metropoly team. The team will take care of sourcing the properties, adding them to the marketplace, handling all the maintenance costs, and ensuring a tenant is there to pay rent. The rental yield is distributed proportionally to all NFT holders in USDC every month.
Furthermore, real estate investors can also take advantage of the capital appreciation on the property. As they own the NFT, they are free to sell their assets on the marketplace at any time and capitalize on the property value's growth.
Overall, Metropoly has created a well-rounded platform that allows users to invest quickly in real estate without going through the hardship of saving for a down payment and contacting a bank.
Marketplace Already Launched
The great thing about established projects such as Metropoly is that they have a clear roadmap that will ensure they will be here in a few months – something that the majority of AI tokens cannot guarantee.
In fact, the Metropoly team has already released a beta version of its marketplace, and the application looks absolutely beautiful;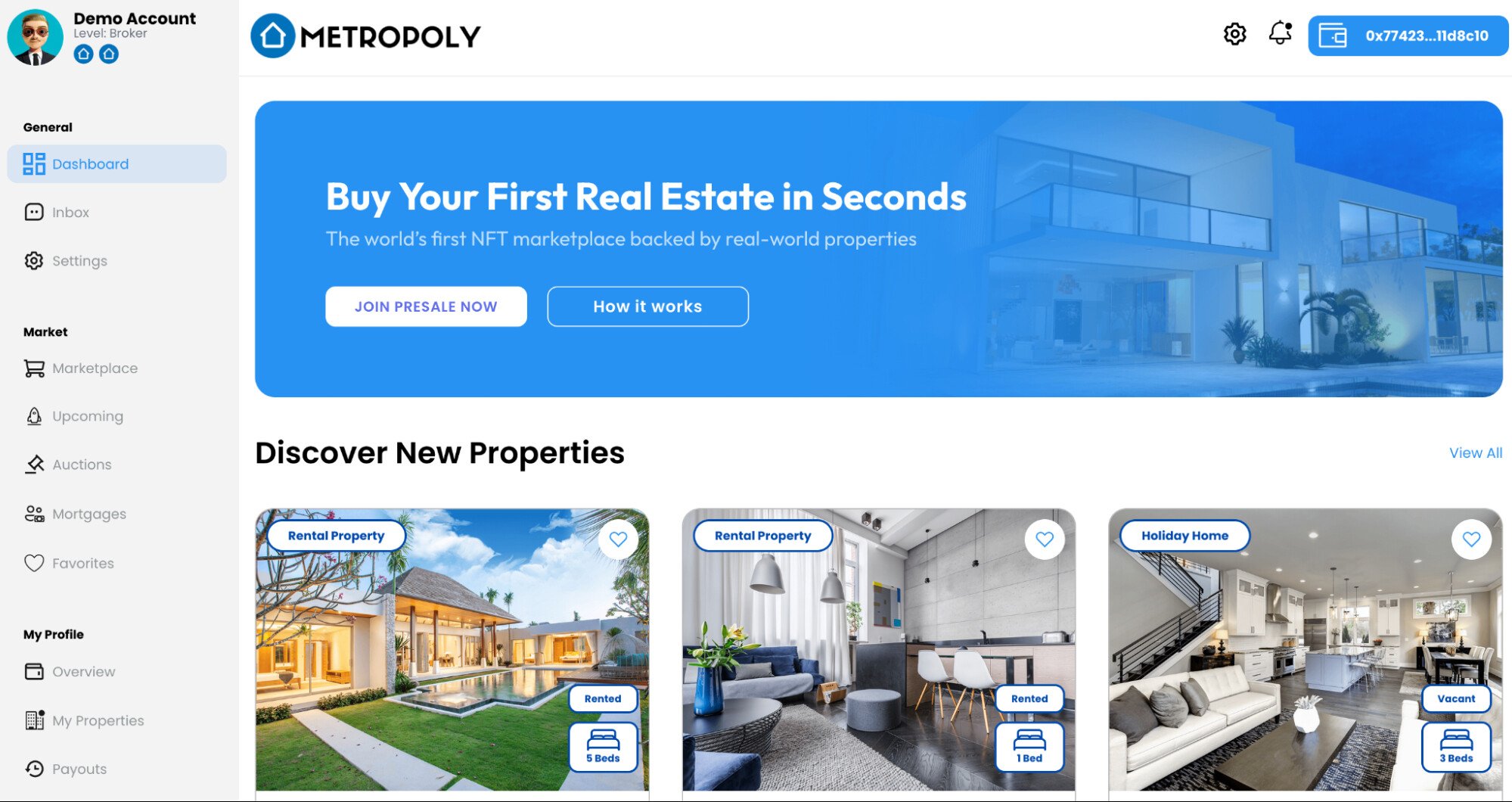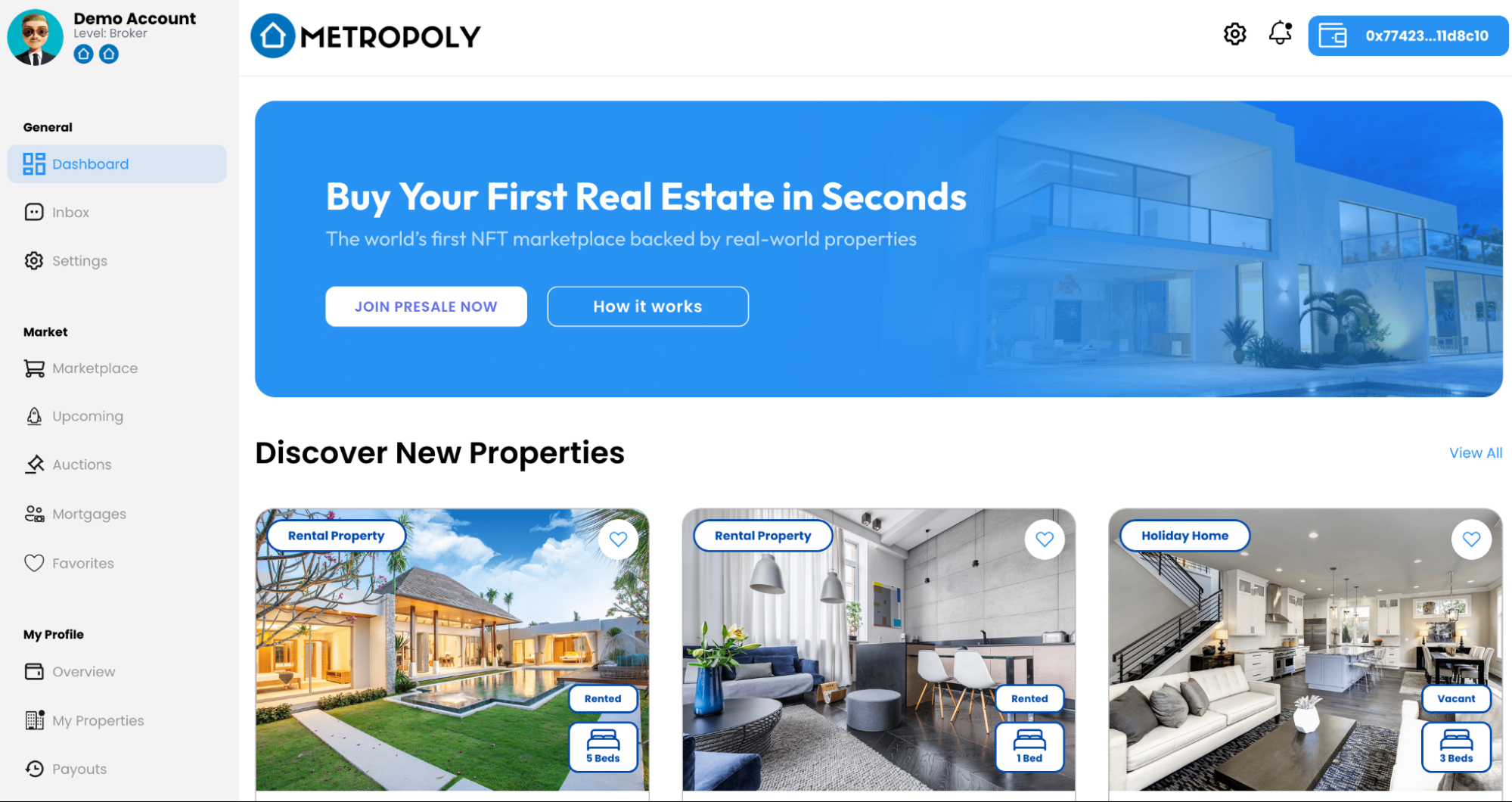 The team is also about to release the second beta version of the product – even before its presale has concluded;
📢 BIG ANNOUNCEMENT! JUST 1 DAY LEFT! 📢

🔥 BETA 2.0 RELEASE
🙌 10.02.23

Are you ready for an exciting beta drop of the Metropoly marketplace in 24 hours? You're going to be thrilled! 🤩

Hang tight as we begin our final countdown 👉 https://t.co/HMtwzBNUZK pic.twitter.com/0ehhQBUYkQ

— METROPOLY (@metropoly_io) February 9, 2023
METRO Presale Still Active But Last Chance to Invest Approaching
Metropoly is currently undergoing a presale for its native token, METRO, which will be the token that powers the entire Metropoly ecosystem. The ERC-20 token comes with a 1 billion METRO supply, and it will be used as a payment and reward method on the Metropoly platform and come with over twenty different use cases.
The presale has been flying and has managed to raise almost half-a-million dollars in fundraising. It is currently in the eighth stage and is selling each METRO token for a price of $0.05 with a minimum investment of $100.
You can be sure the presale is safe because CertiK has audited the METRO smart contract and has verified the team's identity through KYC to guarantee transparency and security.
With the fundraising approaching $500,000, this is almost your last chance to purchase METRO at the current presale price of $0.05. Once the presale hits $500,000, the price for METRO will increase. Therefore, early investors are the ones that stand to gain the most by investing today.
---