Cowabunga Coin Price Prediction for 2023 - 2030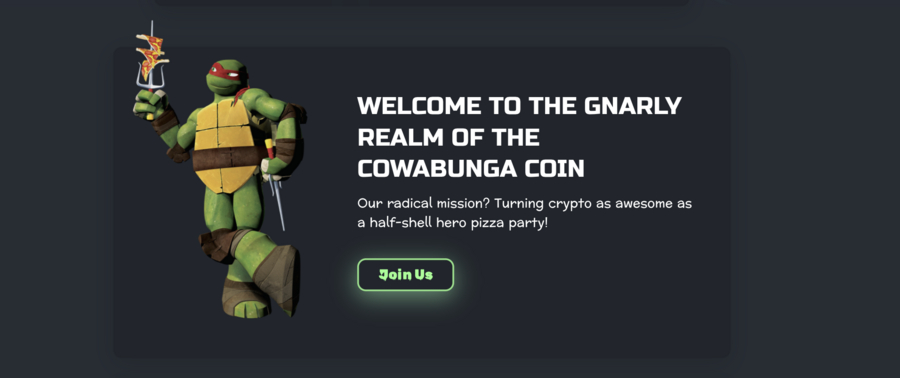 Cowabunga is an emerging crypto presale that combines the Teenage Mutant Ninja Turtles (TMNT) legacy with the crypto world.
Its recently launched presale offers early buyers a chance to grab the $COWABUNGA tokens at a discounted price of $0.000357 USDT.
With its community-focused approach that emphasizes 'honor, family, and tradition,' can it offer an upside potential? This article answers this while offering a Cowabunga Coin price prediction until 2030.
Cowabunga Coin Price Prediction Summary
End of 2023: As per the plan to raise market visibility through potential listings and marketing strategies, Cowabunga Coin can see a surge in its value. The token, currently priced at $0.000357 USDT, is expected to increase to $0.00175 USDT.
End of 2025: With an ambitious roadmap, strong tokenomics, and a community-centric approach, Cowabunga Coin could rise to $0.0043 USDT.
End of 2030: Driven by its unique blend of nostalgia, community growth, and strategic development, it could reach $0.01 USDT. Association with the TMNT franchise and the potential for tech upgrades on the platform could lead to a sustained increase in its user base and value.
Cowabunga Coin Price History
Cowabunga Coin aims to blend the TMNT nostalgia with crypto's upside potential. The project's core values revolve around "Honor, Family, and Tradition." Such principles can help the platform create a sense of community and attract a loyal user base.
The Cowabunga Coin whitepaper outlines an optimistic future by setting a clear roadmap that expands on its growth plans.
On 31 July 2023, Cowabunga announced a one-stage presale of 35% of total tokens, amounting to 1.4 billion coins. The platform aims to raise a hard cap of $500,000 through this presale.
Priced at $0.000357 USDT each, these tokens offer an attractive entry into the Cowabunga universe for early investors before the token lists on exchanges later this year.
Moreover, Cowabunga Coin reserved 10% of the total supply for future listings to ensure ease of transactions.
Cowabunga Coin's connection with the TMNT franchise may discourage those uninterested or unfamiliar with the cartoon series. But cryptos with a community-centric focus and strong principles often perform well over the long term.
To recap, here are the key points:
Cowabunga Coin presale launched on July 31, 2023.
It released 35% of its total tokens (1,400,000,000) in a one-stage presale.
The presale price is $0.000357 USDT per token, aiming to raise a hard cap of $500,000.
An additional 10% of the total supply is reserved for future listings.
Cowabunga Coin Price Prediction 2023
Cowabunga Coin's native crypto, $COWABUNGA, is currently worth $0.000357 USDT, and the team is preparing for potential listings to enhance its market visibility and, possibly, its price.
Their Q3 2023 roadmap focuses on increasing trading volume. This appeals to investors, given that more liquidity often means more investor interest. The excitement around Cowabunga Coin may soon resemble fans' love for their animated turtles.
An upcoming marketing initiative could attract global interest. Just as "Turtle Power!" unites fans in the cartoon, a strong marketing push could highlight the benefits of $COWABUNGA and potentially boost its value.
This is evident in their planned collaboration with crypto influencers and social media personalities to raise awareness about $COWABUNGA.
As a result, one could expect the project to attract new users in the market, keen on exploring this token's benefits and potential returns.
The Q3 roadmap also hints at listing Cowabunga Coin on popular centralized exchanges. This could improve Cowabunga Coin's profile, increasing trading volume and potential price. Consequently, the coin could reach $0.00175 by 2023's close.
Cowabunga Coin Price Prediction 2025
The 2025 price projection for $COWABUNGA builds upon the project's sustained momentum over the previous years.
Drawing inspiration from its Teenage Mutant Ninja Heroes-themed narrative and strategic tokenomics model, Cowabunga Coin could see a significant interest, increasing its value over time.
The project's dedication to community rewards and airdrops, representing a 25% allocation of the total coin supply, shows this community-centric approach.
Moreover, the roadmap's strategic phase outlines plans for partnerships and collaborations, which could increase the coin's influence and user base.
Also, the broader market trends indicate gravitation toward decentralized finance (DeFi) and non-fungible tokens (NFTs). Planned integration with DeFi protocols could enable $COWABUNGA holders to earn interest on their holdings, offering more utility.
Similarly, if the platform leverages its TMNT-themed narrative to create exclusive NFTs could spark renewed interest and provide a new demand stream. Any developments leading to more real-world use cases can help the coin sustain its uptrend.
This broader reach and a dynamic and engaged community could create an environment conducive to steady growth, raising the price of $COWABUNGA to $0.0043 USDT by 2025.
Cowabunga Coin Price Forecast 2030
By 2030, Cowabunga Coin can evolve into a highly sought-after crypto driven by its unique blend of nostalgia, community-focused growth, and strategic developments.
The project's roadmap reflects a commitment to consistent evolution and improvement, with further plans to be disclosed as its Q3 2023 targets are accomplished.
Drawing upon the project's alignment with the popular TMNT franchise, its community rewards system, and potential strategic partnerships, the price of $COWABUNGA could rise to new heights.
Moreover, any updates in crypto tech can notably increase a platform's growth. Any tech improvements on the Cowabunga Coin platform could attract more users.
Given the projected growth of the meme coin market and a dedicated community, the token could reach a value of $0.01 USDT by the end of 2030.
Potential Highs and Lows of Cowabunga Coin
Cowabunga Coin's TMNT-inspired approach that helps create a sense of community among its user base can help it become one of the top low-cap cryptos to watch on the market. $COWABUNGA's potential highs and lows are as follows;
| | | |
| --- | --- | --- |
| Year | Possible Low | Possible High |
| 2023 | $0.0003 | $0.00175 |
| 2025 | $0.002 | $0.0043 |
| 2030 | $0.0075 | $0.01 |
What is Cowabunga Coin?
Cowabunga Coin is a trending new crypto presale inspired by the much-loved Teenage Mutant Ninja Turtles.
This coin offers investors a combination of childhood nostalgia and the excitement of modern crypto trading. It aims to create an interactive, lively environment through its community-centric approach.
As we step into Q3 2023, Cowabunga Coin plans to imitate the lively energy of our favorite ninjas. Post the presale stage, $COWABUNGA will debut on the DEX, committing 20% of tokens to the liquidity pool.
After the DEX listing, the platform will give community incentives via airdrops, keeping investors engaged and rewarded.
Moreover, CEX listings are also lined up, increasing $COWABUNGA's market exposure and introducing new opportunities for its community.
Tokenomics
The tokenomics design captures the essence of our beloved ninjas in a dynamic yet beginner-friendly approach. Mirroring the diverse strengths of the TMNT squad, each element of Cowabunga Coin's tokenomics model fulfills a specific role;
35% percent of tokens, like Leonardo's guiding hand, are offered for the presale.
20% is allocated for liquidity, ensuring transaction ease and stability, similar to Donatello's tech expertise.
Inspired by Michelangelo, 25% is reserved for community incentives and airdrops, introducing a fun, engaging element to the project.
10% is set aside for CEX listings for safety and exposure, mirroring Raphael's defensive skills.
Lastly, 10% is set aside for strategic partnerships, reflecting Casey Jones' unpredictable but valuable input.
Cowabunga Coin is not solely about offering potential profits but also about being part of a project that creates a community. Join the Cowabunga Coin Telegram group to keep up with the latest updates.
What Influences the Cowabunga Coin Price?
Several factors, both internal and external to the project, can influence the price of the Cowabunga Coin. Let's take a look at some of them below;
Community Participation and Enthusiasm: Given that Cowabunga Coin is a community-driven token, the level of community participation significantly influences its price. Factors such as community growth, engagement, and the effectiveness of community rewards and airdrops can impact the demand for $COWABUNGA and its price.
The popularity of the Teenage Mutant Ninja Turtles: The coin's association with the TMNT franchise will likely influence its demand. Therefore, factors such as the success of TMNT-related content (like the film launch), general public interest in the franchise, and nostalgia among the target audience could impact the coin's price.
Market Availability: The coin's availability on various exchanges can affect its price. The initial DEX launch will set the stage for price discovery, while subsequent listings on CEXs could boost liquidity and exposure, possibly driving up the coin's price.
Regulatory Updates: Regulatory decisions related to the crypto industry, particularly those focused on Ethereum, can significantly influence $COWABUNGA's price. Since it operates on Ethereum, any restrictions on Ethereum's operations can affect Cowabunga Coin's functionality and price.
How to Buy Cowabunga Coin?
Here are five easy steps to buy the Cowabunga Coin;
Step 1: Wallet Creation
Start by setting up a digital wallet that aligns with the presale site of Cowabunga Coin. MetaMask is widely used, with a user-friendly app and a browser extension. Alternatively, from the WalletConnect Widget, you can explore other compatible wallets, such as Trust Wallet and Ledger.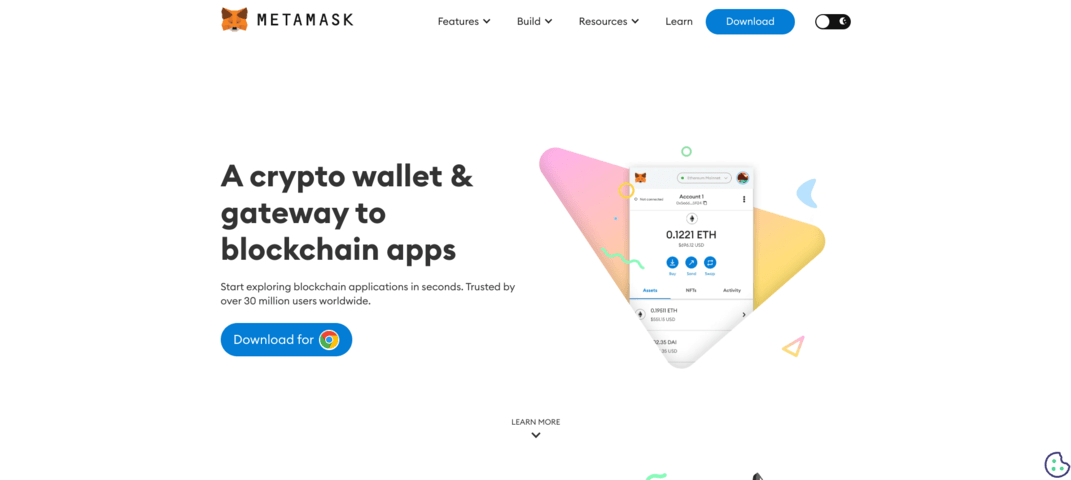 Step 2: Get ETH/BNB/USDT
The platform accepts transactions involving ETH, USDT, or BNB. You'll require any of these tokens to invest in $COWABUNGA.
Buy these cryptos from any exchange and move them to your selected wallet. Also, you can buy these cryptos from within the wallet directly.
Step 3: Linking Your Wallet
Link your wallet with the presale page by opting for 'Connect wallet.' Then, select MetaMask or another wallet according to your preference and link your wallet. With successful integration, pick the crypto you want to swap for $COWABUNGA tokens.
Step 4: Buying $COWABUNGA
Specify the quantity of crypto you want to exchange, then select 'Buy $COWABUNGA Tokens.' Follow the instructions to approve the transaction.
Step 5: Redeeming $COWABUNGA Tokens
Your $COWABUNGA tokens will stay on the platform's site until the end of the presale. To claim, visit the site, select 'Claim,' and authenticate the transaction (note that gas fees may be applicable). For updates on claim dates, follow the official Cowabunga Coin Twitter handle.
Conclusion
Cowabunga Coin, inspired by Teenage Mutant Ninja Turtles, offers crypto and TMNT fans a hot new option. Its focus on community-building, clear growth plan, and well-crafted tokenomics could help the token grow over the long term.
At press time, the $COWABUNGA tokens are in presale and are priced at $0.000357. Early buyers can capitalize on its upside potential before the upcoming DEX listings later this year.
References
https://www.worldbank.org/en/news/podcast/2021/12/22/how-crypto-technologies-could-revolutionize-development-the-development-podcast
https://www.blockchain-council.org/blockchain/blockchain-real-world-use-cases/
https://money.usnews.com/investing/cryptocurrency/articles/will-cryptocurrency-regulation-affect-crypto-prices
FAQs
What is the Cowabunga Coin token?
Cowabunga Coin is a new crypto inspired by the Teenage Mutant Ninja Turtles. It aims to merge TMNT nostalgia with the crypto world. The coin focuses on community-building with a clear growth plan and well-defined tokenomics.
Is Cowabunga Coin a good investment?
Cowabunga Coin may be a good investment for TMNT and crypto enthusiasts. It offers an exciting entry point at $0.000357 per token during its presale, with a planned growth strategy and upcoming exchange listings. However, investment suitability depends on individual risk tolerance and investment goals.
Disclaimer: The Industry Talk section features insights by crypto industry players and is not a part of the editorial content of Cryptonews.com.

---