Combining Passive Income with Conservation: Here's What You Need to Know About Green Crypto Chimpzee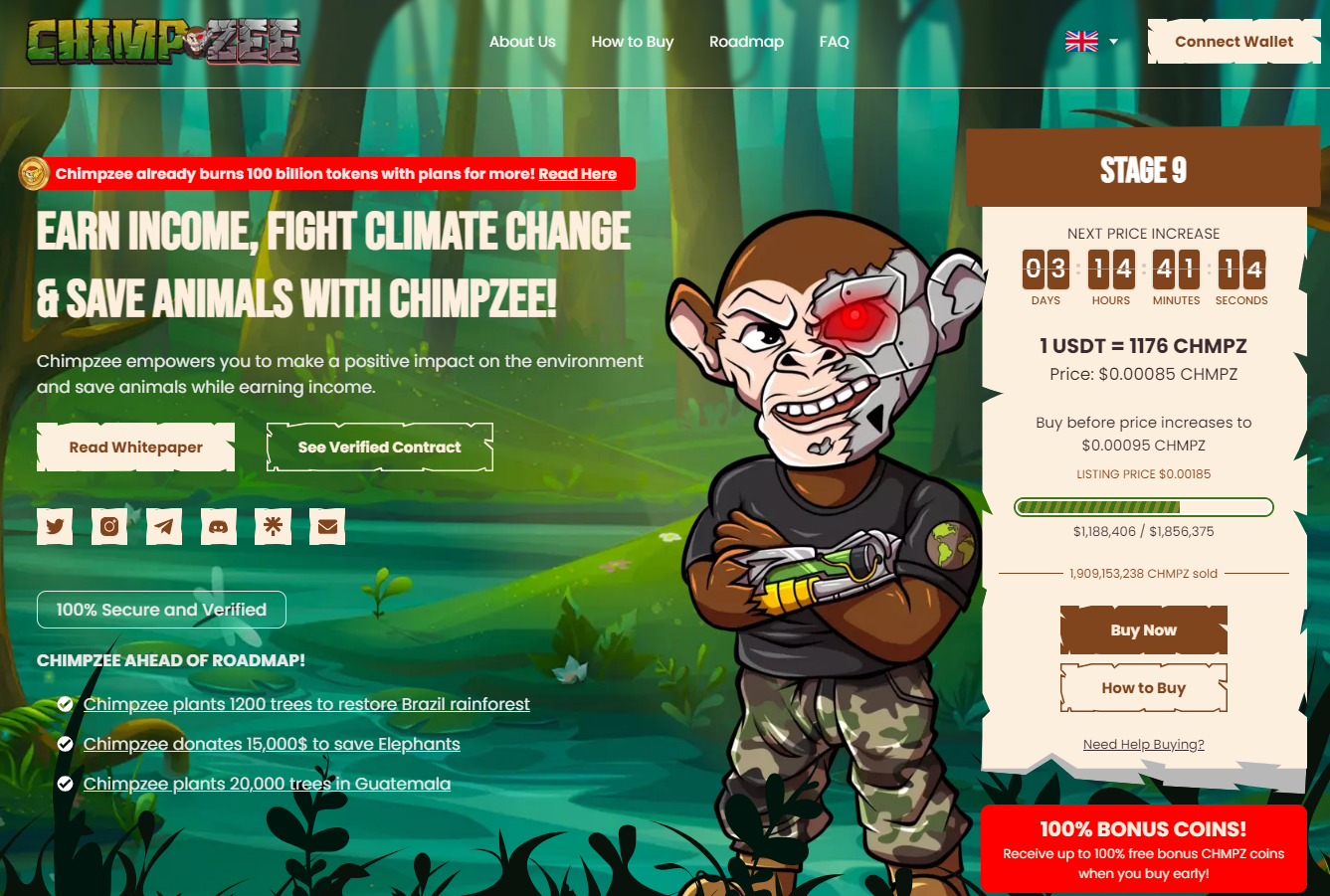 An exciting new green web3 project called Chimpzee is combining passive income with conservation.
The platform is currently conducting a highly successful presale of its native $CHMPZ token to fund the development of its crypto ecosystem, having now raised close to $1.2 million.
Chimpzee's platform will feature a shop-to-earn and donate merchandise store, an NFT marketplace and a play-to-earn game called "Zero Tolerance".
Investors in the presale, which is currently in its ninth stage and the final of three "gold stages", will win the right to mint a Chimpzee Gold NFT Passport.
Amongst other things, holders of these NFT will receive an impressive passive income yield of 18%.
Meanwhile, a percentage of the platform's profits will be donated to charities that are working to save the environment.
Investors interested in getting involved early in a leading web3 charity project must move quickly, with stage 9 of Chimpzee's presale set to end in under four days.
When that happens and the presale enters stage 10, the $CHMPZ price will rise 12% to $0.00095.
Importantly, presale investors will lose the right to mint special Chimpzee NFTs that come with 18% APY staking.
Investors who get in now can also secure a 100% token bonus, a bonus that will likely be reduced as the presale progresses to later stages.
Here's What You Need to Know About Chimpzee
As noted, Chimpzee's crypto ecosystem consists of three major applications, its shop-to-earn & donate merchandise store, its play-to-earn game Zero Tolerance and its trade-to-earn NFT marketplace.
Beginning with the former, as per Chimpzee's official website, the store "offers a range of unique merchandise for sale and earns passive income for you in the form of CHMPZ coins".
"Your purchase demonstrates you support the battle against climate change and animal cruelty" and "a percentage of profits go to charity, so you can feel good about your purchases".
Regarding Zero Tolerance, players of the game will be able to "earn CHMPZ coins, access premium prizes and gain an advantage using (their) NFT passport or custom avatar to stop poachers and protect the forests from destruction".
Meanwhile, the NFT marketplace describes itself as the "first platform to share a portion of trading fee profits with its users".
"Environment-focused NFTs will be featured on the main page, and all projects will be scrutinized to minimize copying of collections".
Chimpzee is Already Making a Difference
As its presale powers ahead, Chimpzee is living up to its name as a charity-focused Web3 project. Chimpzee recently donated $20,000 to the WILD Foundation to support their efforts in saving the black jaguar.
Before this, the charity-focused project had already planted 1,200 trees in Brazil and 20,000 trees in Guatemala and donated $15,000 to save elephants.
Chimpzee has an extensive list of organizations that it plans on donating to, which can be found here.
The project is intent on continuing with charitable donations throughout its roadmap delivery.
Massive Token Burning Spree
Chimpzee is on a mission to bring its total token supply down from 200 billion to under 50 million and has, as a result, been on a massive token-burning spree.
100 billion tokens have already been burnt, with a further 40 billion to be burnt following the launch of the token.
And the project recently announced a new promotion to burn another 10 billion tokens, with one billion further tokens to be burnt every time the Chimpzee presale hits a new $200,000 milestone.
Note that these discretionary token burns aren't the only source of $CHMPZ token deflation.
$CHMPZ tokens used to purchase Chimpzee Passport NFTs will be burnt from circulation and Chimpzee is also burning leftover tokens from each presale stage.
The more tokens get burnt, the better this will be for the token's price in the long run.
45% of the $CHMPZ supply is available to the public during the presale.
10% is allocated to exchanges and liquidity, 15% to marketing, 10% to development, 5% to community rewards, 5% to the team (locked for two years), and, as noted, 10% to charity.
Chimpzee's team is fully verified by Cyberscope, and the project is security audited by Solidity Finance.
Disclaimer: Crypto is a high-risk asset class. This article is provided for informational purposes and does not constitute investment advice. You could lose all of your capital.
---