CoinEx Institution|Behind the "Shit, Piss, and Ass" NFTs
Disclosure: Crypto is a high-risk asset class. This article is provided for informational purposes and does not constitute investment advice. By using this website, you agree to our terms and conditions. We may utilise affiliate links within our content, and receive commission.
Disclaimer: The text below is an advertorial article that was not written by Cryptonews.com journalists.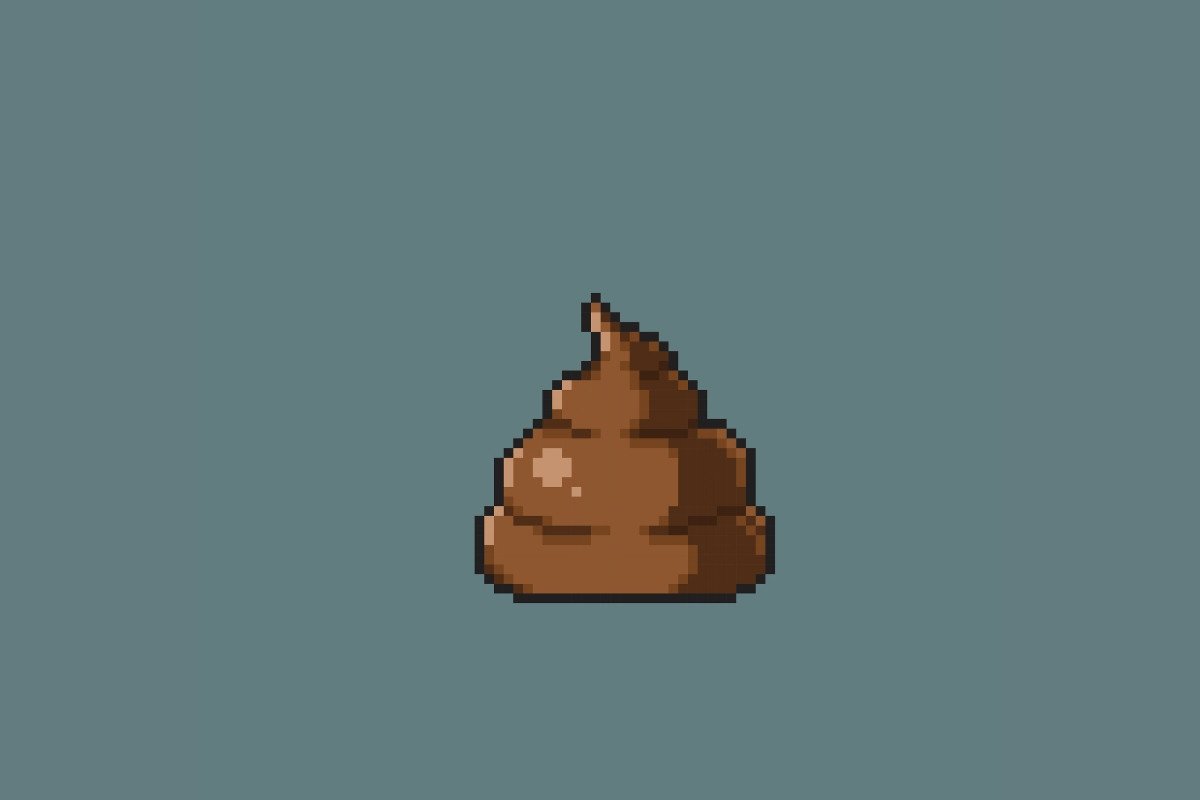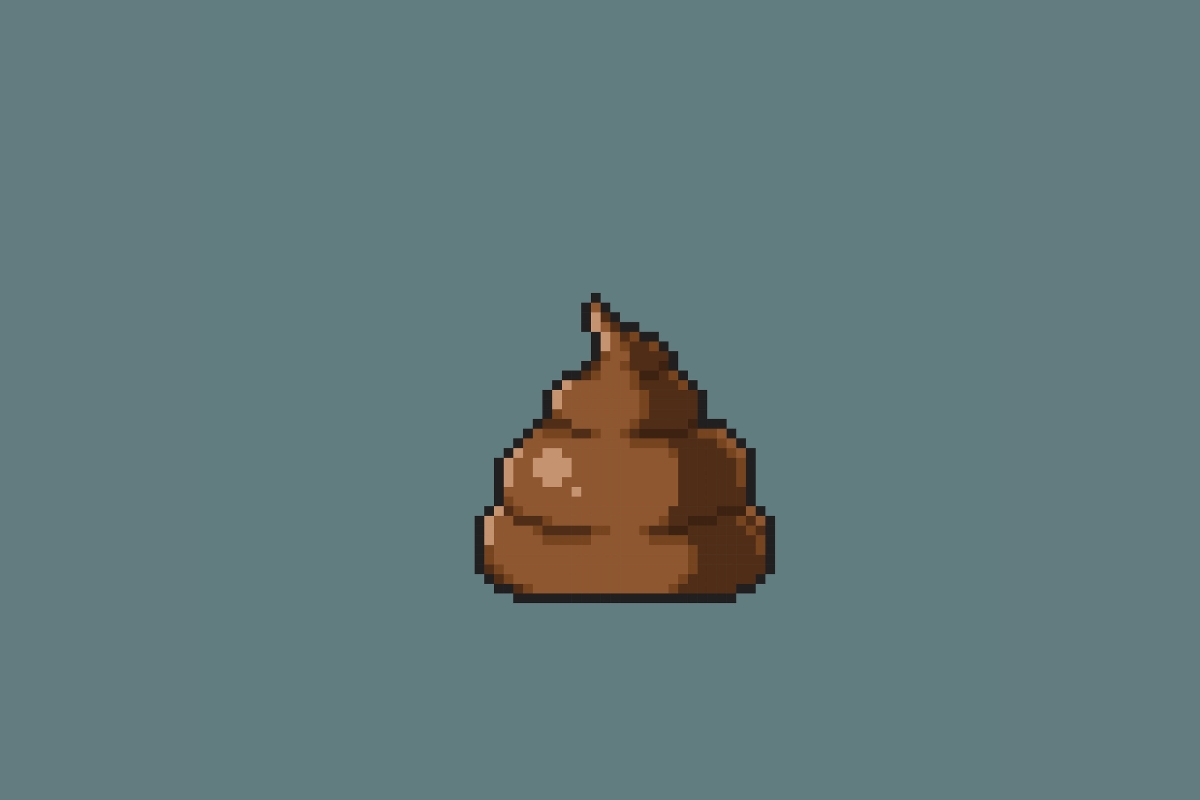 In his novel Anna Karenina, the celebrated Russian novelist Leo Tolstoy wrote "happy families are all alike; each unhappy family is unhappy in its own way." Indeed, things that are right and reasonable have many in common, while those wrong and misguided are vastly different. Though all roads lead to Rome, in most cases in the real world, there is only one right path, with countless lanes extending in all different directions.
There is a similar trend in the field of NFTs: Unable to stand out from the many exquisite lookalikes, instead of following conventional aesthetics, some NFT projects decide to strive for "ugliness". The creation of consensus underlies all NFTs. It is difficult to cater for all tastes of aesthetics, so users can hardly agree on the aesthetics of an NFT. However, it is much easier for people to agree that an NFT is ugly. To quote a crypto big shot: "A consensus reached among any group of users is nonetheless a consensus, and you'd still have a consensus even if it is about ugliness". In an industry governed by consensus, even an ugly NFT has its appeal. Today, we will cover some of the "ugly" NFTs that are trending over the recent period.
1. Goblintown
Recently Goblintown has become one of the top ugly NFTs, and its bizarre art styles and engaging settings have started a craze. Meanwhile, the unit price of Goblintown NFTs surged from 0 to the peak floor price of 10 ETH. As of June 8, 2022, the floor price of Goblintown stands at 5.49 ETH.


In a market that everyone believes to be bearish, Goblintown has soared despite unfavorable market conditions. As the ETH price continues to fall, this NFT project still managed to maintain a market cap of over $100 million. Moreover, Goblintown went viral overnight. From the end of May to the beginning of June, Opensea's popularity ranking had been dominated by the project. In particular, #6485 was sold for a stunning price of 77.75 WETH. So what is the magic behind Goblintown?




First of all, most gamers are familiar with goblins and remember them as weak monsters that often appear at the beginning of a game. They are often presented as dwarves with green skin, red eyes, and long, pointy ears. According to the stereotype, the term "goblin" is synonymous with the dirty and the despicable. Don't you "relate" to these characters that are "weak" and "live in groups"? Looking at these goblin characters, NFT users are reminded of chump blockchain investors and how they are constantly ripped off by big institutional investors.
In addition, the project is also great at chasing clout and knows everything about the significance of MEMEs in the NFT world. The project team reached out to Steve Aoki (a famous musician) and Beeple (a big-name investor brought an artwork nearly $70 million at Christie's, which facilitated the boom of the NFT market) and created NFTs based on them. Additionally, the team really immersed itself in the NFT characters they created and grasped the essence of role-playing. During an AMA event that lasted three and a half hours, all participants spoke the "goblin language" and stuttered with hoarse gasps. The ingenious marketing approach and well-positioned characters contributed to the unique success of Goblintown, which led to the launch of many copycat projects and derivative works. We hope that the project could achieve its goals and capture the value of its NFTs. It would be a pity if it turned out to be a momentary success after reaching a consensus.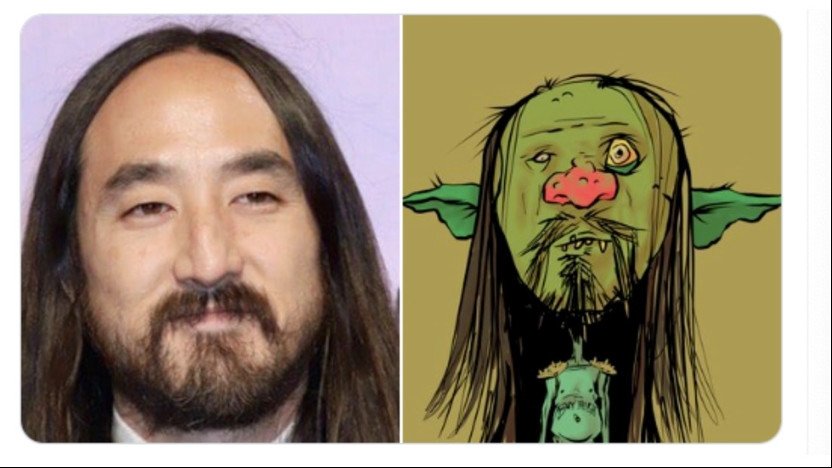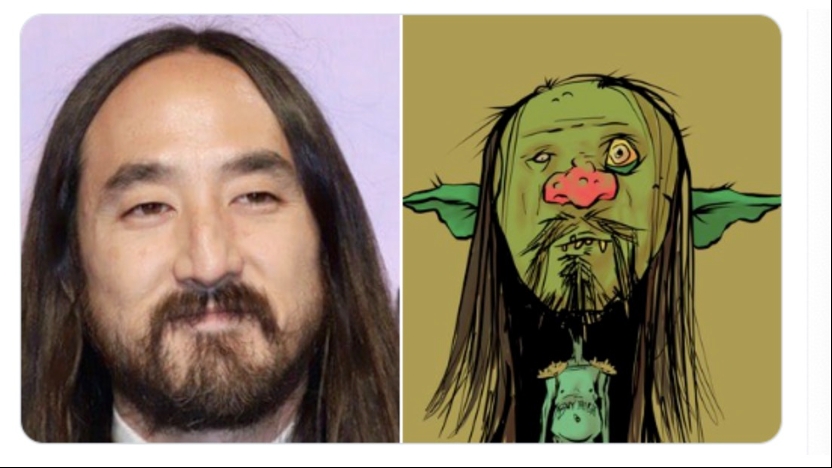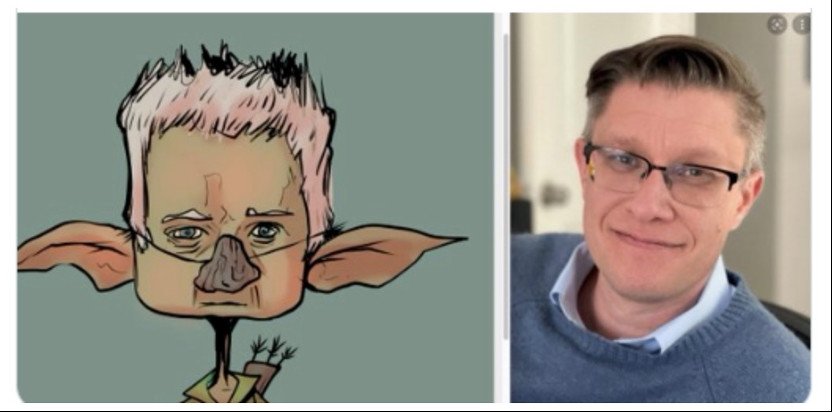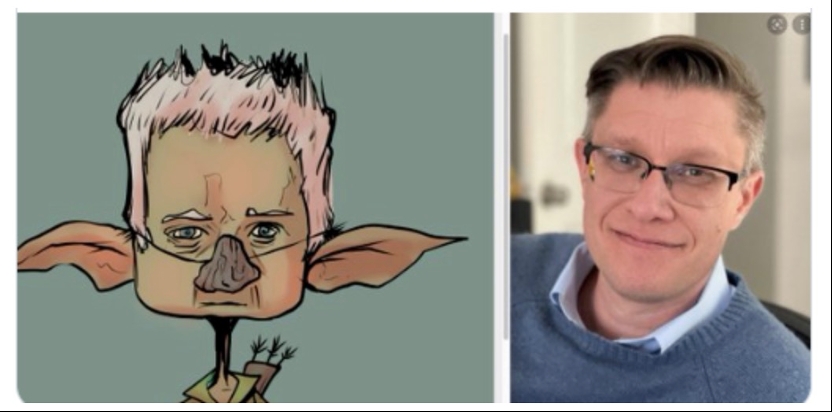 2. I'll poop it nft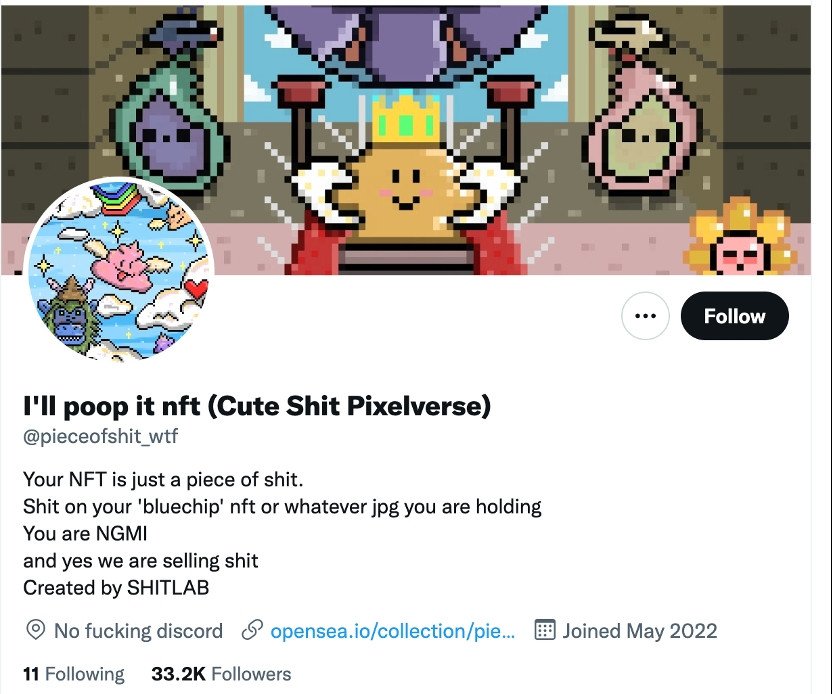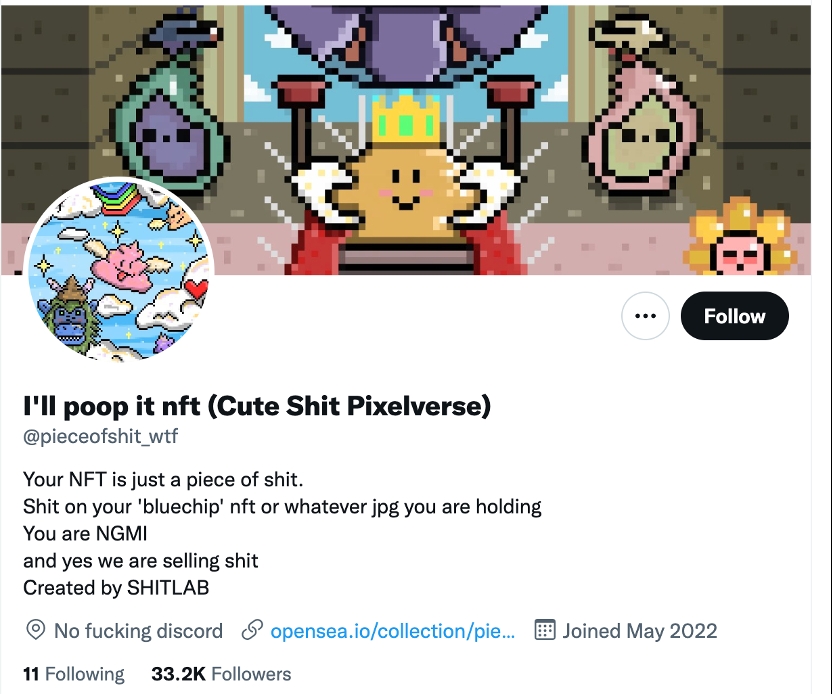 I'll poop it is an "honest" project. As all the other projects brag about their unique and practical NFTs, this project found another way and started promoting itself without any roadmap or discord channel.
We can tell from their Twitter that their works are ironic. They ridicule that the 'bluechip' NFTs users hold are piles of shit that are not going to make it. In addition, the core NFTs of the project are also based on characters that mock the bluechip NFTs. If one of the bluechips does respond, then it would play right into the project's hands. The project could then seize the opportunity and promote itself with the popularity and influence of the bluechip. After all, a bad reputation is also a reputation.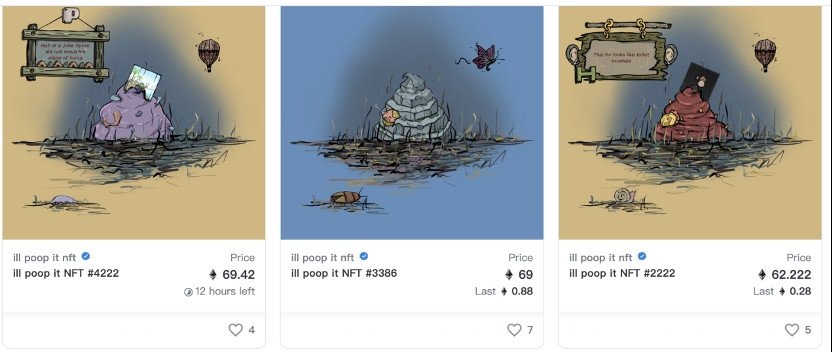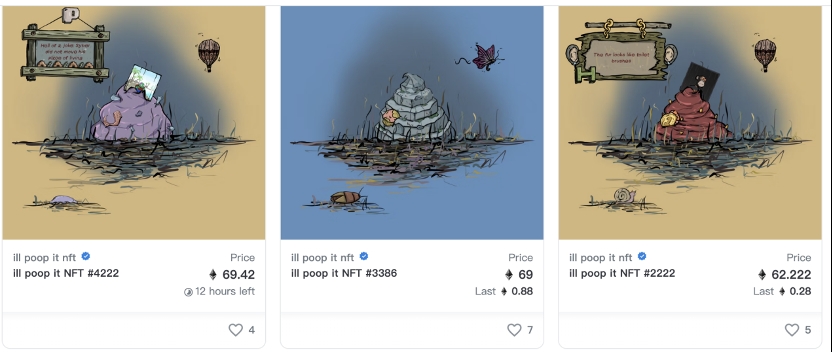 Although I'll poop it NFT does not have any decent roadmap, the project has clear goals and a specific marketing approach. On June 1, the project team sold 10,000 Genesis OG shit NFTs via free minting. This hype campaign peaked from June 1 to June 5, which sent the project's trading volume and market cap soaring. Despite that, after it peaked on June 6, the price kept falling. As of June 12, 2022, the floor price of I'll poop it NFT stands at 0.07 ETH.


The story is not over yet. It seems that shit's ambition is not limited to one market hype. On June 7, the project team launched ShitBeast, the 2nd-gen shitverse NFT, to keep its popularity and then airdropped ShitPlunger to shitBeast holders, which are minted with two OG shit NFTs. Meanwhile, the project also airdropped 10,000,000,000 $SHIT and was listed on many crypto exchanges, which made it fairly popular for a while.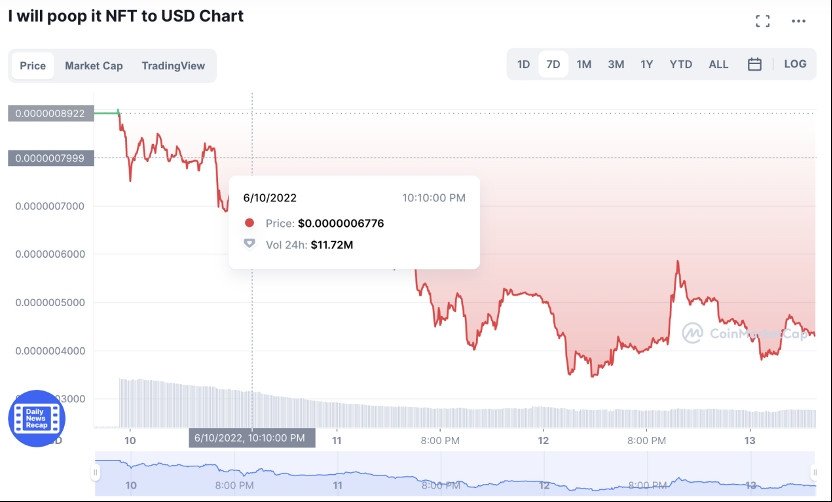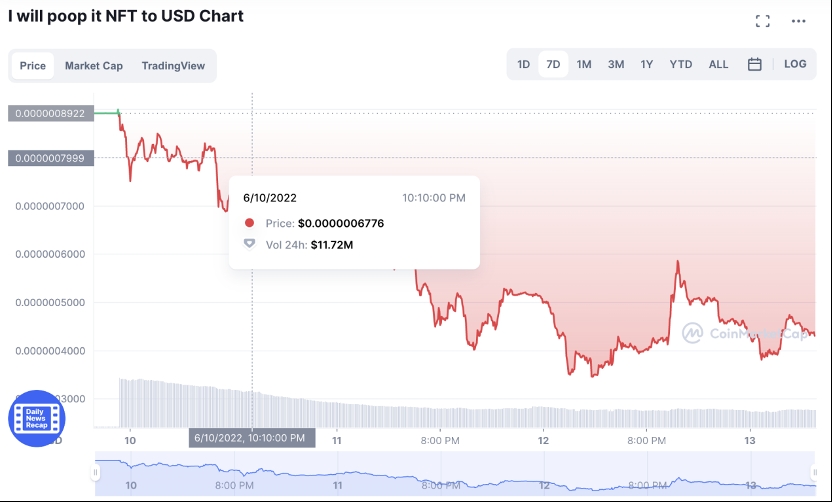 To sum up, the development of the shitverse is divided into three stages. It first offered OG shit via free minting, then released shitBeast (minted with two shit NFTs), and eventually airdropped $SHIT, a token that claims to be the Doge of NFTs. The project mocks the whole NFT community and positions itself as a project that opposes authority, institutions, and market manipulation. Could the anti-authority warrior be the real authority?
Many say that shitman is the third stage of the shitverse, as evidenced by the new profile photo of the official Twitter account. No one knows how shitman will be minted, but some suspect that it will be related to the previous NFTs the project introduced, including ShitBeast, ShitPlunger, and $SHIT.
It is way too early to say whether shit could be sustainable, but the project has indeed succeeded through market hypes, burning/destroying NFTs, and the zero-elimination game of MEME tokens. From its keen insights into economics and market behaviors, we can tell that the project is backed by a team of veteran NFT users who are fully aware of the user mentality and market changes. The only bad move made by the project team is that it chose to launch such a trend-setting project during a market crash. Let's wait and see whether it could become a unique success in a bear market.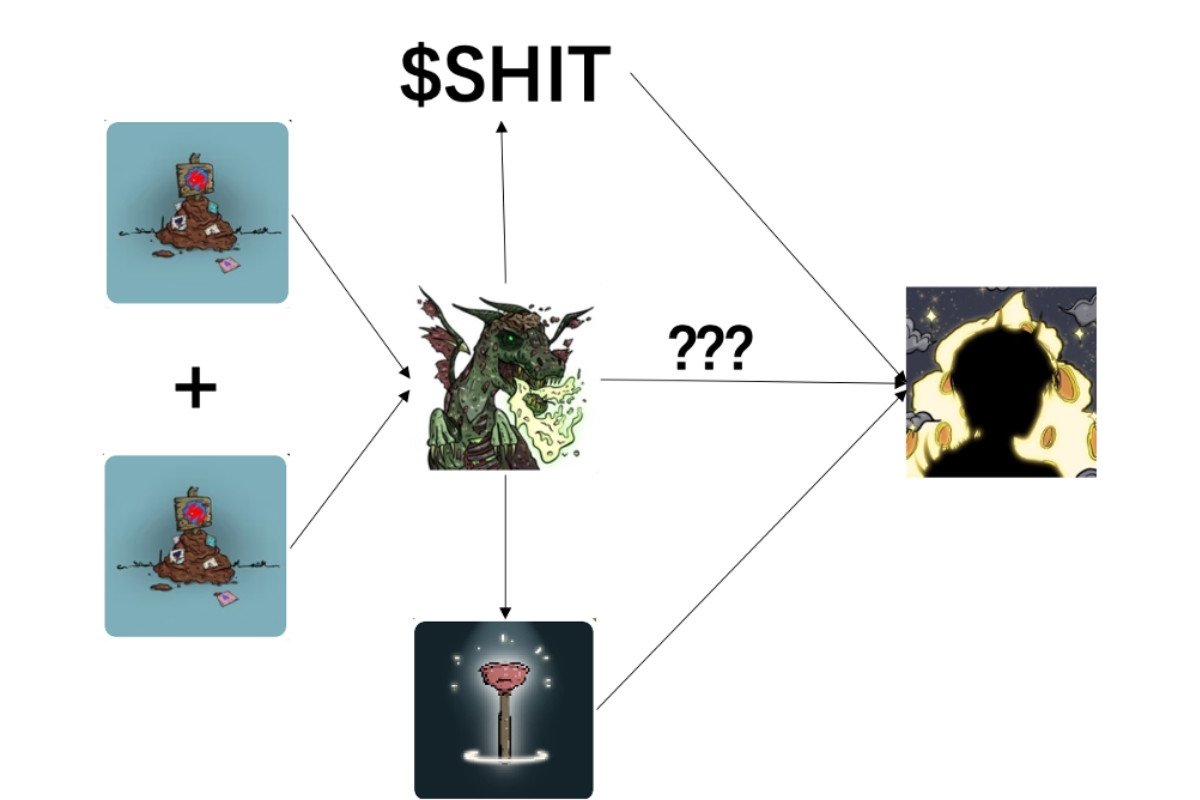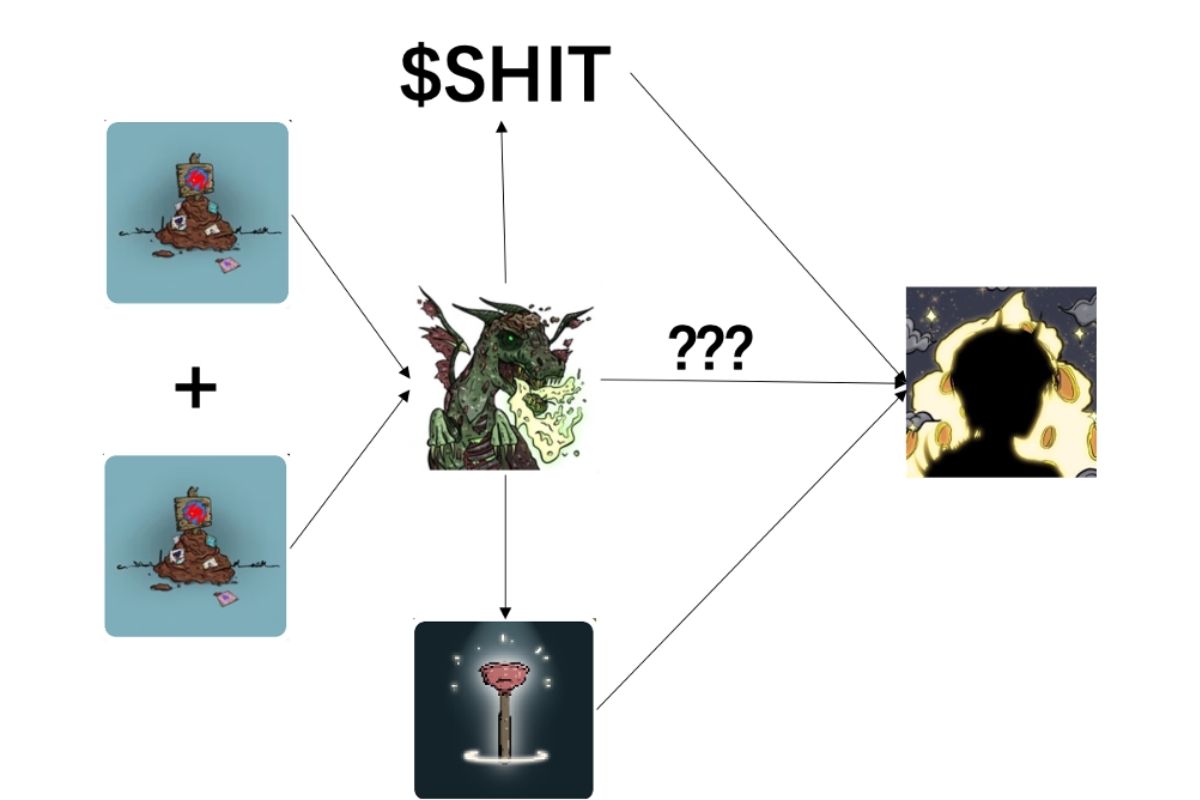 On June 14, the project tweeted a GIF of a human face, which looks nothing like the ugly NFTs it previously released. This time, the character looks pretty and elegant and conforms to conventional aesthetics. Many suspect that this is the shitman the project will later launch, and it seems that the story of I'll poop it NFT will go on.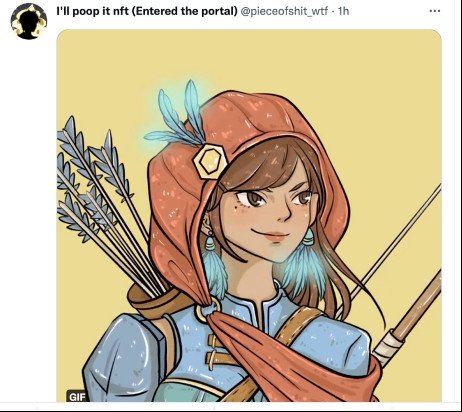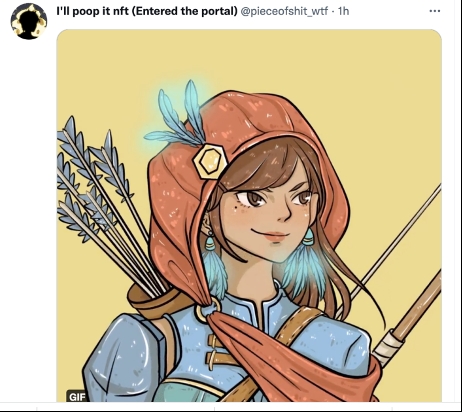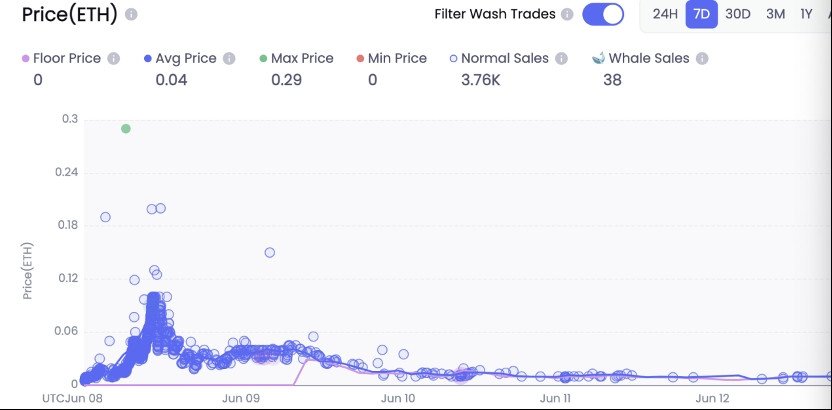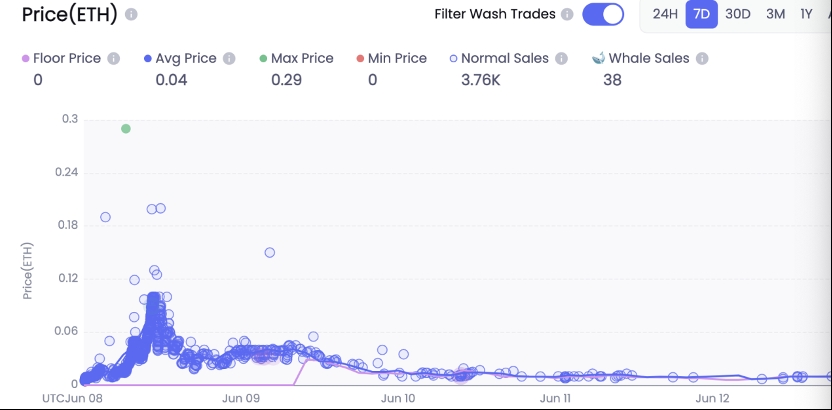 3. Goblinpiss
After Goblintown went viral, many copycat projects and similar NFTs have popped up, including ZombieGoblin, Goblin Griz, and baby goblinz, and Goblinpiss is also one of them. The project presented urinating goblins with their bodies turned back, and you can often see a bulechip NFT in the urine. Though Goblinpiss also took the relatable MEME approach, it failed to sustain its popularity and returned to obscurity after a short-lived boom. Right now, the floor price of Goblinpiss stands at 0.0001 ETH, and the transaction volume is almost 0.


Yet, most similar projects were just a flash in the pan.




4. assplosion.wtf


assplosion.wtf NFTs present birds holding a TNT remote control with their asses facing us. The project released 5,000 such NFTs, and each bird could detonate the TNT with the remote control. As their name implies, there is a 50% probability that the ass of the bird would explode, which means 2,500 bird asses will be bombed. As such, the project team introduced an insurance mechanism, which is similar to an iron cage, and birds within the cage will not be bombed. This is another form of staking that ensures the scarcity of the NFTs and reduces market liquidity while making the NFTs more entertaining. It is actually not a bad idea: the project team plans to attract users via free minting (0.03 ETH) and then burn NFTs via assplosion to keep them valuable. Additionally, it also introduced a protection/staking mechanism. However, the story is a bit plain, and the future development of the project is easily foreseeable. After getting short-term exposure, assplosion.wtf did not sustain its popularity with more moves and soon returned to obscurity. Moreover, after the price peaked on June 8, the NFTs quickly plunged below the issuance price. As of June 14, 2022, assplosion.wtf NFTs are sold at 0.0049 ETH.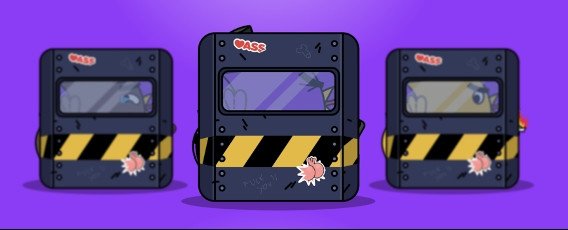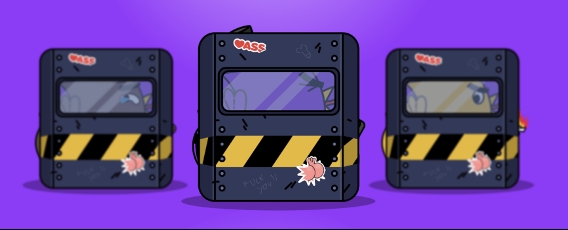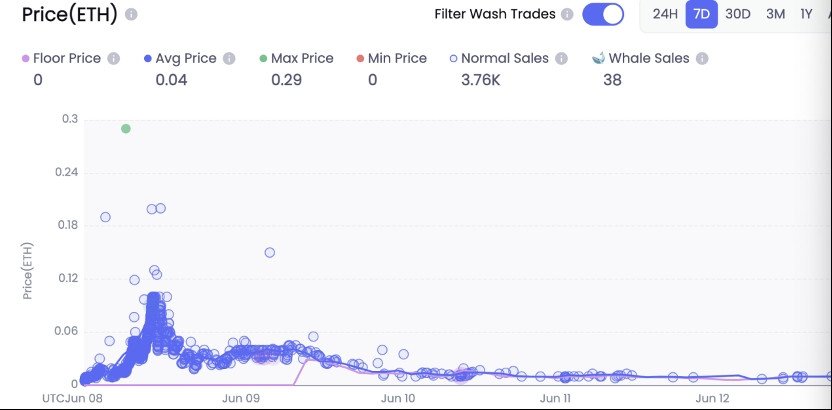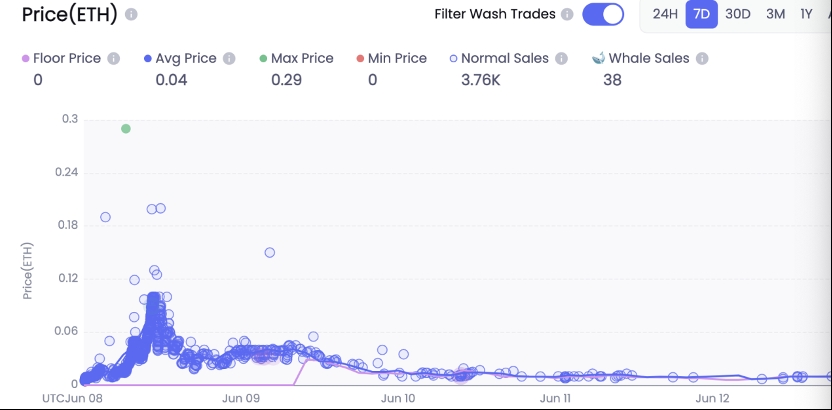 From an aesthetic viewpoint, the "shit, piss, and ass" NFTs are not that appealing, and users buying such NFTs focus more on team operations, design concepts, and market popularity. As such, the narratives of these NFTs should be sustainable, bringing constant new ideas and entertainment to blockchain users who easily quit. Meanwhile, the success of most copycat projects is only momentary. The ugly NFT projects claim to be warriors who represent the masses and would stand up to the authority and beat the bluechips. Could they be wolves in sheep's clothing yet with sharp and well-hidden teeth?
In today's bear market, as the whole NFT industry declines, most bluechip NFTs also take a plunge. Under such circumstances, the "shit, piss, and ass" projects start a short-term boom. Most of them rely on free minting and market hypes, which also conforms to the mentality of general blockchain investors: they are afraid of losing money in a bear market and would love to earn large profits with a small budget. Tapping into such a mentality, the project teams behind the ugly NFTs attracted users via free minting and sought to chase the clout. Many of them managed to attract users with plenty of idle funds or wait-and-see investors, which allowed them to drive up the unit price of their NFTs and then make a quick exit. However, such a model is not sustainable. Of the projects that adopt this approach, only Goblintown, the pioneer project, has maintained a certain level of market popularity and transaction volume, while many of the copycat projects were short-lived. Only the shitverse project has created a unique roadmap under this model and introduced new NFTs and tokens. Moreover, it will also release new concepts such as land and the shitverse. In a bear market, innovative projects that tell great stories while making solid efforts could stay sustainable.
---