Coinbase Users Get Closer to Amazon; eBay, Ali Express in Sight
After independent developers pushed cryptocurrencies closer to giants such as Twitter and Whatsapp, another company just built a bridge towards online retail giant Amazon and is targeting other e-commerce incumbents such as eBay and Ali Express.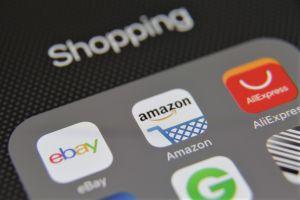 Moon, a crypto payment processing startup's service, announced that Coinbase users can shop on Amazon buy paying with Bitcoin, Litecoin, Ethereum, and Bitcoin Cash via the Lightning Network technology.
"Soon you'll be able to shop on any of your favorite e-commerce websites, like eBay, Ali Express and Target," the U.S.-based company said on its website.
Until now, beta users utilized Moon to pay with crypto on e-commerce sites, and they were able to do so by connecting the browser extension to exchange accounts such as Coinbase. However, thanks to Moon's lightning feature, now any lightning-enabled wallet can be used through Moon's browser extension, the startup explained. The extension's Lightning Network support is pending Chrome Web Store review, it added.
The company further stated that there are no fees for purchases made via Moon, that the payments are instant, that all data is encrypted, and that it is not a custodial service. Moon manages payment channels and provides an interface for sending payments. Meanwhile, after installing the extension, users are required to make an account. While making a purchase, they will receive a QR code from the extension, along with the lightning invoice, and they can pay with their lightning wallet of their choice. The extension will recognize the checkout process, and users just need to click "Pay with Moon" to complete the purchase.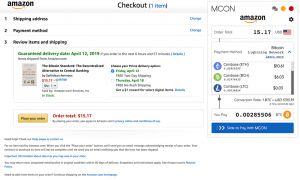 Not all e-commerce sites will accept cryptocurrency, which is why, through Moon, users' bitcoin is converted into fiat and then transferred to the sites, though it is still unclear which traditional financial institutions will be doing the actual conversion.
Meanwhile, other third parties have also started bringing cryptocurrency closer to other giants. Developer Sergio Abril launched Tippin, a new app for Chrome and Firefox browsers in February 2019, which lets users tip a certain tweet with Bitcoin via the Lightning Network.
Furthermore, Wuabit, a Spain-based independent startup, aims to launch a limited public beta of its crypto wallet for the popular messaging app WhatsApp this month, where it will be available through the chat interface, but also for other messaging apps such as Telegram, Facebook Messenger, as well as SMS, as Wuabit co-founder and CEO/CTO Manuel Polo previously told Cryptonews.com.
---