Coin Race: Top Winners/Losers of October, Bitcoin Price Back in Green
Disclosure: Crypto is a high-risk asset class. This article is provided for informational purposes and does not constitute investment advice. By using this website, you agree to our terms and conditions. We may utilise affiliate links within our content, and receive commission.
Well, it may be autumn in the streets, but that crypto fall that lasted for three months is over. At least for now. Unlike in September, we are seeing the market painted green this time around, with even Bitcoin (BTC) ending its losing streak. And just as they fall significantly, the coins tend to bounce back with a significant rise. Most of the best-performing currencies have seen a double-digit, and some even a triple-digit rise in the past month. And though greenery generally prevails, other cryptocurrencies weren't so lucky in September.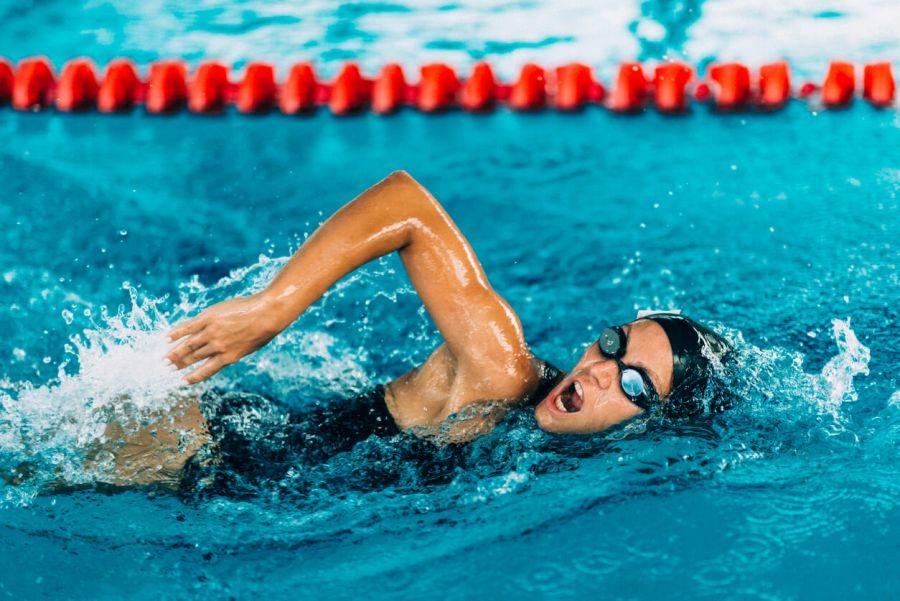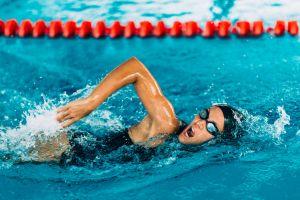 Source: iStock/microgen
Top 10 coins by market capitalization: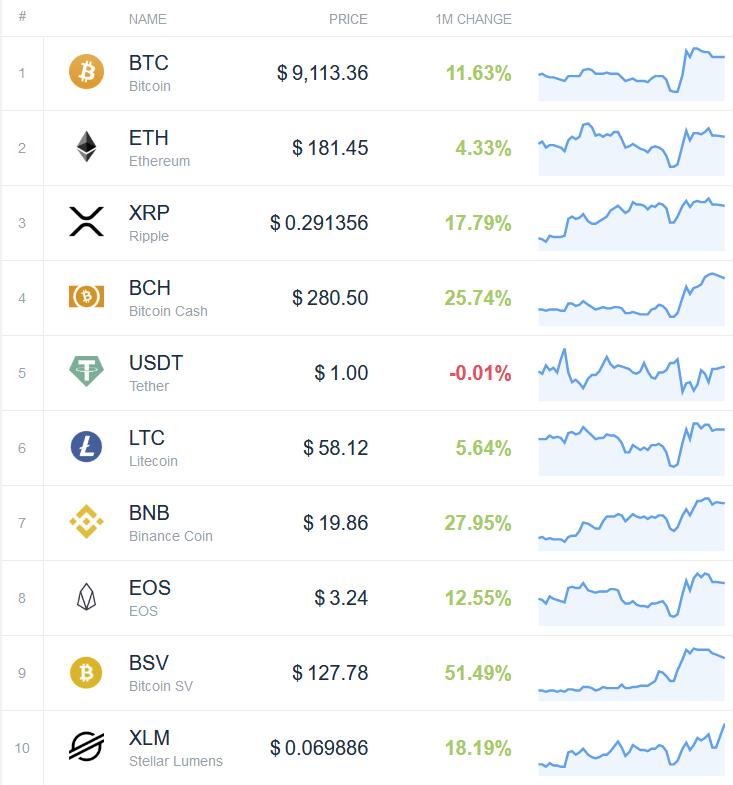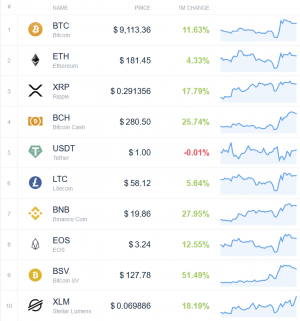 Source: Coincodex, 07:20 UTC
Two major things are immediately noticeable when looking at the top 10 coins by market capitalization list for October, compared to the same list exactly a month ago. The first one is that it's entirely green, when September saw all but Ethereum (ETH) in red. The other thing is that BTC is no longer in the plunge zone, and it's the first time we see its price appreciating over a course of a month since June. In September it rose by 11.63%. The coin to see the biggest rise by far is Bitcoin SV (BSV) with 51%, while the second places coins are in the 25%-27% range, those being Bitcoin Cash (BCH) and Binance Coin (BNB). The least to appreciate are Litecoin (LTC) with 5.64% and ETH with 4.33%.
Top 10 winners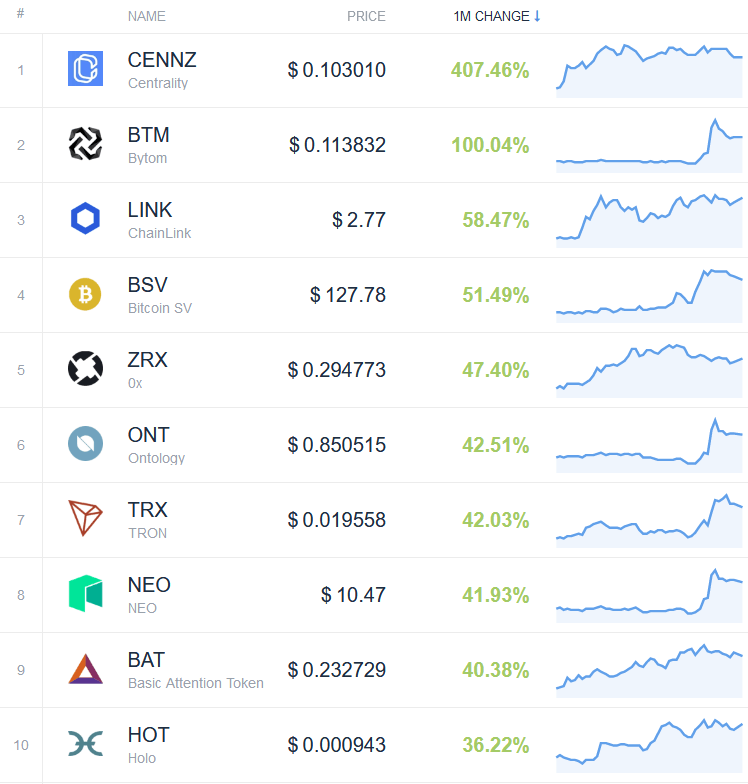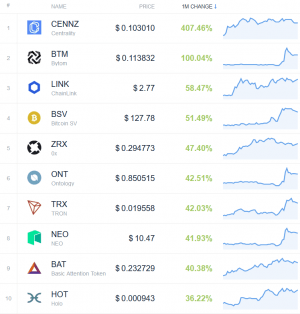 Source: Coincodex, 07:20 UTC
Let's zoom out and focus on the top 50 coins by market capitalization now and start with the winners for the month of October. While we couldn't even fill the list of ten winners in September, as only eight coins were in the green, that's not a problem this time around. Two top coins have seen a triple-digit jump, with Centrality (CENNZ) which appreciated more than 407% in a month, followed by Bytom (BTM) that has risen 100%. Other coins in this category have seen a substantial rise too, given that the last one on the list, hence the least to appreciate, Holo (HOT), has still seen its price climb 36%.
Top 10 losers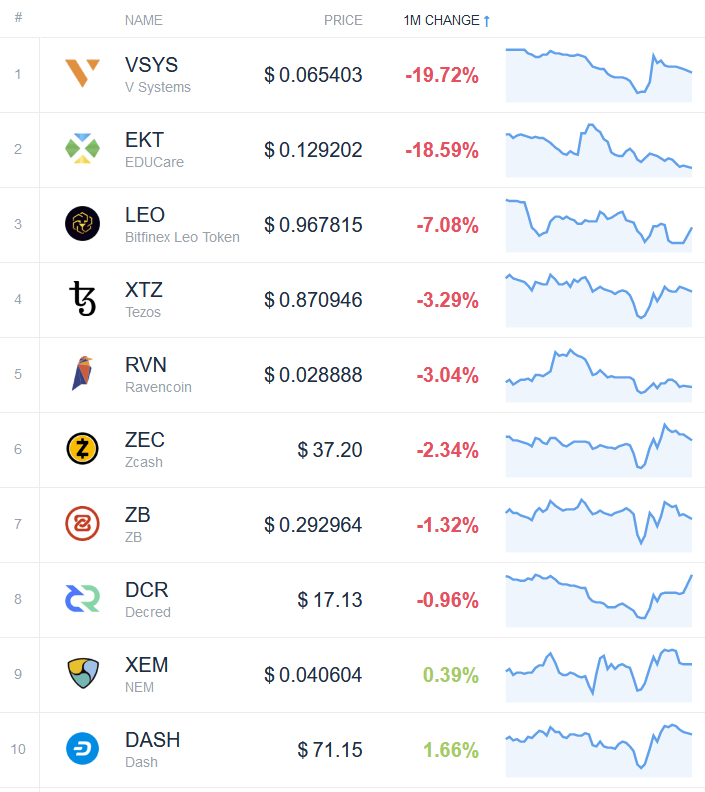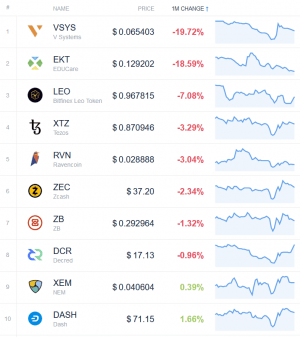 Source: Coincodex, 07:20 UTC
As said, not all coins had good fortune last month. "Leader" on this list is again V Systems (VSYS), the price of which dropped 19.72%, which is less than last month's 44%. It's closely followed by EDUCare (EKT) with -18.59%. The third one, Bitfinex Leo Token (LEO), is far behind, having dropped 7.08%. The least to have dropped, for now at least, is Decred (DCR) with 0.96%.
Winners & losers from the top 100/200
In the top 100 by market capitalization category, we find CENNZ leading this winners list too, and it's followed by iExec (RLC), which saw a rise of 183.84%, while BTM is in the third place. The coins to drop the most within the 100 category are MaidSafeCoin (MAID) with 24.03%, Swipe (SXP) with (23.75%), and Pundi X (NPXS) with 19.71%.
Even in the top 200 coins by market capitalization, CENNZ is number one, though RLC is in the third and BTM in the sixth spot. Number two is Molecular Future (MOF), which appreciated 440.03%. Two more coins to have seen a triple-digit rise are Chiliz (CHZ) with 161% and Jewel (JWL) with 139%. BTCHD (BHD) dropped the most here, 48.99%, while ZVCHAIN (ZVC) is in the second place with -39.89%.
___
Learn more: Only 10 out of Top 50 Coins are in Green in 12 Months
---