Coin Race: Top Winners/Losers of August; Chainlink Up Most, BSV Least
Was August a good month? Depends on which coin you ask. For many in the wider market, it was an excellent month, yet for many in the top 10 coins by market capitalization, the month ended in red.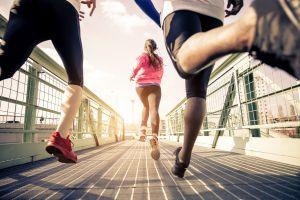 August was a month filled with decentralized finance (DeFi) developments, particularly in the yield farming category, with certain coins in that ecosystem seeing a major run upwards - though granted, some of them unceremoniously dropping as well.
That said, August was also the month of greenery, new yearly highs, potential bull runs, and overall positive market sentiment.
Top 10 Coins
During the course of the last month, bitcoin (BTC) surpassed USD 12,000 again, hitting a yearly high. This was a continuation of that brief USD 12,000 touch from July we reported on back then. This was followed by a downward correction, but the price stayed above USD 11,000 regardless.
Altcoins shot up as well, with ethereum (ETH) reaching above USD 400, and to USD 463. Ethereum's long-awaited Medalla testnet was launched in mid-August, followed by a number of major issues, which seem to have been placed under control.
Looking at the overall performance of the top ten coins, chainlink (LINK) comes out as a clear winner, having gone up by more than 90%. Chainlink experienced another price surge in August, entering the top 10 list, and flipping bitcoin cash (BCH) in the process.
The second-placed Ethereum climbed less than 10%. The only other coin (not taking stablecoin tether (USDT) into account) that went up over the past 30 days is binance coin (BNB).
On the other hand, the prices of the majority of coins on this list went down in August. Bitcoin SV (BSV) saw the largest drop of over 20%, followed by BCH, cardano (ADA), and XRP, respectively - all having had double-digit drops.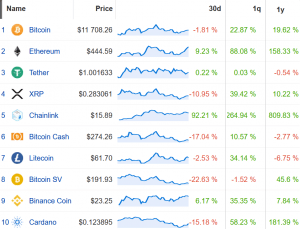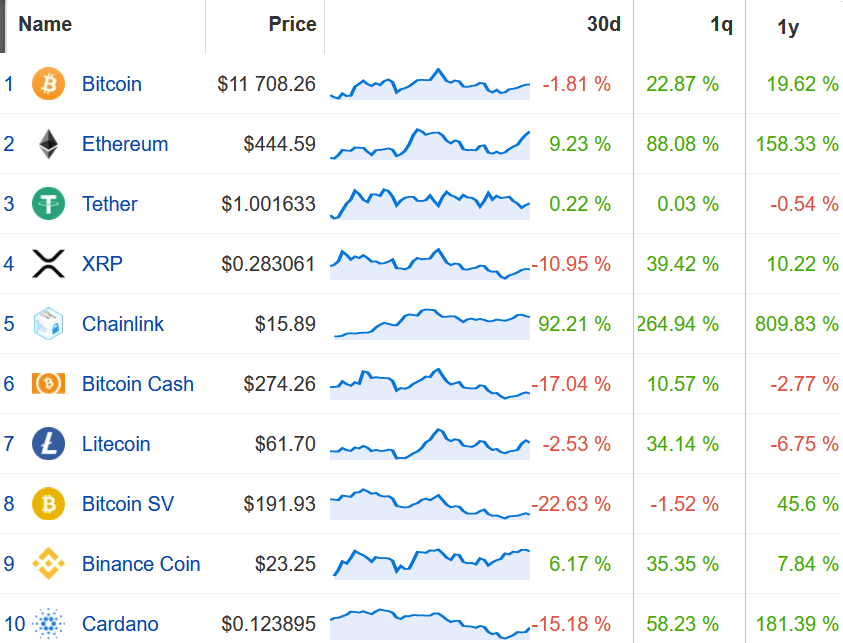 Top 10 winners
Winners are plenty to choose from among the top 50 by market capitalization, and the top 10 winner list is full. It's led by REN which appreciated nearly 230%. It's followed by OmiseGo (OMG), which also appreciated 200%.
NEM and Aave (LEND) saw a price increase of over 140%. And though the rest of the coins on this list appreciated less than 100%, their rises are not any less impressive. The least to rise among them is Cosmos (ATOM), and it too went up by more than 50%. It finally took a breather near the end of the month, following a near-exponential rally.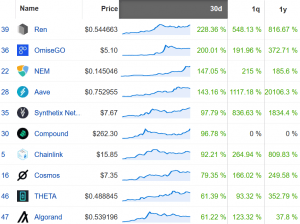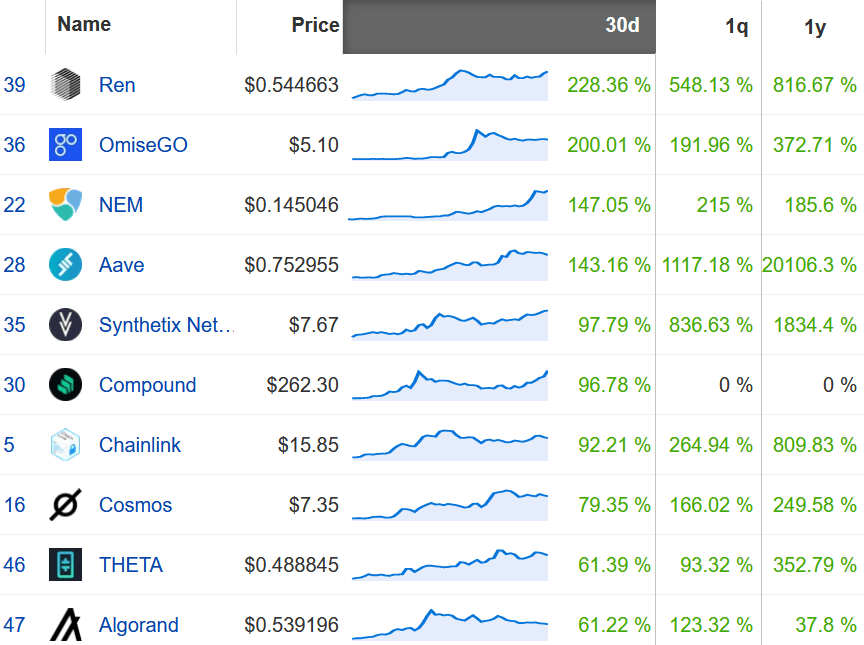 Top 10 losers
The winners list might've been full this past month, but so was the losers list.
At the very top stands polkadot (DOT) with a drop of nearly 100%, which was at one point the best-performing asset among the top 20 cryptoassets by market capitalization, and it entered the top 10 by market capitalization according to CoinGecko. Interestingly, it stayed among the best daily performers for a moment there, despite its large weekly drop. Yet, Polkadot's fall is a more complex picture, given that it underwent a 1 to 100 token split on August 21 that also saw all token balances increase by 100x, thus keeping the value of all token holdings the same as before.
HEX follows DOT with a drop of over 44%, while the remaining coins here saw decreases between 10% and 25%. This includes one of July's winners - Cardano, as well as ethereum classic (ETC) which suffered three 51% attacks in a month. The last on the list is dogecoin (DOGE) with the smallest drop of 10.13%.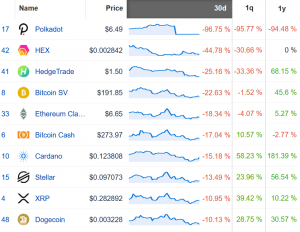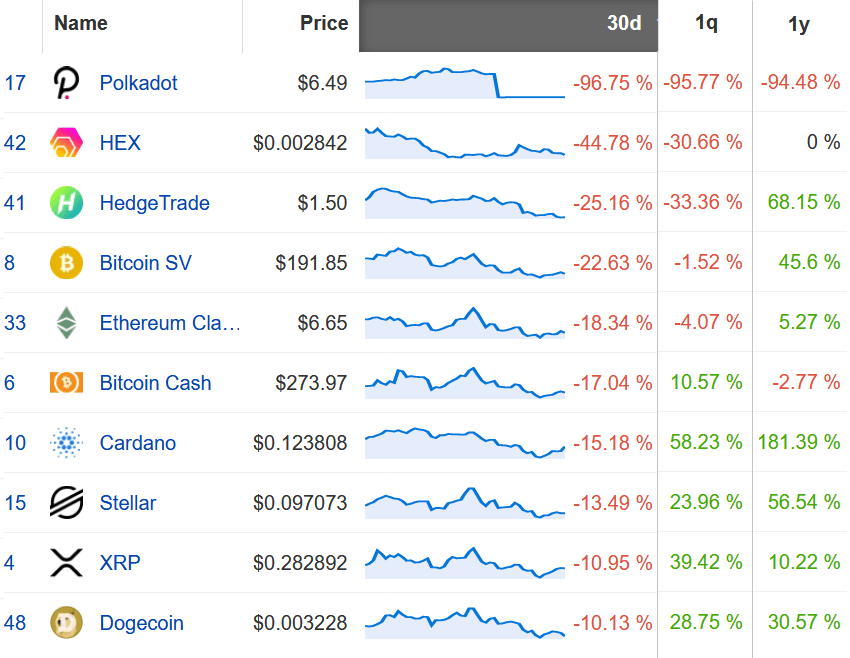 Winners & losers from top 100
Band protocol (BAND) wins the month yet again among the top 100. It appreciated 267% in the past 30 days. Three more coins are in the above-200% appreciation zone, these being REN, Aragon (ANT), and NEM. Another eleven altcoins went up more than 100%.
Meanwhile, DOT leads this red list as well, followed by HEX, and HedgeTrade (HEDG). Overall, it's quite clear that there are fewer red coins in August than the green ones, but also that the losses are smaller than gains.
---