Coin Race: Top 10 Winners/Losers of July
Now that August is upon us, it is safe to say that July was one roller-coaster of a month. After first two weeks of nothing but dips, we've seen prices jump substantially, which made a lot of people happy (and richer). However, as the month drew to a close, the bulls took their masks off only to show their bearish faces. The market ended the month in a decline.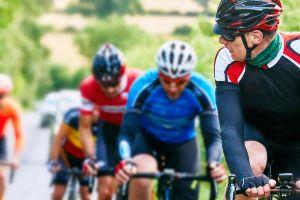 But not all coins out of the top 50 by market cap followed this pattern. Some made significant gains in the past 30 days. Without further ado, here they are.
Top 10 Winners: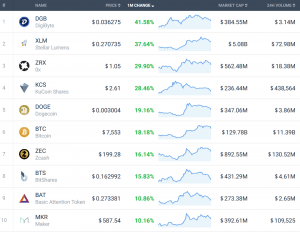 Out of the top ten coins by market capitalization, only Stellar Lumens and bitcoin have made it to the list of the top ten winners for this month. This was mostly fueled by the news that Stellar might get listed on Coinbase. However, there were other important news for Ripple's runaway kid, including the fact that it is Sharia compliant, which resonated well among the general public. Bitcoin's surge was partially because of the ETF talk.
Compared to the list of winners from June, this list is quite different. Just two made it to the list for two consecutive months, and those are DigiByte and bitcoin. DigiByte has seen a monthly change of 42.16%, and its market cap increased more than 120 million USD in the last 30 days. Bitcoin surged 18.20%.
Top 10 Losers: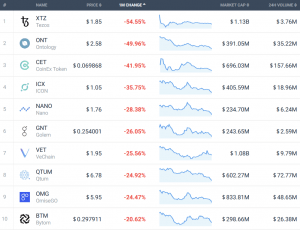 The list of losers is almost completely different from June, with seven newcomers and GNT, BTM and ICX repeating. The infamous first position belongs to XTZ this month, who's seen a 54.52% decline in the past 30 days. Second-place Ontology has seen a net decrease of 49.48%, closely followed by CET. All the coins from the list lost at least 20% of their values.
Winners & Losers from Top 100/200:
In the top 100, excluding the first ten mentioned above, another 15 coins recorded gains in the last month. Among them (you guessed it!) – Dogecoin, sitting on #16 with 17.44% gains and a market cap of 341.60m USD.
For the top 200, WAP has seen a whopping 299% increase, reaching a market cap of 42.64m USD.
Looking at the biggest losers among the 200, CasinoCoin is still on the number one spot, with its price going down 78.32%, down to 0.001032USD.
Second place belongs to NOAH, who lost 73.72% of its price in the last month, down to 0.001112USD.
---