Cogwise's AI-Powered Revolution: Pre-sale goes live
Disclaimer: The text below is a press release that is not part of Cryptonews.com editorial content.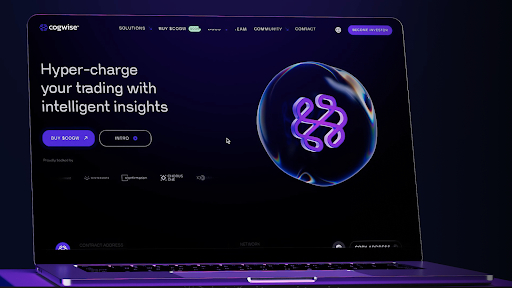 Introducing Cogwise, a groundbreaking AI model that harnesses the power of blockchain, cryptocurrencies, and global financial data to provide users with unparalleled insights.
They invite you to visit their website and take a tour for yourself at: https://cogwise.io
Cogwise (COGW) Projected to Reach Top 30 Tokens on CoinMarketCap!
Cogwise (COGW) is a relatively new player in the cryptocurrency space, but it has been making waves with its impressive and innovative technology. The native token of the Cogwise platform and ecosystem is COGW, which is used to access various features and services on the platform.
Cogwise has been gaining a lot of attention from investors due to its strong community and impressive gain potential. Experts have projected that Cogwise (COGW) will reach the top 30 tokens by 2024, which would be a remarkable achievement for the relatively new project.
As of writing, Cogwise is in the midst of its Seed Sale stage seeking to raise $150,000. The funds accumulated through the presale will be channelled into further enhancing Cogwise's AI technology, propelling its growth and influence in the market.
Counting Down to Cogwise's Arrival
Cogwise (COGW) is gearing up for its highly anticipated presale campaign, armed with a total token supply of 1 billion. With an attractive listing price of $0.065 per COGW. Early investors can secure their position for as low as $0.010 during the ongoing Seed Sale round.
Participate in the Seed Sale
As they have successfully finalised agreements with significant strategic partners, their focus now shifts to accommodating early supporters. In that sense, the only criterion for participation is an investment amount of 1 - 10 ETH.
Keen to get involved? Don't miss out on the SEED SALE, apply directly through the dedicated form - https://forms.gle/K6d26PXHXJZmLVzX6
As you await the project's full-fledged launch, dive into the whitepaper, a treasure trove of comprehensive insights detailing Cogwise's approach, methodology, and the transformative impact it's poised to achieve.
Unlocking the Potential
Cogwise isn't just another AI model—it's a game-changer for individuals, developers, and businesses deeply rooted in the blockchain sector. It offers an array of unique features that empower users, for example:
no-code smart contract generator
smart-contract auditor
technical analysis tools
wallet tracking capabilities
real-time alerts
news aggregator
Decoding the Magic Behind Cogwise
At the heart of Cogwise lies its impressive AI engine, the Cogwise Core. This intelligent core takes commands from prompts and returns comprehensive answers, assisting users with a vast array of tasks. Whether you're delving into the depths of technical analysis, seeking insights on crypto trends, or exploring the intricacies of smart contracts, the Cogwise Core is your guiding light.
Cogwise presents a golden opportunity for investors to embark on the ground floor of the next crypto sensation.
---