Chimpzee's Sustainable Giving: From Rainforests to Wallets, Everyone Wins
Disclaimer: The text below is a press release that is not part of Cryptonews.com editorial content.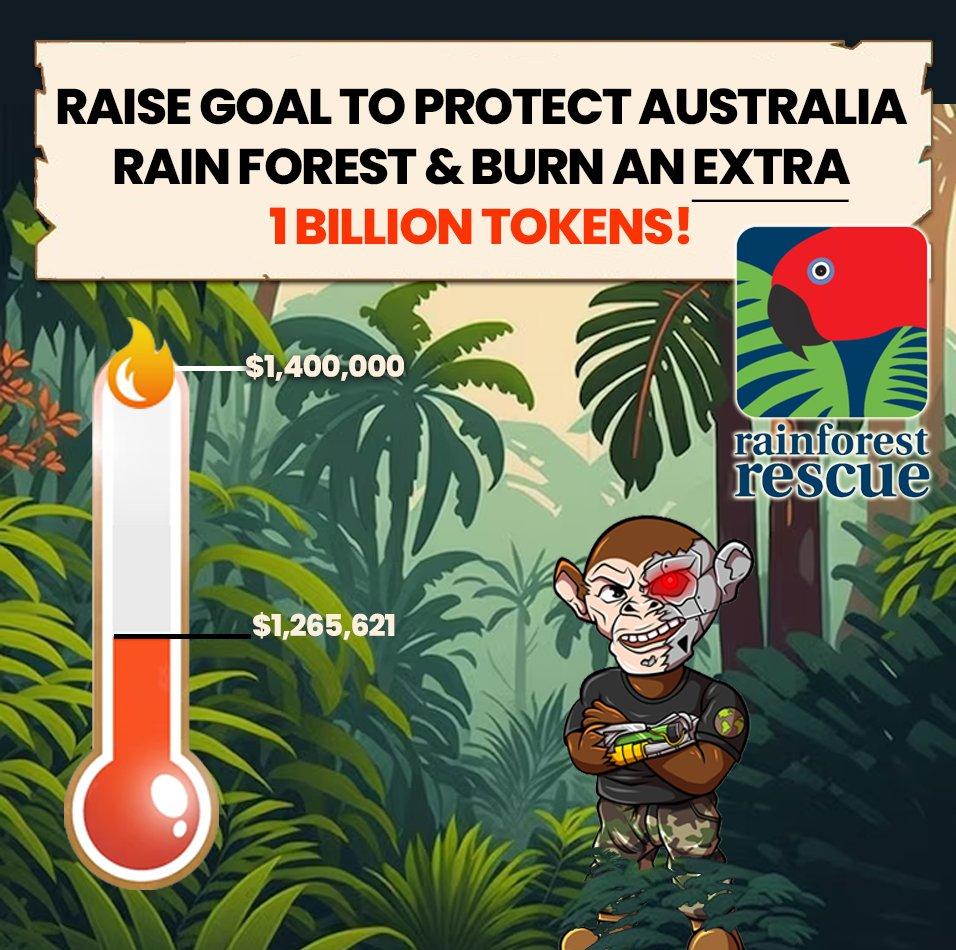 In the segment of Web3 projects making a positive impact on the world, few stand out as much as Chimpzee.
The project is redefining how we donate to charity by raising funds to make financial contributions while providing investors with a source of passive income.
The sustainability giving practice of Chimpzee has already started as the project has made verifiable and sizable contributions to plant trees and save wildlife on the brink of extinction.
This is a sustainable giving project that's about to go mainstream. From rainforests to wallets, everyone wins with Chimpzee ($CHMPZ).
Its next target is to help save the Australian Rainforest, and you can help by investing in the presale - which will also help your wallet in the process!
From Rainforest to Wallets - Chimpzee Redefines How We Donate to Charity
Chimpzee is revolutionizing how Web3 can raise funds for charity. The project allows you to make money while doing your part to save nature and fight climate change, helping to make the world a better place.
It aims to increase public awareness regarding the devastating impact of climate change and provide financial contributions to organizations that help endangered species and fight deforestation.
Since 1880, the average global land and ocean temperature has increased by 0.08 degrees Celsius every decade, causing many animal and plant species to go extinct because of human activities that lead to biodiversity loss.
Chimpzee wants to change this by generating funds to support conservation projects and organizations that deal with the issue.
It's the first Web3 project that will disrupt how people contribute to charity by offering three incentives that allow investors to earn a passive income - all of which raise funds at the same time.
Three Pillars to Passive Income
The project offers three unique integrated avenues to earn a passive income;
Shop-to-Earn
Trade-to-Earn
Play-to-Earn
The Chimp Shop forms the Shop-to-Earn part, allowing users to spend $CHMPZ tokens to buy Chimpzee merchandise in the store and earn additional rewards for shopping.
The NFT Marketplace allows users to buy environmentally focused NFTs, some of which can generate a passive income by sharing a percentage of the trading fee profits from active traders on the network.
The Play-to-Earn component is delivered through the Zero Tolerance game, which allows users to earn $CHMPZ rewards for hitting certain milestones.
Together, these components form the passive income side of the project.
In addition, those wanting to maximize their rewards must own a Chimpzee NFT Passport - which can be purchased after the presale.
Those who invest in the presale will be able to buy and mint a Chimpzee NFT Passport in the special exclusive whitelist event.
$CHMPZ coins used to buy the Chimpzee NFT Passports will be burned and taken out of the circulating supply - helping the value of the token increase.
There will be three tiers of NFT Passports to choose from; Diamond, Gold, Silver, and Bronze - all of which provide varying rewards, including;
20% APY for staking
Earning tokens when buying merchandise
A larger share of NFT Marketplace trading fees
Additional rewards in the Zero Tolerance game
Provable Action: Massive Verified Donations Already Made
Chimpzee isn't all talk, no action.
In fact, it's less talk and more action. The project has already made massive verifiable donations - even before its presale has ended.
For example, the project has already made a sizable donation to One Tree Planted to plant 20,000 trees to help save the Guatemala rainforest;
It also made two donations to the WILD Foundation to help save animals. These sizable donations were made through The Giving Block, an organization that facilitates crypto-based contributions to charity - making the donations verifiable for investors.
One of the donations was for $15,000 to help save one of the last herds of desert-adapted elephants;
Another donation was for $20,000 to help the Yawanawa people protect the remaining few thousand black jaguars that roam through Brazil;
Next Target: Australian Rainforest - Invest Today and Save the Rainforest
Chimpzee isn't stopping anytime soon, and it just announced its next target - the Australian Rainforest.
Chimpzee announced that it would make another contribution once its presale reached the $1.4 million milestone;
The fundraising will help protect 1,000 square meters of the Australian rainforest and the animals there.
When this goal is achieved, the project will also burn 1 billion $CHMPZ tokens, reducing the circulating supply.
You can help reach this milestone and earn a passive income by investing in the $CHMPZ presale.
The presale is currently in the eleventh stage, selling the token for $0.001. However, the presale uses a rising pricing strategy that will see the price gradually increase.
It will rise to $0.0011 by the start of the thirteenth stage, so it's best to get positioned earlier to take advantage of the lower price points.
Overall, Chimpzee is one of the most wholesome projects in the Web3 space today that can help fight climate change, provide a passive income, and produce speedy 10x returns.
With the presale quickly approaching its conclusion, you'll need to be quick to get positioned or face the pain of higher prices once it's launched.
---