Chimpzee Presale to Finish Stage 10 Soon – Could this be the Next Crypto to Explode?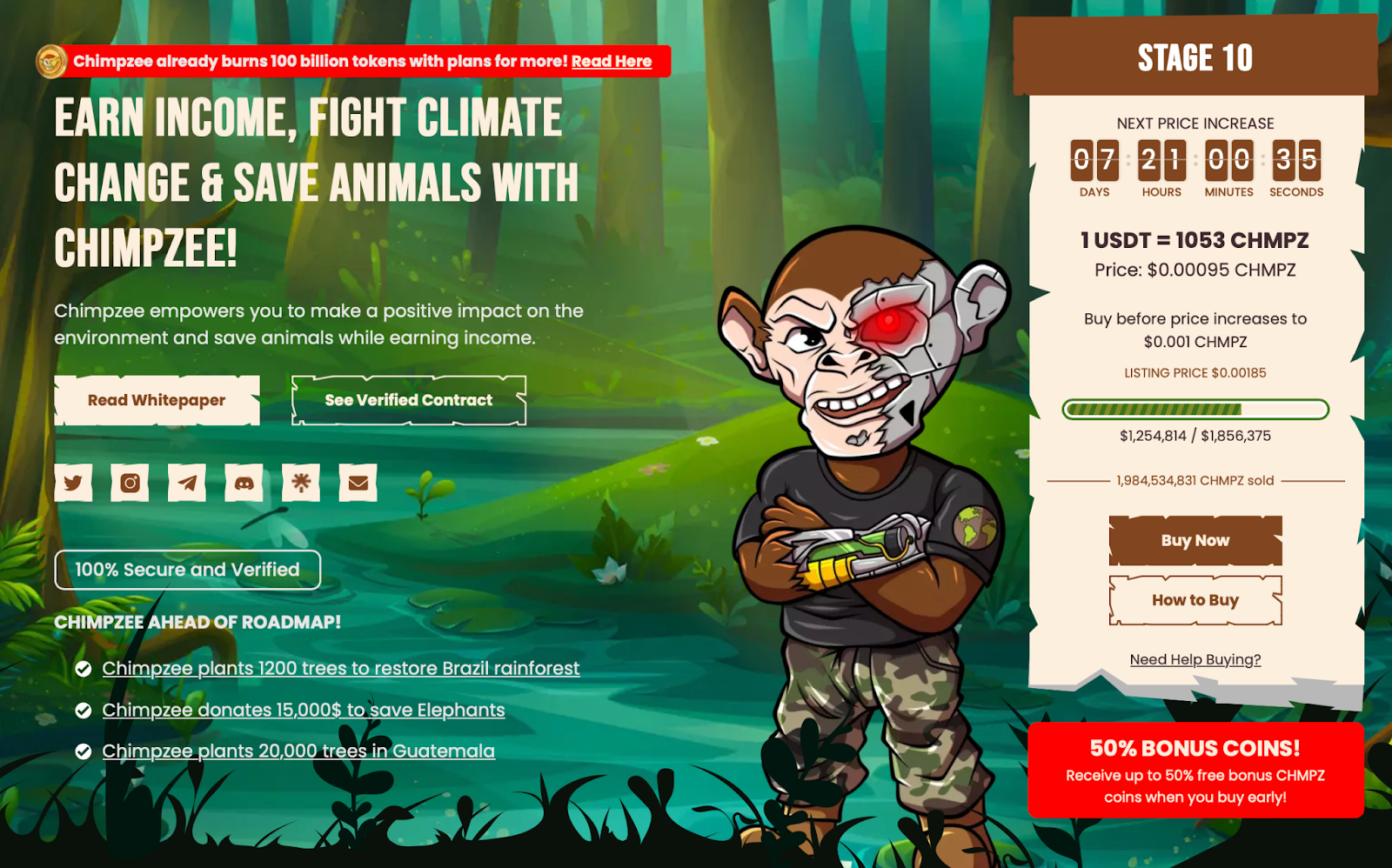 The Chimpzee presale will move to the eleventh stage in one day. The presale has crossed the $1.25M milestone after witnessing huge community support over the last few days.
The project's green mission taking advantage of blockchain infrastructure has resonated with investors. According to industry analysts, the token launch will lead to a massive bull run capitalizing on the high market relevance and growth potential of the project. While FOMO will fuel the price in the first few months, its utility-derived value will unfold as the project matures.
Climate action and cryptocurrency
Climate action is the need of the hour. Yet, we tend to disregard it as a distant threat that won't affect us since we will be long dead by then.
Could we be more stupid?
Yet, here we are, too lazy to make a step as small as taking a shopping bag every time we go out. We are so occupied by our everyday lives that we can't be conscious of these things. Despite the melting ice caps, flooding plains, and rising sea levels, we are willing to put more effort into getting likes on our Instagram posts than reducing our carbon footprints.
As a species, we have managed to wipe out an astonishingly large share of the biosphere in the last two centuries. Things are only getting worse.
Clearly, all those awareness classes and reels haven't worked their way into our life as their creators imagined. Education is not enough. We need action.
In a capitalist world, it is ludicrous to expect people to take action without the promise of a reward. Of course, a cleaner and healthier planet for our children and grandchildren is the best reward we could ask for. But money is lovely too.
Chimpzee is a new wildlife conservation initiative that addresses this odd human psychology. It uses passive rewards as a tool to bring more engagement and enthusiasm to its mission, rather than waiting for people to become enlightened and take action.
That makes all the difference.
Earn income, rewards, and benefits as you save the planet
The efficiency of Chimpzee's wildlife conservation initiative is underpinned by its sustainable reward system. If you're deeply concerned about our planet's condition, but you don't have the time or resources to reverse the damage, Chimpzee comes to your help.
The platform introduces an ecosystem of three pillars with diverse sources of passive and fun income – a Shop 2 Earn, a Play 2 Earn, and a Trade 2 Earn platform. As the names imply, you can earn attractive rewards in CHMPZ coins, the native cryptocurrency of the ecosystem, by shopping, gaming, or trading on the platforms.
The Chimpzee shop features iconic merchandise that demonstrates your support to the battle against climate change and animal cruelty. The Zero Tolerance Game, on the other hand, is a fun game with a gripping theme. Based on your performance, you can win premium prizes in the game. And finally, the Chimpzee NFT marketplace allows you to earn a share of the trading fees by being an active NFT trader.
You can boost your reward potential on all these platforms by holding Chimpzee NFT Passports that will be in very limited supply. A percentage of profits that Chimpzee generates from them will go to charity.
Here are just three initiatives that Chimpzee has completed even before launching its token.
1200 trees planted to restore Brazil's rainforest
$15,000 donated to save Elephants
20,000 trees planted in Guatemala
The benefits of holding Chimpzee NFT Passports
Listed below are just some of the benefits that you will become eligible for if you buy and hold Chimpzee NFT passports.
20% APY - Stake your NFT and earn up to 20% APY.
Earn more CHMPZ tokens when you buy Chimpzee merchandise.
Receive a larger share of the NFT Marketplace trading fee profits pool.
Receive advantages in Zero Tolerance Game and earn more CHMPZ coins.
Buy the Diamond and Gold series NFTs early for the most rewards and benefits.
CHMPZ tokens used to buy the NFT Passports are burned and will cost less than buying with another coin, in turn supporting its price action in the open market. The NFT passports can be divided into 4 tiers – Diamond, Gold, Silver, and Bronze. The collections have not yet gone live. They will be available after the Chimpzee presale has finished.
The token is currently in the presale stage at discounted prices. In other words, the CHMPZ presale offers the most profitable entry to the NFT collection and the Chimpzee ecosystem. It doesn't come as a surprise that it is closing in on an early sell-out.
Is it too late to buy CHMPZ?
This is how the presale works. So the earlier you enter the presale, the higher the potential returns and the benefits. Although the presale is ending soon, it's not too late to buy in. The token is predicted to explode 8X – 10X on its launch.
---