Chia In Spotlight Amid Global Hard Disc Shortage
Chia Network, the developer of blockchain and "smart transaction" platform with a cryptocurrency branded as a "green" alternative to Bitcoin (BTC), has reportedly caused a global shortage of hard discs, whilst its president Gene Hoffman denies the cryptocurrencies' bad impact on the environment.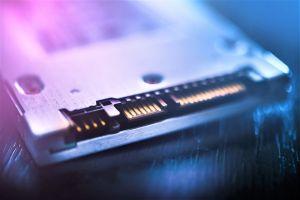 Chia Network uses proof-of-space (PoSp) consensus algorithm in a bid to consume less energy. Nevertheless, these discs still require energy to produce and run, and some reports indicate that hardware involved in PoSp mining could be rendered useless merely after a few weeks.
According to New Scientist, some 12m terabytes of hard disc space was being used to mine Chia on May 26, seeing an exponential rise since its launch in March, with the figure being at just 3m terabytes two weeks prior.
What's more, the Chia network has grown by almost one exabyte (974 PiB) in the last 24 hours according to Rick Branson, engineer at PlanetScale. In his words, this is equivalent to burning a single 1 terabyte (TB) solid-state drive (SSD) every 3 seconds. "The scale of this is hard to comprehend," he said.
The increase in demand for SSDs has reportedly caused price rises, however, Hoffman argues that the increased demand driven by Chia will lower the cost of hard discs as manufacturers ramp up production in the future.
"We've kind of destroyed the short-term supply chain," he's quoted as saying, but he also denied this will become an environmental drain.
Nic Carter, Partner at Castle Island Ventures, opined that such an increase in hardware requirements is likely to cause yet another reprisal against the crypto industry.
Earlier, Carter, a prominent Bitcoin's energy use advocate, got into a Twitter feud with Chia's Founder/CEO and creator of BitTorrent, Bram Cohen, with the argument revolving around the differences in fair coin issues regarding proof-of-work and PoSp chains.
Also, some new miners are complaining about the lack of mining pools, resulting in relatively unfair initial coin distribution where only large miners are capable of producing new blocks and reaping block rewards.
Andrew M. Bailey, Associate Professor at Yale-NUS College, suggested that Chia would have been taken more seriously if its coin distribution began as a fork of Bitcoin's UTXO set.
In either case, earlier this week, Chia Network announced another successful USD 61m round of funding, led by Richmond Global Ventures and Andreessen Horowitz. The company is also looking to launch an initial public offering possibly even within this year.
The mainnet of the network was launched this past March.
At 13:08 UTC, Chia's XCH, ranked 119th by market capitalizatio, trades at USD 779. It's down 5% in a day and 22% in a week, as well as 53% from its all-time high of USD 1,645 hit less than two weeks ago, per CoinGecko.
XCH price chart: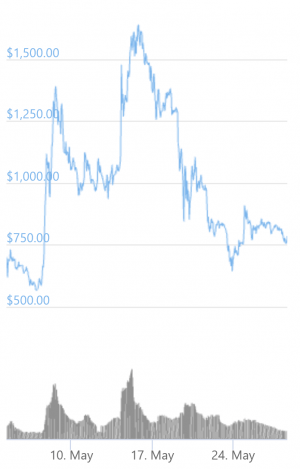 (Disclosure: among Chia minority investors is Cypherpunk Holdings, which is backed and led by Cryptonews.com Founder Antanas "Tony" Guoga.)
____
Learn more:
- Chia Network 'Opened Discussions' With Investors, Debuts On Exchanges
- Proof-Of-Bitcoin Needed As Critics & Competitors Unite To Play Climate Card
- A Closer Look at the Environmental Impact of Bitcoin Mining
- Moving to Green Bitcoin May be Moving To a Two-Tier Bitcoin
- Bitcoin Mining Council: Promotion, Cabal, Attack on BTC, or Pointless?
---