Chainlink (LINK) and Polkadot (DOT) Pump As The Candles Go Green; Collateral Network (COLT) Set For 35x Gains In Presale
Disclaimer: The text below is an advertorial article that is not part of Cryptonews.com editorial content.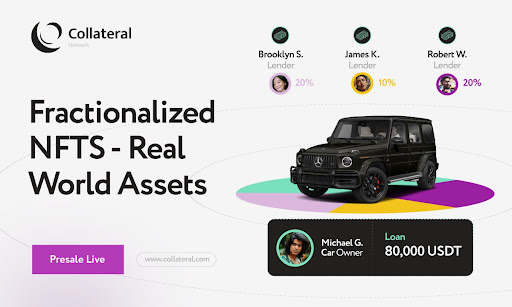 Investors closely observing the charts over the past year will have been discouraged by the performances of popular altcoins like Chainlink (LINK) and Polkadot (DOT). But with the new utility-based token Collateral Network (COLT), which is set to deliver yields of as high as 3500% to savvy investors, the stage is set for what will clearly be one of the biggest crypto presales of 2023.
Chainlink (LINK)
The Chainlink (LINK) blockchain uses cryptographic proofs, decentralization, and trusted nodes to connect highly accurate data or APIs to smart contracts. Although Chainlink (LINK) is a highly popular cryptocurrency, it has suffered the effects of 2022's bear run like other altcoins in the market.
Chainlink (LINK) is currently trading at $7.3, and several experts forecast that the token's value will decrease by 2.7% to $7.21 by the end of April 2023. Technical indicators also show that the market sentiment for Chainlink (LINK) is Bullish Bearish 24%.
As it is apparent, Chainlink's (LINK) short and long-term fortunes are mixed, and the prospect of a more solid investment like Collateral Network (COLT) is too good to overlook.

Polkadot (DOT)
At the time of writing, Polkadot (DOT) is priced at $6.4, with a market cap of over $7 billion. Polkadot (DOT) is one of the most traded and popular cryptocurrency tokens. However, Polkadot's (DOT) short to long-term future does not speak of the rich rewards associated with a token like Collateral Network (Network).
Crypto analysts predict Polkadot (DOT) will hit $8.19 in late 2023, a relatively small return on investment compared to the 35x price spike anticipated in Collateral Network (COLT).
Polkadot is currently the 12th largest cryptocurrency in the world based on its market capitalization, and its average daily trading volume is over $200 million. Polkadot reached an all-time high of $54 in 2021 but has dipped by 80% since then.

Collateral Network (COLT)
Traditional lending services have been problematic for lenders for many years due to issues with credit checks, geographic issues, bad company reputations, and high rates for borrowing. Collateral Network (COLT) is a disruptive blockchain innovation that holistically addresses all problems in securing crypto loans against real-world assets.
Unlike Polkadot (DOT) and Chainlink, Collateral Network (COLT) has enormous use cases. This adds to its appeal as a viable cryptocurrency choice for investors and is the leading reason experts tip the token to surge by 3500% in the coming months.
On Collateral Network (COLT), users can borrow cryptocurrency with their collateralized physical assets. In a unique combination of NFT and blockchain technology, Collateral Network (COLT) facilitates P2P digital lending with fixed passive income for lenders, privacy, and low costs for borrowers.
Aside from the marketplace, Collateral Network's (COLT) Blockchain ecosystem consists of an auction where token holders gain access to distressed assets. Similar to the lending operations, these auctions will be held online and offer investors a chance to purchase assets below market value if borrowers default on their loans.
Collateral Network is currently in the presale phase, with the tokens selling for less than $1. Investors are keenly buying up the token, presently selling for $0.01, with the promise of 35X in the price the yield is too exciting to resist. Due to amazing features, Collateral Network (COLT) has been tipped as the next big thing for investors in the crypto space.
Read more about the COLT presale here:
Website: https://www.collateralnetwork.io/
Presale: https://app.collateralnetwork.io/register
Telegram: https://t.me/collateralnwk
Twitter: https://twitter.com/Collateralnwk
---