C+Charge Presale Ends in 2 Days, $1.3m Worth of Tokens Left – Secure Your Spot in the Future of EV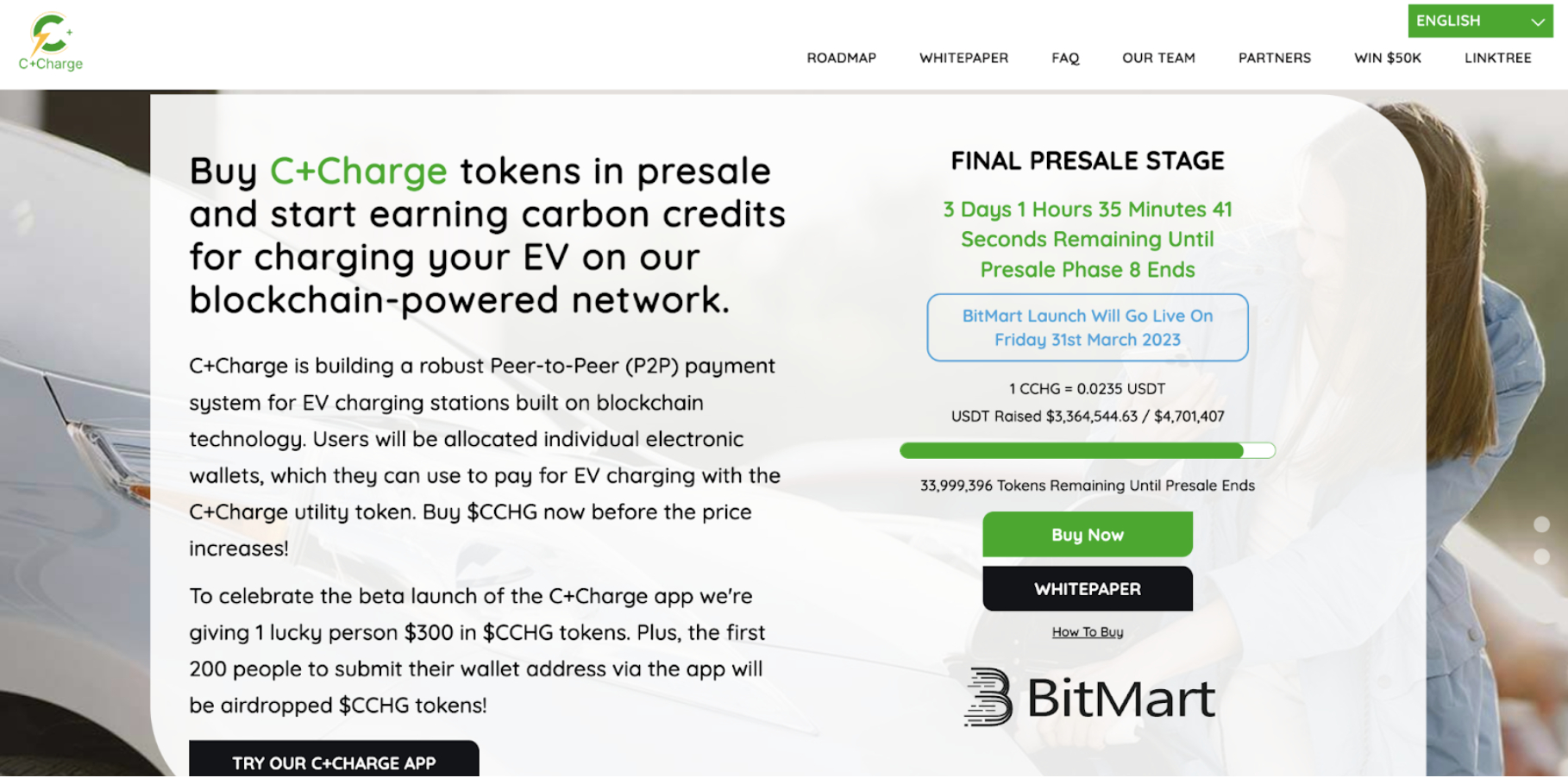 Sunday March 26th 2023 – C+Charge (CCHG), a cutting-edge electric vehicle charging network, has secured $3.36 million in investments with just three days remaining in its presale, leaving $1.33 million worth of tokens still available for purchase.
The pace of buying is hotting up, as the fear of missing out on the chance to invest at low prices in a future-proof eco-friendly project will end soon.
In the current last stage of the presale, the CCHG token is priced at $0.0235. CCHG will be listed on the BitMart crypto exchange on Friday March 31.
CCHG token is used to pay for EV charging across multiple station networks globally, solving the problem of having to navigate different payment and charging measurement systems.
Analysts predict 10x gains for CCHG investors – list on BitMart, Friday March 31
Those who bought tokens in the first stage when the CCHG price was marked at $0.013 will see their holding valued at a premium of 80% at the end of the presale, even before the token starts trading on BitMart.
But it is still not too late to snare a huge return on investment by purchasing at today's price. Cryptocurrency analysts predict CCHG to deliver 10x gains for early investors.
The BitMart exchange has more than 9 million users and attracts daily trading volumes in excess of $400 million, ranking it in the top 30 of crypto exchanges globally, according to data site CoinMarketCap.
Post-presale burn event will further enhance token-holder value
Buyers will also benefit from the burning event due to take place after the presale ends – 80 million unsold tokens from stages 4 to 7, plus any that may be left over from the current final stage 8 of the presale, will be removed from circulation.
The burn will enhance the value of the tokens bought by those who have already participated in the presale.
CCHG had a total supply of 1 billion when the presale began at the beginning of February.
Tokens can be bought with BNB or ETH by connecting a crypto wallet, but a card funded with ordinary money can also be used.
Another attraction for prospective investors is that there is no vesting period for presale buyers.
CCHG is a BEP20 token that runs on the BNB Smart Chain blockchain.
It is a proof-of-stake protocol, which means that it has a very low energy footprint and does not rely on wasteful computational work to verify transaction blocks.
How C+Charge changes the game for EV drivers
C+Charge enables EV drivers to easily pay for charging using its app and native cryptocurrency CCHG.
The highly sustainable platform also distributes carbon credit rewards to paying with the C+Charge app or using the app to make other purchases.
Also adding to the excitement around the coin is the recent news of the sealing of a major staking partnership deal with The Recharge.
C+Charge and The Recharge are working together to enable C+Charge users to access staking on The Recharge's innovative cross-chain platform.
That's great news for CCHG holders. Another important by-product of the partnership is how it will open up South Korea's electric charging network to C+Charge's innovative payments system.
Stake your CCHG using carbon credit swaps
Holders of CCHG will be able to stake their tokens using carbon credit swaps – part of the Kyoto protocol.
The Recharge will also facilitate C+Charge breaking into Korea's electric-charging infrastructure network.
The Recharge runs on the Ethereum, Binance Smart Chain, Solana, Kucoin Smartchain and HuobiEco blockchains.
Alongside C+Charge, The Recharge shares a common mission to promote the reduction of carbon emissions.
Web version of C+Charge app released – airdrop competition and giveaway live
C+Charge already has a web version of the app in beta for the community to start testing – the first 200 people to provide their wallet address can win a special prize as well as the chance to win $300 in CCHG tokens.
The C+Charge app is the flagship product of the ecosystem that aims to democratize the carbon credit industry by enabling EV drivers to receive carbon credits for charging.
This initial iteration of the app is a web version that has been made available to the community in advance of the iOS Apple App Store version being approved.
To set up an account and login into the app, go to https://app.c-charge.io/ in their browser on mobile or desktop.
Additional features as detailed in the project whitepaper – such as carbon credit tracking, calculation of wait times and conversion of carbon credits into tradable NFTs – will be added to the app before its official launch.
C+Charge is also running a $50k giveaway competition and entry details are available here. The competition closes in 9 days.
C+Charge harnesses blockchain technology to make EV payments seamless and secure.
It is not just the most sustainable crypto on the planet, it will play a key role in helping to expedite the necessary transition to a zero-carbon economy.
CCHG token holders are not just smart investors – they are also helping to save the planet.
---