Catch This New Shiba Inu Rival Before It's Too Late – Price Rise in 24 Hours Incoming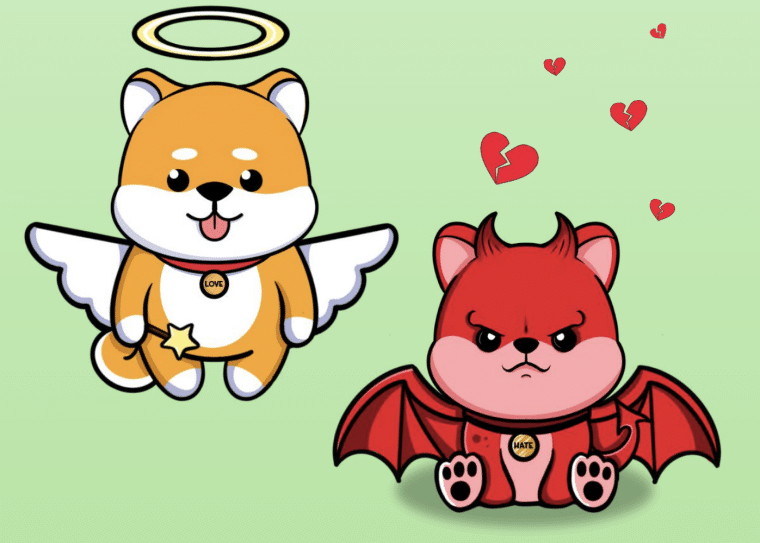 As the crypto world continues to evolve, the memecoin sector offers a potentially lucrative opportunity for investors seeking high-risk, high-reward trades.
Leading the charge in 2023 is the Love Hate Inu ($LHINU) presale, an innovative project that marries meme coin appeal with an advanced Vote-to-Earn system.
In just a week since its launch, $LHINU has successfully raised a staggering $2.6 million, with excitement only set to rise.
Love Hate Inu Will Revolutionize Web3 Surveys
Taking the $3.2 billion survey industry by storm, Love Hate Inu introduces sponsored polls with irresistible rewards, such as NFT discount codes and NFTs backed by physical assets.
Its ground-breaking approach allows users to vote on polarising figures and topics, including Donald Trump, Andrew Tate, Elon Musk, and more, all while reaping rewards.
The LHINU ecosystem implements a real-time vote staking mechanism that necessitates a minimum of 30 days of staking $LHINU, effectively combatting spam and manipulation.
With a presale price of 1 $LHINU equalling 0.000095 USDT and a price increase scheduled in less than 24 hours, early investors have a phenomenal opportunity to join this disruptive new platform.
Since its presale debut, Love Hate Inu's native token, $LHINU, has garnered considerable attention from crypto enthusiasts and analysts, who believe the project could potentially eclipse the gain percentages of Dogecoin and Shiba Inu.
By adopting a versatile Vote-to-Earn (V2E) model that sets it apart from other meme coins, Love Hate Inu is poised to transform the meme genre in the crypto space, which typically relies on media hype and vibrant communities to thrive.
Love Hate Inu's Novel Survey Technology
By allowing users to vote on various topics, including contentious ones, Love Hate Inu creates a novel structure that records all votes on the Ethereum blockchain, ensuring transparency, legitimacy, and tamper-proof results.
This transparency appeals to brands, companies, sectors, and individuals eager to gain authentic, unmanipulated opinions on specific subjects.
Participants in Love Hate Inu's polls can expect rewards in the form of products, merchandise, non-fungible tokens (NFTs), and more.
The project's native token, $LHINU, facilitates voting, with users' voting power increasing in tandem with their token holdings. Currently, the platform manages poll creation, but by the end of 2023, $LHINU holders will be able to create polls and earn rewards.
Love Hate Inu's decentralized structure ensures a high deflationary mechanism, with 90% of all $LHINU tokens being sold via its ongoing presale.
As demand increases, the token's price is expected to surge, making it an attractive investment option.
With over $2.6 million raised in presale investment and a price increase less than 24 hours away, now is the time for investors to take advantage of the current discounted price and reap substantial returns as the price soars.
Don't miss out on this unprecedented opportunity to invest in Love Hate Inu – act now before it's too late.
Disclaimer: The Industry Talk section features insights by crypto industry players and is not a part of the editorial content of Cryptonews.com.
---