CardanoGPT Launches AI Powered Tools To Increase Productivity Of Cardano Projects, Launches $CGI Private Round Whitelist
Disclaimer: The text below is a press release that is not part of Cryptonews.com editorial content.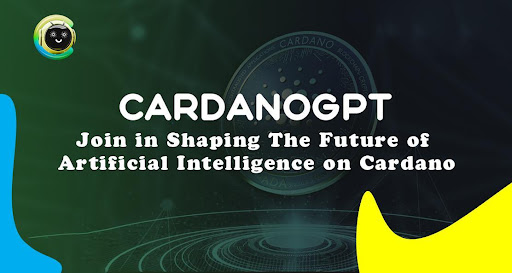 CardanoGPT, a Cardano focused AI startup utilizing Artificial Intelligence and machine learning to to provide solutions and use cases related to AI powered community management is set to launch it's $CGI utility token and kicks off $CGI private token round whitelist.
One of the products of AI powered moderation and community management bot that can help users with questions related to the project and also answer other crypto-related topics.
In addition to that, CardanoGPT also offer solutions to some of the pressing issues faced by developers looking to build on Cardano, such as code debugging, blockchain analysis, smart-contract generation.
CardanoGPT has already partnered with few Cardano Projects like Foreon Network to develop Foreon's AI powered Telegram bot that will be instrumental to community management and sharing crucial information about Foreon's upcoming ISPO.
Groundbreaking Progress in 2023
CardanoGPT has made significant strides in developing its AI model while gaining traction within the Cardano web3 community as the team successfully released @replyada, the first prototype of the AI powered bot and also the initial draft of the whitepaper and also working to further enhance the existing AI models.
The $CGI Token
CardanoGPT's native utility token $CGI, is the backbone of it's ecosystem with the $CGI utility token playing a vital role like granting access to AI tools, governance participation, and staking rewards.
The private sale round for CGI is set to begin on the 11th of August 2023, exclusively for private whitelisted members.
Over 70 whitelists have been registered showing a huge demand and interest in this project.
Interested participants looking to join in the $CGI private round can get their addresses whitelisted by joining the zealy link and completing the whitelisting tasks.
Join The CardanoGPT Community
Whitelist: https://zealy.io/c/replyada/questboard
Twitter: https://twitter.com/replyada
Discord: http://discord.com/invite/7mAMbRg7VR
Whitepaper: https://docs.cardanogpt.ai/
Blog: https://medium.com/@cardanogpt
---