Cardano Price Prediction as Bulls Hold $0.30 Level – Can ADA Pump to $1 Soon?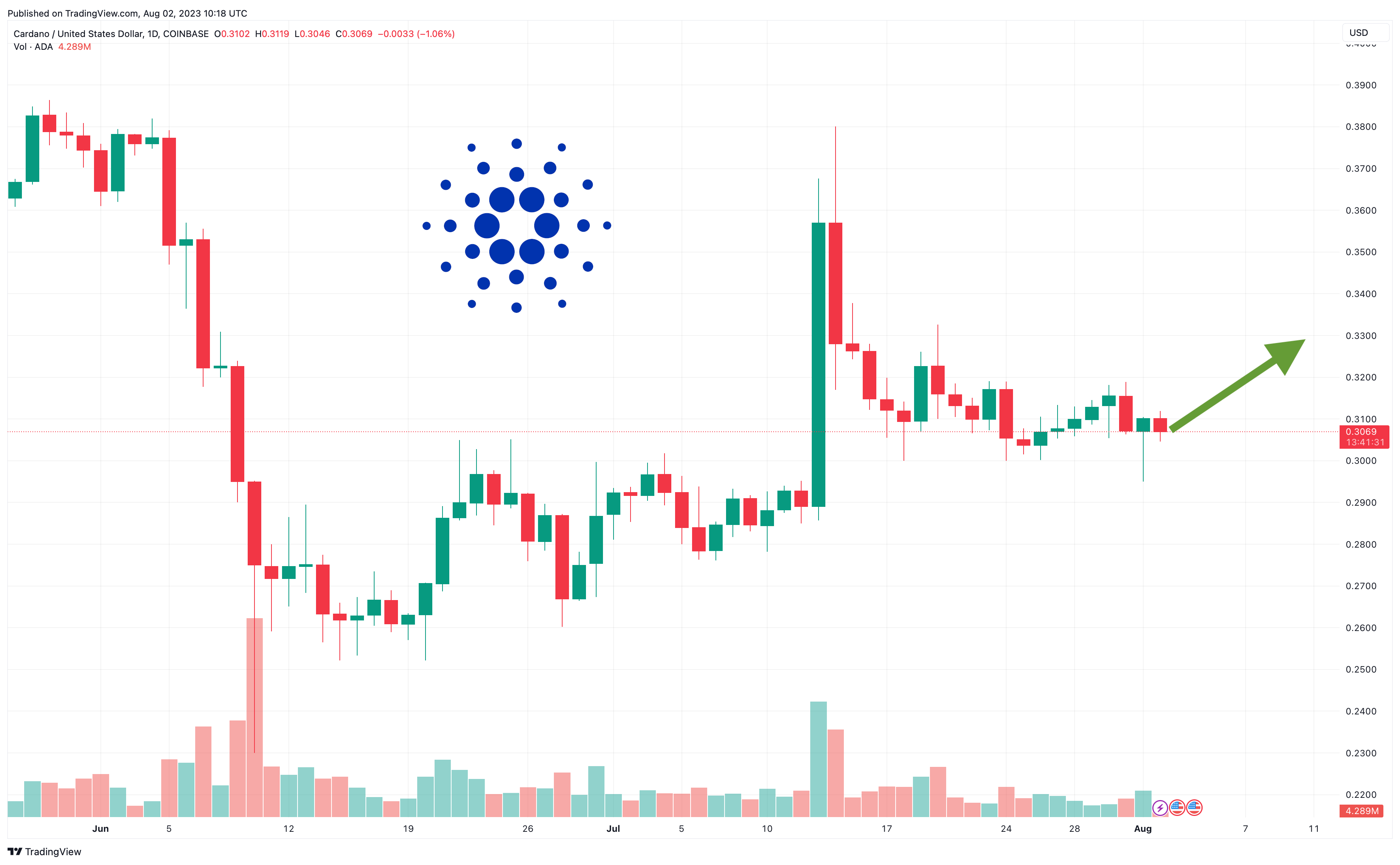 The Cardano price has inched up by 0.5% today, reaching $0.306274 as the cryptocurrency market enjoys a similarly modest rise in the past 24 hours.
ADA is now up by 1% in a week and by 4% in the past month, with the altcoin having risen by 24% since the start of 2023.
Such gains are relatively modest compared to other major cryptocurrencies, suggesting that ADA has in fact been undervalued by the market in recent months.
In turn, this indicates that it could be on the brink of a major breakout, given just how discounted it arguably is relative to a fairer value.
Cardano Price Prediction as Bulls Hold $0.30 Level – Can ADA Pump to $1 Soon?
Cardano has been trading within the $0.30-$0.33 range for the past couple of weeks, as indicated by its current resistance (red) and support (green) levels.
Its inability to break through $0.33 is likely to be disappointing to many holders and traders, yet there are signs that ADA could be close to witnessing a significant rally.
For one, ADA's relative strength index (purple) has climbed from 30 to 50 in the past couple of days, indicating an increase in positive momentum that may help to push the coin higher.
Secondly, the cryptocurrency's 30-day moving average appears to have flattened out after spending two weeks falling gradually, another sign that it may be due to pick up soon.
Given how undervalued ADA has been in the past few months, a rally is certainly overdue, although there isn't any major event or update on Cardano's horizon that would provide a strong fundamental catalyst for such a rally.
That said, Cardano continues to enjoy gradual development, even if its growth is hardly spectacular.
For example, it has now entered the top ten for layer-one blockchains in terms of total value locked in, with its TVL having increased by an impressive 276% since the start of the year.
This percentage gain is significant because it outstrips the gains made by ADA itself over the same period of time, meaning that the growth in TVL represents real growth in the overall usage of Cardano as a platform.
Adding to this picture of a network on the move is the fact that Cardano successfully deployed the Mithril update on its mainnet a couple of days ago, something which will make the syncing of nodes on Cardano's network more efficient and secure.
On top of this, Cardano's ecosystem now counts more than 130 launched apps and over 1,250 projects under development, indicating just how big the blockchain could become in the next few months and years.
Yes, Cardano may be a slow burner, but its progress and development is real, potentially culminating in big gains for ADA somewhere down the line.
As such, ADA could be expected to reach $0.40 in the next couple of months and possibly rise as high as $1 by the end of the year.
Other Strong Altcoins Launching
Given that ADA is more likely to post steady gains, some traders may prefer to look towards recently launched altcoins that still have their initial surges and growth spurts to look forward to.
Presales have been particularly lucrative this year, and one of the most promising sales currently happening now belongs to XRP20, a new cryptocurrency that offers an ERC 20-based version of XRP.
As an Ethereum-based token, XRP20 can be used to earn a passive income from staking, yet what's interesting about the coin is that its sale is making it available at $0.000092, the level that XRP itself had back in 2014 (when it originally launched).
This means that XRP20 offers traders the opportunity to make up for having missed out on the original XRP, while also offering a highly usable and secure altcoin in itself.
XRP20 will have a hard capped supply 100,000,000,000 XRP20, with 40% of this being reserved for the presale.
Another 40% will be allocated to staking rewards, while 10% will be burned over time, making XRP20 potentially deflationary, especially when a portion of each transaction fee will also be burned.
Such tokenomics set XRP20 up to be one of the most successful altcoin launches of the year, with investors able to buy the soon-to-be-big coin at a discount by going to its official website.
Disclaimer: Crypto is a high-risk asset class. This article is provided for informational purposes and does not constitute investment advice. You could lose all of your capital.
---