Canaan Challenges Bitmain with New Miner
Canaan Creative, the world's second largest maker of bitcoin mining machines, is bringing a new model to market that appears to beat the current competition from Bitmain's Antminer S9. Canaan's AvalonMiner A9 is reportedly capable of hashing rates of up to 30 TH/s, or more than double that of the current top model from Bitmain.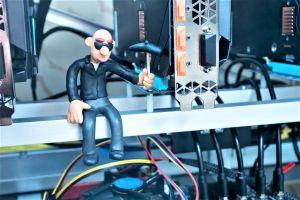 In cryptocurrency mining, hash rate is the speed at which a mining machine can operate. A higher hash rate would allow a machine to get more mining rewards over a given period of time.
The new bitcoin miner was announced at a Canaan press conference on Wednesday and later confirmed on the company's Chinese WeChat account.
However, Steven Mosher, global head of sales and marketing at Canaan, revealed the details of the new miner in a Facebook post earlier, and added that the new miner will start shipping in the 4th quarter of this year: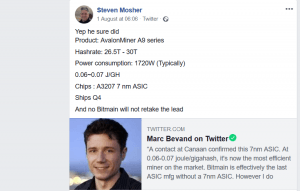 Mosher did not immediately respond to a request for more details.
Some attendees at the press conference also took to Twitter to share pictures from the event held in Hangzhou, China:
According to cryptocompare.com, a machine with the same specifications as Canaan's AvalonMiner A9 would be capable of mining BTC 0.4628 per year, or USD 2,939 at current exchange rates. With the new machine, Canaan will take the lead from fellow Chinese rival Bitmain, which is set to hold an initial public offering (IPO) on the Hong Kong Stock Exchange in September.
Earlier, it has been reported that Canaan has also applied for an IPO in Hong Kong this year. It is speculated that the amount raised through these IPOs will be a good indicator in the general interest in the future of mining and thus cryptocurrency in general.
Just last week, Canaan announced that they are bringing a TV set that doubles as a bitcoin miner to market. However, with a hashing power of 2.8 TH/s, the new TV is still a far cry from the company's new flagship bitcoin miner. According to cryptocompare.com, a TV set with those specifications can mine BTC 0.04319 per year (USD 273).
---