Can You Day Trade Crypto?
Disclaimer: The following article is part of Cryptonews Deals Series and was written as a promotional article in collaboration with the sponsor of this offer. If your company has an exclusive promotion that you would like to share with our readers, we invite you to reach out to us. Let's build together.
Crypto might differ from traditional finance in many aspects, but when it comes to trading, the two are remarkably similar. For example, it is not only possible to day trade crypto assets, but even a good strategy in some cases. Although day traders are most active in markets like stocks, forex, and commodities, the inherent volatility of the crypto market is especially attractive to those looking to make a profit relatively quickly. In this article, we'll tell you all you need to know about how you can do this.
How to Day Trade
Day trading is extremely simple. By definition, it is a type of trading where you enter and exit a position within the same day. In other words, day traders will buy and sell any number of financial instruments in the span of several hours or less, and profit from speculating on short-term price movements. As we already stated, crypto is well-suited to this thanks to its rapid price movements, which mean you can sometimes make a bigger profit than you would on other financial instruments.
On the other hand, one important aspect of successful day trading is finding a reliable platform that will be able to handle trading in such quick succession. As you have to stay up-to-date on what moves markets in the short term, you may even place hundreds of orders in a single day to profit in the long run. This means you can't deal with a slow, buggy engine or a confusing interface, or even too many non-intuitive options.
PrimeXBT is a platform that removes all of these issues and offers an excellent home for all day traders and those who want to try their hand at the strategy. Also, you know how we mentioned the other asset classes that are popular for day trading? You can trade stock indices, commodities, and forex markets along with crypto using a single account on this trading platform.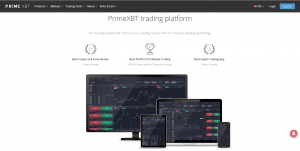 Can It Meet My Needs?
But how can you know if PrimeXBT can handle the amount of orders executed when you're day trading? The landing site itself assures you of this: it states it has more than 12,000 executed orders per second, where the average order execution speed is around 7.12 ms (yes, that is milliseconds). Aside from its powerful built-in engine, this is also helped by the fact that PrimeXBT has access to 12 integrated liquidity providers, which means your order is bound to get filled extremely quickly.
Perhaps best of all, the platform is aware that day traders don't have any time to waste. In other words, if you're a newcomer to PrimeXBT, opening an account takes an average of 40 seconds—perfect for getting set up in record time. Additionally, if you're unsure of your trading skills, want to learn from the best, or simply want to set up a sort of passive income, you can try Covesting. You can learn more about Covesting here.
PrimeXBT has prepared a special offer for their new customers: they will get 50% of their first deposit credited to their account as a bonus that can be used as additional collateral to open positions!
Don't forget to join PrimeXBT / Covesting telegram community to find more information about the Trading terminal, Copy trading module and how to save up to 25% of your commission with COV token and other token utilities!

---