Can Uwerx (WERX) Beta Platform Imminent Release Skyrocket Price Even Higher?
Disclaimer: The text below is a press release that is not part of Cryptonews.com editorial content.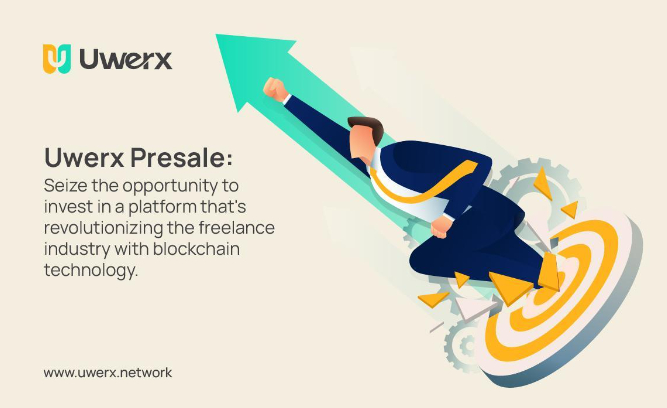 Uwerx aims to reshape the gig economy by providing freelancers with a seamless and unparalleled work experience while offering clients a groundbreaking alternative to traditional platforms.
With the Beta Platform just around the corner, excitement is mounting as investors and enthusiasts eagerly await the potential impact on the token's price.
Uwerx (WERX): Revolutionizing the Gig Economy
Uwerx, a rising star in cryptocurrencies, is set to disrupt the gig economy as we know it.
This ambitious project strives to create a seamless future of work for freelancers while providing clients with an alternative that addresses the shortcomings of traditional freelancing platforms.
Uwerx's platform transaction fee has been set at 1%, significantly lower than Upwork's 10% and Fiverr's 20%.
To prepare for its launch on centralized exchanges and reduce taxes to zero, Uwerx plans to renounce the contracts involved in the project.
CoinSniper has listed Uwerx, and the project is expected to be listed on Uniswap by August 1st, further expanding its accessibility.
To ensure transparency and security, Uwerx underwent auditing processes conducted by SolidProof and InterFi Network.
Uwerx has scheduled a Test Airdrop to take place after the presale on July 31st, allowing participants to receive free tokens.
Before the presale ends, Uwerx will ensure liquidity security by locking it in place.
The Uwerx platform has experienced notable growth, surpassing 5,500 sign-ups, over 1,600 Twitter followers, and more than 1,600 Telegram members.
In response to the rapid progress of the presale and community demands, the Uwerx team has adjusted token allocations.
Uwerx (WERX) Transitions From Alpha to Beta
Uwerx has released the initial version of its Alpha platform, providing users with a glimpse of its functionalities and features, with plans for further updates and improvements.
Also, Uwerx is preparing to transition from the Alpha platform to the Beta version, signaling progress toward a more refined and robust platform.
Uwerx unveils more Alpha platform updates, delivering a seamless experience for freelancers and clients.
Simplified sign-ups, streamlined job creation, and talent discovery redefine the user journey. Your feedback shapes Uwerx's evolution.
Share your thoughts at [email protected], driving our platform's constant improvement. Together, we foster innovation in a collaborative environment.
Also, The Uwerx Vault, a feature allowing users to store their WERX tokens and earn rewards based on platform variables, has been introduced, offering a staking-like experience.
Uwerx (WERX): Presale Success and Price Prediction
Uwerx has completed stages 1 to 4 of the presale in record time, demonstrating strong interest and demand.
Currently, in Stage 5 of the presale, Uwerx offers tokens at $0.05245 each, with an additional 15% bonus for every purchase.
We are confident that WERX tokens will be worth $0.87 by Q3-Q4 2023 and $2.01 by Q1-Q2 2024.
This shows Uwerx's potential for growth and makes it an excellent investment in every savvy investor's portfolio.
Buy into Uwerx today and enjoy the 15% bonus on token purchase:
Presale: invest.uwerx.network
Telegram: https://t.me/uwerx_network
Twitter: https://twitter.com/uwerx_network
Website: https://www.uwerx.network/
---