How to Buy DeeLance Token in 2023 – A Beginner's Guide
Disclosure: Crypto is a high-risk asset class. This article is provided for informational purposes and does not constitute investment advice. By using this website, you agree to our terms and conditions. We may utilise affiliate links within our content, and receive commission.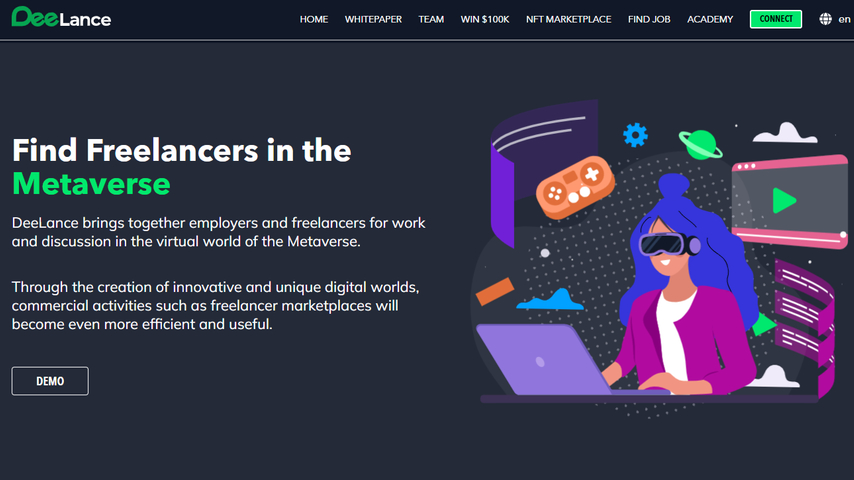 Disclaimer: The Industry Talk section features insights by crypto industry players and is not a part of the editorial content of Cryptonews.com.
One of the latest crypto projects offering huge growth potential is DeeLance. This innovative project is building a decentralized freelancing platform that reduces fees, friction, and payment delays. 
Not to mention a metaverse where freelancers can work in a virtual environment. In this guide, we explain how to buy Deelance (DLANCE) tokens – which are currently on presale.  
What is DeeLance?
DeeLance is a brand-new blockchain initiative that is revolutionizing the 'gig economy'. Its decentralized platform solves many issues currently facing the freelancing industry. This includes a huge reduction in fees. Not only for freelancers themselves but for clients and recruiters alike. This is because freelancing agreements are conducted on a peer-to-peer basis. 
DeeLance also solves the ongoing issue of delayed payments. For instance, while Upwork, Fiverr, and other legacy freelancing sites require payment upfront, freelancers often need to wait many days before being paid. This is because of holding periods implemented on withdrawals – as well as banking delays.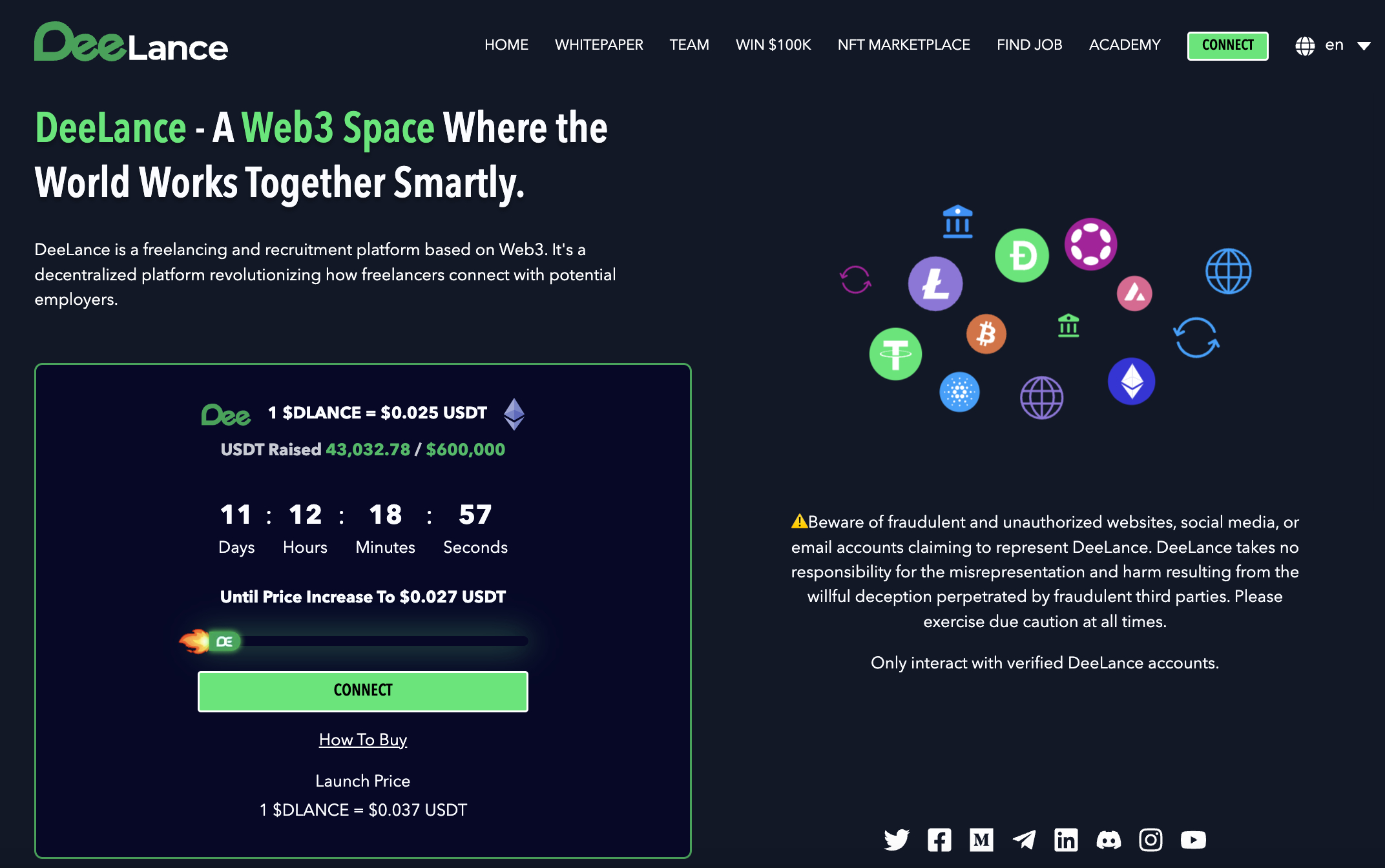 DeeLance, on the other hand, releases payment as soon as the client approves the submitted work. And because payments are made in crypto, freelancers receive their earnings in minutes. DeeLance is also working on a metaverse world that enables freelancers to work in a virtual environment. Freelancers can even buy land in the metaverse and build their own offices.
The utility token fueling the DeeLance economy is DLANCE. This is used to pay freelancers, purchase land in the metaverse, and rent virtual offices. DLANCE is also the investment currency that allows investors to speculate on the project's growth. The project has just launched its presale campaign, enabling investors to buy DLANCE tokens at a huge discount. 
How to Buy DeeLance – Full Tutorial
Investors buying DLANCE tokens today will get the lowest price possible. There is an upside of up to 47% on offer, based on the exchange listing price. 
As such, those without an interest in DeeLance can follow the walkthrough below to buy DLANCE tokens right now. 
Step 1: Get MetaMask Wallet 
Like many of the best crypto presales, DeeLance is hosting its fundraising campaign directly. This means that investors will need to get a suitable crypto wallet, such as MetaMask. 
Beginners should consider installing MetaMask to their web browser via an extension. Chrome, Edge, and Firefox are supported. This will enable investors to buy DLANCE tokens on their desktop device – which offers a more seamless experience.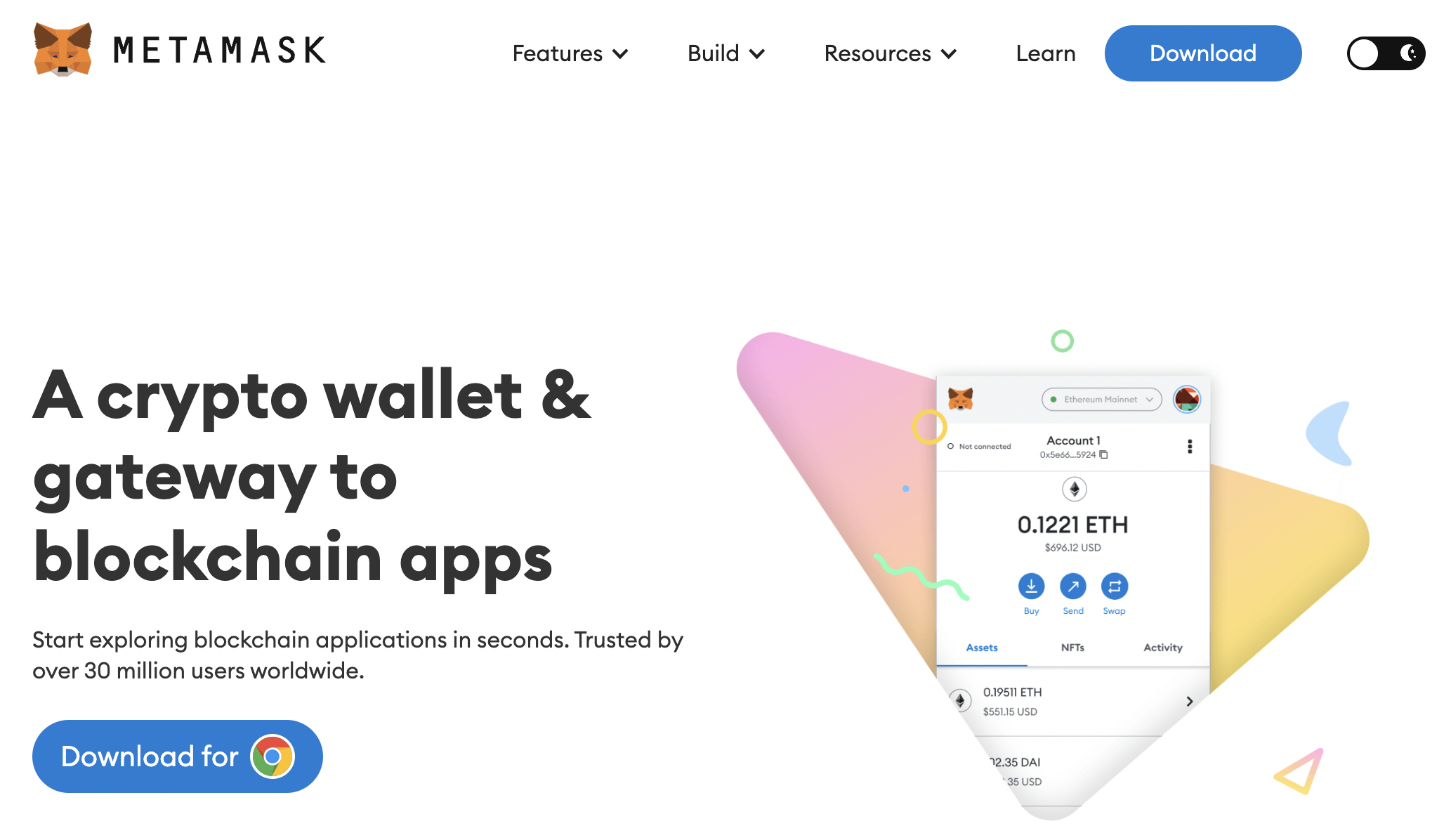 Nonetheless, those that prefer using a smartphone can download the MetaMask app for Android or iOS. 
Once installed, open MetaMask and create a password. Write down the backup passphrase displayed on-screen and keep the paper somewhere safe.  
Step 2: Obtain Ethereum or Tether 
The DeeLance presale accepts two popular cryptocurrencies – Ethereum and Tether. Investors without either of these altcoins can buy some from a crypto exchange like eToro. With that said, it's best to opt for Ethereum, as transactions require GAS fees. 
Alternatively, the DeeLance presale also accepts debit/credit cards. While this might be more convenient for beginners, this will require a know-your-customer process. Buying DLANCE with crypto does not require any personal information.
Step 3: Add Crypto to MetaMask 
The next step is to add Ethereum or Tether to MetaMask. Copy the ERC-20 deposit address from the MetaMask wallet, which can be found by clicking on 'Assets'. 
Proceed to transfer the tokens to MetaMask from an external wallet or crypto exchange. 
Step 4: Connect MetaMask to DeeLance Presale 
Once the Ethereum or Tether tokens have been transferred to MetaMask, visit the DeeLance presale website.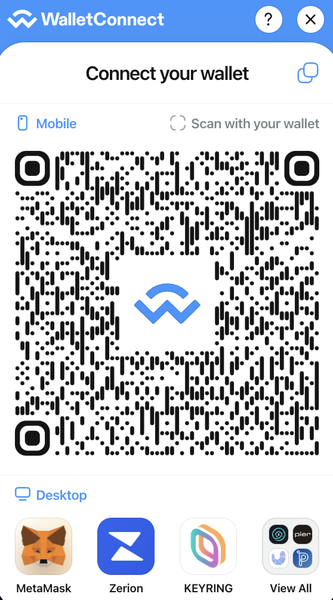 Click on 'Connect' and select 'MetaMask'. Open the MetaMask wallet to authorize the connection to DeeLance. 
Step 5: Connect MetaMask to DeeLance Presale 
The final step is to complete the presale investment by filling out the order form. First, select the payment currency, from Ethereum or Tether.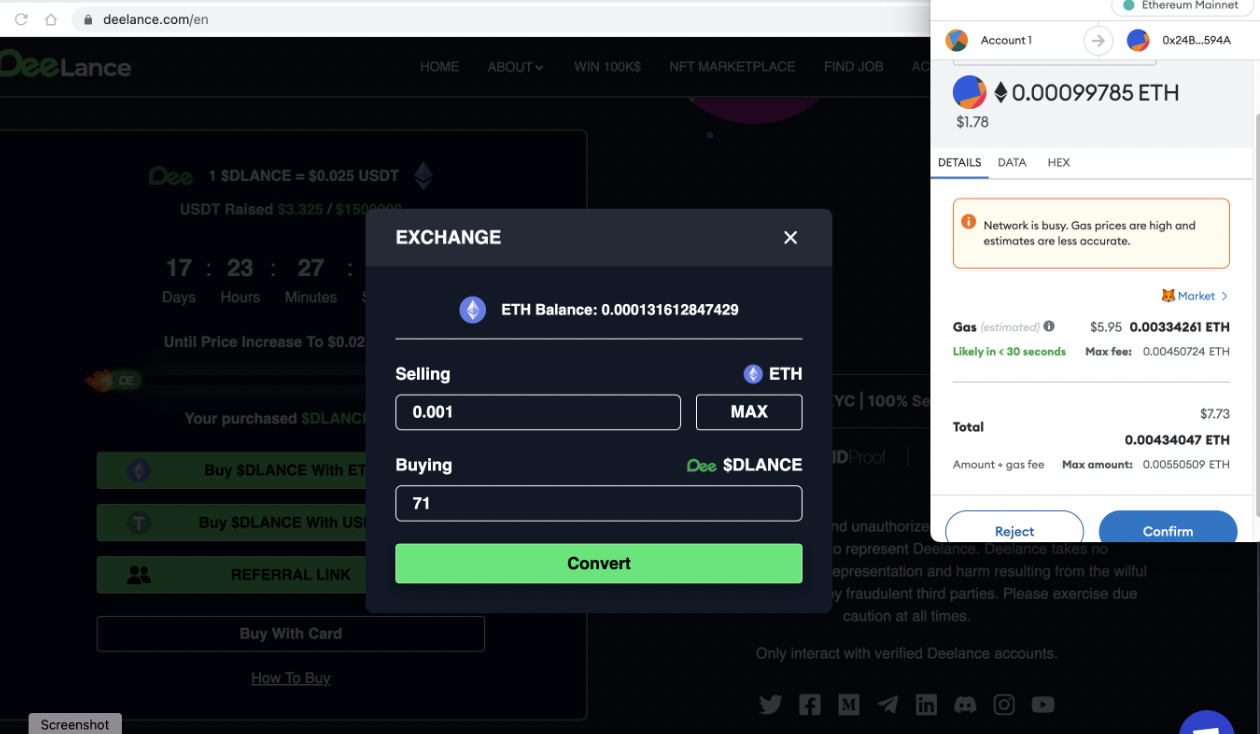 Then type in the number of Ethereum or Tether tokens to swap for DLANCE. Check everything is correct before clicking on 'Convert. 
MetaMask will then ask for authorization before completing the conversion. Come back to the DeeLance website after the presale finishes to claim the tokens. 
A Closer Look at DeeLance
Before investing in a new cryptocurrency like DeeLance, it is important to understand the fundamentals of the project. Put simply, DeeLance is looking to revolutionize one of the fastest-growing industries in recent years – the freelance economy. In its current form, the freelancing space is dominated by three key players; Freelancer, Upwork, and Fiverr. 
All three platforms share many similarities, especially when it comes to fees. For instance, freelancers lose up to 20% of their earnings. This is in addition to withdrawal fees. Those based in certain regions, such as the European Union, will also have value-added tax (VAT) deducted automatically. 
In comparison, DeeLance charges a much fair commission of 10%. Moreover, freelancers do not need to pay withdrawal fees when cashing out their earnings. Clients also get a far better deal when opting for DeeLance. This is because clients pay just 2%. In comparison, Fiverr charges up to 5.5%.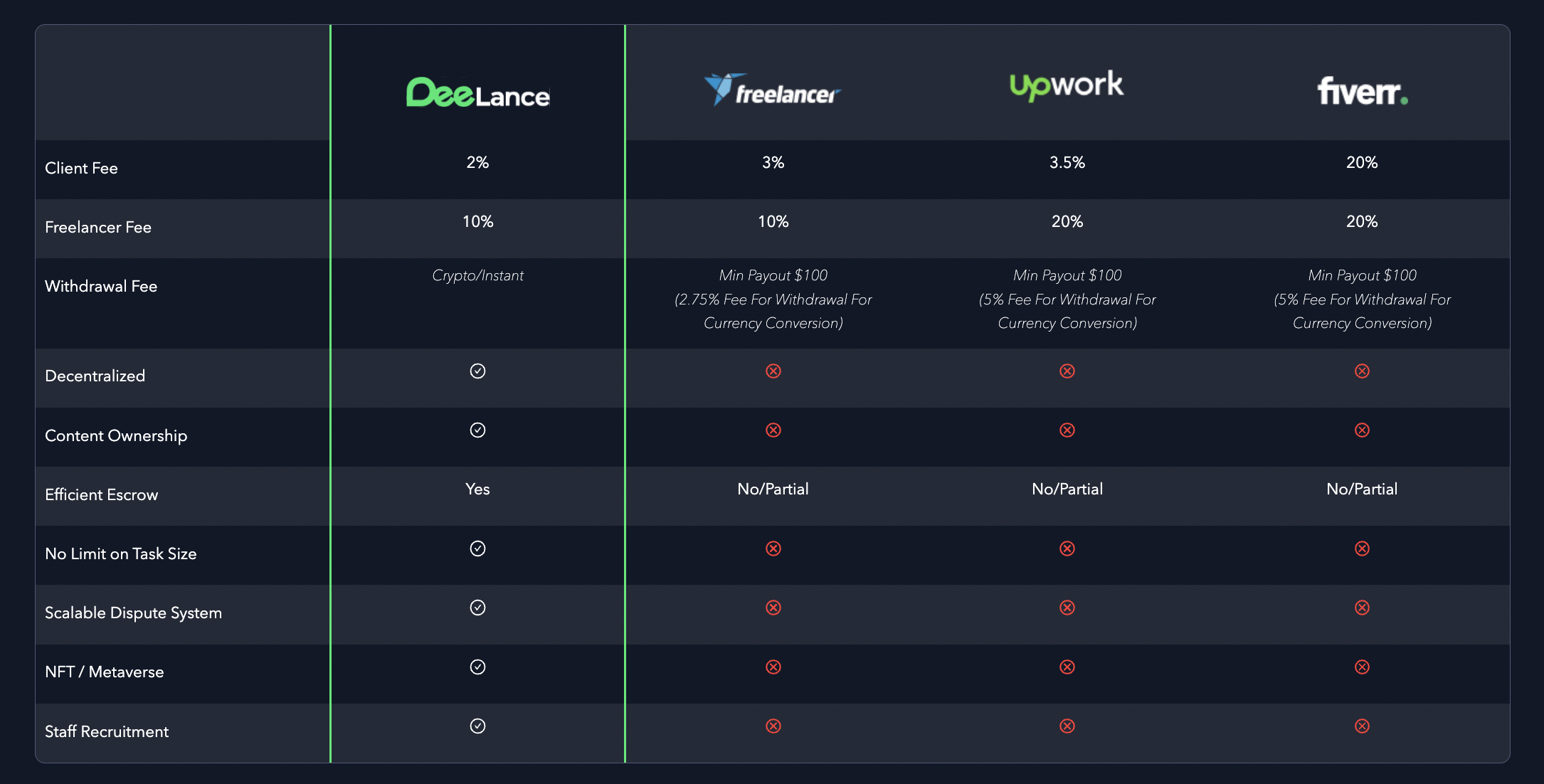 Another issue with the likes of Freelancer, Upwork, and Fiverr is that they process payments slowly. There is often a holding period of several days before freelancers can withdraw their earnings. And after that, the freelancer will need to wait for the bank to credit the payout. DeeLance solves this issue through crypto payments, including its native token – DLANCE.
This means that freelancers will receive their earnings in a matter of minutes, rather than days. The DeeLance whitepaper also notes that the team is working on a metaverse. This will come with many innovative features, such as enabling freelancers to buy virtual offices and co-working spaces. Any purchases made are owned 100% by the freelancer. 
This is because virtual land is backed by NFTs on the Ethereum network. Considering these benefits, and the fact that the global freelancing market is already worth over $1.5 trillion, DLANCE could be the next crypto to explode. 
As we explain in the next section, DLANCE is one of the best long-term crypto investments, considering its real-world utility. 
DLANCE Tokens – The Fuel of the DeeLance Ecosystem

The best future cryptocurrency projects are those that have real-world utility. In this regard, DeeLance is no different. 
For example, once clients have found a suitable freelancer for their requirements, they will deposit funds in DLANCE tokens. 
The tokens will be held in escrow until the job has been completed. 
Freelancers will then receive their DLANCE earnings near-instantly. 
This is because DLANCE operates on the Ethereum network, ensuring that transactions are speedy. 
Additionally, DLANCE is also required to buy virtual offices in the DeeLance metaverse. As noted earlier, offices and co-working spaces can be rented to freelancers – with payment made in DLANCE. Moreover, clients can advertise their brand and gig requirements in the metaverse, payable in DLANCE tokens. 
| Phase | Token Price | Percentage | Amount of Tokens | Fund raised |
| --- | --- | --- | --- | --- |
| Stage 1 | $ 0.025 | 08.00% | 2,40,00,000 | $600,000.00 |
| Stage 2 | $ 0.027 | 13.33% | 4,00,00,000 | $1,080,000.00 |
| Stage 3 | $ 0.029 | 13.33% | 4,00,00,000 | $1,160,000.00 |
| Stage 4 | $ 0.031 | 13.33% | 4,00,00,000 | $1,240,000.00 |
| Stage 5 | $ 0.033 | 13.33% | 4,00,00,000 | $1,320,000.00 |
| Stage 6 | $ 0.035 | 13.33% | 4,00,00,000 | $1,400,000.00 |
| PRESALE EXTRA RESERVES |   | 25.33% | 7,60,00,000 | FOR OTC AND PRIVATE STAGES |
|   |   | 100% | 30,00,00,000 | $6,800,000.00 |
As the sole currency backing the DeeLance ecosystem, DLANCE tokens also enable investors to gain exposure to the project. This is because DLANCE tokens will be listed on exchanges after the presale. And like any other cryptocurrency, its value will be determined by the project's success. 
Moreover, DeeLance rewards early investors by offering DLANCE tokens at a presale discount. There are six stages in total, with the price ranging from $0.025 to $0.035. This highlights that the earlier the investment is made; the lower the presale price. 
DeeLance has already confirmed that DLANCE will be listed on an exchange in Q3 2023 at $0.037. This offers gains of 47% for those investing in stage one. This would explain why most DeeLance price predictions are so bullish. 
Is DeeLance a Good Investment? Key Takeaways
In the following sections, we explore why the DeeLance presale is attracting so much interest from growth investors.
Micro-Cap Valuation
Some of the most successful crypto projects in recent years entered the market with a micro-cap valuation. Shiba Inu, for example, was virtually worthless when it launched in 2020. SHIB then went on to become one of the largest cryptocurrencies by market cap.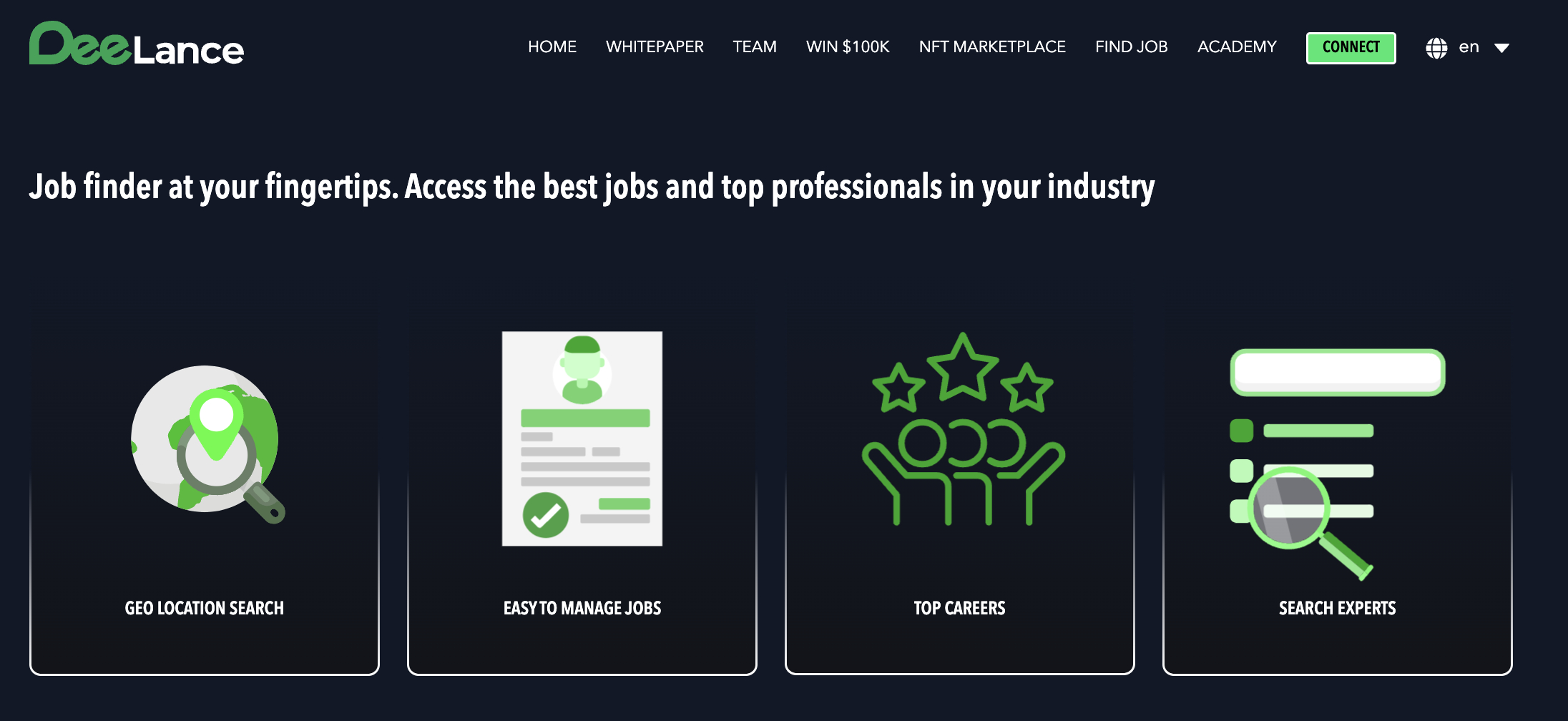 Crucially, investing in a micro-cap cryptocurrency like DeeLance allows investors to target unprecedented growth. After all, the DeeLance presale has set a conservative hard cap target of just $6.8 million. 
Considering that Upwork and Fiverr are already multi-billion dollar companies, DeeLance offers tremendous growth potential. 
Huge Presale Discount
Investing at presale prices offers a huge advantage for investors. Depending on the DeeLance presale stage, an upside of up to 47% is available. This is before DLANCE is sold to the general public.  
As such, a first-mover advantage is available to those investing at the earliest stage possible. While this will likely appeal to short-term traders, the vast bulk of DLANCE's growth potential will come after the exchange listing.
Solutions to Real-World Problems
Now onto the fundamentals. When compared to legacy freelancing platforms, DeeLance offers a considerably better deal for both clients and freelancers alike. 
For example:
Clients posting job requirements on Fiverr will pay a 'service fee' of up to 5.5%. For orders below $50, there is an additional $2 to pay. In contrast, DeeLance will charge clients just 2%. This is a major saving, especially for large companies with more sizable requirements. 
Freelancers are charged up to 20% for completing jobs on Upwork. As noted earlier, this is in addition to withdrawal fees and VAT. In comparison, DeeLance charges freelancers just 10%, and there are no fees on withdrawals. 
We also found that Upwork, Fiverr, and Freelancer can be slow with freelancers payments. In addition to a 'holding period', freelancers then need to wait for their bank to credit the withdrawal. All payments on DeeLance are conducted in crypto. This ensures fast and cost-effective payments. Not only for freelancers but clients too. 
Ultimately, as DeeLance attracts more clients and freelancers to its platform, this will increase the demand for DLANCE tokens. And as demand increases, this will be reflected in the project's valuation. 
Innovative Metaverse Objectives  
In addition to its core freelancing ecosystem, DeeLance is also launching a metaverse. This is yet another high-growth market, with 2030 estimations valuing the metaverse at nearly $1 trillion.  
Put simply, the DeeLance metaverse will create an immersive working experience for both clients and freelancers. DeeLance will enable freelancers to buy their own virtual office in its metaverse, backed by an NFT.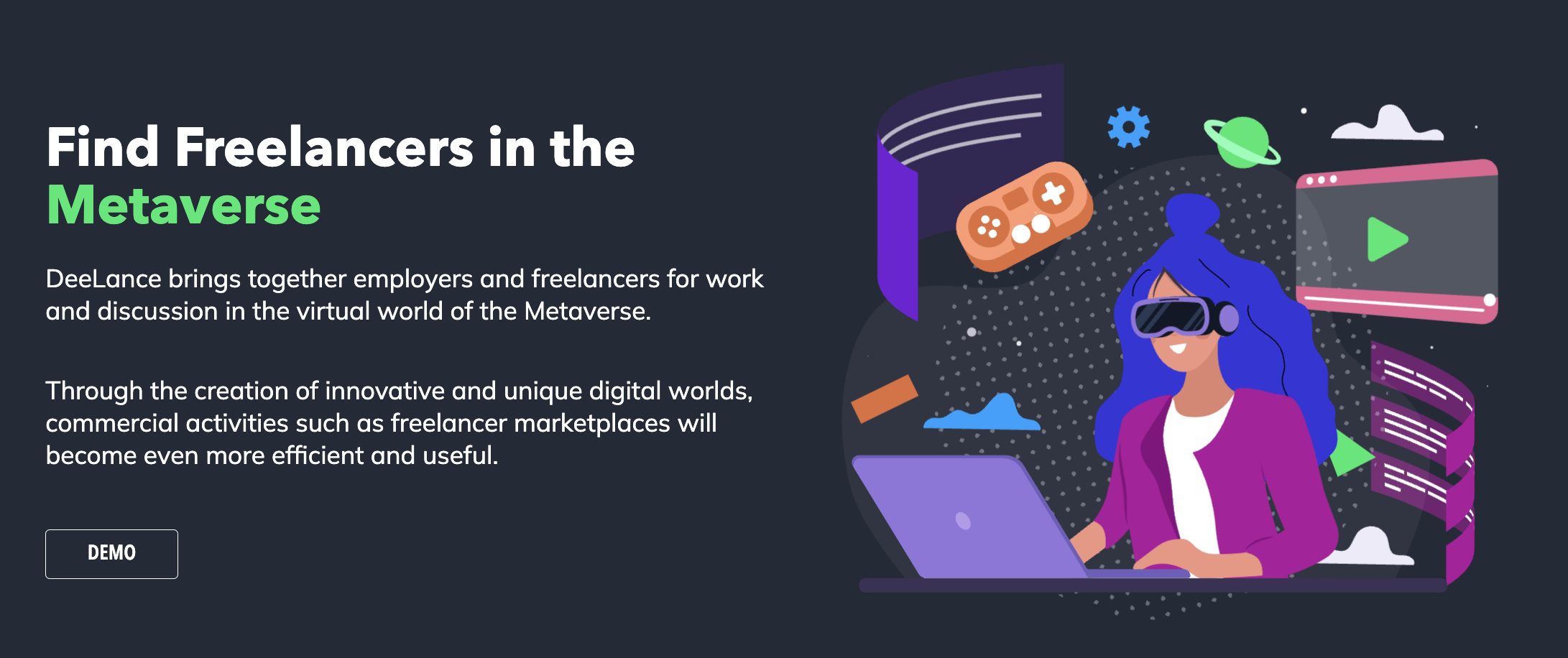 Once the DeeLance NFT marketplace launches, freelancers can sell their virtual office if the price has appreciated. In the meantime, freelancers can rent co-working spaces to other workers, receiving passive income. This is because rentals are paid in DLANCE tokens.  
With this in mind, DeeLance could be one of the best metaverse crypto coins to buy. 
DeeLance Price Action – What to Know
The price of DLANCE tokens during the presale is dependent on the time of the investment. 
For example: 
Stage one will sell 2.4 million DLANCE at $0.025 each. 
Once this batch is sold, stage two will kick in. This will sell 4 million DLANCE at $0.027 each. 
The price will continue increasing every time the next batch of 4 million DLANCE is sold. 
By the sixth and final stage, DLANCE will cost $0.035. 
While this still represents a great entry price for investors, earlier stages offer a higher upside. 
In total, 300 million DLANCE will be sold during the presale. This represents 30% of the total supply, which is 1 billion DLANCE. 
If the DeeLance presale sells out as expected, this will raise $6.8 million in funding. This converts into a fully-diluted market cap of just $22.6 million. 
DeeLance Price Forecast
After the DeeLance presale, DLANCE will be listed on a crypto exchange. At this stage, the future of DLANCE will be determined by market forces. Nonetheless, considering the amount of hype that DeeLance is already generating, crypto analysts believe there could be a huge upside. 
Specific price targets are challenging to make at this stage. After all, the success of newly launched crypto projects is often based on broader market conditions. With that said, both Fiverr and Upwork are already valued at approximately $1.5 billion. 
In comparison, DLANCE will hit exchanges as a micro-cap cryptocurrency. This means that DLANCE has every chance of going on an extended bull run. 
Take LBLOCK as a prime example – which is the utility token of the Lucky Block casino. 
In early 2022, Lucky Block raised over $5 million in presale funding. 
After listing on an exchange, LBLOCK became the fastest cryptocurrency to reach a billion-dollar market cap. 
This highlights that huge gains are possible when investing in a crypto project with real-world utility.  
The Verdict?
In summary, DeeLance and its decentralized freelancing ecosystem are already creating huge levels of hype. Both clients and freelancers alike will benefit from lower fees, faster payments, and a more seamless working environment. 
Not only will Deelance revolutionize the gig economy through the blockchain, but it is also building a metaverse that will support virtual office ownership. At the forefront of this is DLANCE – the utility token fueling the project. 
DLANCE tokens can be purchased today via the DeeLance presale website. Those completing their investment in stage one of the presale will secure an immediate upside of 47%. 
FAQs
How do I buy DeeLance tokens?
DeeLance tokens can be purchased via the ongoing presale. Investors can swap ETH or USDT for DLANCE, and claim their tokens after the presale finishes. Most crypto wallets are supported by the presale, but Metamask is the most user-friendly. 
What is the price of DeeLance?
DeeLance has just launched its presale, meaning that DLANCE tokens can be purchased at just $0.027 each. By the end of the presale, DLANCE will be priced at $0.037.
Is DeeLance a good investment?
DeeLance is creating a sea-change in the global freelancing industry through decentralization and blockchain technology. Therefore, DeeLance is appealing to growth investors that target disruptive concepts. While there is no guarantee that DeeLance will be a success, the DeeLance presale is already creating huge levels of hype.  
What is the total supply of DeeLance tokens?
DeeLance has created 1 billion DLANCE tokens. This is a deflationary cryptocurrency, meaning no more tokens will ever exist. 30% of the supply has been allocated for the ongoing presale. 
---