How To Buy ArbDoge AI ($AIDOGE) - Easy Guide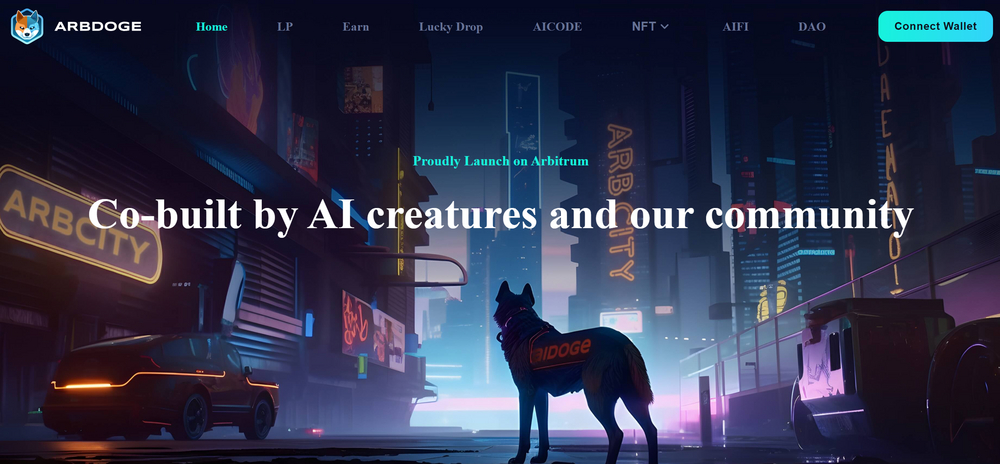 Disclaimer: The Industry Talk section features insights from crypto industry players and is not a part of the editorial content of Cryptonews.com.
ArbDoge AI is a popular meme coin built for the Arbitrum network. The project's $AIDOGE token offers staking, access to lottery prize drawings, and more.
$AIDOGE rocketed 2,500% after it launched in mid-April, but the token is now down 85% from its all-time high. So, is now the right time to buy $AIDOGE? We'll take a closer look and explain how to buy ArbDoge AI.
How to Buy ArbDoge AI in 4 Quick Steps
ArbDoge AI's $AIDOGE token is available to buy through the centralized exchange OKX. Here's how to buy $AIDOGE:
Step 1: Sign up for OKX. Visit the OKX exchange and register a new account.
Step 2: Buy $USDT. Use OKX's Express Buy module to purchase $USDT with a credit card, debit card, bank transfer, or another fiat payment method.
Step 3: Find $AIDOGE/$USDT. Open the OKX trading terminal and find the $AIDOGE/$USDT spot trading pair.
Step 4: Buy $AIDOGE. Enter a market order with the amount of $USDT to spend, then click 'Buy' to purchase $AIDOGE.
ArbDoge AI: An Overview
ArbDoge AI is a meme coin based on the popular shiba inu meme—the same meme that launched Dogecoin, Shiba Inu, and hundreds of other meme projects.
ArbDoge AI is built on Arbitrum, a Layer-2 scaling network for Ethereum. ArbDoge AI describes itself as an 'experiment' on Arbitrum and is still under development. The development team is anonymous, which is not uncommon for meme coins.
The ArbDoge AI ecosystem includes two separate, but related coins: $AIDOGE and $AICODE.
$AIDOGE is the project's primary token. It's available to buy and sell on OKX and Uniswap. $AIDOGE supports staking and is highly deflationary, offering an opportunity for price appreciation.
$AICODE is a governance and revenue sharing token. The only ways to get $AICODE are to burn $AIDOGE or purchase at least $500 worth of $AIDOGE in a single transaction. $AICODE token holders receive a portion of revenue from the sale of ArbDoge AI NFTs.
ArbDoge AI Tokenomics
The ArbDoge AI project has a total supply of 21 quadrillion $AIDOGE tokens.
Before ArbDoge AI launched, the project held a series of 20 airdrops to distribute 100% of the $AIDOGE supply for free. Anyone who qualified for Arbitrum's $ARB airdrop also qualified for the $AIDOGE airdrop. Individuals who invited friends to $AIDOGE earned additional tokens.
$AIDOGE is designed to be deflationary. To date, 9.993% of the total $AIDOGE supply (nearly 21 trillion tokens) has been burned.
Every transaction involving $AIDOGE incurs an 8% tax. The taxed $AIDOGE is used for several purposes:
1% of $AIDOGE tokens are burned, contributing to deflation
0.7% of $AIDOGE tokens are added to a staking pool
3% of $AIDOGE tokens are converted to $ARB, then given away to Lucky Drop prize winners
1% of $AIDOGE tokens are recycled to the Camelot DEX to provide liquidity
0.8% of $AIDOGE tokens are converted to $ARB and distributed to $AICODE token holders
1.5% of $AIDOGE tokens are reserved for the ArbDoge AI treasury
$AICODE has a maximum supply of 1.025 million tokens. There are only two ways to get $AICODE:
By burning $AIDOGE (unlocks 60% of $AICODE supply)
By purchasing $AIDOGE in transactions of at least $500 (unlocks 40% of $AICODE supply)
The amount of $AICODE released by these actions is determined according to a schedule. $AICODE is set to be fully mined in 10 years.
Why Buy ArbDoge AI?
There are several reasons why investors may want to consider buying $AIDOGE.
Deflationary Price Potential
ArbDoge AI is a deflationary project, meaning that supply of $AIDOGE will decrease over time. So, if demand stays consistent or rises moderately, the price of $AIDOGE could shoot higher.
Meme Potential
Investors may also be interested in $AIDOGE because it is a meme coin. Meme coins have been hot lately, with several projects posting 10x or greater returns. $AIDOGE itself generated a 2,500% return after launching, although it has since fallen significantly from its all-time high.
Meme coins have been known to shoot upwards on positive news, so speculative investors could buy $AIDOGE in the hope that it will rise sharply in price in the future.
Staking Income
Token holders can stake their $AIDOGE tokens to the Arbitrum network and earn additional $AIDOGE tokens. The project sets aside 0.7% of $AIDOGE from each transaction for staking rewards. So, the more transactions involving $AIDOGE, the more tokens are available for staking rewards.
Revenue Sharing
Investors can buy or burn $AIDOGE in order to mine $AICODE. That is valuable because $AICODE token holders are entitled to part of the tax from every $AIDOGE transaction. $AICODE token holders also receive a share of revenue from the sale of ArbDoge AI NFTs.
Lucky Drop Entry
Every time investors buy at least $100 worth of $AIDOGE, they receive entries into ArbDoge AI's Lucky Drop giveaway. Lucky Drop drawings take place every 30 minutes and reward the winner with $ARB prizes (derived from the tax on $AIDOGE transactions).
How to Buy ArbDoge AI: Detailed Step-by-step
Investors can buy ArbDoge AI on OKX following these steps:
Step 1: Sign Up for OKX
Visit OKX and click 'Sign Up' to register a new account. Enter an email or phone number, then enter the verification code that the exchange sends.
OKX follows Know Your Customer requirements, so new investors must provide their name, address, and a copy of their driver's license or passport to complete the registration process.
Step 2: Buy $USDT
In the OKX menu, find 'Buy Crypto' and then select 'Express Buy.' Enter the amount of money to deposit in USD and select $USDT (Tether) as the cryptocurrency to buy. Click 'Buy USDT' and then enter payment information to complete the transaction.
Step 3: Find $AIDOGE/$USDT Pair
Select 'Trade' in the OKX menu and then choose 'Spot' under 'Basic Trading.' This will open the OKX trading terminal. On the left-hand side, search for $AIDOGE and select the $AIDOGE/$USDT spot trading pair.
Step 4: Buy $AIDOGE
Under the price chart, select 'Market' to enter a new trade. Enter the amount of $USDT to convert and OKX will automatically calculate the amount of $AIDOGE this will buy. When the trade is ready, click 'Buy' to purchase $AIDOGE.
Is ArbDoge AI a Good Buy Now?
AbrDoge AI has experienced the explosive up and then down pattern that has become characteristic of meme coins.
After launching in mid-April, $AIDOGE rocketed 2,500% in a few weeks. The token hit a high of $0.00000000105 and saw more than $470 million in trading volume according to CoinMarketCap.
However, shortly after hitting its all-time high, $AIDOGE fell nearly 85%. Today, the coin is trading at $0.000000000155, only slightly above the token's ICO price. Daily trading volume is less than $10 million.
For investors looking to pick up $AIDOGE on the cheap, this could be good news. The token certainly has room to run if it's going to make a move back to its high in the future.
However, there are also reasons to be wary of $AIDOGE. The reduced trading volume in $AIDOGE means that less tax is being collected. That in turn means there is less $AIDOGE for staking and Lucky Drop rewards. The rate of $AIDOGE burning has also decreased, slowing the token's deflationary trend.
It's possible that $AIDOGE will see an uptick in interest as a result of new developments. The team behind this project is working on introducing a decentralized autonomous organization (DAO) as well as DeFi applications. News about either of these developments could send $AIDOGE higher.
However, our $AIDOGE price prediction suggests that the token has entered a period of stagnant price action. $AIDOGE has support at its current price level, and there is little to suggest that it could make a strong upward move in the absence of news.
AiDoge: A Fast-growing Alternative to ArbDoge AI
Investors interested in ArbDoge AI may also want to check out AiDoge ($AI). This is another shiba inu-themed meme coin that has no relation to $AIDOGE, despite the similarity in naming.
AiDoge is a memester's dream. The project team is developing a generative AI algorithm that can create new memes in seconds based on a prompt. It will create both an original image and original text to go with it.
Users can mint their new memes as NFTs with just a click. So, it's easy to keep track of who owns AiDoge-generated memes that go viral.
In order to create memes, users will need AiDoge's $AI token. This is an ERC-20 token that users can spend to purchase meme generation credits. Alternatively, token holders can stake $AI to earn daily credits to generate new memes.
AiDoge allows the community to vote on their favorite memes, and top memesters are rewarded with additional $AI. So, there's a built-in incentive for meme creators to be as clever as possible with the help of AiDoge's AI algorithm.
AiDoge recently launched on MEXC and Uniswap after raising $14.9 million during its presale. $AI jumped 680% after launch, but has since fallen and has a lower market cap than $AIDOGE. So, investors still have a chance to buy $AI before it really takes off.
Conclusion
ArbDoge AI is a Arbitrum-based meme coin that offers staking, revenue sharing, appreciation potential, and more. The $AIDOGE token is available to buy on OKX as well as through decentralized exchanges.
ArbDoge AI has been in a rut lately, so investors may want to explore alternative meme coins like AiDoge. While this has a similar name to ArbDoge AI's token, AiDoge is an independent project for generating memes that's now trading on MEXC and Uniswap.
FAQs
What exchanges support $AIDOGE trading?
$AIDOGE is available to buy on the centralized exchange OKX. It's also available on LBank, CoinW, and BitMart, as well as several decentralized exchanges including Uniswap and Camelot.
Should I buy $AIDOGE?
ArbDoge AI's $AIDOGE token offers opportunities for staking and can be burned to get $AICODE, which offers passive income through a revenue share. However, our price prediction indicates that $AIDOGE may trade at a low price for some time to come. Investors may want to check out an alternative meme token with more price appreciation potential, such as $AI.
---